I've been traveling and fishing extensively for the past 5 years. Last year alone myself and the team traveled to over 6 different countries for fishing trips around the world and we packed our rods (and all of our gear) with us.
When it comes to the best travel fly rods, there is one common feature that you should be looking for, and that's portability. In fly fishing, portability comes in the form of 6 or 8-piece rods, and in this post, I'm going to share with you the best of the best.
If you're looking for a great travel rod then check out the information below. I'll start by listing the best of the best travel fly rods, then I've also included some more budget options for beginners or those who don't want to spend too much on a fly rod for travel.
Note: This post has been reviewed and updated with new products for 2023.
What is a Travel Fly Rod
A travel fly rod is a rod that breaks down into small enough pieces that you can travel with it in your checked or carry-on luggage.
These days, most fly rods come in the 4 piece variety. This means if you break down a 9-foot rod, the rod tube will likely measure somewhere between 78-80-inches.
No matter what angle you try to stuff this rod, it will never fit in a normal-sized checked suitcase, and forget trying to get it into a carry-on.
I just came back from a trip from Canada to Europe and back with traditional 4-piece rods and while I managed to carry the rods on the plane separately, it was a pain in the ass carrying them on the side when I already had a checked suitcase and a carry-on bag.
This is where the 6 and 8-piece rods come in. Add an extra couple of pieces and suddenly that rod tube is 30-50% shorter. 9-foot 6-piece rod tubes will typically be 55 inches long, while 9-foot 8-piece rods will come in under 40 inches, meaning both will easily fit in your checked bag, while the latter should fit in your carry-on with no problem.
So you're one-piece salmon rod would not be something considered travel-worthy, and while 4-piece rods are great, for the purpose of this list of the best travel rods, we'll be sticking with the 6 to 8-piece varieties.
The Best Travel Fly Rods
Below, we're going to go over the absolute best travel fly rods that you can use for easy and convenient fishing trips both domestically and internationally. Most are going to be in the six to eight-piece range, but we will also be sneaking in a four-piece rod or two as well.
So, check out the rods below and see which one is right for you. Each has its own pros and cons so take a close look and see which ones work the best fly rod for traveling!
Hardy Aydon Travel Fly Rod
Pieces: 6
Available Sizes: 4wt8′, 5,6&8wt9′, 7wt9'6″, 10wt14'6″
Action: Medium to Medium-Fast Action
Pros: Square Rod Tube for easy storage, great casting
Cons: Expensive, Less Versatile
The Hardy Aydon Travel Fly Rod just hit the market in late-2022 and is finally shipping now at the start of 2023. This is a new addition to our best travel fly rod list and is the newest addition to my personal travel rod line-up.
If you're looking for a high-performance travel fly rod that comes in under $500, then you can't do any better than the Hardy Aydon.
Hardy also has the Ultralite NSX series that has some pretty incredible 6-piece fly rods, but these are going to run you over $800.
For the price point, I think the Hardy Aydon is the top choice for travel fly rods in 2023. It casts beautifully at short distances, it has a forgiving med-medium-fast action blank and it comes with Hardy's new lifetime warranty.
This rod is an absolute beast in the 6-piece category. I would be hard-pressed to think of a better, lighter, more accurate rod even in 4-piece set-ups.
Even though it's priced a lot lower, this rod can easily compete with some higher end (and more expensive) dry fly rods like the T&T Paradigm and Scott G-Series.
If I had to knock this rod at all, it's that I think it's better suited as a dry fly rod, than it is as an all-rounder. I mean, you can fish it with streamers and nymphs for sure, and it will cast a dry dropper set-up just fine, but overall I think it's best application is as a dry fly rod.
Orvis Clearwater
Pieces: 4-6Available Sizes: 2-12wt, 7'6″-10′Action: Medium-Fast ActionPros: Very Versatile, Great Price, Good WarrantyCons: Slightly Stiff
The Clearwater is Orvis's entry-level travel fly rod and yes, it comes in a 6-piece variety. We've fished this rod a ton and have a review for a few different weights and sizes of the rod here on the blog and on our YouTube Channel.
The Clearwater is one of the best value fly rods you'll find anywhere. If you're a beginner and don't want to spend too much on a new travel fly rod, then the 6-piece clearwater (available in the 4, 5, 6, and 8wt versions) is the one to go for.
This thing casts like a dream, it comes in a nice travel rod tube that will keep it protected on the plane and on the road, and it's covered by Orvis' 25-year warranty.
I've fished this rod for years and it's still going strong. These things are built to last, but if you break it or find a manufacturer default, Orvis will send you a new one.
The one con I have for this rod is it's a little stiff. I upgraded to a Recon so I could have that delicate touch and better response from the rod, but the Recon is more than double the price and doesn't come in a 6-piece.
Still, for a beginner, the action will be just fine and this is the best travel fly rod that Orvis has in their line-up.
Compare at: AvidMax
Douglas Upstream
Pieces: 4-6
Available Sizes: 3wt7′, 3wt7'6″, 3wt8′ (6pc)
Action: Medium-Slow Action
Pros: Ultralight, accurate casting, versatile
Cons: Only 6-pieces in 3wt rods
If you're looking for a 3wt travel fly rod, then the Douglas Upstream might be the one for you. These are beautiful rods that are ultralight, cast wonderfully and feel great in hand.
The rod is definitely slower action than many of the others on this list. It's graphite but has that cane/fiberglass feel when casting and fighting fish.
Still, you can easily toss some size 10 dries and streamers with this rod and when you feel a decent size trout bend the rod right up to the handle, you're going to wonder why you ever started fishing with fast-action rods.
A light rod like this is going to require a super-light reel, so keep that in mind before ordering one. I'd recommend something like an Orvis Battenkill or Galvan Brookie 2/3 to pair with the Upstream.
I really wish that the 2 and 4-weight versions of the Upstream came with a 6-piece option, but for now you'll have to stick with the 3wt if you're looking for a travel fly rod.
Compare at:Amazon
Greys Wing Travel Fly Rod
Pieces: 6
Available Sizes: 3wt11′, 5wt10′, 5wt11'4″, 8wt9′, 8/9wt14′
Action: Medium-Fast to Fast Action
Pros: Great reel seat, good value, casts beautifully
Cons: Cork is OK quality. Not best for beginners
The Greys Wing Travel Fly Rod replaces the GR80 in Greys' line-up and those are pretty big shoes to fill. The GR80 was one of our favorite rods on the market in the mid-price category.
But the wing hit the market in 2023 and is already making waves. This is an excellent rod build with extremely high-quality materials.
Greys upgraded most of the components on the Wing when compared to the lower-end options like the Lance and the Kite. This includes a better double uplocking asymmetrical reel seat and a nicer burled wood insert instead of the former anodized aluminum.
The rod casts like a dream, although its super high-performing fast-action means it might be a little more difficult for beginners to get their stroke right.
The tip is a little bit softer than the Lance, so it offers considerably better feedback at shorter distances and will help protect those lighter tippets a lot better.
All in all, the Greys Wing Travel Fly Rod is one of the best travel rods under $500 in my opinion.
Echo Trip Eight Piece
Pieces: 8Available Sizes: 5wt9′, 6wt9′, 8wt9′Action: Medium-Fast ActionPros: Super compact, casts well for 8-piecesCons: A little heavier than other rods, older model
We've fished a ton of echo rods and reviewed a lot of them here on the blog, and the Trip 8-Piece is Echo's travel fly rod offering and it does exceptionally well at this price point.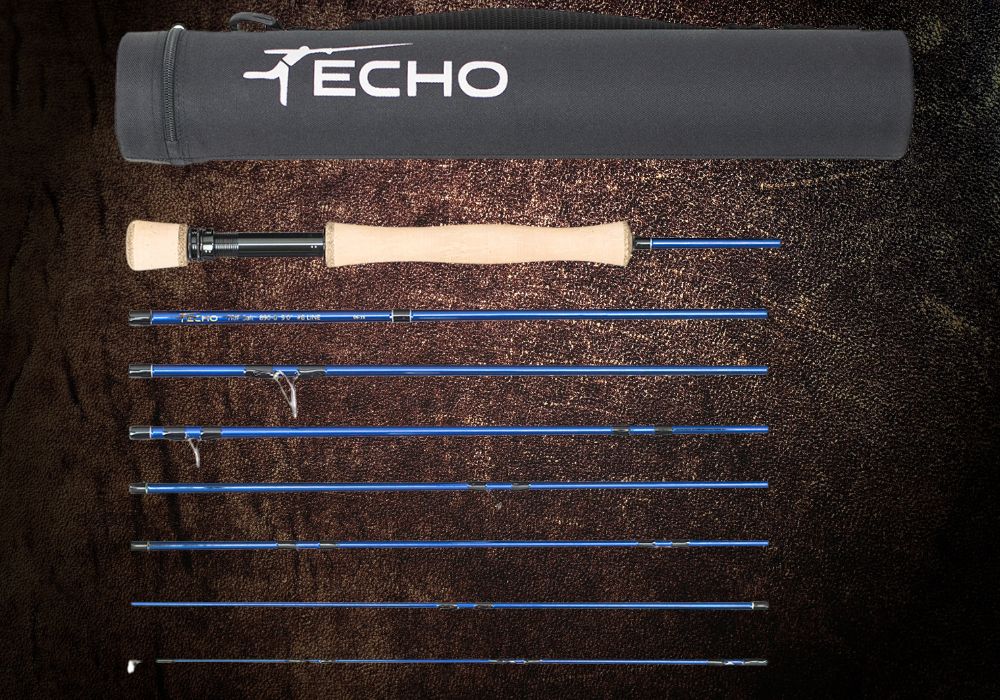 The rod has been on the market for a while, so it doesn't utilize some of the more modern materials like an ultralight graphene blank, but it does the trick and is still very competitive in the travel fly rods under $300 category.
If you want to upgrade your travel rod set up then take a look at the Echo Trip Eight-Piece rod. This medium-fast rod is ideal for fishing in most larger and medium-sized bodies of water.
Also, the fact that it comes in eight pieces means you'll be able to pack this just about anywhere. Easily stow it in a carry-on or duffel bag to either travel with you on a plane or in the car.
Best Budget Travel Fly Rods
Not everyone wants to break the bank on a travel fly rod. Particularly if you're shopping for a backup rod or for a cheap rod for a one-off backpacking trip. Here are a few travel fly rods that are great options for those who don't want to spend a lot of money.
Aventik Z Fly Rods
Price – $56.99
Action – Fast
If you want a great travel fly rod and are on a budget then look no further! The Aventik Z Fly Rods are a great option to choose from. These cheaper rods can get you out on the water quickly and easily without spending too much money.
They come in several different colors and sizes. Allowing you the option to pick out exactly what you need in order to fish in the style you prefer.
VIEW ON AMAZON
Maximumcatch All-Time Traveler
Price – $76.00
Action – Medium Fast
Similar to the Aventik, this is a great budget rod. The Maximumcatch Traveller Rod was my first travel fly rod and I really enjoyed it as a beginner.
I took this rod on a trip around Russia and Mongolia and it did the trick just fine. It's a bit stiff and the warranty isn't there, but for under $100 you really can't ask for much more. The All-Time Traveler does everything it should and more at this price point.
You don't always need to spend a car payment or a mortgage in order to bring home a solid rod.
The Maximumcatch All-Time Traveler Combo fly rod is an eight-piece. Making it ideal for packing away in tight places. Easily travel around or hike with this in your pack or in your car.
VIEW ON AMAZON
WildWater Tenkara
Price – $ 79.99
Length – 9′-13′
The WildWater Tenkara is different than normal a fly fishing rod. You won't be using a reel like you normally would on a fly rod. However, it is still a very effective way to get out and fly fish.
It is even better since most, if not all Tenkara rods are collapsable. They're usually around 20 inches long when collapsed and can fit in your pocket if you really need it to.
VIEW ON AMAZON
Moonshine Rod Co. The Drifter
Price – $199.00
Action – Medium
The Moonshine Rod Co. The Drifter is your classic four-piece fly rod. This particular series comes in many sizes but we're going to talk specifically about the 7′ 6″ because it is easier to travel with.
The seven-footer is great for going out and changing fish in small streams where you need to roll cast, or don't have much space for a backcast. The small size means it breaks down small as well so it can fit just about anywhere.
A massive bonus for this rod and all Moonshine rods is that it comes with an extra tip. So if you break the tip section while travelling, you have a spare right there in your rod tube.
VIEW ON AMAZON
Redington Trail Blazer
Pieces: 6Available Sizes: 3wt7'6″, 5wt9′Action: Medium-Fast ActionPros: Reasonably light for the price, casts wellCons: Red Color not for everyone, Basic Warranty
The Trail Blazer is Redington's main foray into the travel fly rod space and I have to say, it's a great casting rod for the money. Coming in at under $300, this isn't the cheapest fly rod on this list, but it definitely isn't the most expensive.
If you're somewhere in the lower-end budget category, but want a great rod, then the Trail Blazer is for you. Redington produces some of the best budget to mid-priced rods on the market and the Trail Blazer hits that sweet spot for travel rods.
Even though this is a cheaper 6-piece rod, it's surprisingly light in hand. Just don't expect a great warranty or the casting accuracy of some of the rods in the best travel rods section in this post that cost upwards of $700. It's just not going to happen.
VIEW ON TRIDENT FLY FISHING
Maxcatch Premier Fly Fishing Combo (Added 2023)
I just had to add the Maxcatch Premier to this list in 2023 as I spent the start of 2020 traveling around Europe and fishing with this rod and I have to say that I love it.
No, it's not a 6-piece and no it doesn't fit in my carry-on or checked luggage, but it's still a great little rod.
Maxcatch gets some grief in the hardcore fly fisherman community for being a cheap brand out of China, but their Premier series really is Premier for the price. No, it's not going to compete with a top of the line Sage or Orvis when it comes to performance, line speed and tight loops, but it's an incredible value.
Coming in at under $200 for a kit that includes everything you need, and seeing as it's a 4 piece rod with a sturdy rod tube, I'd go as far as to say that this is the best travel fly rod of the year.
It's hard to pick between the Premier and the Echo 8pc, but we kept the Echo at the top this year because it's just so much more portable and can be easily placed in your carry-on luggage while traveling.
I did manage to get the Premier onboard the plane without checking it, but not all airlines would've allowed it.
VIEW ON AMAZON
Common Travel Fly Rod Lengths, Weights, and Pieces
Below, we're going to cover some of the most common sizes for travel fly rods and the most versatile rods you can take on a fishing tirp. Check them out and see the great travel rods that we have below.
9′ 5wt Six Piece
The classic trout rod and size. You can take this sized rod and hit just about any river, lake, stream, or pond and catch any fish from 2lbs – 20lbs (yes you could land a beast on a 5wt). The 5 weight is ideal for trout, but it has the ability to target multiple species including some smaller saltwater fish.
The six pieces it comes in will allow you to easily stow it away in a bag for travel in your backpack or checked luggage. Most 6-piece tubes are a little long for fitting in a large carry-on bag, but you'll have to test it with your specific luggage.
In my experience, very few 9′ 6-piece tubes will fit in the carry-on when jammed in on an angle.
9′ 8wt Eight Piece
If you want something with a little bit more heft to it then the 8wt eight-piece rod is going to be ideal. Great for targeting larger freshwater fish, or for going after some decent sized saltwater species.
The eight-piece also maximizes the amount of room that you can have in a bag. This breaks down to a size much smaller than the normal six-piece and allows you to store more gear and supplies. This one will easily fit in both your carry-on and in your checked luggage.
7′ 6″ 3wt Six Piece
This is the ideal rod for getting out in the backcountry where you need a short rod to navigate through the brush. Easily make roll casts and short backcasts to hit plunge pools and runs.
The six-piece setup for this rod allows you to put this in a pack and hike in and out of the wilderness without having to take up too much room in your bag. Ideal for hiking or camping.
If you're planning a trip to some smaller lakes or streams, then a 3-weight 7'6-inch rod will be perfect and the shorter overall rod length will mean that this tube will most likely fit easily in your carry-on luggage.
Can You Travel With a Normal Fly Rod?
For the purposes of fly fishing rods, a normal rod is considered a 4-piece rod. While there are still some 2-piece rods on the market and even the odd single-piece stick, 4-piece rods make up about 90% of total rod production.
As mentioned earlier in this post, I have traveled a lot with 4-piece rods. Usually, you can carry the rod on the plane along with your carry-on bag and personal item.
I've taken 4-piece rods traveling on about 20 flights and have never had an issue doing it this way. The airline staff is usually pretty lenient when it comes to your extra sporting gear if you carry it on. Only one time did I ever have to check my rod tubes under the plane.
Sometimes when going through airport security, they'll flag your rods and put it through the X-ray machine an extra time, but that's really not a big deal.
Having said that, traveling with a proper travel fly rod just makes things a lot easier. Stuffing the rod in your carry-on or checked bag means it's safely stowed away and you don't have to worry about carrying around an extra tube through airports and in taxis.
I've traveled with normal fly rods, and with travel fly rods, and I'm telling you from experience, it's much easier to travel with 6 and 8-piece rods.
Other Features of the Best Travel Rods
Below, we're going to go over some different features for the best fly rods for travel. Check them out and see which ones you like the best and what you like for your own travel rod!
Material
Travel rods come in a wide array of different materials. Most likely though they are going to be made of either graphite or fiberglass. If you're a bamboo traditionalist then you might be hard-pressed to find that in a six-piece as most bamboo rods come in 2 piece set-ups only.
Graphite is the material of choice for the best travel fly rods. This is because graphite can be broken down into smaller sections than other materials while still retaining it's rigidity and action.
With graphite becoming so advanced in recent years, it's really hard to tell the difference between the casting of a good 4-piece graphite rod and a 6-piece.
Sometimes when you get up to 8-pieces, you'll notice that the rod casts a little different and the action might not read all the way up to the handle, but there are still some excellent 8-piece rods that cast as well as 4-piece rods.
Portability
This is the whole reason for getting a travel fly rod. You need something that is both short and skinny enough to fit in your bag or wherever else. It's best to measure out exactly the size you need and then find the rod that fits that perfectly.
Rod Tube
Besides how many pieces your rod breaks down to, this is the most important factor when thinking about portability. The rod may break down into eight pieces but if the rod tube is too wide or too long, then it kind of defeats the purpose of a travel rod.
Before purchasing a rod and expecting it to fit in your luggage, make sure you check the manufacturer's website for the actual length of the rod tube. Measure your bag or wherever you plan to store it and make sure it'll fit.
Action
You should be able to find travel rods with just about any action you would like. Slow, medium, or fast, the action of the rod should not affect its size or portability.
Balance
Balancing your fly rod is important, especially if you're going to be spending some good money on gear. You want to make sure your line, reel, and rod are all the same weight (wt), and that the reel sits and balances well on the rod with the line attached.
For example, if you have a 6-piece 9-foot 4-weight travel fly rod, then you're going to want to make sure the reel is also a 4-weight (alternatively 3/4 or 4/5 depending on the manufacturer) and the line is 4-weight as well.
Length
The length of the rod is going to affect how many pieces are needed in order to break down adequately. A 7′ 6″ fly rod that breaks down into six pieces will be much smaller than a 9-foot rod that breaks down into the same amount or pieces.
Sometimes the shorter 6-piece rods will be the difference between the rod tube being able to fit into your carry-on or not.
Pieces
As we mentioned earlier most rods that are considered "travel rods" are going to come in six or eight pieces. However, don't let a normal four-piece rod deter you from not traveling. It can be done easily and without hassle.
My four-piece 9′ 5wt is longer than my duffel bag so I normally just use the velcro strap on the bag to hold the handle of the rod tube. It straps in nice and snug. If you prefer to keep a rod in your bags then a six or eight-piece is the way to go.
See also: Hands-on & Tested Headwaters Bamboo Gallatin Outfit Review
Review This Post
Conclusion
Travel fly rods can be great for individuals who are constantly on the move. If you're always hiking miles and miles back to your favorite fishing hole then the rods above are going to be the best backpacking fly rod for you!
So, hopefully, you now have a better understanding of what to look for in the best fly rods for traveling. So, head over to Amazon and see if you can find the one for you!