Modern-day hunters, tactical shooters, and competition shooters rely so much on their scopes and other gun accessories to enhance their shooting accuracy. However, to improve your overall shooting accuracy, you have to practice as much as you can with your scope and rifle.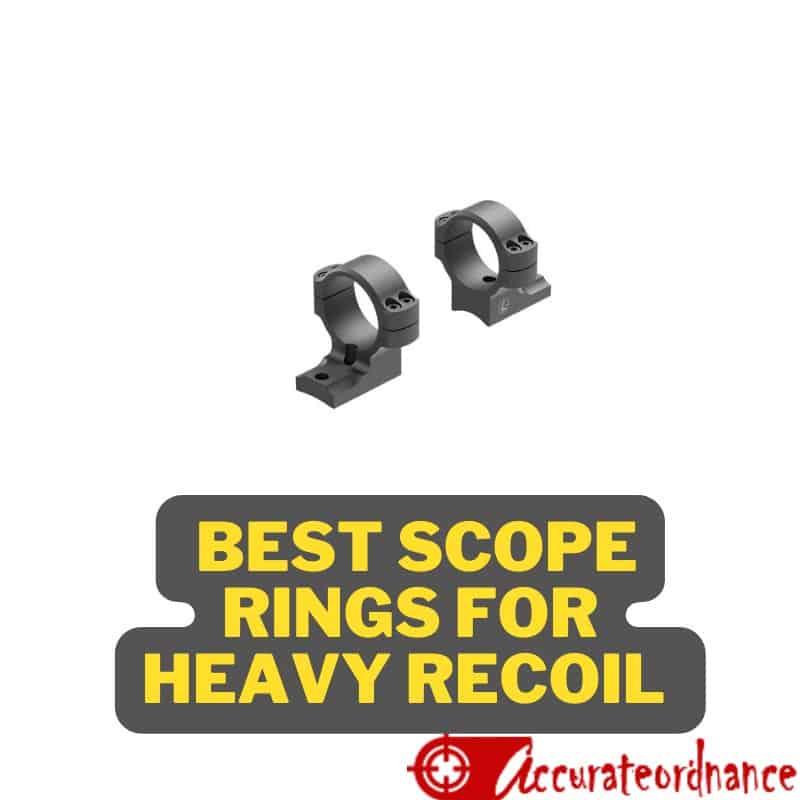 Aside from that, you also need to control the amount of recoil released by your firearm. Although you do not need to directly use your strength to manage the recoil impact, you would need a top-class mounting system.
Without a durable and reliable mounting system, your scope will not be of use to you because it is not possible to hold your scope on top of your rifle with your hands while trying to shoot at a target. Having said that, the only solution to managing the recoil effectively and ensuring that it does not affect your scope and rifle relationship is to use a tough scope ring.
There are so many scope rings out there that you can use to mount your scope to your rifle platform. In this article, we have compiled a list of the best scope rings for heavy recoil rifles. Carefully follow the reviews below to find out the best mount for your particular rifle caliber. Sit tight as we proceed…
What Exactly Are Scope Rings?
We need to understand what riflescope rings are before we proceed to some of the best rings available. If you're a beginner, knowing what this gun's accessory is and how it should be used can help you be a better shooter.
If you already know what a scope ring does, you can go to the next part; otherwise, let us take a brief explanation.
The phrase scope ring is self-explanatory; even if you have never held one in your hands, you must have seen snipers in the movies shooting with a particular device called a riflescope. This riflescope is held firmly to the rifle by a scope ring, so you will never see a sniper holding the scope with their hands.
A riflescope helps to improve shooting accuracy, while a scope ring holds the scope firmly on the rifle. Scope rings are simple devices that allow you to attach the scope to your rifle and use it without difficulty. There are a lot of considerations to make before purchasing a scope ring.
Some of these include the height, type of rail, and a number of other variables. Fortunately, you will find a section in this article that provides all of the pertinent information about the subject.
So, before you proceed to the review part, check out the guide below because it will provide you with a clear idea of what to consider before purchasing any type of scope ring.
Types of Scope Rings
There are several types of scope rings available on the market for mounting a riflescope. Finding the right ring among the varieties might be difficult. To make your search easy, we have highlighted some of the ring types.
These types of mounting systems have just one piece, as the name implies. As a result, putting them on your rifle would be very easy.
These are typically bolted mounts. That is, you must attach the riflescope to the mount using all of the available spots. They ensure a significantly more solid and consistent scope installation.
These types of scope mounting rings are more versatile than others. They allow users to have room to make adjustments to the distance between the scope rings. This makes it easier to mount the scope exactly the way you want it.
These are similar to one-piece mounts. Bolts must be used to attach both the mount and scope. As a result, you have more installation options.
The dovetail mounting system, which is commonly found on an air rifle and rimfire rifles, consists of two grooves that are parallel to the barrel. The dovetail rail, sometimes known as a "tip off" mount, allows a shooter to readily remove or replace attached optics. So you can mount dovetail rings easily on this base whether you want to use it on an air rifle or any other rifle.
Although we have so many other types of scope mounts, these are some of the most common or popular scope mounts.
Integral mount
Offset mount
STD scope mount
MOA mount
Quick detach mount
Market's Top Scope Ring Brands
Let us check out some of the best brands that manufacture high-quality scope rings.
Vortex Optics
Vortex Optics was founded in 1989 as a division of the well-known corporation Sheltered Wings Inc. The firm has produced some of the best and most renowned gun attachments and optical equipment for a variety of shooting applications. This firm also makes good scope rings for rifles that have heavy recoil.
Leupold
When it comes to riflescopes, only a few firms can match the quality of the Vortex brand, and Leupold is one of those. This optical brand is among the best on the market. Its primary goal is to provide its customers with goods that are of exceptional durability, dependability, and adaptability.
Burris Optics
It makes no difference if you are looking for a rifle scope or a scope ring; Burris Optics has it all. Burris is one of the top scope ring brands in the market. they have been in business since 1972, and they are still producing quality optical accessories, including scope rings.
There are other scope ring brands like Seekins Precision and Warne. These brands are not popular when it comes to riflescopes, but when you talk of scope rings, they're among the best.
Buying Guide for Heavy Recoil Scope Rings
Knowing everything about weapons and their accessories is crucial for a huntsman or marksman. One of the essential elements for mounting your scope is the ring, and we would help you understand all there is so that you can make an informed decision when you want to buy a ring to mount your scope on a heavy recoil rifle.
Ring Type
Traditionally, we have two major types of scope mounts. All other forms of scope mounting rings are made up of either of these two. So, first and foremost, you must decide which one you want. We're talking about the single-piece mounts and dual-piece mounts.
As previously stated, a single-piece mounting ring has the easiest installation among the two types. Single-piece rings are often built with a light material, which allows for greater precision. Dual-piece rings, on the other hand, allow the gun owner to determine the space they want to have between the two rings.
There is no hard rule that makes one better than the other, its just a matter of preference for the shooter.
Materials Used
The type of material used to construct a scope ring or mount determines a lot on the mount. As a result, you must use caution while selecting this type of device.
Number one: The material chosen determines the weight. It is probable that it will impede your aiming accuracy if it is very heavy. As a result, you should choose a scope ring constructed with a light material.
Number two: It must not be fragile, even though it is lightweight. As a result, you must select a mount that is very strong and durable and can withstand the abuse of a heavy recoil rifle.
With these two factors in mind, we suggest that you choose anything composed of steel or aluminum. Both materials are incredibly long-lasting and lightweight, although aluminum is lighter than steel. They provide you with the highest performance you would need from your ring. With these materials, you are sure your scope rings will not break, regardless of the abuse by heavy recoil rifles.
Attachment Without Hassle
Another consideration is the ease of installation of the rings. Fitting a complicated ring may be physically and emotionally demanding. As a result, we recommend that you choose a mounting ring that is simple and easy to install.
Cost
Most shooters do not have so much to spend on shooting accessories, whether it's a scope or a scope ring. In fact, you should not expect a shooter that is using a $200 riflescope to buy a scope ring of the same amount or more. So it is important that you double-check everything about the rings, including the cost.
Having a budget in mind before you go to the local gun shop or online marketplace would save you time that you would have spent admiring expensive and out-of-budget accessories.
Scope Rings Made of Steel Vs Aluminum
Scope rings are typically made of two sorts of materials. The first is made of steel, while the other is made of aluminum. However, there has always been a controversy over which of the two is superior. Let's see what happens!
Weight
Aluminum is the obvious winner in terms of being lightweight. Although steel rings are not too heavy, but when compared to rings made with aluminum materials, they're quite heavy! Because Aluminum is lighter, the total weight of the rifle and scope mount is reduced, which means you can carry your rifle and scope mount for a long walk without getting tired.
Being lighter also provides improved movement and control over the rifle. As a result, you may be more precise when aiming at or taking a shot with your rifle.
Longevity and durability
Steel is far more durable. However, aluminum comes out on top in terms of longevity. This is because steel corrodes more easily than aluminum. Aluminum, on the other hand, cannot withstand the amount of impact that steel can take.
Overall, aluminum is a better choice, even though it's not as strong as steel. When all of the benefits are considered, it is a far superior solution over steel rings. Still, the decision is totally yours.
Best Scope Rings for Heavy Recoil Detail Reviews
Even if you're using the most expensive and high-quality scope in the market, it will be totally useless unless you attach it to your rifle. We've got a solution! Here are some of the best scope rings on the market, suitable for practically any high-recoil rifle scope.
1. Vortex Precision Matched Rings
Are you looking for a rifle scope mount for your high recoil rifle? There is no need to worry any longer because we have the best ring here for you! Vortex Optics produces a wide range of high-quality shooting accessories, which includes this Vortex ring. So, if you're looking for the best scope mount for strong recoil, look no further!
This Vortex ring offers excellent placement, allowing you to put the rings exactly where you want them to be. As a result, there is no undesired imbalance in your vision, and this allows you to have a first-class view through your optic.
This Vortex ring is well contructed. Each of the rings is made of aluminum. Aluminum is both lightweight and strong. Your shots will not be affected as a result of these features (a heavy-weighted scope ring can put additional weight on your rifle, and this could alter your accuracy).
Furthermore, the product's remarkable sturdiness allows it to endure any abuses without difficulty.
But wait, there's more. Vibratory toppling, serializing, and hand-bead blasting add to its toughness. It also has a type III anodized finish. As a result, we can tell you that this scope ring will have your back in practically any terrain or weather condition.
These Vortex Optics rings also have a stylish and appealing overall appearance. For you to successfully mount this ring and use it for the purpose you bought it, you have to ensure that the rings match the scope base on the rifle platform.
This rifle scope mount fits perfectly on a Picatinny rail. Trying to use it with another scope base might be challenging.
2. Seekins Precision 30mm Scope Ring
This Seekins ring is one of the market's newest and fastest-growing optical accessory brands. The firm prioritizes ease and durability, which is why it created this gem!
Let's go into the specifics. First and foremost, the item is superbly constructed. It is built to last and features a type III hard-coat anodized finish. This provides increasing immunity from environmental damages such as scratches, rusts, and dents.
It also gives the device the capacity to withstand very high recoil. As a result, it is a viable solution if you require consistent perseverance and endurance. You can use it with a heavy recoil rifle because it is built for that purpose.
Furthermore, the unit's weight is quite little. It weighs about 0.19 kilos and has a plethora of features.
Because it is so light, it has no detrimental impact on your accuracy and allows you to be highly flexible. Such characteristics are essential on battlefields or during competitive shooting.
The installation of the scope ring is a breeze. Once installed on top of your rifle, you may mount almost any sort of riflescope on it. Because of its lightweight design, your gun's mobility, precision, and control are unaffected. Pricing is also reasonable.
One of the issues with this ring is that it cannot be mounted on a weaver base; it only works on a Picatinny rail. This is because the crossbar on the base of the scope rings are too wide for a Weaver base slot. So if your rifle has a weaver rail, you will not be able to mount this Picatinny ring on it.
This Seekins ring has a 30mm ring diameter; as a result, you can only mount a scope that has the same scope tube diameter as the ring diameter.
When it comes to ring height, this Seekins scope mount has a .82-inch height. This ring height is not just low, but it is one of the lowest heights you can find. You have to ensure that the scope can sit properly on the ring without the scope bell touching the rifle barrel.
3. Warne Scope Ring
Purchasing the nicest rifle scope may be a total waste of money if you don't have the right mounting system. However, we have a fantastic thing for you right now. With this ring, you will never have to deal with such a problem. The product has a notable method that permits you to repair practically any scope you choose.
This Warne scope mount comes with an all-fit function that allows you to fix practically any type of scope you desire without any problems. It also boasts a robust recoil control, allowing you to continually take precise and steady shots.
Installing this scope ring is also a piece of cake. The recoil control keys in both the front ring and rear ring are made of stainless steel.
This Warne scope mount is made of steel, so you can expect them to be as tough as a nail. The rings have a matte black finish that is meant to protect them from the elements. You just need to fasten the four TORX type T-15 socket cap screws (with a 25 inches/pound torque ) to get the finest experience.
4. Leupold Rifleman Rings
When it comes to mounting a high-quality riflescope, which are hard to come by, placement is everything. Not to worry, we have the ideal option for you! First and foremost, the Leupold brand will present you with a list of optical shooting accessories from which you may select the appropriate one.
Aside from being able to select the perfect size that you want, you will also benefit from the superior lifespan and ruggedity of their aceessories. Leupold scope rings are built of high-quality materials like aluminum. As a result, you are sure to enjoy excellent durabilityof the rings .
Because the rings are constructed of aluminum, this makes them quite light. As a result, the device adds no extra weight to the rifle and so does not impair your shooting ability. A heavy rifle will be inconvenient to shoot with.
Additionally, the product's mounting mechanism is outstanding! It includes three distinct mounting bits that allow you to put the device atop your rifle with remarkable simplicity and speed.
Also, the mounting elements are constructed in a way that they can endure impacts from heavy recoil rifles. They are designed to retain and hold the rings firmly once they have been installed. Finally, you may enjoy all of this at a low cost. You now see why these rings are regarded as one of the best scope rings.
5. Burris Weaver Style Rings
Burris optics is a famous name in the field of optics. And, among all of its scope rings, this Weaver-type zee ring is the best for long range shots. Would you want to learn more? Continue reading!
Long-range rifles usually have a heavier recoil because of the distance the bullet needs to hit. Therefore you need a scope ring that is very strong and durable to mount your scope to a long-range rifle.
If you value precision, this scope ring is one of the best options you can consider. It features a bottom and top-matched fit, ensuring superior strength and a great fit. What this means is that when you add your scope to the rings, there would be no need for lapping because the rings were neatly deisgned to hold your scopes.
Also, the rings will not add a dent or scratch to your scope if you mount them correctly. The Burris rings are really lightweight. As a result, you can easily fit the gadget on your rifle.
Aside from that, the lightweight construction results in another feature (it weighs around 0.3 pounds), which is the stability of your rifle; as a result, you will be able to shoot precise shots without your rifle waving to the left or right because of the weight.
Furthermore, the rings are of the high kind, making them perfect for target shooting at long distances.
The ring's general appearance is pretty fascinating. Unlike traditional matte-black hue of most scope rings, this ring is nickel. As a result, it offers your rifle a unique and exciting appearance.
This Burris Picatinny ring can sit perfectly on a weaver mount or Picatinny mount.
They are strong and long-lasting, making the fit for heavy recoil rifles. This wonderful product is available at a reasonable price.
6. Monstrum Tactical Cantilever Mount Dual Scope Ring
Do you want the greatest 1-inch scope ring for your heavy recoil rilfe? We've got just the ring for you! Because this scope ring is a one piece mount, there is no need for a lengthy installation procedure. This Monstrum ring includes a plethora of additional features.
Though the ring is slightly heavier than other mounting sytem, you can be sure that it won't impair your gun's mobility or precision. Also, because it is somewhat heavier, it assists with absorbing the recoil of strong rifles to a greater extent.
Its extraordinarily strong construction is another feature that makes it on the list of best heavy reoil rings to acquire. It is made of 6061 aircraft-grade aluminum. It can withstand any punishment or abuse from your rifle or the environment.
One of the disadvantages of a cantilever mount is that you cannot attach just any scope you want on them. They have a predefined spacing (2.38 inches) between the front ring and the rear ring; as a result, riflescopes that do not match that kind of ring spacing on their scope tube will not be able to sit on the rings.
The entire mount can easily be installed or uninstalled whenever you want to change the mounts. It is a Picatinny ring and will not sit properly on a Weaver rail. The mount is designed to fit a 1-inch scope tube and may be attached to any regular Picatinny rail-fitted rifle.
The entire length of the mounting system is 5.75 inches. It has a 3 inches long base, with mounting bolts placed 2 inches apart.
7. Talley Scope Ring Mount
Are you angry and frustrated because you can't seem to find the perfect scope mounting device for your bolt action rifle or heavy recoil rilfes? If that's the case, this rings could be of interest to you. Talley's 40mm scope ring is a promising mountng device. Do you wish to know what distinguishes it from others? Well, this ring is incredibly strong. It is capable of surviving any heavy-duty caliber. As a result, you can shoot without fear of damaging your mounts!
Its solid design further demonstrates its abilty to hold zero at all time. As a result, overall accuracy is guaranteed. Installing this ring onto your firearm is a simple process; once completed, you will be able to use it with any scope.
The best part is that you'd get all of these benefits at the most reasonable prices.
Frequently Asked Questions
Is it possible to have a scope mount that is too low or too high?
Yes, it is possible to have a scope ring that is too high or low. If the ring is too low, you won't be able to attach the scope, because the scope be will rub on the barrel. If it is high, there's a good probability that you will always have to raise your face from the cheekpiece, reducing accuracy.
Is it an issue if the screw on a scope mount is overtightened?
Yes, it can damage the setup. Overtightening the mounting screw may result in damage to your scope tube.
Are the rings on a 30mm scope and 1-inch scope the same size?
No, they are not. The size of the scope tube determines the size of the mounting ring you will need. Although some rings may be used to install both a 30mm and a 1 inch optic, but it is very uncommon and you will have to lap the scope. This is not an ideal mounting procedure, and it is not recommended.