Binocular Reviews Home > Rangefinder Binoculars > Best 10×42 Binos with Laser Rangefinder
In this article, I have selected what I believe to be the best 10×42 laser rangefinder binoculars in a range of price levels to show you their main features and to help you to pick the ideal one to meet your personal needs and budget.
As the name suggests, a binocular laser rangefinder combines two instruments in one body: a pair of binoculars, and a laser rangefinder. These instruments are mainly designed for and aimed at specialized uses, such as hunting, the military and law enforcement.
However there are other uses and enthusiasts that will also appreciate knowing the exact distance to the object that they are viewing.
Note: A laser ranger is not the ideal solution for marine uses as water reflections can interfere with accurate distance measurement and the relatively short maximum range is often a limiting factor. In this situation you are most probably better off using a specifically designed Marine Binocular with a Reticle Rangefinder.
Before I get to my reviews and recommendations, I will discuss my thoughts on what determines the value and what to look out for in this type of instrument. However you may wish to skip the blurb and go straight to the recommended best rangefinder binoculars:
The Rangefinder
There are two main types of binoculars with rangefinder. Reticle and laser rangefinders. For information on these two types, and how they work, please take a moment to read the BBR guide to Rangefinder Binoculars.
In this case an onboard laser rangefinder measures the distance to the target at the press of a button and superimposes this information on the image in the view.
It does this by emitting a laser pulse that reflects back from the target. The time this takes is used to measure the distance between the binoculars and the target.
Important Features The main features to look out for on the ranger include:
1) Effective range (Note the actual range to a target like a deer will be different to the maximum range to something larger and more reflective)
2) Some models are also able to apply ballistic calculations to provide angle compensated range information, not just the line of sight distance measured.
3) Ease of use – both the menu system and the position of the buttons should be considered here.
The Optics & Chassis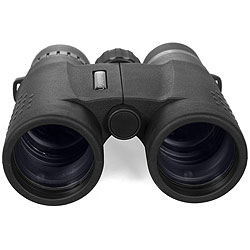 Whilst it is obviously important that the rangefinder accurately measures distance to target, you should most certainly not forget the quality of the chassis and the optics contained within. Your instrument needs to be tough enough to withstand the elements and the quality of glass and coatings largely determine the quality of the image and the level of detail that can be seen.
For most uses, but especially hunting and many security uses, it is also very important that optical performance is good in the low light conditions that you will often encounter at the start or the end of the day and early evening.
Value for money is often the trade-off between the quality of the binoculars, the optics and the ranger that you choose and the budget you can afford, while balancing other factors such as your preferences and the weight (alongside the weight of your other gear).
For more on the important features of the chassis and optics that you need to keep in mind, take a moment to read my guide to hunting binoculars.
Considerations
There are a few considerations to keep in mind when you are deciding if using a laser rangefinder is the right choice:
Stealth The first is that the laser dot projected onto your target has the potential to alert it to your presence, or disturb it in some way. In some ways this is far more of an issue for law enforcement and the military than hunting, but it is something to keep in mind depending on what your main use for the device will be.
Range Another consideration is that laser rangefinders work better on hard, more reflective targets and are more inaccurate on soft / furry targets. This will vary depending on the quality of the rangefinder used.
Also keep in mind that in less than optimal conditions and for less reflective targets the maximum measurable distance is going to be reduced.
If either of these issues is of major concern, then you may be best opting to use a bin with a reticle ranger instead.
Best 10×42 Binocular Laser Rangefinders
I have selected the following six binoculars which I believe are currently amongst the best in the market and thus worth considering for all your rangefinding and hunting needs:
Conclusion
The six laser rangefinder binoculars selected for this review range from $750 to $3,300.
All have more than capable optics and a very good build quality with tough water and fogproof bodies.
Best of the Best – The Swarovski and Leica rangefinders offer a no compromise approach where they have combined the very best components and expertise in every single area. So whilst not cheap, they will appeal to those who are after perfection in all areas.
High Performance – The Vortex Fury and Nikon LaserForce have made a few compromises (not many) and thus still offer an extremely high performance, both in terms of their optics and the ranger, but at a price level that will be in reach of more users.
Low Cost, Good Performance – Both the Bushnell Fusion and the Snypex Knight LRF offer some excellent value for money. Sure they may not match the higher end instruments in every area, but make no mistake these are still both more than capable rangers and optics in their own right and will provide those on a tighter budget with an instrument that they can use with confidence in all conditions.
Extras: As these instruments tend to be a bit heavier, I think if you are going to be spending long days out in the field or if as a hunter for example you carry other gear like a rifle or bow with you, then you really should consider investing in a good binocular rangefinder harness:
Binocular Rangefinder Harness
Well constructed, higher quality 10×42 ranging binoculars with expensive glass, a battery and the extra electronics are fairly heavy. For example Leica Geovid 10×42 HD-R above weighs 33.3oz (980g).
Not only can this weight soon become a little uncomfortable if you are only using a standard neck strap, but it is less secure and unless you hold onto it can swing about as you climb over rough or difficult terrain.
One of my best purchases for my camera (weighing 81oz with my birding lens attached) was a shoulder sling strap. Several manufacturers produce a harness strap for binoculars that distributes the weight across both shoulders, frees up your hands to hold onto other gear and keeps them securely against your chest: For more, take a look at this guide on the Best Binocular Harness for Hunting.
Where to Buy Binocular Laser Rangefinders:
Featured Rangefinder Binocular Reviews
Below are some recent binoculars with rangefinders that I have reviewed:
Rangefinder Binoculars on Amazon: