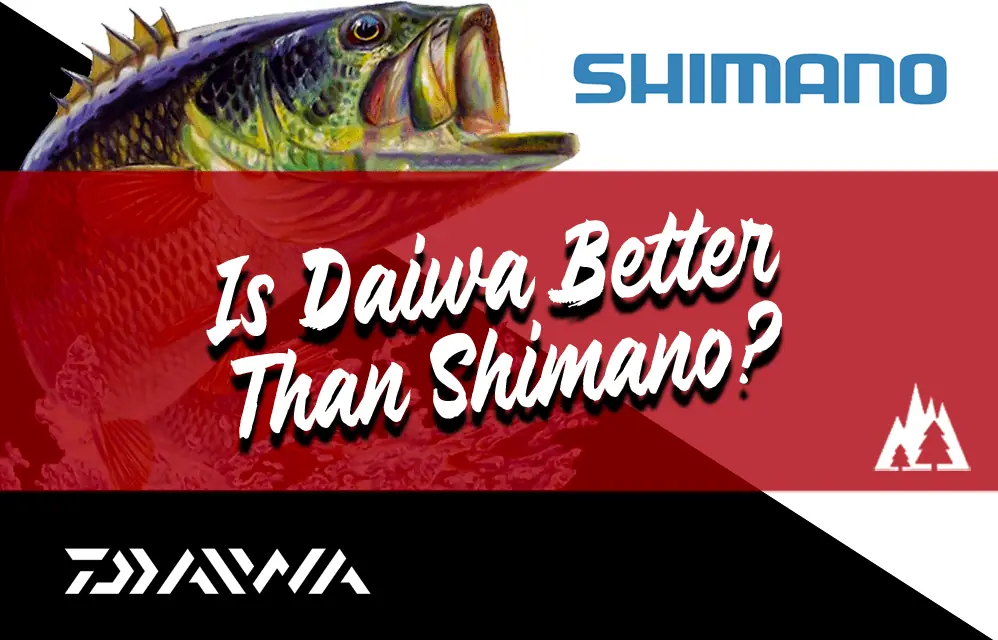 It's an age-old debate and will probably be one for years to come.
Is Daiwa better than Shimano when it comes to fishing gear?
I chuckled when I read this comment: "Pick one and become a fanboy and hate the other" LOL
Yes, it's that close.
Here's my opinion, both are powerhouse brands in the fishing industry.
No debate there.
The decision between Daiwa vs Shimano is based on personal preference, specific fishing needs, and budget constraints.
I own fishing reels from both brands and love them.
My current baitcaster in heavy rotation is from Daiwa, which I love, the Zillion SV TW.
As for Shimano, I'm on the notification list when the new Calcutta Conquest BFS baitcaster is released, hopefully, next month.
But don't just take my word.
The question was asked in a forum titled Daiwa vs. Shimano, and here are the results from 100 anglers regarding the matter:
According to this chart, it's pretty neck and neck on which brand was preferred.
But the question is, why do 21% of the anglers choose Daiwa and 25% choose Shimano?
I read all reasons and outlined them below.
Daiwa Vs. Shimano
Daiwa and Shimano are two of the most well-known names in the fishing industry.
Both Daiwa and Shimano have been established for many years, providing a variety of gear to suit anglers of all proficiency levels.
Daiwa's first spinning reel rolled off the assembly line in 1955, the brand was becoming established in 1958. They've become a prominent manufacturer of fishing tackle, and their reels are known for their quality, reliability, and affordability.
Daiwa is renowned for its dependable and economical reels and wide selection of angling equipment.
Shimano is another leader in the industry. Having been established in 1921, their fishing division started in 1970.
It is known for its high-end gear, which offers superior performance at a higher price point than many other brands on the market today.
Why Anglers Like Daiwa Better Than Shimano
Here are a few tips to take into consideration when deciding why anglers prefer Daiwa:
1. Budget
Daiwa has come a long way in terms of quality and performance in its fishing gear, especially with its reels.
They offer a wide variety of price points, providing economical solutions that allow anglers to save money without sacrificing performance.
If you're looking for a solid spinning reel under $100, you should consider getting Daiwa.
2. T-Wing Line Distribution
The T-Wing System is an innovative feature found in some Daiwa baitcasting reels. It replaces the traditional baitcasting level wind with a T-shaped line guide, which allows the line to flow smoothly through the wide top section on the cast.
This design allegedly reduces the sharp angles and friction that usually slow line flows through a narrow aperture when exiting the reel, resulting in fewer spool blow-ups and longer, easier casts.
I said "allegedly" because some folks think it's just a gimmick and really don't notice the difference.
But others do claim that the T-Wing does a great job putting the line back on the spool.
In short, T-Wing System is known for its superior performance on both the retrieve and the cast, making it a popular choice among anglers.
3. Smoothness
Now I'm not saying that Shimano reels aren't smooth; they're excellent.
But the sentiments from anglers who prefer Daiwa have had positive experiences with the reel's smoothness.Anglers often prefer Daiwa reels because of their smoothness. Daiwa's emphasis on quality engineering and innovative technology has resulted in reels that offer an incredibly smooth drag system and retrieve.
For example, the company's Magsealed technology uses a magnetic oil system to reduce friction and increase durability, resulting in smoother overall performance.
Daiwa's reels also feature high-quality bearings that help reduce friction and provide a more fluid experience. Anglers who prioritize a smooth, effortless fishing experience often turn to Daiwa as their go-to brand for fishing reels.
4. Rods
While Shimano and Daiwa are both popular brands in the fishing industry, some anglers prefer Daiwa fishing rods over Shimano, even while using Shimano reels.
This is because Daiwa's focus on quality engineering and innovative technology has resulted in rods that offer unparalleled sensitivity and strength.
For example, Daiwa's exclusive super high-volume fiber graphite technology creates a lightweight yet strong blank that allows anglers to feel even the slightest nibble.
Additionally, Daiwa's X45 full shield technology helps reduce blank twists, which leads to more accurate casts. While Shimano reels are often preferred for their smoothness, Daiwa's reputation for quality fishing rods makes them a top choice for these anglers who prioritize sensitivity and strength.
5. Style
When it comes to style, some anglers prefer Daiwa reels over Shimano. Daiwa's reels often feature sleek, modern designs with bold color schemes that make them stand out on the water. While
Shimano reels are known for their smoothness and performance. Some anglers find Daiwa's design aesthetic more visually appealing and comfortable to use.
But nowadays, Daiwa has been proving itself with great reels in terms of performance and style.
Ultimately, the choice between Daiwa and Shimano comes down to personal preference, but many anglers appreciate the style and functionality of Daiwa reels.
My Thoughts
After researching this debate and drawing results from other anglers, the results match how I feel: both brands are great.
If you had to choose one, here's a breakdown of scenarios that will help with your buying decision:
If you're looking for a baitcaster in the $150-$200+ range: Daiwa or Shimano
If you're looking for a quality budget spinning reel under $100: Daiwa
If you're in the market for a quality fishing rod: Daiwa
If you're looking for a high-end fishing reel for fresh and saltwater: Shimano
Style and unique features such as T-Wing are a personal preference. Again, these are two of the best brands in the fishing industry, you really can't go wrong with any.
Before You Go
If you really want to level up your fishing game, check out these resources before heading out on the water:
What Is The Best Color For Braided Fishing Line? Does It Really Matter?
Is A Baitcaster Good For Beginners? My Honest Opinion.
Can I Use My Freshwater Fishing Rod And Reel in Saltwater? Pros And Cons
How to Clean Baitcaster Reels After Saltwater Fishing
What Is The Difference Between A Baitcasting Rod And A Spinning Rod?