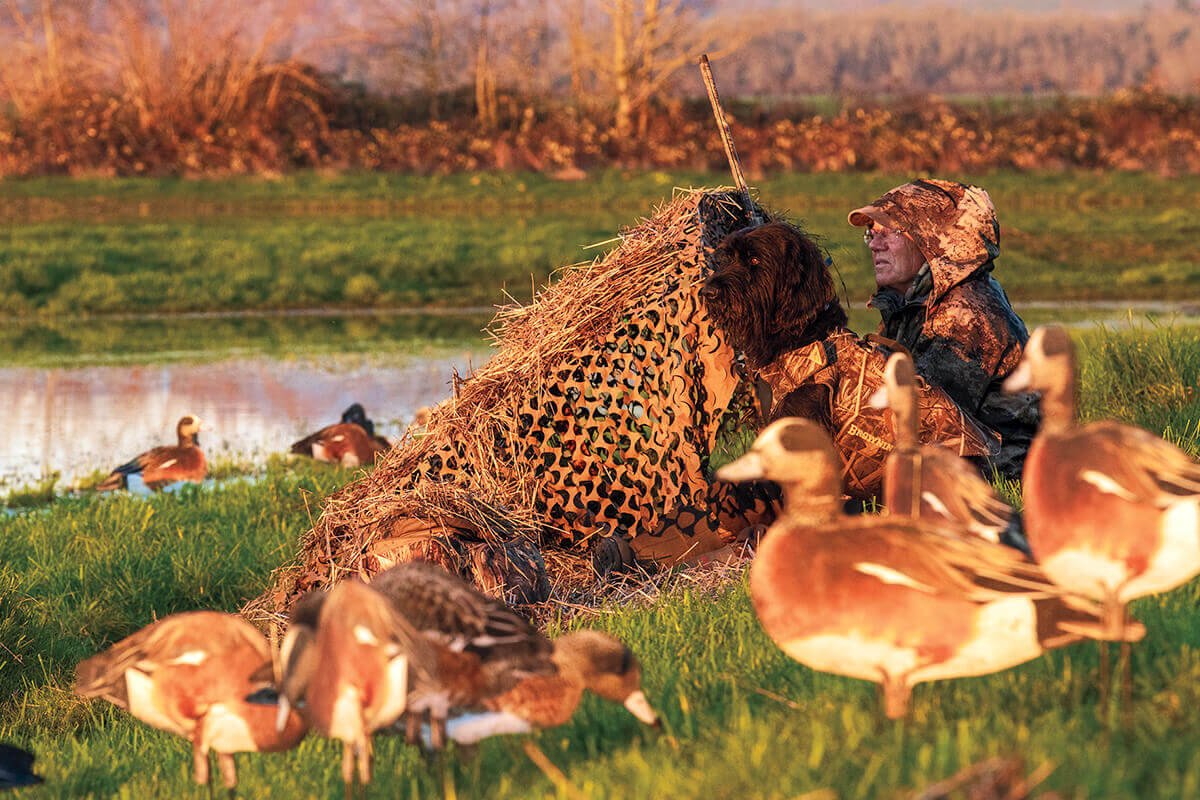 This article on waterfowl hunting was featured in the the September Game & Fish Magazine. The October issue is currently on sale nationwide. Click to learn how to subscribe
Twice I hunted a prime spot last duck season and failed to fire a shot. I first tried an A-frame blind tucked into a tree line and then a layout blind in the open. The first blind was too tight to heavy cover, which ducks avoided. The second blind had a footprint that was too big and hard to conceal, so ducks flared.
As ducks continued to land in the flooded field by the thousands, my wheels kept turning. That's when I decided to build my own, single-panel, low-profile duck blind. On the first hunt with my homemade blind, I limited in 15 minutes. The following hunt I watched more than 700 ducks land in the decoys, but I didn't shoot for the first five hours because I was seeking a Eurasian wigeon I'd seen while scouting. By season's end the little blind accounted for more than 20 limits. I had built it for less than $30.
At a local farm store, I paid $23 for a 4-by-8-foot cattle panel with 8-inch spaces. Using bolt cutters, I cut the panel in half to make a pair of 4-foot squares for two blinds. I made the center cuts against a cross-section of wire. The 8-inch protruding wires became the bottom of the blind. To make a second blind from the other panel, I cut the cross wire off the bottom, creating 8-inch protruding legs.
These legs can be bent by hand at an angle to accommodate the ground you'll be sitting or lying on. On flat ground, bending the wires about 45 degrees is ideal; use less of an angle on elevated ground. How much you bend the legs and what angle you want the blind can vary from hunt to hunt. When hunting, wedge a 2-foot-long stick between the panel and ground for stabilization. Use a finished piece of wood from home or grab a dead branch from a tree.
Get a package of 8-inch, 75-pound-rated cable ties to secure camo to the blind. A pack of 100 ties can be picked up for less than $10. It takes 16 ties to secure camo material the panel.
There are two options to cover the panel. One, wrap the panel in camo mesh and secure it around the edges and middle using the cable ties. I picked up a 5-by-10-foot section of camo mesh online for $10. Burlap also works. Leave a foot or two of mesh hanging over the sides of the panel to round the edges, which will help hide you as well as your dog. This is my preferred camo method because it allows the blind to be transported easily and covered with natural vegetation once afield.
Another option is to use dry grass or brush, which can be secured directly to the panel. If going this route, be sure to match the blind cover with the habitat you'll be hunting. If choosing to secure grass to the panel, first cable-tie a foot or so of camo netting or burlap across the top of the blind. This strip will help conceal your face and hands when calling, which can be invaluable on sunny days.
Whichever camo option you choose to secure to the panel, avoid the urge to make it thick. You don't want the blind looking dark and blocky, as it will flare birds. Having space in the blind's camouflage scheme creates light and dark patterns, and it's this contrast that provides depth of field. Your camo form under the blind, combined with the ground you're sitting on, will create an even more realistic look.
At your hunting location, pull from natural vegetation and add it to the blind. Grab handfuls of green grass, brown grass or whatever brush the blind is situated in, and scatter it atop the mesh or existing grass on the blind. If it's dry and windy, you might need to get some of the vegetation wet so it stays in place.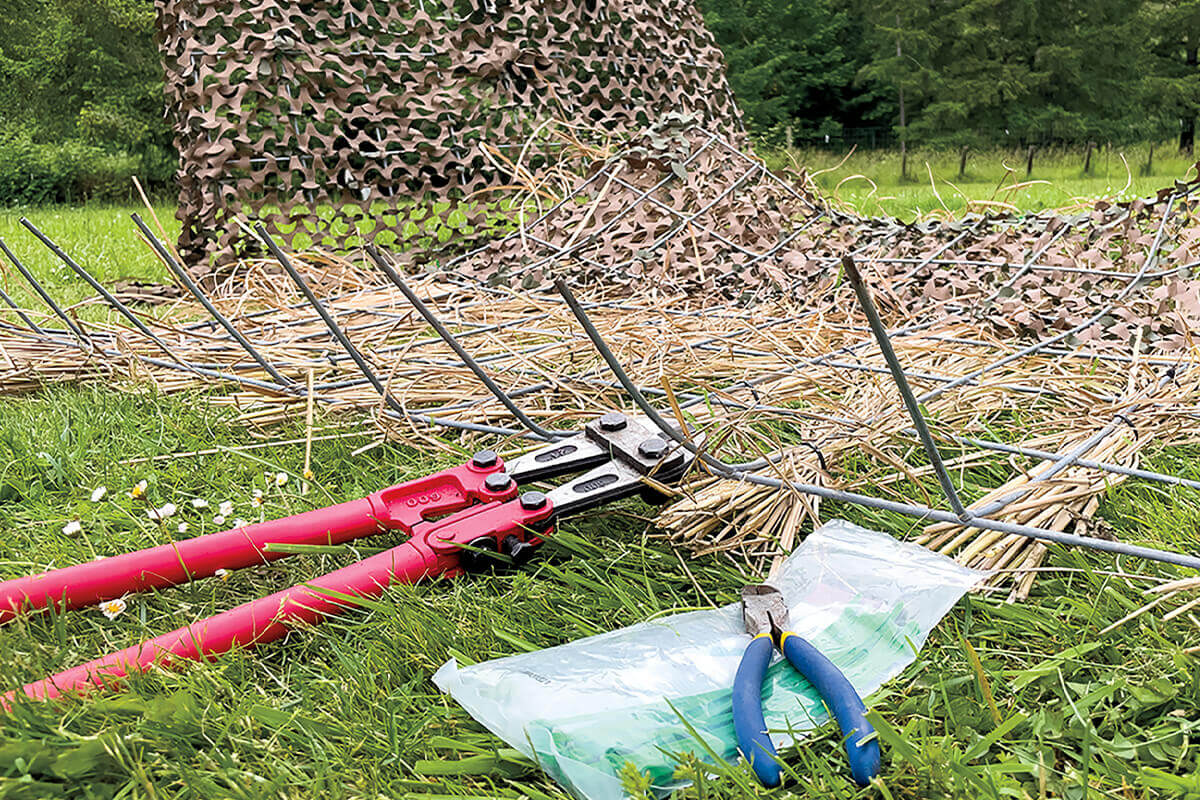 Weighing less than 10 pounds, the panel blind is easy to carry. This is a mobile blind designed for moving to and hunting on the X. If the wind changes, the sun angle is wrong or birds start working the other end of a pond, slough or field, simply pick up the blind and move. Several times last season I moved two or three times in a morning to get to where ducks were working. I killed a number of geese from this little blind, too. Along with the blind, I usually take a dozen floater decoys and a few dozen silhouettes. Going light allows for quick and easy moves and adjustments to be made.
The biggest challenge when hunting from this blind is getting a shot. Because you're usually lying down, it can be hard to sit up, twist, turn and follow ducks. If it's muddy, a pad will help keep you from sliding around in your waders (I sit on my decoy bag). Covering the ground beneath you in grass or weeds also helps. Since your movement can be restricted, let the birds work into the decoys in front of you to maximize shot opportunities.
After every hunt I either take the blind and decoys with me or, if I'm going to return to hunt the same place, stash the decoys under the blind and cover it. I never leave the blind standing or the decoys out when I'm not hunting, as I don't want people—or birds—to see my setup. If hunting pressured public land, take it all with you when done.
Repair any holes in the blind and add cover as needed as the day and season progress. This small, mobile blind will put you on the X when roomy, fixed blinds fail. It's a bargain-priced project that you can complete in less than an hour and benefit from all season long.