Baked buffalo fish is juicy and flaky with wonderfully crispy skin. Flavorful cajun-seasoned fish is stuffed with parsley and topped with a lemon garlic butter sauce. This simple whole buffalo fish recipe looks impressive and serves as a wonderful light and delicious main dish!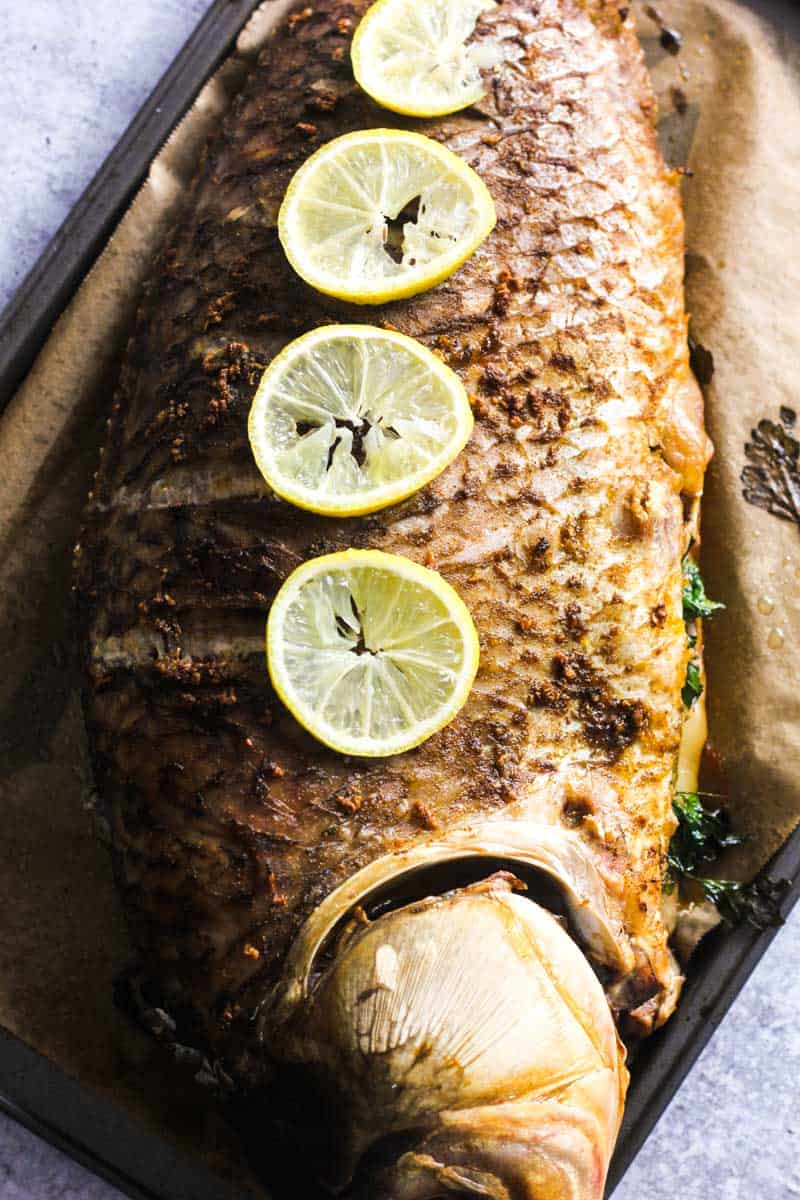 Cooking a whole fish can seem intimidating but it's actually very easy. This recipe will walk you through how to bake a whole fish so that it's juicy and perfectly tender. Starting with a fish that is already gutted and scaled all you have to do is cover it in your favorite seasonings and then bake!
If you have never heard of buffalo fish before you might be thinking of buffalo chicken wings but using fish instead. But despite its name, buffalo fish is a type of freshwater fish.
Instead of covering it with a creamy buffalo sauce, in this easy recipe, a whole buffalo fish is stuffed with fresh parsley and lemon and then covered in a buttery cajun garlic sauce and lemon slices. It's an impressive baked fish dinner that everyone will enjoy!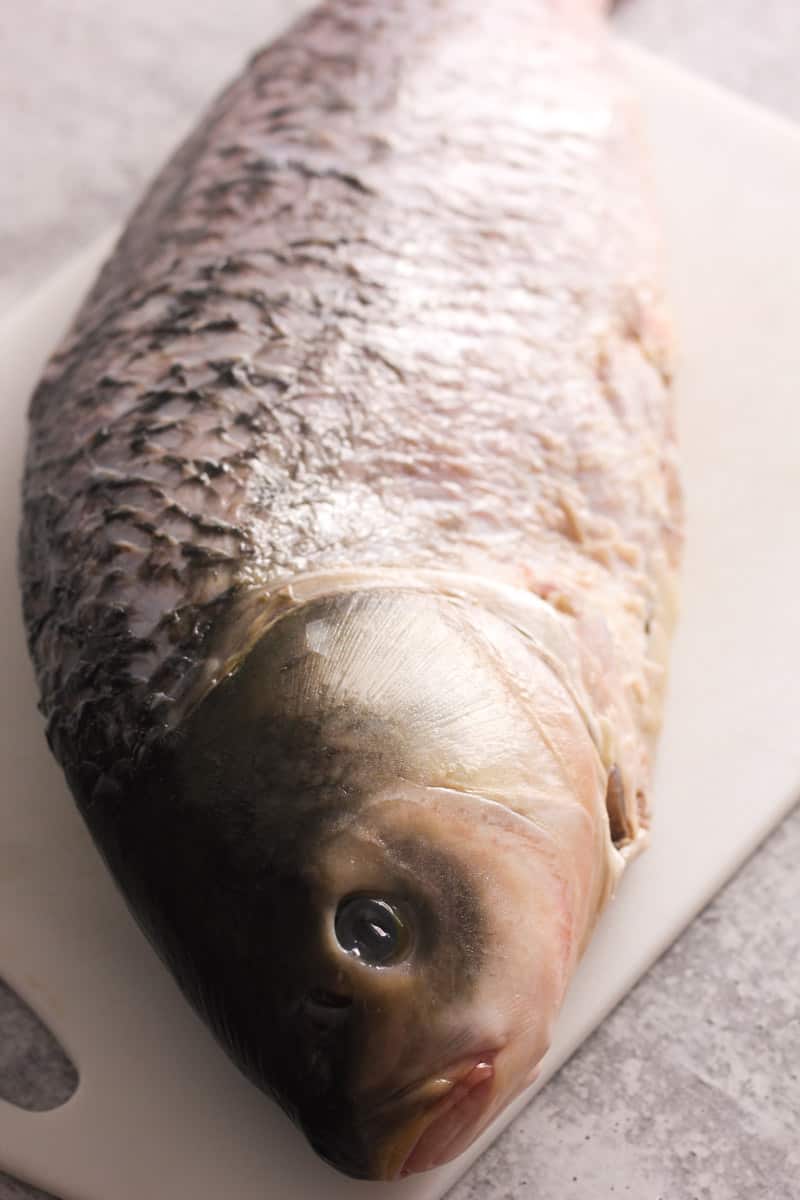 Recipe ingredients
Whole buffalo fish. Fresh fish is incredibly flavorful and it has a wonderful texture. If you can't get your hands on fresh, make sure to completely thaw before using.
Cajun seasoning. This bold, smoky, and flavorful spice blend is added to the butter sauce.
Lemon. Adds a bright citrus flavor to the fish. Lemon juice is poured over the fish and lemon slices are cooked on top.
Garlic cloves. Minced and added to the sauce to give the fish a bolder garlic flavor and aroma. It complements lemon and seafood very well.
A fresh sprig of thyme. Cooked on top of the fish.
Butter. Melted to create the cajun lemon garlic sauce and helps the skin become extra crispy.
Fresh parsley. Stuffed inside the fish cavity to flavor the inside.
How to make baked buffalo fish recipe
Its best to use fresh fish for this recipe. If you have a frozen buffalo fish, thaw it first. Its best to leave the fish in the refrigerator overnight or until thawed completely. You can also leave the fish on the counter for couples hours.
Remove scales and clean whole buffalo fish. Rinse very well with cold running water and place on the parchment paper lined baking tray. Preheat the oven to 400 degrees Fahrenheit.
Meanwhile prepare your seasoning mix. Melt butter and mix it with Cajun spices, minced or finely chopped garlic and half of the lemon, juiced. Make slits in the fish and cover it with the butter mixture.
Add some inside the fish as well. Place parsley in the fish cavity along with leftover lemon slices. Place slices on top of the fish with thyme springs(optionally).
Bake for 30 minutes or more, depending on the size of the fish. The internal temperature of fully cooked fish should be at least 145 degrees.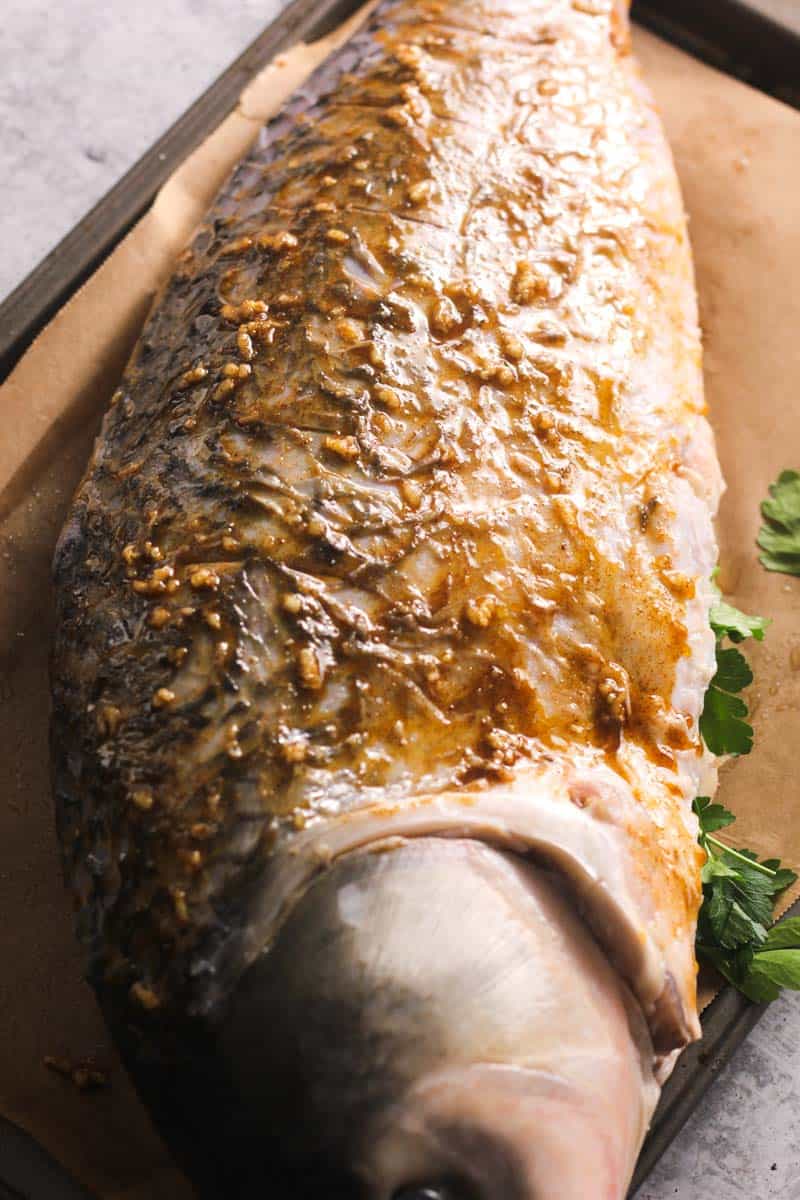 What kind of fish is it
Buffalo fish or bigmouth buffalo is a type of fish and not only a cooking style. This freshwater fish is native to the rivers and streams of North America.
It is a large bottom-dwelling fish with greyish/brownish colored skin. Because of its size and shape buffalo fish is often confused with the common carp, but these are two different fish varieties.
While buffalo fish is not as common as other types of fish, it is a tasty whitefish known for its sweet flavor that's both delicate and flavorful without being fishy tasting.
Because of its slightly firm texture, this fish holds up really well when grilled, baked, or stir-fried.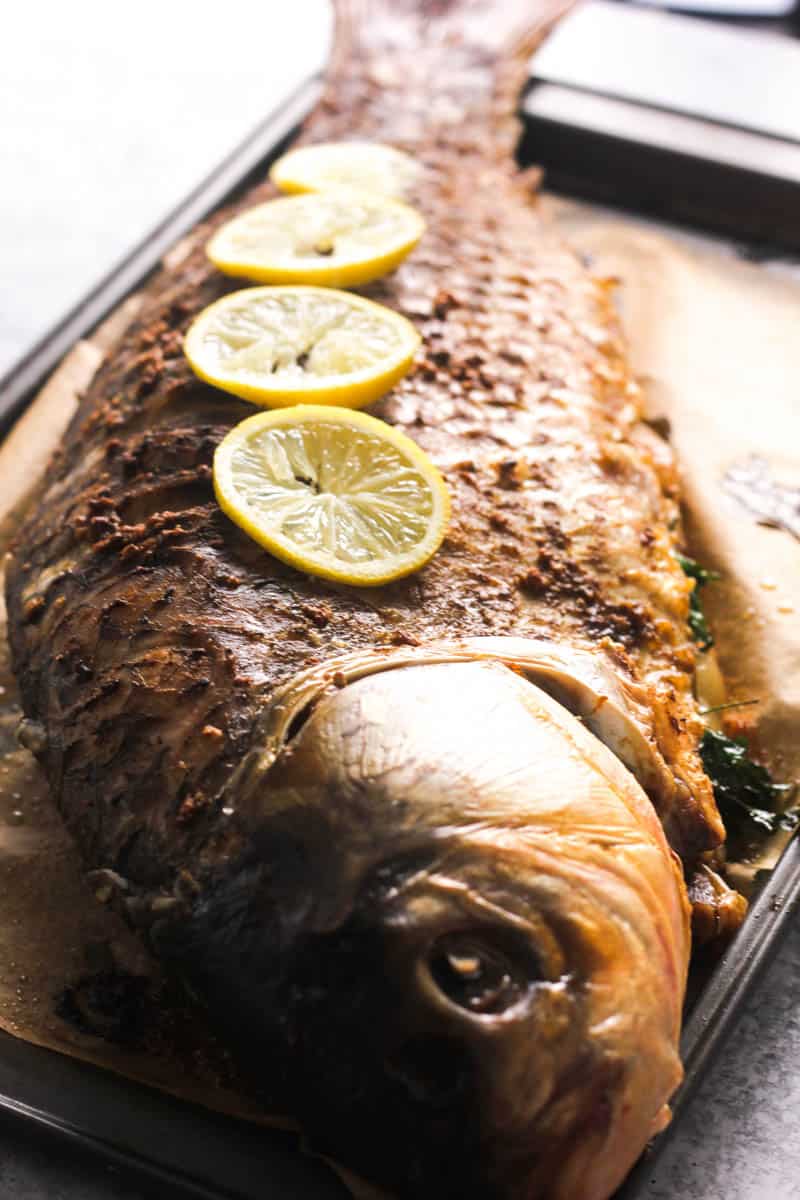 Substitutions
Buffalo fish. Catfish is a good substitute for buffalo fish.
Seasoning. Creole seasoning or Old Bay seasoning. You could also simply use a blend of cayenne pepper, smoked or regular paprika, black pepper, onion powder, and garlic powder.
Fresh herbs. Use whatever herbs you love! Sprigs of fresh rosemary, oregano, cilantro, or tarragon would taste amazing in this baked buffalo fish recipe.
Variations
If you want to make actual buffalo-style buffalo fish, cover fish fillets with buffalo sauce then bake until tender.
Roast with baby gold potatoes, fingerling potatoes, cherry tomatoes, asparagus, or onions to make a richly flavored and easy side dish.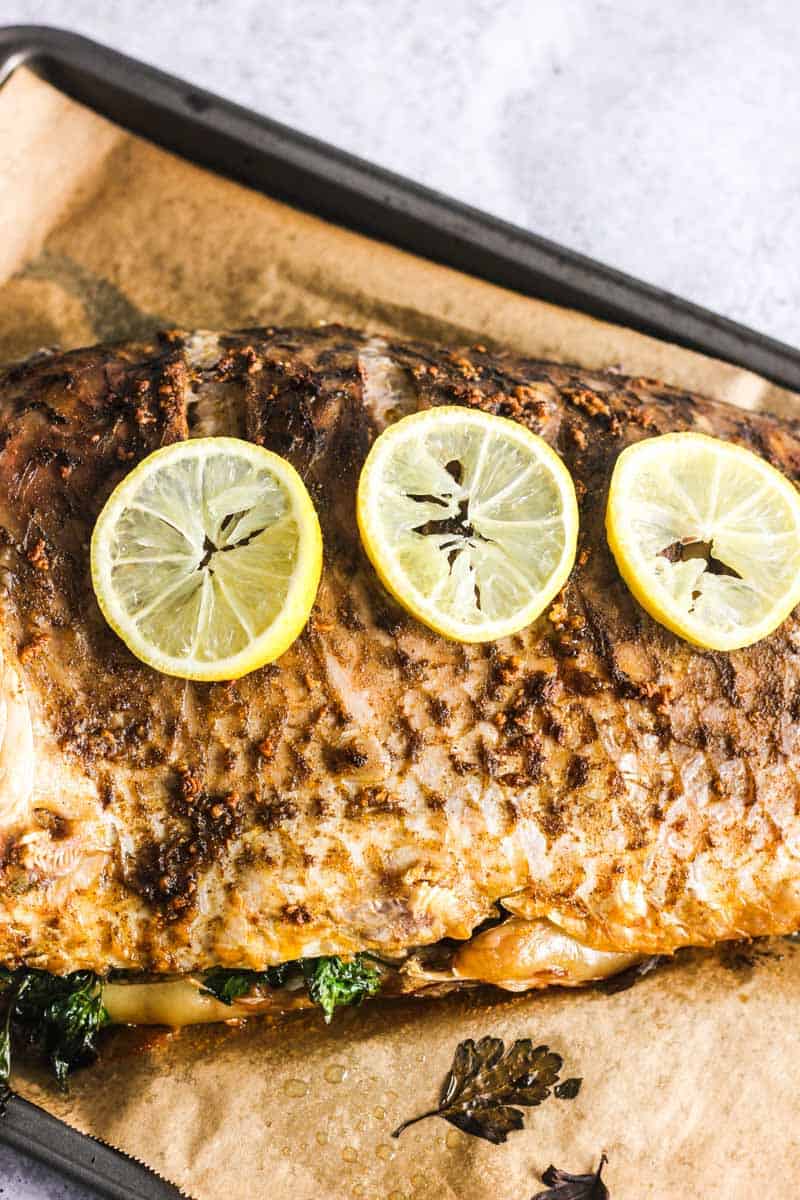 Frequently asked questions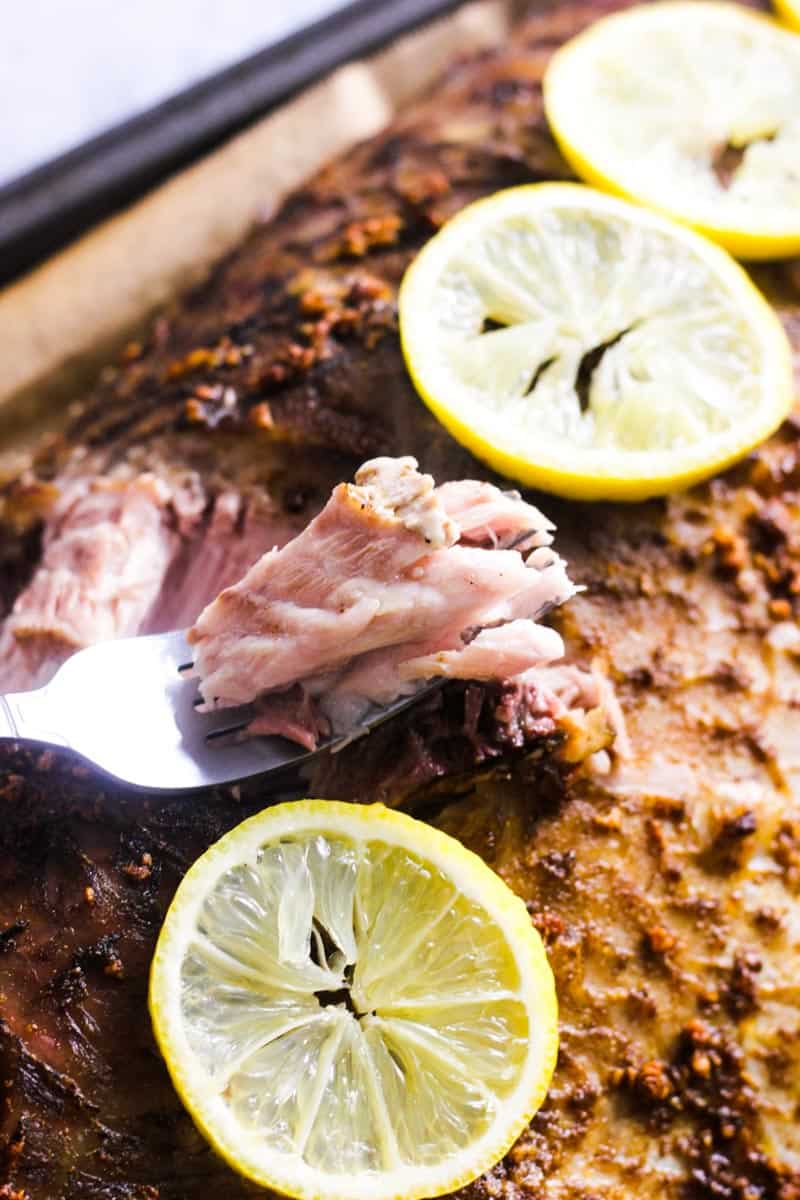 Side dishes
You can add zucchinis and cherry tomatoes to the baking tray to cook together with the fish. They will turn out lovely. If feeding a crowd cook some white or brown rice or potatoes. It could be roasted potatoes, mashed or scalloped. Or simply boiled with dill and butter- my favorite!
Make a fresh spring salad with romaine lettuce or arugula, kale, cherry tomatoes, onion and cucumbers. Drizzle olive oil and a little bit of balsamic vinegar and enjoy your healthy dinner!
Another great side dishes for white fish are broccoli, Brussels sprouts or asparagus. Perfect for late dinners and very healthy!
Leftovers
Store baked buffalo fish leftovers in the air tight container in the fridge for up to 5 days. Reheat in the microwave for about 1 minutes. Don't overheat or it will overcook the fish and it may become dry. You can also reheat buffalo fish in the oven. It will take about 5 minutes to reheat with the temperature on 400 degrees Fahrenheit.
Or use you oven broiler! No time needed to preheat, just pop it in the oven and broil for couple minutes. Watch closely, it may burn fast.
More seafood recipes
Ninja Foodi cod recipe
Argentinian shrimp recipe
Air fryer haddock
Air fryer stuffed salmon
Cuttlefish recipe
Whole catfish recipe
Air fryer frozen cod
Ninja Foodi frozen salmon
Baked shrimp oreganata
John Dory recipe
Hope you will like this Baked Buffalo fish recipe as much as we do. Rate the recipe if you like it and leave a comment below if you have any questions or suggestions.