In not-too-distant decades past, if one wanted large-bore Magnum power out of a handgun, he was limited to a revolver such as the Smith & Wesson Model 29 .44 Magnum or S&W Model 57 .41 Magnum i.e. no semiautomatic pistols fit the category.
Then in the 1970s, along came the .44 AutoMag, which used a bastardized rimless version of the .44 Magnum cartridge, but in spite of the notoriety from the 1983 Dirty Harry film "Sudden Impact," that gun was a commercial failure.
Luckily for big-bore autopistol enthusiasts, the 1980s brought about the Desert Eagle – which used actual rimmed revolver cartridges in .41 and .44 Mag alike – as well as the .475 Wildey Magnum and the LAR Grizzly .45 Winchester Magnum (both of which were designed as autopistol cartridges from the ground up).
Now, someone has figured out how to semi-automate (so to speak) the gargantuan S&W .500 cartridge.
Say hello to the AR-500 Auto Max.
AR-500 History & Specifications
The AR-500 is indeed a .50 caliber, pistolized version of the AR-15 rifle. As per the official info page from the manufacturer, Big Horn Armory:
"(T)he AR500 Pistol is a large frame AR chambered in 500 Auto Max. This cartridge in combination with our AR500 Pistol puts an unparalleled amount of power into a pleasant shooting, rapid firing, exceptionally compact firearm. This combination of size, maneuverability and energy on target make the AR500 Pistol easily accessible and ready to handle almost any situation … The 500 Auto Max is a rimless 500 S&W Magnum that is easy to obtain or reload. A very versatile cartridge, it can be had in loaded ammunition with bullets ranging from 350grns to an amazing 600grns. The handloader can utilize bullets ranging from 275grns to 700grns in almost any bullet type imaginable, hardcast, jacket hollow points, monolithic solids, etc. This unprecedented range of bullet weight and design make the AR500 suitable for anything from prairie dogs to pachyderms to Peterbilts. Truck stopping power in a platform weighing less than 10 pounds."
Specifications include a weight of 8.5 pounds (thus putting truth to the manufacturer's claim of "less than 10 pounds"), a barrel length of 10 inches, an overall length of 32.25 inches, a 1 in 24 rate of twist, a 3.5-lb trigger, a standard magazine capacity of 5 rounds (with 9-rounders optionally available), action materials made of hard anodized 7075 Aluminum, and metal finishes of Hunter Black Nitride on stainless steel parts.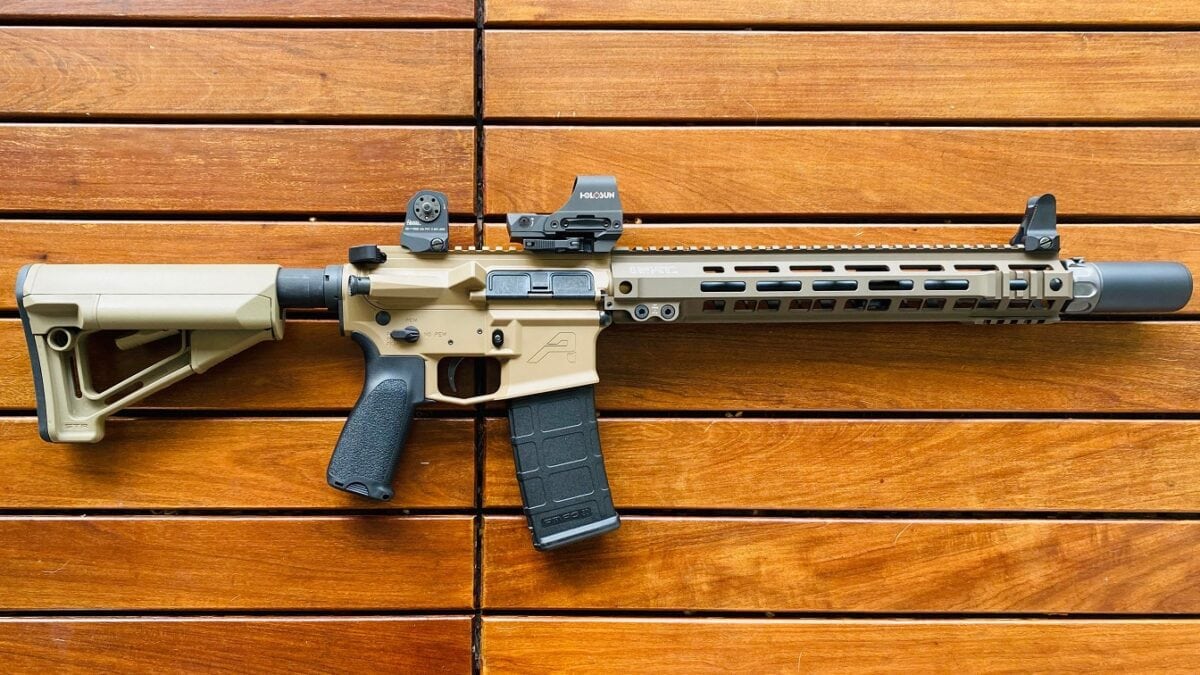 Initially released in 2018, the gun was rereleased in mid-2020 with updated and upgraded features such as a new Blade pistol brace and M-lok handguard and also an ambidextrous safety and charging handle.
The company statement, published in Police1, declared the weapon to be ideal for SWAT officers, military, or private security use for vehicle carry or as a powerful breaching weapon capable of clearing any obstruction, including bulletproof (or more accurately, bullet-resistant) glass.
Range Reports
Gun writer Todd Burgreen, in an April 2020 article for BallisticMag.Com, reported excellent accuracy results with the AR-500 while test-firing it at the Echo Valley Training Center's (EVTC) Jungle Walk Range; utilizing a Trijicon 1-8x Variable Combat Optical Gunsight (VCOG) with Illuminated Reticle, he was able to obtain consistent 1.75 inch or better groups at 100 yards. Not exactly minute-of-angle (MOA), but still plenty accurate. And in spite of the massive bore size, Todd likened the perceived felt recoil to that of the 20-gauge shotgun level, thanks to the muzzle brake.
Mr. Burgreen also reported impressive impact effects on the targets: "The Big Horn Armory AR500 proved devastating against range vehicles located on EVTC's stepped berms. The .500 Auto Max loads had no issue penetrating windshield or car body to engage steel popper targets located inside."