Simple. Reliable. Powerful. Effective. Tested. Proven.
Each of the six rounds you place in a .357 Magnum revolver delivers some of the best performance from a handgun.
Its bare-bones design and easy-to-use mechanism make it perfect for beginners. The utility of the .357 Magnum round makes it just as pleasing for experienced shooters.
Considering the diverse ammunition loads available, it is easy to find one that works for you.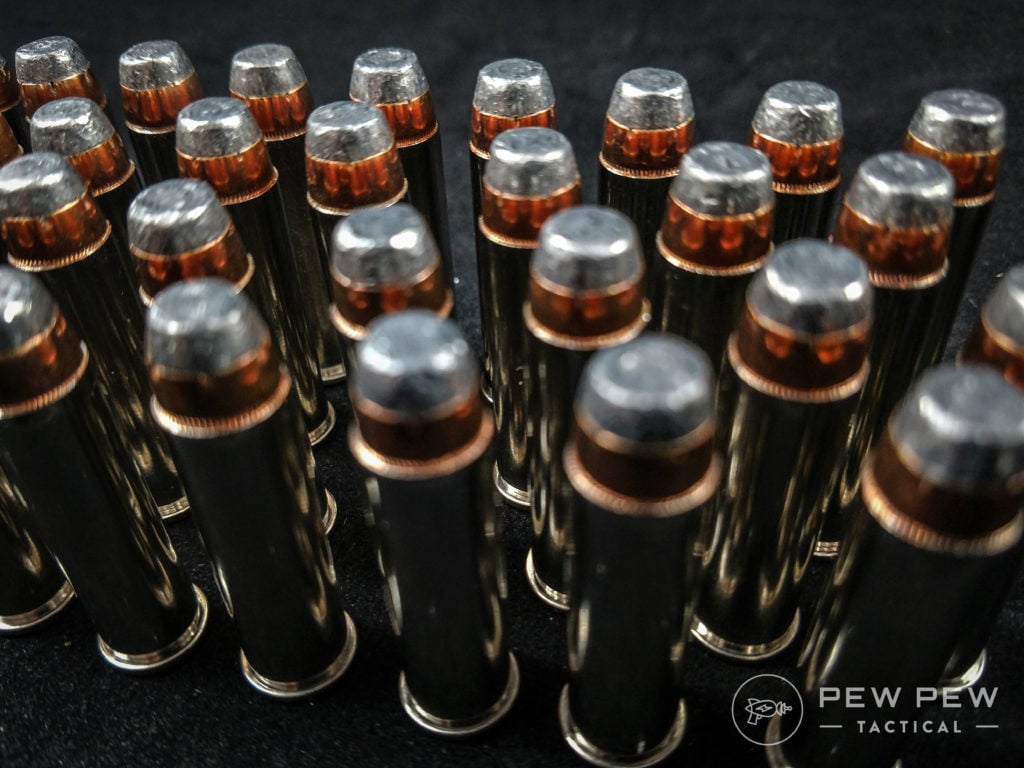 But with plenty of options on the market, that doesn't always mean that selecting a gun is easy…but that's why we're here to help.
We've rounded up some of our favorite .357 Magnum revolver models based on features and value, so keep reading to see what we recommend!
THE QUICK LIST
Why You Should Trust Us
Input into this article came from the PPT editorial team and our writers. Together we have a combined shooting experience of 30+ years, including instruction, competition, and multiple shooting disciplines.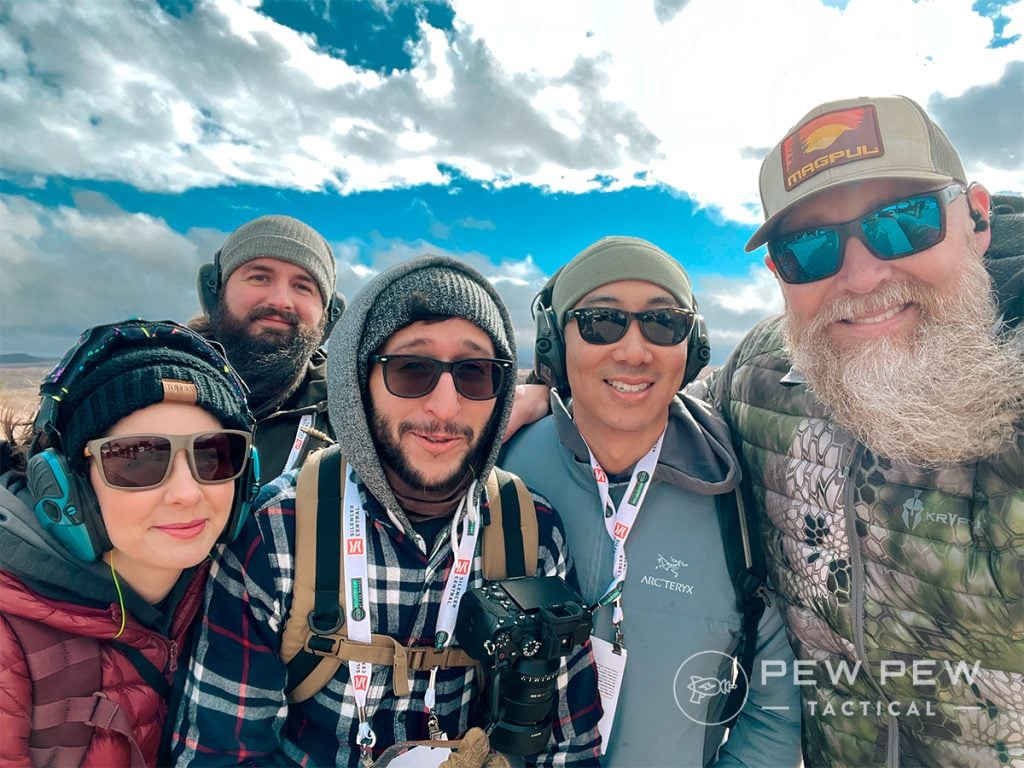 We've spent countless hours researching and analyzing guns and gear to determine which is the best when it comes to features, reliability, ergonomics, and bang for your buck.
We had to make some tough calls. If you don't see your favorite revolver, it doesn't mean we hate it, just that we couldn't include it this time.
What is the .357 Magnum Cartridge?
The .357 Magnum cartridge is a revolver round with a .357-inch bullet diameter. It was first introduced in 1934 and serves as the foundation of the "Magnum Era."
Then, as now, everyone wanted more powerful ammo. This ammo has diverse use ranging from target shooting to self-defense and hunting.
The round is based on the earlier Smith & Wesson .38 Special cartridge and was first designed with a 158-grain semi-jacketed soft point (flat) bullet.
Since more of the bullet's mass is outside the cartridge, there is more room for powder in the cartridge.
The 158-grain semi-jacketed soft point bullet permits the quicker transfer of energy, which enables the bullet to do more damage.
Aside from being much more powerful, the .357 Magnum round also needed a 1/8-inch longer case to hold more gunpowder.
This longer case makes it impossible to load a .357 Magnum round in .38 Special revolvers. The extra length prevents the revolver's cylinder from closing and locking into place.
Check out our picks for the best .38 Special & .357 Magnum ammo for home defense, target shooting, and hunting.
Best .357 Magnum Revolvers
1. Smith & Wesson Model 60 .357 Magnum
The Model 60 is a 5-shot DA/SA stainless steel "J" frame revolver.
It has a 2.125-inch underlug barrel and exposed hammer with black synthetic grips that wear well.
This gun opts for a front blade sight and fixed rear sight. All in all, it's an excellent concealed-carry revolver if you want a lot of firepower in a small package.
2. Ruger Model SP-101
The SP-101 is a 5-shot DA/SA .357 Magnum available in stainless steel or blued finishes.
The 2.25-inch and 3-inch models offer synthetic black grips, front ramp sight, and fixed rear sight. Ruger also offers a 4.2-inch model that sports a fiber optic front sight and adjustable rear sight.
Personally, I like the stainless steel version since it handles moisture better than blued steel.
3. Ruger GP-100
The Ruger GP-100 is a 6 or 7-shot .357 Magnum revolver with a DA/SA medium frame revolver.
It is available in blued and stainless steel finishes and a variety of barrel lengths — with the 4.2-inch and 6-inch offerings being the most popular.
I prefer the 4-inch underlug barrel, adjustable rear sight, and ramp front sight. Additional features include black Hogue grips and an exposed hammer.
The GP-100 is heavier and larger than the SP101, but it helps to stabilize the gun and control recoil.
What do you think of the Ruger GP-100? Rate it below!
4. Manurhin MR73 Sport
The Manurhin MR73 is a 6-shot .357 Magnum revolver that is available in barrel lengths between 4 and 8 inches with a deep blue finish.
Developed for use by French police and Special Weapons and Tactics units and fielded by the French GIGN, the accuracy and durability of this revolver are legendary.
The gun features a fully adjustable rear sight, match trigger, and is completely hand-fitted to exacting tolerances.
Although extremely expensive, the MR73 is regarded by many as the finest .357 magnum revolver ever made.
5. Smith & Wesson Model 627 Pro Series
The S&W 627 Pro is an 8-shot .357 Magnum DA/SA.
It is a stainless steel "N" large-frame revolver with a 4-inch custom underlug barrel. This gun is also quite stylish with an 8-round fluted cylinder and choice of black synthetic or wood grips.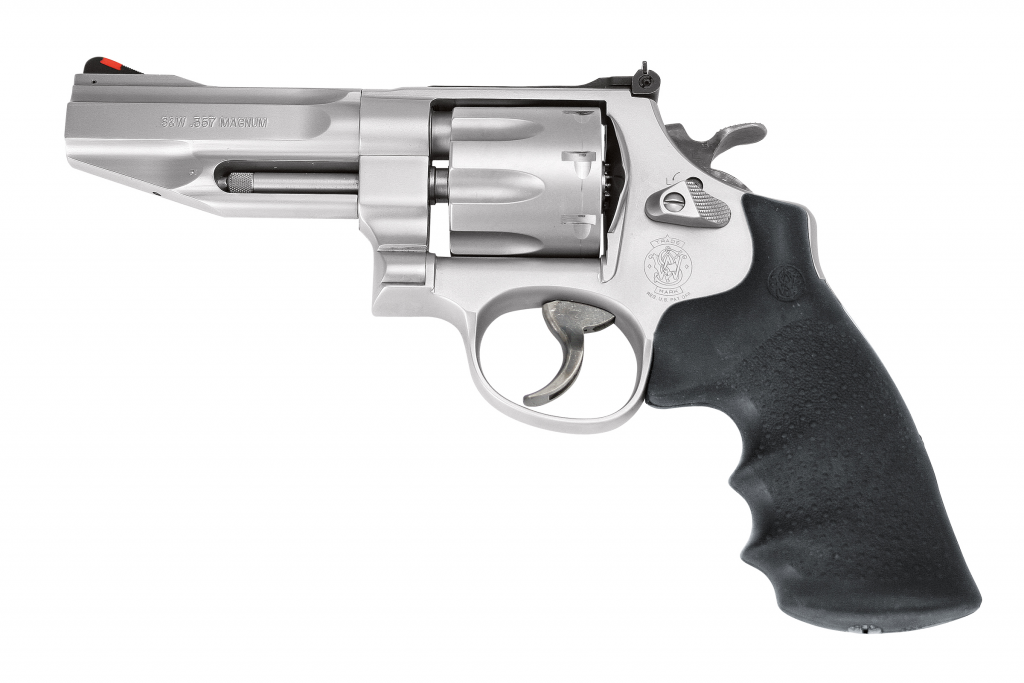 The Model 627 also brings a large trigger and hammer and adjustable rear sight with a gold bead front sight.
It handles .357 Magnum ammunition very well, and you will feel little recoil when firing. Another advantage…you can choose to load this gun using an 8-round moon clip.
6. Colt King Cobra
The King Cobra is a medium-frame 6-shot revolver with a 3-inch barrel, sporting a brushed stainless steel finish.
It features a fixed rear sight, brass bead front sight, and Hogue Overmolded rubber grips.
While heavier than the standard Colt Cobra, the extra weight helps tame the recoil of the .357 Magnum cartridge and increases service life.
The grips, barrel length, weight, and good DA/SA trigger make this revolver very balanced and pleasant to shoot without being unwieldy.
Check out our review of the King Cobra or view what others think about the Cobra over on our Pew Pew Meter Page!
7. Colt .357 Magnum Python
Rereleased in 2020, the Colt Python made its return as a 6-shot DA/SA revolver with a high-polish stainless steel finish.
Currently, the 2020 Python is available in either 3-, 4.25-, or 6-inch configurations.
The Python also has a ventilated top rib and a full underlug to protect the ejection rod. You also get match-grade wood grips and adjustable sights.
I have found the weight of the Python ideal for stabilizing the recoil of the .357 Magnum. Not to mention, the gun is devilishly handsome.
8. Kimber K6s
A relative newcomer in comparison to some of these models, the Kimber K6s comes in a few different models — with the main two being the standard K6s (Double-action only) and the DASA (exposed hammer).
Barrel lengths differ based on which model but most float between 2 and 4 inches.
Billed as the lightest 6-shot revolver, the K6s weighs in at around 23 ounces. If you're looking for a high-quality concealed-carry revolver…this is it.
Be sure to read all about the K6s in our review!
Small, Medium, Large Frame: Which One is Right for Me?
Let's talk a little about the various frame sizes you can expect to see when shopping…
Small Frame Revolvers
These revolvers are easy to conceal in a holster, purse, or fanny pack.
Their size also makes them easy to draw and bring to bear quickly. Small frame revolvers usually weigh between 12 ounces and 2 pounds when empty.
For small frame revolvers, I don't recommend always shooting heavy-loaded .357 Magnum ammo.
It's possible to wear out or break important parts of the revolver under these loads. For general target practice, shoot .38 Special ammo.
To simulate the carry .357 Magnum ammo, use .38 Special +P or low velocity .357 Magnum ammo.
Medium Framed Revolvers
These revolvers usually weigh between 20 and 40 ounces unloaded.
You can carry them concealed easily with a 4-inch barrel if you wear loose clothes, and they also conceal well in a fanny pack.
As with the small frame revolvers, I prefer DA/SA trigger action and stainless steel.
Steel is a little heavier, and better controls .357 Magnum's recoil. You will get better accuracy in rapid-fire on the second and third shots.
For these guns, I still recommend using .38 Special ammunition for practice — lead round nose or FMJ.
Practice with light .357 Magnum ammunition to simulate heavier loads. Before you quit shooting for the day, shoot at least two cylinders of your defensive ammo.
Large Frame Revolvers
These revolvers weigh between 25 to 60 ounces empty.
While these guns are powerful, their large size and heavy weight make them harder to conceal. Printing is a challenge.
On the plus side, these guns can handle large amounts of heavily loaded .357 Magnum ammunition.
You can also shoot for extended time periods without feeling recoil discomfort.
For target practice, I still recommend using .38 Special ammo to save money. Use some practice time to shoot mid-range .357 Magnum ammo and finish with a few "hot" defensive rounds.
History of .357 Magnum Revolver
The development of the .357 Magnum cartridge was shepherded by some of the most brilliant minds of the era.
While there are plenty of .357 models and companies that produce them, a few gun makers immediately stand out…
Smith & Wesson
The Smith & Wesson company first started in Norwich, Connecticut, in 1852. But the company's first .357 Magnum revolvers wouldn't show up until 1934.
In 1957, Smith & Wesson began using its famous model numbering system.
The .357 Magnum revolver was then known as the Model 27, built on an "N" frame. The "N" frame is the largest frame used for the S&W .357 Magnum revolvers.
Smith & Wesson's lighter "K" frame Model 19 was released in 1957 — developed to meet the special needs of law enforcement.
Some private citizens still use K Frames for self-defense, target shooting, and hunting, but they're pretty obsolete.
You can also find some "L Frame" revolvers that are somewhere between the "K" and the "N" in frame size.
Finally, there's the J Frame…probably one of the most popular styles of revolvers.
There are three revolvers types in this series — Chief's Special, original Bodyguard, and the Centennial.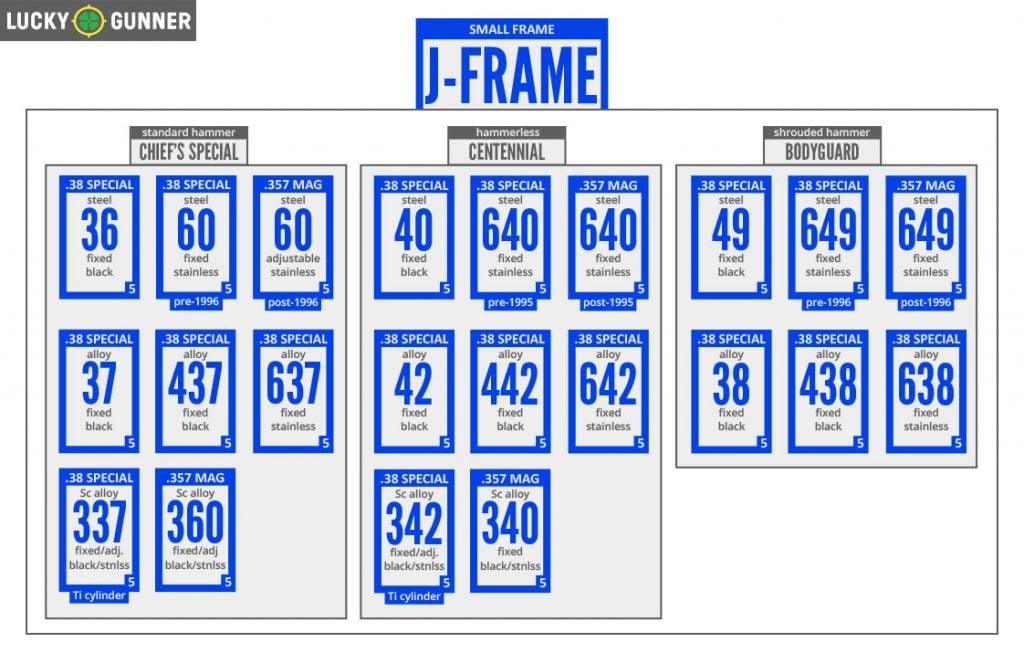 Sturm, Ruger, & Co. Inc.
This company is well known for .22 caliber pistols and rifles that shoot centerfire and rimfire ammo.
But they are also famous for shotguns and the .357 Magnum DA/SA, DA only, and SA Revolvers.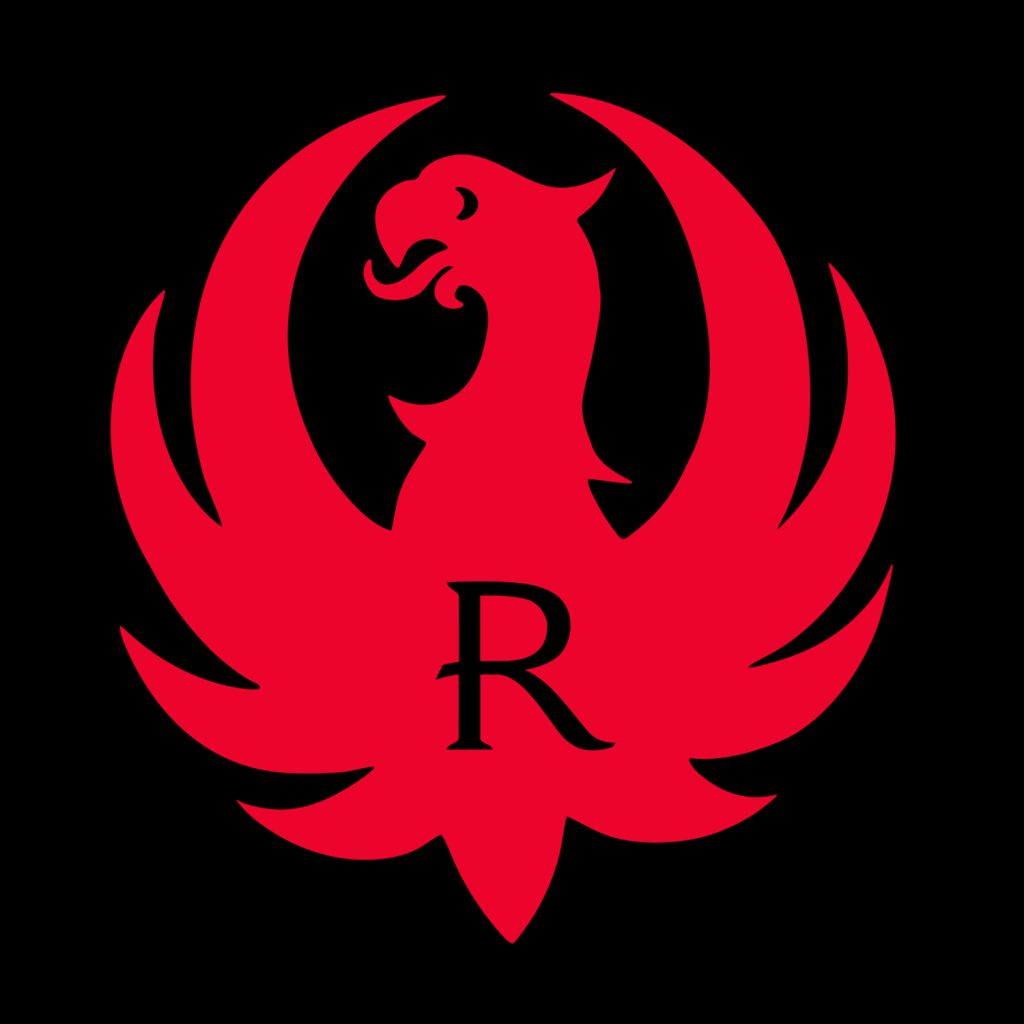 In 1972, Ruger introduced the Ruger Security-Six, Service-Six, and Speed-Six Revolvers for law enforcement, civilian self-defense, and military markets. The GP-100, Redhawk, and SP-101 would later follow.
Ruger also manufactures .357 Magnum revolvers, including the Blackhawk and the Vaquero.
The Vaquero is a retro-style revolver that was made for cowboy action shooting fans and looks like the old Colt Single Action Army Revolver of 1873.
Colt Manufacturing Company
One of Colt's most famous revolvers is the 1873 Colt Single Action Army in the Colt .45 caliber.
It was popular with the public and used in the U.S. military from 1873 to 1892. You probably also know it as the gun that won the West.
Final Thoughts
When selecting a .357 Magnum revolver, keep in mind frame size and capacity so you can be sure to pick the one that's perfect for you.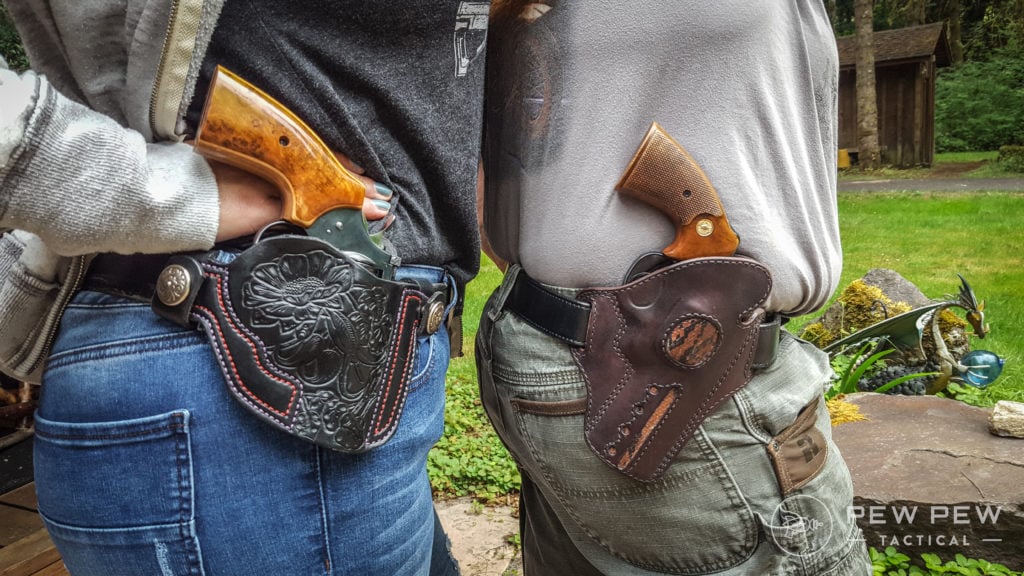 There are a ton of revolver models floating around the market, and most are solid. These happen to be some of our favorites.
What are your favorite models? Let us know in the comments below. To see what we recommend feeding your revolver, check out the Best .357 Magnum Ammo.