Reading Time: 6 minutes
You can read about our picks for the Best Ice Fishing Destinations in the US for 2022 here.
As soon as the summer ends, most anglers tuck away their rods for the next few months. For those who don't want to say goodbye to their favorite activity, however, we have some really good news. There are many amazing ice fishing spots all around the States that will show you a great time on the (frozen) water even during the coldest months of the year.
Having that in mind, we selected some of the best ice fishing destinations in the US, just for you. We included some all-time favorites, as well as some off-the-beaten-path choices. Read on to find out more!
Devils Lake, North Dakota
There are many reasons why Devils Lake is first on our list of the best ice fishing destinations in the US. First of all, the lake is huge and you can find many great fishing spots all around.
No matter how many anglers decide to show up, there's enough space and fish for everyone. In addition to this, there are bait shops and maps available around the entire lake. This makes it easier for you to get started, even if you don't have any experience fishing here.
However, if you'd prefer to explore new areas with a professional fishing guide, there are many outfitters that will show you a great time during your stay.
When it comes to popular catches on Devils Lake, it's not uncommon to reel in a trophy Perch, Walleye, and Pike – all in one trip. Once in a while, you might also come across a nice White Bass. The lake is suitable for both beginners and more seasoned anglers.
Red Lake, Minnesota
Red Lake in Minnesota is another popular choice among ice fishers. This lake is divided into two lakes that are connected by a channel. The Lower Red Lake and 60% of the Upper Red Lake are closed to the public. However, the remaining 40% is a Walleye ice fishing heaven!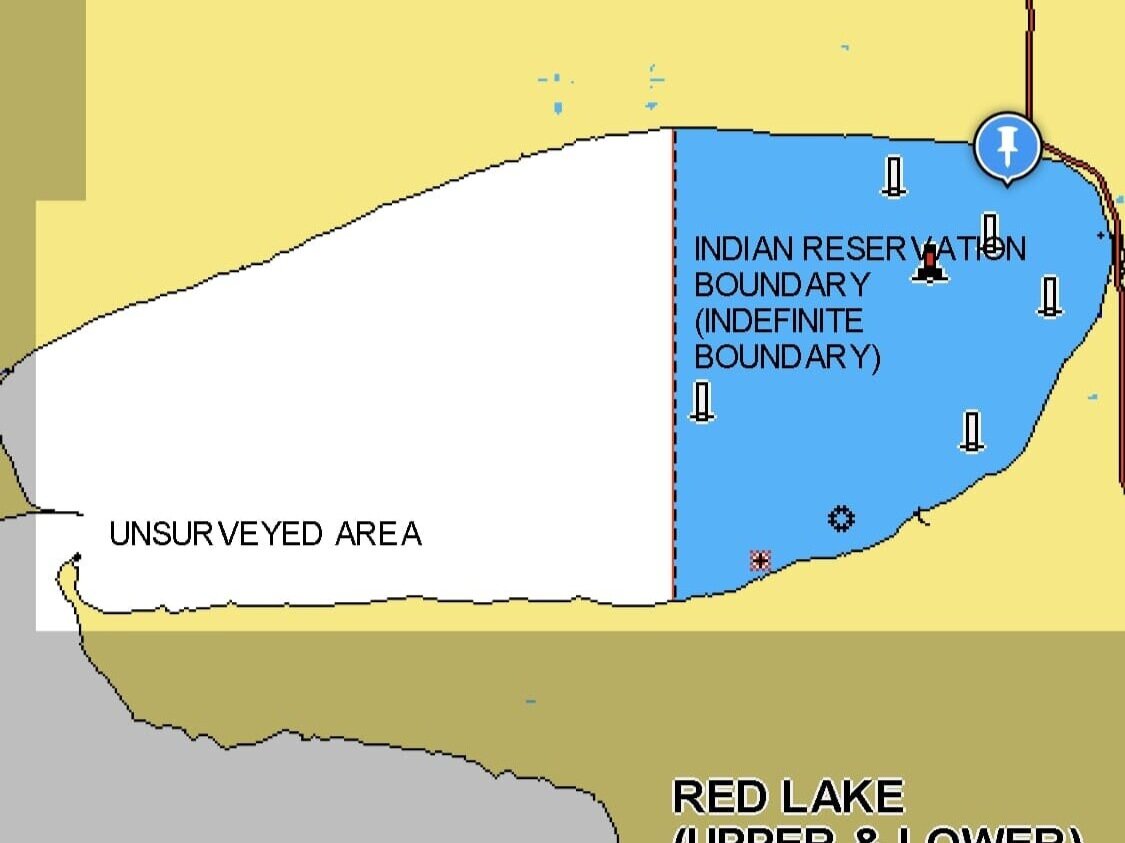 The maximum depth of the lake is 15 feet, and this allows for ice to form as early as November. With a population of Walleye, and a shallow lake, fishing here is really good and you'll be reeling them in all day long.
Walleye isn't the only big fish you can catch on the Red Lake, though. The reservoir is also home to Crappie and Perch.
Red Lake is the perfect destination for those who want to try ice angling for the first time, but it's also a great spot for seasoned anglers who are looking for some easy fun.
Silver Lake, California
Ice fishing in California? It might sound odd to you, but the Golden State has some pretty cool ice fishing spots. One of them is Silver Lake. Located at the base of Carson Mountain, it's one of the most scenic ice fishing spots in the US. Besides the beautiful views, the lake is also stocked with fish and is easier to access, compared to other nearby lakes and spots.
So, what can you expect to catch when ice fishing on Silver Lake? Trout is the name of the game around here. You can target Rainbow, Brown, and Lahontan Cutthroat.
If you get lucky, you might also find a Brook or Mackinaw Trout. Some of these fish grow very big in size around here, and you could come across a Trout over 20 inches long.
Besides enjoying ice fishing, you'll also be able to breathe in some fresh mountain air and spend time in untouched nature.
Birch and Quartz Lakes, Alaska
Thanks to its location, inland Alaska offers some of the best ice angling opportunities in the States. The ice starts to thicken in late October and the temperatures quickly drop into the negatives.
Birch and Quartz Lakes are located right next to the Richardson Highway. Thanks to easy accessibility and great fishing conditions, both lakes attract a large number of anglers every year.
The lakes are frequently stocked by the Alaska Department of Fish and Game. If you're ready to withstand freezing temperatures, you're in for a real treat. You can expect to catch Rainbow Trout, Lake Trout, Arctic Grayling, Arctic Char, Landlocked Salmon, and so much more.
Depending on what you're looking for in your fishing adventure, you can fish at one or both lakes. Quartz Lake is known for trophy-sized Rainbow Trout, and a good number of Arctic Char, Coho Salmon, and Chinook Salmon.
Birch Lake also has good numbers of all the above-mentioned species. The fish you'll come across will be smaller in Birch Lake, but you'll have better chances of catching them. Having this in mind, Birch Lake is perfect for children and first-time ice anglers, while Quartz Lake might be a better choice for those who have more experience.
Lake Gogebic, Michigan
Next to Lake Superior and Lake Michigan, Lake Gogebic is sometimes overlooked. But don't let this fool you, it's home to some great ice fishing action! The lake is best known for its legendary Perch ice fishing.
What's so special about it? Well, the lake's waters get deep right by the shores of the resorts and parks, giving you a chance to catch a jumbo Perch right at the start of your adventure. The lake's next big catch is Walleye. On Lake Gogebic, it's not only about the size, but the action these fish will give you. They require patience and skill to be reeled in.
Besides Perch and Walleye, you can also target Smallmouth Bass and Northern Pike.
The lake is located in Michigan's Upper Peninsula, and it lies entirely within the Ottawa National Forest. If you decide to go on a fishing trip here, you'll have a chance to relax and reconnect with nature.
Lake Champlain, Vermont
Lake Champlain is a big lake, perfect for targeting Salmon, Lake Trout, and Perch. As soon as the ice thickens, the lake becomes a premier ice fishing spot. Depending on what you're targeting, you'll want to visit different parts of the lake.
For example, if you're looking for Salmon and Lake Trout, then Port Henry and Champlain Bridge are your go-to spots. However, if you're after White Perch and Bluegill, you'll find them near places like Bulwagga Bay.
Another popular catch is Walleye, which you can find at the southern and northern tips of the lake. Anglers who are looking for Northern Pike should visit Missisquoi Bay, Carry Bay, Keeler Bay, Dillenback Bay, and similar spots for a chance to find a few of these.
The lake is large, and no matter what your experience level is, you'll find an appropriate adventure on Lake Champlain.
Antero Reservoir, Colorado
Nestled between the Rocky Mountains, the Antero Reservoir is the perfect chilly winter spot to get your ice angling game on. The reservoir is home to several different Trout species, including Rainbow, Brook, and Brown Trout, Snake River Cutthroat Trout, and Greenback Cutthroat Trout.
Next to these species, you might also come across a Kokanee Salmon or Splake. All of these fish grow to trophy sizes in Antero Reservoir and other nearby lakes.
The best thing about ice fishing in Colorado is the beauty of nature around the lake, which makes your adventure even more enjoyable.
Antero has grown in popularity over the past few years and sees a lot of visitors, especially during the weekends. If you want to have some privacy and calm moments on the lake, consider visiting during the week.
Ice Fishing Destinations in the US: There's Many More!
When it comes to great ice fishing destinations in the US, we've only scratched the surface. There are so many great spots that one list simply can't do them all justice! Now, it's up to you to decide what kind of ice angling adventure you're looking for, plan a trip, and find a guide near you. No matter which spot you choose, we're sure you'll have an unforgettable experience.
What are your favorite ice fishing destinations in the US? Have you visited some of the ones we mentioned on the list? Let us know in the comments below!