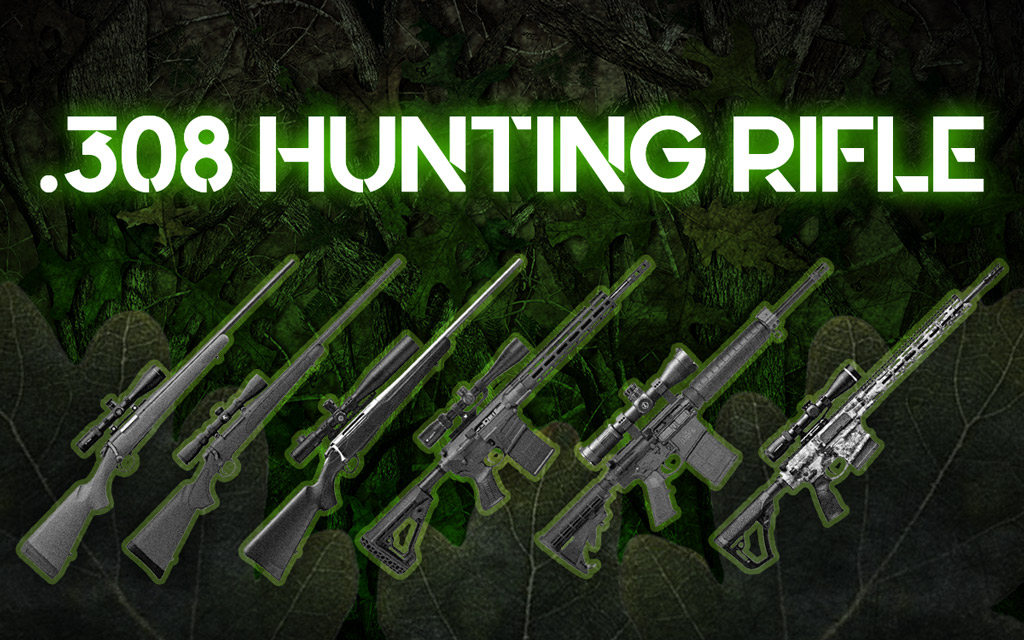 If you're looking to hunt deer or other larger-sized game, a 308 hunting rifle might be the ideal choice. Oh, you'll hear lots of talk favoring its primary rivals, the .30-06 and the .270, but the .308 holds its own against the competition.
Powerful and accurate in various applications, the .308 cartridge and the many rifles that fire it are offered throughout the U.S. and abroad. Hunters praise them for the power and control they provide, bringing down big game with ease and bagging smaller animals without shredding them with excess power.
The .308 Winchester bullet is one of the best-selling cartridges for hunting mid-size to large game animals worldwide. In this country, whitetail deer, black bear, elk, and mule deer are among the most hunted game using the .308.
Here are a few things you might or might not know about this iconic cartridge:
History Of The .308 Winchester
Winchester introduced the cartridge in 1952, designed for big-game hunting. Today, shooters use it for various purposes, including target shooting, shooting competitions, police sharpshooting, military sniping, and, of course, hunting.
The .308 Winchester is a rimless cartridge with origins that go back to the end of the Spanish-American War in 1898. In response to the struggles of American troops facing an enemy using smokeless gunpowder, the U.S. military began to develop the .30-03 and .30-06 cartridges.
The cartridges saw service in both world wars, and the .308 became a direct descendant of the .30-06, arriving on the scene during the Korean War in 1952 and being released for commercial use that same year. It quickly won over hunting enthusiasts with its ability to take down large animals and penetrate undergrowth.
But let's face it, the ammo is useless without a quality rifle to deliver it. As with so many things, there is a debate over which rifle is best for this purpose. That typically begins with the controversy over whether a bolt-action or semi-automatic rifle is superior.
Bolt-Action 308 Hunting Rifle
Although opinions diverge on which type of rifle is best suited for hunting, most agree that the bolt-action rifle is generally more accurate than a semi-automatic. This opinion stems from the fact that bolt-action rifles have a single-stage recoil giving the hunter better control, while the semi-automatic has three distinct stages that may preclude optimum command of the rifle.
Other factors that favor the bolt-action include its gas release: the bolt-action uses all of its gas to propel the bullet while some of the gasses in a semi-automatic are returned to cycle the action. Also, many hunters prefer the bolt-action because it has fewer moving parts, resulting in a simple and reliable firearm.
Here are three highly-recommended .308 bolt-action hunting rifles:
Bergara B-14 308 Hunting Rifle:
The B-14 includes a glass fiber-reinforced polymer stock with integral pillars for enhanced stability and accuracy. A technically-advanced steel barrel with a graphite black Cerakoted finish is complemented by the B-14 Action, a two-lug system with a sliding plate extractor and a coned bolt nose and breech designed for smooth feeding and reliable cartridge extraction.
Specifications:
Weight: 7.2-7.7 lbs.
Overall length: 37.5"-44"
Barrel length: 18"-24"
Magazine capacity: 4 (standard calibers) or 3 (magnum calibers)
Remington 700 Bolt-Action Rifle:
Most hunters would include the Remington 700 on their best bolt-action .308 rifles list. The rifle has a 26" heavy contour carbon steel barrel with a 1:10" twist rate. Other features include an X-Mark Pro externally adjustable trigger, Bell and Carlson M40 tactical stock, and concave target-style barrel crown, all combining for excellent stability and accuracy. Chambered in the .308 Winchester, the 700 has the following specs:
Specifications:
Weight: 9 pounds (empty)
Overall length: 47 inches
Barrel length: 26"
Magazine capacity: 4 (standard calibers) or 3 (magnum calibers)
Tikka T3x Bolt Action Rifle:
Produced in Finland, the Tikka T3x Hunter is an accurate and lightweight hunting rifle with a black synthetic stock and a blued barrel and receiver. A well-designed recoil pad makes for comfortable shooting, and interchangeable pistol grips that modify the angle of the grip enable shooting from multiple positions. A large ejection port aids shooters in feeding rounds one at a time.
Specifications:
Weight: 6.3 lbs.
Overall length: 44.5"
Barrel length: 24.3"
Magazine capacity: 3 rounds
Semi-Automatic 308 Hunting Rifle
On the other side of the debate, semi-automatic .308 rifles could be an excellent choice, depending on what you're hunting. While it would not be appropriate for small game, a semi-auto would work well for deer and other larger animals.
One of the advantages of a semi-automatic is that it allows the hunter to miss a shot and almost immediately have the next bullet in the chamber ready to fire. This type of speed could be especially beneficial—even lifesaving—when hunting dangerous game. If the first shot inflicts only a minor wound, the injured animal could become aggressive, and it's reassuring to be able to fire again very quickly.
In other words, what you sacrifice in accuracy is made up by being able to fire each round within a split second. Here are three .308 semi-automatic rifles that will do that very well:
Savage MSR 10 Semi-Auto Rifle:
The Savage MSR 10 Hunter is a compact sporting rifle that packs the wallop of its .308 chambering. The Hunter is an impressive big-game rifle with an upgraded Savage barrel, a 2-stage trigger, and a durable Melonite QPQ finish. Other upgrades include a custom-forged lower receiver, free-float fore-end, and Magpul adjustable pistol grip and stock.
Specifications:
Weight: 7.8 lbs.
Overall length: 39"
Barrel length: 16.1"
Magazine capacity: 20 rounds
Smith & Wesson M&P 10 Sport 308 Hunting Rifle:
If you're looking for a versatile firearm for hunting, sport shooting, and professional activities, the M&P 10 rifle could be the one for you. Designed with 5R Rifling and 1/10 Twist, it is powerful and accurate, even at longer distances.
Its features include a gas block with Picatinny-Style rail, Armornite finish on barrel, ambidextrous magazine and bolt releases, and a mid-length handguard.
Specifications:
Weight: 8.0 lbs.
Overall length: 34"
Barrel length: 16"
Magazine capacity: 20 rounds
Daniel Defense DD5 V4 Semi-Auto Rifle:
The DD5 V4 is an accurate and durable semi-auto rifle with an adjustable gas block, giving shooters a consistent feel whether shooting suppressed or unsuppressed. The bolt carrier group includes a buffer that reduces overall recoil impulse and optimizes cycling. The rifle is easy to maintain and operate, no matter the conditions.
The DD5 also includes dual ejectors for reliable cycling, a 4-bolt connection system for greater accuracy, and a cold-hammer-forged steel chrome-lined barrel ensuring many years of accuracy and durability.
Specifications:
Weight: 8.6 lbs.
Overall length: 39"
Barrel length: 18"
Magazine capacity: 20 rounds
Looking for the best ammo for your 308 hunting rifle? Be sure to check out the in-stock .308 ammo inventory on our website.