Review: 2021 Browning Maxus II

The new 2021 version of the Maxus, the Maxus II, has finally arrived. My 3 inch chambered 26 inch camo example is a 7-1/2 lb. gun (7 pounds 7 oz. to be exact) with a 4 lb., 7 oz. factory trigger. Included with the gun, shipped in plastic case, are three extended carbon steel choke tubes, thin plastic shims, and a couple of plastic stock spacers.
Specifically, the tested gun is the following.
Item Number 011701305
UPC 023614740766
Gauge 12
Chamber Length 3″
Barrel Length 26″
Overall Length 47 1/4″
Length of Pull 14 7/16″
Drop at Comb 1 3/4″
Drop at Heel 2″
Weight 7 lbs 0 oz
Magazine Capacity 4, 2 3/4″ shells
Rib Width 1/4″
Barrel Finish Mossy Oak Shadow Grass Habitat
Stock Finish Mossy Oak Shadow Grass Habitat
Chokes Included Full, Modified, Improved Cylinder
Receiver Finish Mossy Oak Shadow Grass Blades Ducks Unlimited
Dura Touch Finish No
Chamber Finish Fully Chromed Barrel Bore
Front Sight Fiber Optic
Choke System Invector-Plus Extended
Barrel Material Steel
Stock Material Composite
Recoil Pad Inflex 2
Checkering Overmolded Grip Panels
Sling Swivel Studs Matte Blued
Receiver Material Aluminum Alloy
Trigger Finish Gold Plated
Trigger Guard Finish Matte Black
Bolt Slide Finish Brushed Nickel
Magazine Type Tubular
Trigger Material Alloy
Trigger Guard Material Composite
Trigger Guard Engraving Buck Mark in Gold
Choke Wrench Included Flat Wrench
MSRP $1,789.99
The Maxus has been around for many years by now and has long been presented as Browning's top of the line autoloader. With the Maxus II, Browning has done way with the latched forearm, going with a conventional forearm nut on the threaded magazine tube set up. This version has a very nicely over-molded, grippy stock with a soft cheekpiece, similar to several "waterfowler pro" type editions. The Maxus II adds an extended charging handle and a newly profiled trigger guard designed for easier loading.
The original Maxus had several niggling problems, problems that put into the "I don't love it that much" category. Over the last seven or eight Maxus models I've tested, several have had excessively heavy triggers, razor blade thin shell elevators that can lacerate your thumb, a couple had loose forearms, and so forth. The Browning Dura-Touch stocks were the subject of a class-action suit and subsequent recall. All of these problems are gone in this example of the Maxus II.
Just as in my ill-fated A5 examples, the Maxus II has an excessively large white center bead that obscures the front red tubular bead when you shoulder the gun, rendering the front bead useless. So, I'll have to pluck out the worthless center bead which leaves an unfilled hole in the rib, just as on the A5's. It is not a deal-breaker, but it is a very silly unforced error. The cross-bolt safety is positioned where it is far too easy to knock off with the knuckle of your forefinger. It is annoying when chasing pheasants, but you might find it tolerable. It isn't any issue in the duck or turkey blind, on the dove field, and so forth.
Overall, I think Browning has done a good job with the Maxus II. At almost 7-1/2 lbs., it is about half of a pound heavier than the claimed weight. That is enough to make it less than ideal as a pheasant upland gun, as you can go with several autoloaders that shave three quarters of a pound away from the weight of the Maxus II.
However, the Maxus II is one of the softest-shooting 12 gauges out there, softer-shooting than any inertia gun, and softer-shooting than Beretta autoloaders and so forth. Most anyone would be happy with a Maxus II as a waterfowl gun, casual clays gun, or the elusive "all around" shotgun.
Likes: Very soft-shooting, simple to clean, beautifully over-molded stock, competent and crisp trigger.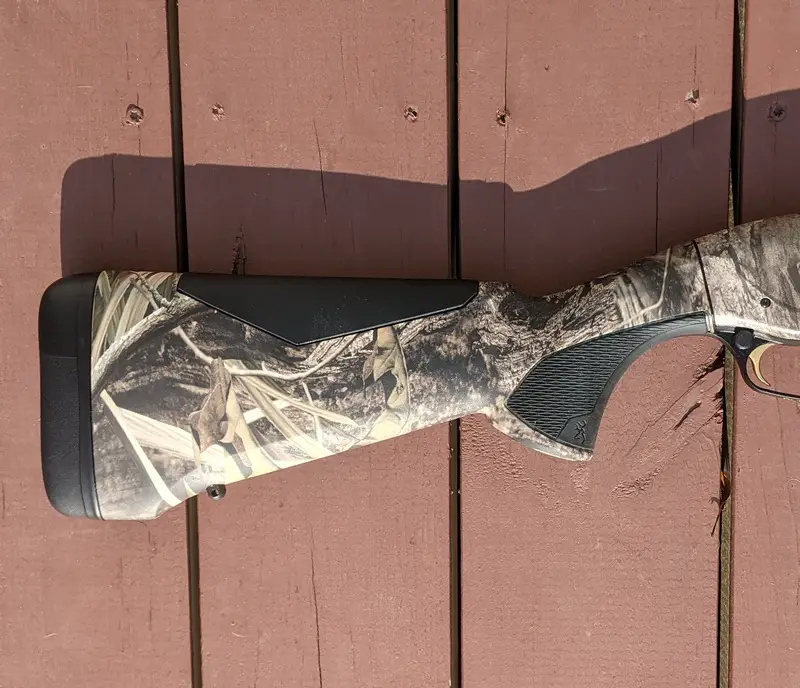 Dislikes: Worthless center bead, gains an extra ½ pound, less than ideal safety position, odd decision on the ugly buttstock that supposedly makes it easy for a gunsmith to saw off and shorten.
Verdict: It is a winner, a clear improvement from the standard Maxus, and Browning should do very well with this model. It is hard not to appreciate the very low recoil and extremely comfortable over-molded stock. The Maxus II will comfortably perform with anything you might want to throw pellets at.
Since 2009, this is the sixth production Browning Maxus that I've reviewed. The 2014 example tested was a 3-1/2 inch chambered gun that weighed 7-1/4 lbs. and had a nasty, 6 lb. 10 oz. trigger. It also choked on 1 oz. loads out of the box, needing 1-1/8 oz. loads for reliability. Although this 2021 version is a quarter pound heavier, perhaps due to the excellent over-molded rubber inserts in the buttstock and forearm, the almost 2-1/4 lb. lighter trigger is a vast improvement. I won't hunt or shoot with a six pound trigger on a shotgun, so if you feel the same way, the Maxus II will save the time and expense of trigger work.
The speed-loading on the Maxus II works well, once you acquire the knack. It isn't as effortless as on the old Automatic-Five, which has the benefit of a thick steel shell elevator vs. this thinner stamping, but it is still pretty good shell handling. The magazine cut-off, located on the left side of the receiver, also works well. My primary gripe is the same gripe I've had for the last 12 years: the Maxus safety. For me, it is too close to the right hand. It is far too easy to bump off the safety with the side of my right forefinger while carrying the gun. If there is one thing for you to check before you buy your new Maxus II, this is it. It may or may not be a stopper for you, but whatever it is you're far better off deciding that before you buy it. Now that the Maxus II has a threaded forearm cap, it will make snow goose hunters happy by being able to accept magazine extensions.
Overall, yes, I think the Maxus II is the best Maxus yet. With the demise of the V3, the Maxus II regains its crown as the softest-shooting 12 gauge shotgun in its class (3 inch hunting gun) in current production today. The rule of thumb as far as load capability is 1 oz. minimum for Maxus 3 inch models, 1-1/8 oz. minimum for 3-1/2 guns, just as it has been for the last dozen years. Personally, the extra half pound of weight makes it less than ideal for wild pheasant hunting, as there are exemplary 6-3/4 lb. 12 gauges readily available. The safety position makes it a virtual certainty you'll be knocking off the safety with your knuckle, and that is the stopper as far as I'm concerned. If the safety doesn't bother you, if the extra weight doesn't bother you, you might find the Maxus II ideal for your uses. If it wasn't for the tragically annoying safety, I'd buy one.
Copyright 2021 by Randy Wakeman. All Rights Reserved.