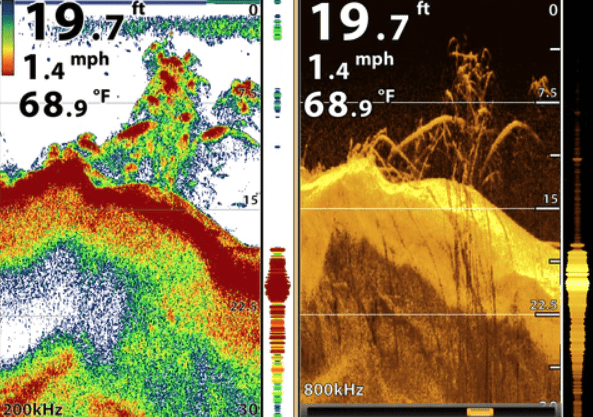 Most professional fishermen and boaters who are serious about catching more fish rely on a fish finder. If you are learning how to read a fish finder, you are on the right track to catching more fish yourself.
Fish finder sonar technology has become increasingly accurate over the years, allowing you to identify large schools of fish, underwater structures and topography, differences between small and large fish and more. Once you become an expert, you can easily identify the fish on your screen and see how fish respond to bait beneath your boat, allowing you to zero in on your catch with ease.
In this guide we'll show you exactly how to read a fish finder, and greatly improve your results when fishing!
How to Identify Fish on Your Fish Finder
On most 2D fish finders, fish show up as arches with the middle of the fish pointing upwards on the screen. This is because the fish are in motion, moving through the sonar cone, casting back a slightly different signal based on where the sonar cone has hit them.
Traditional 2D sonar highlight fish more sharply. On the other hand, downscan fish finders, show a sharper overall image, and allow you to better distinguish fish from the bottom and other underwater structures.
On fish finders with down imaging technology, fish show up as dots rather than arches. This is because down imaging sonar uses a narrower sonar cone, and only shows a small section of what's under your boat when fishing.
Most run both the 2D sonar and down scan at the same time when fishing, giving the most information possible. Some fish finders are able to highlight the fish in a different color, which is helpful.
One you're able to start recognizing fish as arches or dots on your fish finder, you'll have a major advantage when fishing.
Arches on your fish finder can be full or half arches, depending on whether the fish swims through the entire cone.
How to Tell the Size of a Fish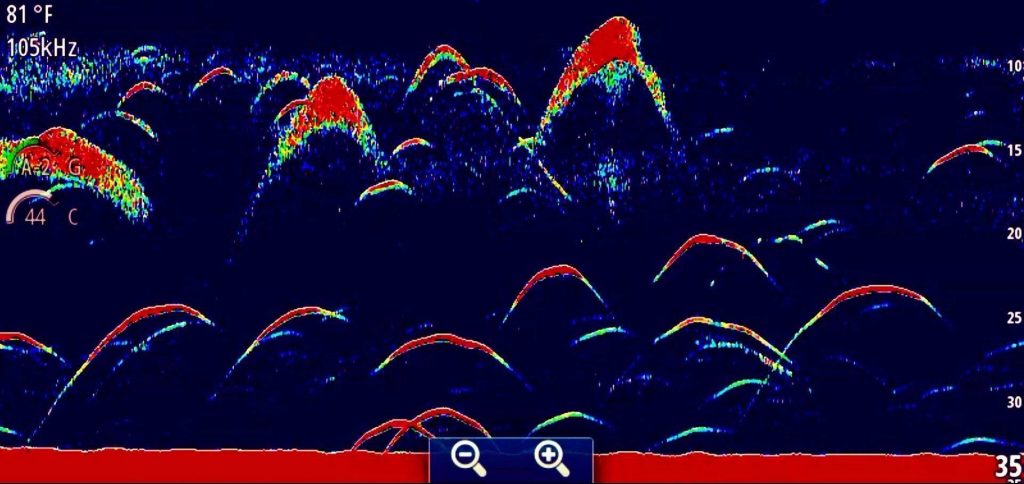 When it comes to determining the size of a fish on your fish finder, there are two things that will help you get a better idea – the length of the arch, and the thickness of the arch.
A big fish will show up on the screen as a longer, thicker arch (even if only half the arch). Smaller fish show up as smaller arches, which are not as thick or with a less defined curve
When figuring out the size of a fish, keep in mind depth of the water – the deeper the water, the smaller the return to your boat. So if you see a big arch in deep water, you've got yourself a big fish!
A school of small fish on the other hand won't show up as arches, but rather as dots or short lines. The best way to identify them as fish is based on the fact that they'll form a "cloud" hanging in the water. If your fish finder highlights the fish in a different color, it will make locating these baitfish even easier).
(How to Read a Fish Finder Pro Top: Once you've identified a school of bait fish, you'll often be able to find several larger predators underneath them. This would be an excellent place to cast your lure!).
Fish Icon Technology – Pros and Cons
Some fish finders have a built in technology called Fish ID (on Humminbird fish finders) or Fish Symbols (on Garmin), that automatically converts sonar arches believed to be fish into fish icons on the screen. The fish icons show up as different sizes based on the size of the fish signal, and some fish icon programs provide different icons for plants, rocks and schools of fish.
While a great choice for those first using fish finders, this fish icon technology has a few issues. For instance, fish icon technology can sometimes misinterpret sonar signals, labeling structures other than fish as fish. It can also miss obvious fish signals because of incomplete arches.
More experienced fishermen generally do not use the fish icon technology. While there's nothing wrong with giving it a chance, once you become familiar with identifying fish arches, you'll be able to better tell them apart from other objects than the fish icon technology.
How to Read Bottom Structure and Depth on Your Fish Finder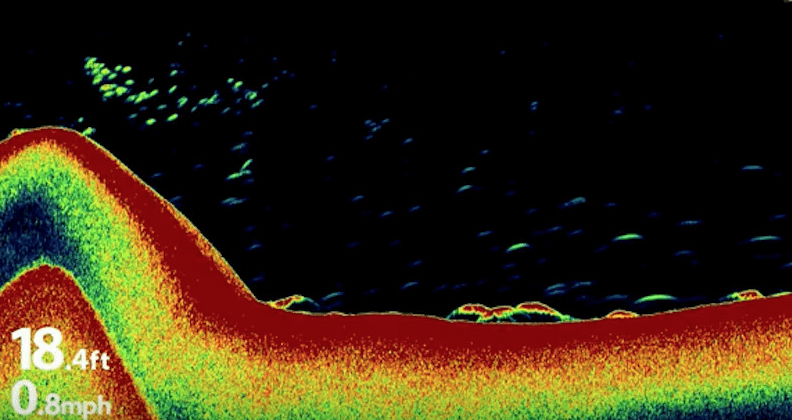 Along with being able to identify fish, it's important to be able to interpret bottom structure and depth on your fish finder.
You'll find the depth, either in feet or meters, in the top left hand corner of most displays. Beneath the depth, the temperature of the water is usually shown. With some research and/ or experience, this will help you figure out what kind of fish you'll be catching.
Once you learn how to read a fish finder like a pro, you'll be able to get information about the bottom structure and consistency under your boat. You can use this to your advantage by moving slowly and allowing the fish finder to identify structures such as weeds, drop offs or sunken logs, which tend to attract fish.
With some practice, you'll be able to figure out the consistency of the bottom based on your sonar signal. A hard, less porous bottom will show up as a stronger, thicker line, compared to a mud or clay bottom, which will show up as a thinner, lighter line on the fish finder screen.
Some fish finder technology shows the different bottom types in different colors, for instance with harder bottoms in yellow, then red and a soft bottom in blue.
How to Use Sonar Frequency to Your Advantage When Fishing
As a rule of thumb for traditional sonar, when using the lower frequency (50 kHz or 83 kHz) the width of the sonar cone is roughly equal to the depth, covering a wider area of the bottom but in less detail. When using higher frequencies (typically 200 Khz) the width is more like one third the depth of the cone, giving you a slimmer cone but with more bottom definition.
You can switch between the frequencies, selecting the most appropriate frequency for your fishing goals at the moment. It's best to use the lower frequency, wider beam when trying to locate an interesting area that looks like it have many fish, and then switch to the higher frequency to get a better definition of the area including the fish.
Many fish finders offer a dual-frequency setting, allowing you to view both signals simultaneously.
What is CHIRP Sonar Technology?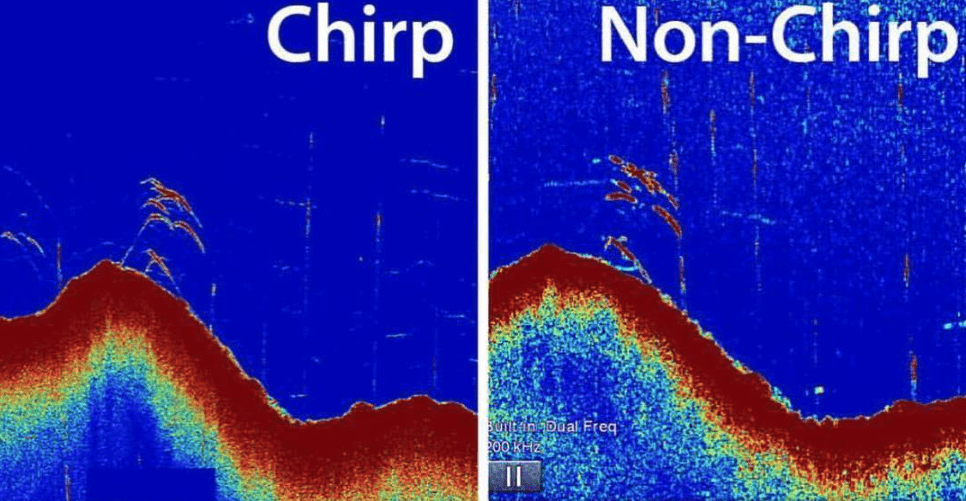 CHIRP, which stands for Compressed High Intensity Radar Pulse, is not a separate sonar technology, but an improved version of traditional 2D sonar. While traditional 2D sonar relies on a single frequency at a time to gather information, CHIRP uses a combination of different frequencies to gather more complete and detailed information.
CHIRP can send out as many as 100 different frequencies, and by using several different frequencies in a combination, it's possible to get a more complete picture, plus better object separation.
Down Imaging vs. Side Imaging Fish Finder Technology
While down imaging uses a narrow cone sent vertically down into the water, great for viewing what's beneath your boat in detail, side imaging uses two sonar cones sent out sideways to the left and right of your boat.
Advantages of Side Imaging over Down Imaging:
Extra information about which side of the boat the fish are on, and how far out.
More information on underwater terrain, in order to find promising fishing areas.
Brighter returns on fish, and sonar shadows to let you know how far the fish is off the bottom of the water.
Most fishfinders with side view allow you to view down and side imaging at the same time on the same screen.
3D Sonar – Next Level Awareness with your Fish Finder
Many newer generation sonars bring 3D sonar capabilities, allowing you to have a greater awareness and 3D picture of the terrain and fish beneath you.
For example, Raymarine's RealVision 3D builds a detailed 3D view of the underwater world beneath you via a five-channel sonar and a gyro stabilised transducer. Construct realistic 3D models possible regardless of sea conditions, Pan, tilt, and zoom the 3D image to examine from any angle with a touch, and scroll back your sonar to trace your path with a 10-minute history memory.
Furuno's DFF3D turns your Furuno MFD into an advanced multibeam sonar capable of seeing 120-degrees port to starboard, and allowing you to see the depth and direction fish are moving in, while displaying the seabed condition in real time.
Lowrance and Simrad's StructureScan 3D module and transducer offers super-wide SideScan sonar coverage, reaching up to 600 feet to each side of your boat, and high-definition scanning delivers detailed 3D imagery. StructureScan 3D uses 455 kHz frequency as a compromise between depth and resolution. Lower-frequency beams would achieve greater depth but lose target clarity.
What Other Important Features Do Fish Finders Bring?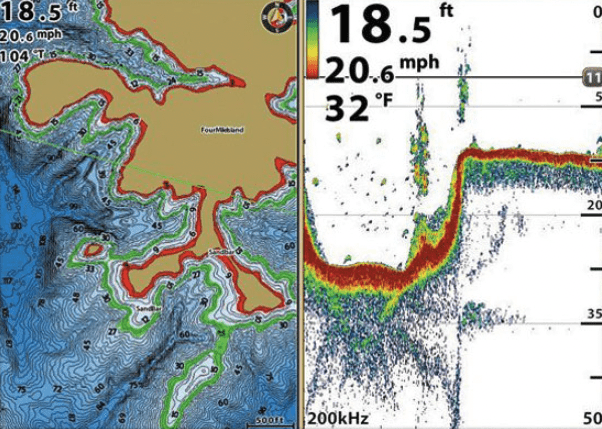 Most fish finders are built along with a chartplotter / GPS, allowing you to view charts, navigate your way around lakes and oceans, and drop pins to easily keep track of favorite fishing spots.
Many multifunction displays (MFDs) include fish finders and chartplotters, but expand networking to radars, autopilots and other essential systems on your boat.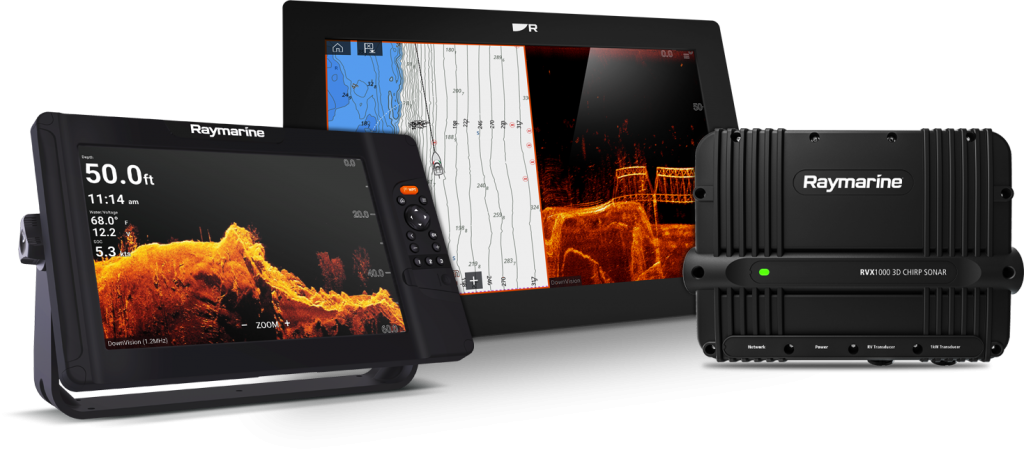 If in the market for a new fish finder, we carry fish finders, sonars, MFDS and chartplotters with all of the from the following:
Furuno Fish Finders
Garmin Fish Finders
Lowrance Fish Finders
Raymarine Fish Finders
Simrad Fish Finders
Any questions on which fish finder brand would be best for your particular fishing needs, or general questions on outfitting your boat with marine electronics, contact one of our marine electronics specialists, here!
Have a good one!
Citimarine Store 3300 NW 112th Ave, #4 Doral, FL 33172 1-(800)-766-5256 CitimarineStore.com
–