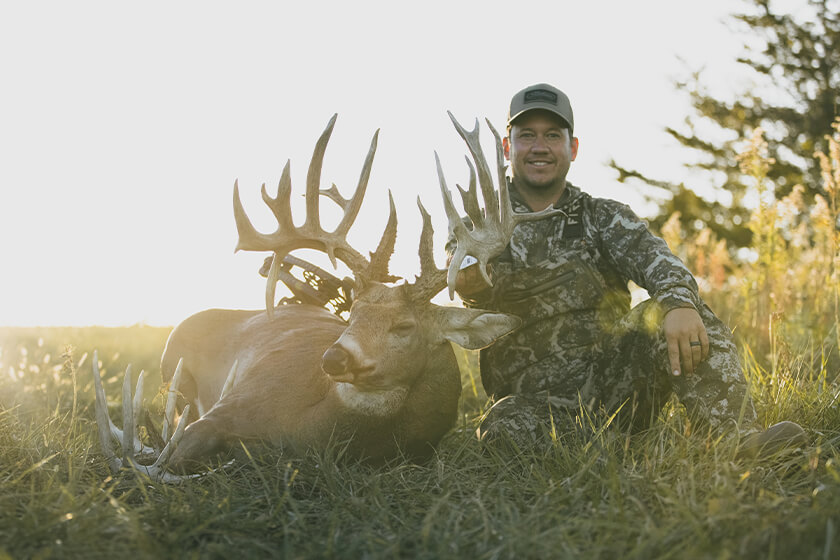 Breaking News Bucks 2021
Going into the morning of Oct. 16, I had taken a few days off from hunting because of hot weather and inconsistent winds. And I didn't know where our target buck, "Angry," was currently calling home.
Angry's summer pattern had been full of predictable trail camera pictures while feeding in fields. We felt like that would continue into the opener of archery season, but that behavior quickly stopped. The last time we had a picture of Angry was on Oct. 1, the archery season opener.
Based on my past successes, I targeted green plots but had no success. After some frustration and a few warm days off, we highly anticipated the morning of Oct. 16; a high pressure and low temperature day. However, the one thing that had changed from Oct. 1 to Oct. 16 was the corn and bean fields had been harvested.
Angry had a small core area in 2020, and we had it littered with cameras. So, we went to the one spot we didn't have any cameras that put us between food and bedding. And bedding was the key.
We called this deer Angry for a reason. I knew if I laid eyes on him that he would earn his name once I hit some rattling antlers together.
Sneaking into the bedding area off a cornfield far before daylight felt right as the light ignited the timber, immediately seeing piles of does pour into our thick woodlot.
I don't think I ever sat on the seat in the stand, as I was always glassing and watching as deer showed more rutting behavior. As I stood looking at the does to my east, I couldn't help but think we should've been 300 yards further west toward the corn. That's when I decided to look west, and I said to my camera guy, "There's a good buck right there, on the hill west 100 yards."
I could tell he was acting docile, and he was an older deer. That's when I noticed the deer's behavior: his ears were laid back, he was bristled out, it was Angry! Being so anxious, I was quick to snort wheeze at him and change his direction. Then all the does by us started running! I settled him down with some aggressive grunts, imitating a chasing buck. Once he calmed down, I snort wheezed again and changed his tone, following the wheezes with two rattling sequences. A flick of his tail told me he was heading our way.
I made the mistake of picking up my binoculars and looking at his rack! I was amazed and so nervous that I was sick to my stomach; I think he could hear my heartbeat.
It took Angry 45 minutes to cover 100 yards. And my cameraman kept saying, "Get your bow." I held off on grabbing it to save my nerves while watching Angry inch his way closer. Then he jumped a fence at 20 yards and was closing!
I found a pumpkin-sized opening in the cover, and I knew it was my only shot. I stopped him with a grunt as I struggled to find the opening in my peep. There it is, I thought. I let it rip and heard a giant wack! He took off like a freight train.
Uncertain of my hit, I was more concerned than excited. Our angle was super high, and after talking with Brad, I felt more confident on the shot based on how high we were and how close Angry was.
We got the crew together and began the search. There was lots of good, bright-red blood for 150 yards. However, it suddenly stopped at a broken vine he ran into. The search began, and I suddenly picked up the trail again. I went down a large trail into a creek bottom and was looking up the other side, hoping he didn't go back up it.
I reached the bottom of the creek, and the blood appeared to stop. I looked to my left, and to my surprise he had followed the creek! After 10 more painstaking yards, I saw the giant lying dead. And a 237-inch burden was lifted off my shoulders. It was Angry!