Predator hunting can come in various styles, from types of predators to environments. We have compiled a list of the five best predator hunting rifles on the market today to make your next purchase one that will ensure a high level of satisfaction and a lower density of predators.
Predator hunting is one of the many ways sportsmen contribute to conservation. By removing surplus predators, hunters ensure a healthy game population. Because of the varied nature of chasing coyotes and other critters, we selected the top five predator hunting rifles along with their suggested caliber and optic to pair them with. Read on to find what works for you based on your style of hunting.
The Autoloader
Make Rock River Arms
Model Fred Eichler Series Light Predator2
Caliber .223 Remington
Optic TRACT RESPONSE 4-16X42 BDC 223/5.56 AR Rifle Scope
The Rock River Fred Eichler Light Predator2 is the most purpose-built predator hunting AR15 on the market. The Predator 2 features a winter trigger guard to accept gloved fingers for wintertime hunting and a lightweight carbon fiber handguard with coyote track cutouts to add to the attractiveness of this rifle. A 16 stainless steel barrel is well suited for accurate shooting while keeping the rifle balanced and maneuverable. The 1:8 twist allows for the use of heavier high BC bullets, perfect for long-distance shooting.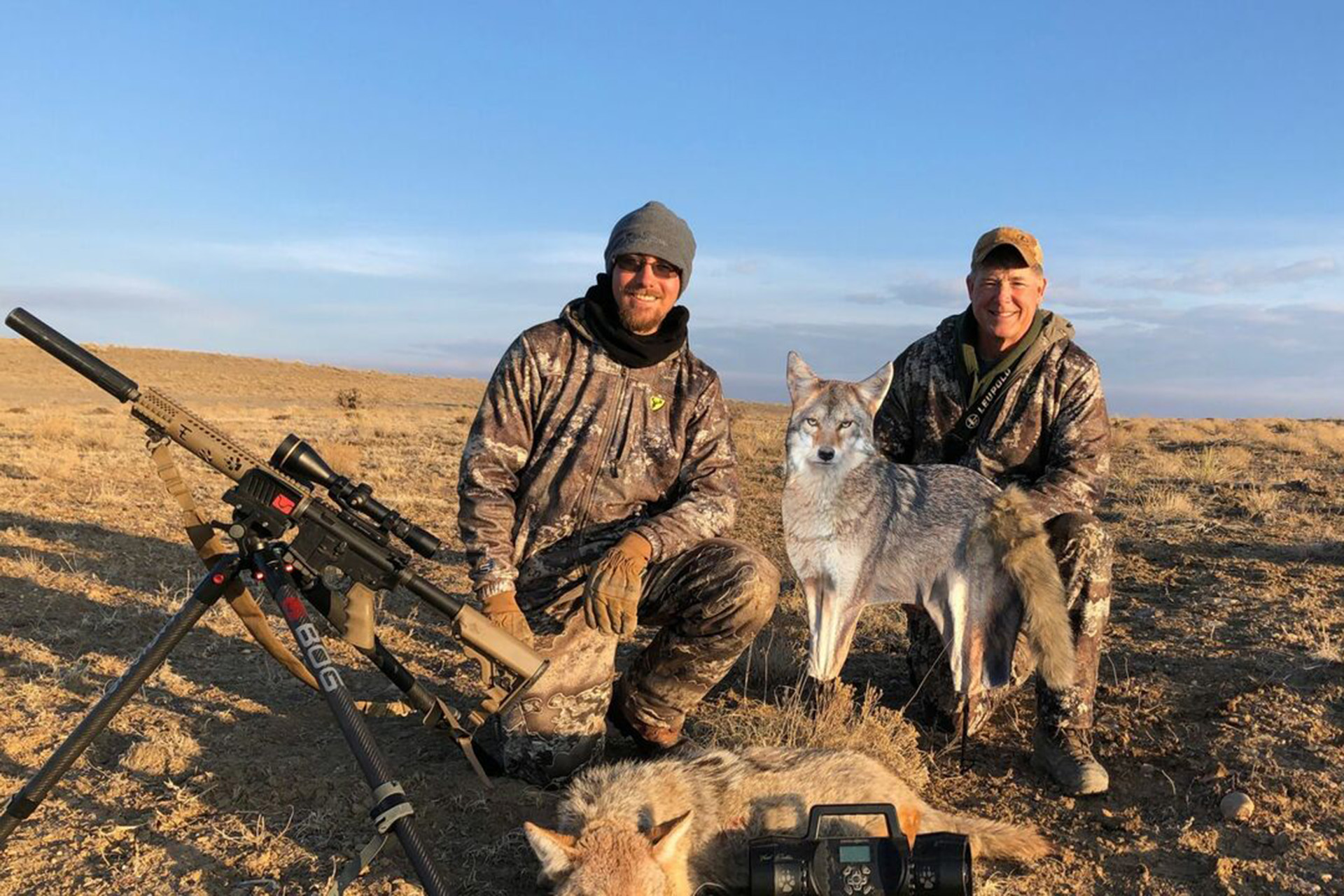 The Rimfire
Make Ruger
Model 10-22 Carbine
Caliber .22LR
Optic LEUPOLD – VX-FREEDOM 2-7X33MM SFP RIFLE SCOPE
It's been proven time and time again that a well-placed .22 will solve many varmint problems. The Ruger 10-22 has been solving predator and pest problems for over half a century. While infinitely customizable, the synthetic stocked stainless steel sporter model will keep shooting in any conditions you throw at it. Topping this rifle with a dedicated .22 scope like the Leupold VX Freedom will allow you to make every one of those .22 rounds count as you put the hurt on your local predator population.
Lightweight Bolt Action
Make Howa
Model Carbon Stalker
Caliber .223 Remington
Optic VORTEX OPTICS RAZOR HD LHt 3-15×42
The Howa Carbon Stalker is a featherweight rifle with all the power needed for predator hunting for those looking to carry their rifle for any distance, especially over serious terrain. Clocking in at four pounds ten ounces, the mini action .223 will weigh slightly more than your lunch does. All Howa Mini Actions feature detachable magazines for quick reloads. Topping this rifle with a lightweight scope like the Razor HD provides plenty of glass without needlessly adding weight to a lightweight rifle. Available in various calibers, the .223 fits the bill as a low recoil varmint round better than their other offerings.
Long Range
Make Savage
Model12 BTCSS
Caliber 22-250
Optic TORIC UHD 3-15×42 BDC Rifle Scope
For open country predator hunting, heavy barreled bolt actions are the way to drop predators well before they can spook. The 12 BTCSS continues the Savage legacy of hairsplitting accuracy thanks to their 26″ heavy barrel and AccuTrigger™. The thumbhole stock allows the shooter to stay comfortably on the rifle while waiting for the perfect moment to fire. To maximize hunting opportunities during first and last light, the TRACT TORIC UHD gathers tremendous light to keep images clear even at high magnification.
The Dual Use
Make Mauser
Model M18
Caliber .243 win
Optic Bushnell Engage 3-12x42mm
For the hunter who wants to own one rifle to do it all, the .243 Winchester is a caliber set out to accomplish that task. More than 50 years later, the .243 is better than ever, able to harvest deer and antelope at long range or drop predators in their tracks. Mauser has done a phenomenal job creating an accurate budget rifle with features well suited for hunting anywhere on the globe. The cold hammer-forged barrel guarantees sub-MOA accuracy, and the synthetic stock will take the abuse of any deer season in the country. The Bushnell Engage, just like the M18, is a lot of product for the money. A great option to keep your whole hunting package within the budget.
From rimfire autoloaders to centerfire bolt actions, this list of predator hunting rifles spans both the budget and purpose hunters may need. Predator hunting is a pursuit that rewards hunters with thrilling encounters and healthy game populations. Whether opting for a long-range tack driver or a shorter-range truck gun, choosing a rifle from these five will undoubtedly give you an edge in the field that only gets better when you hit that rabbit call and wait.