Sean takes a look at Sig Sauer P320 Xten 10mm pistol in the video above. For the full review, continue reading below. Also, don't forget to subscribe to our YouTube channel!
The Sig Sauer P320 has been around for almost a decade, and a lot of folks, professional and otherwise, have been shooting versions of it ever since.
Recently, the lineup got an exciting bolster with the addition of the new P320 XTEN…in 10mm.
We can agree Sig has an established track record with the P320 series of guns, but when they converted the gun to a big boy 10mm, did they bite off more than they could chew?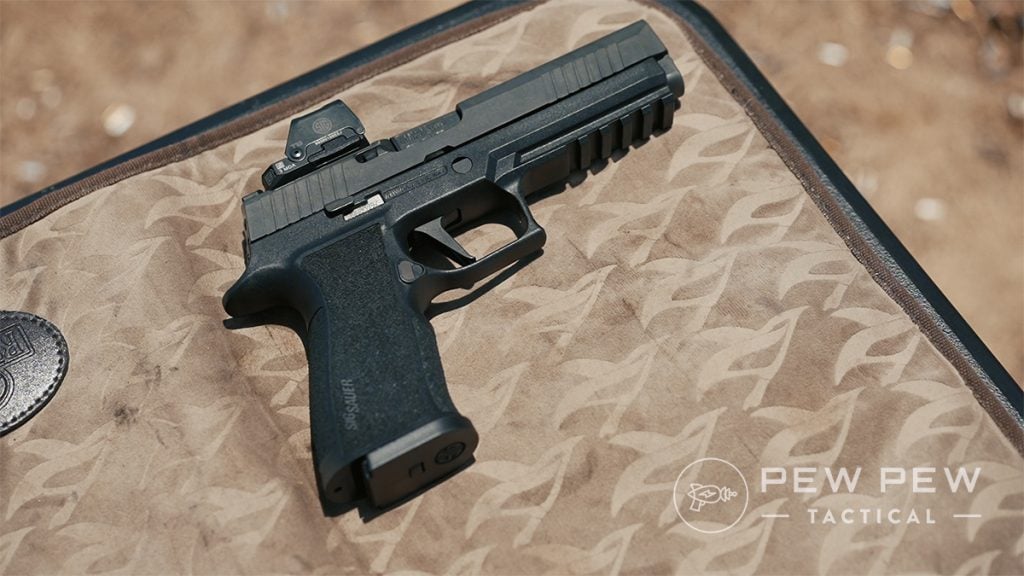 We scoured the web and called in favors to assemble ammunition just so we could answer that very question.
So, stick with us as we look at the P320 XTEN, talk about some pros and cons, and take it to the range!
Sig Sauer P320 XTEN Pros & Cons
Pros
10mm
Good ergonomics
Well balanced
Cons
The Bottom Line
The XTEN is a natural evolution of the P320 line into 10mm. Sig applied their know-how when scaling the platform up, so the end result is an accurate shooter that isn't too much to handle.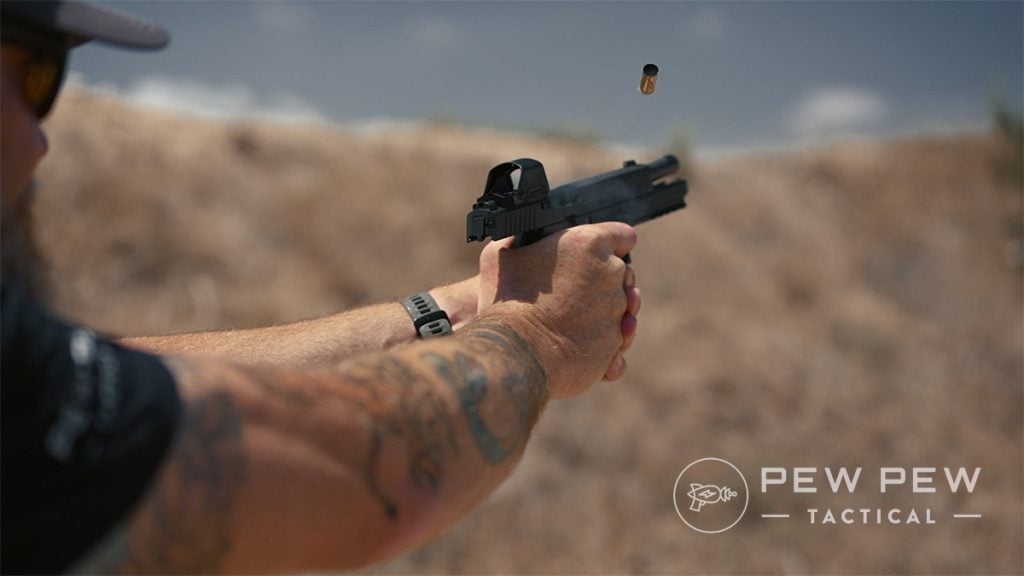 Source: Sig Sauer P320 XTEN
Background
When Sig Sauer released the P320 back in 2014, there was much fanfare due to the modularity of the system. Several variants followed, with different models and calibers marching in lockstep.
Accolades for the gun were awarded, and in 2017, Sig won the U.S. Army's Modular Handgun System competition.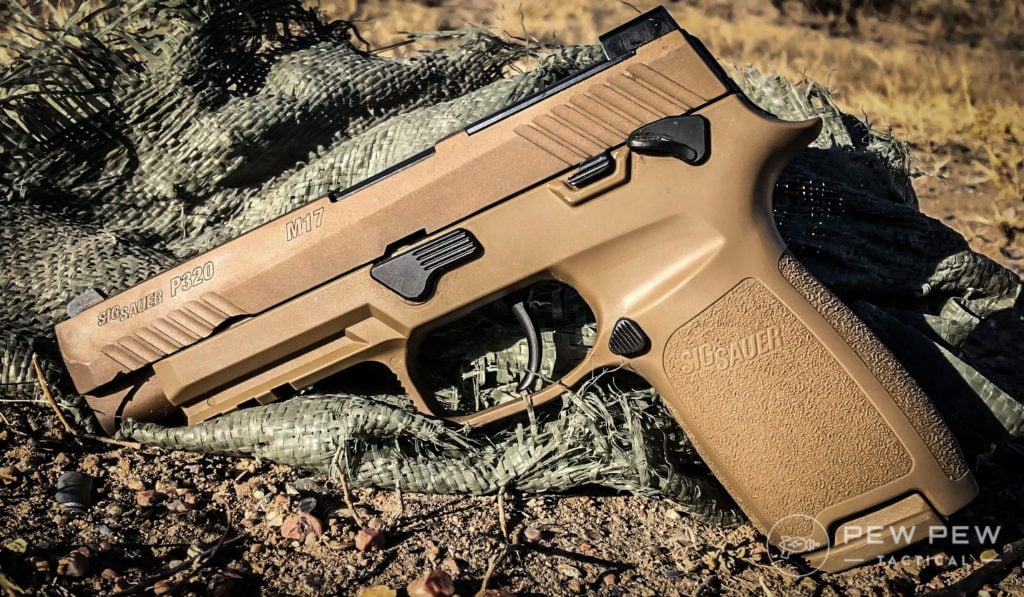 But it took until 2022 before a dedicated 10mm came to market.
(Want to see more P320 models, check out our guide here!)
Who Is It For?
One could argue that 10mm is the best millimeter, but it really depends on the intended use. Because the round produces so much energy, touching one off is an experience and should be approached accordingly.
The defensive scenario applicability of the XTEN is somewhat limited because of the 10mm quandary — with great power comes great responsibility.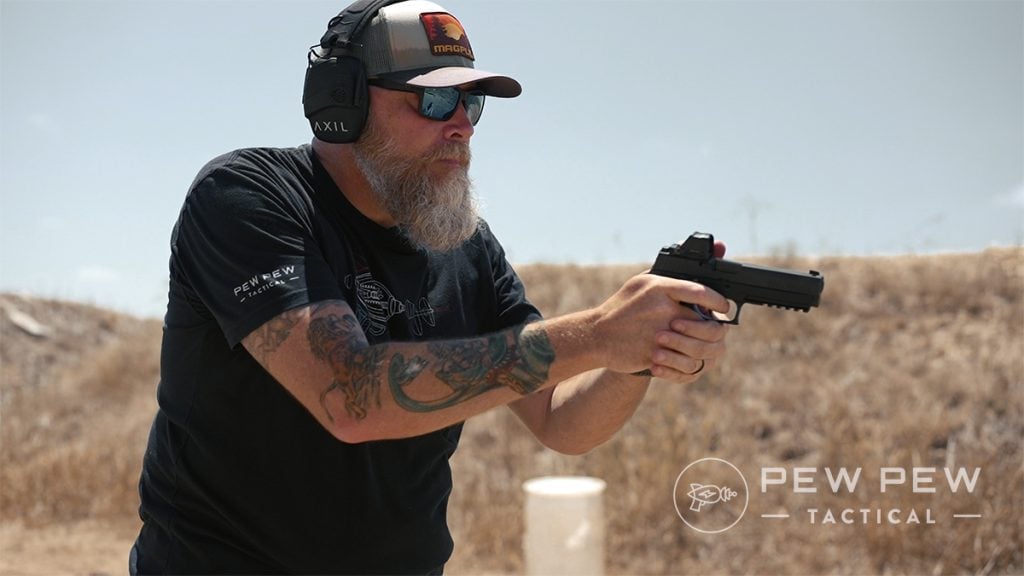 This is not a CCW you'll want to unleash in a densely populated situation.
The XTEN does a great job of delivering accurate fire, but it is a full-sized gun and develops a lot of energy.
Home defense in a rural area? You bet. Hunting or fishing in bear country? Perfect!
Fit & Feel
The modularity is still prominently featured in the XTEN, but the grip module has been somewhat altered from previous versions.
Capable of fitting .45 and 10mm, the grip is both thin and well-shaped, with a generous beaver tail, allowing big and small hands comfortable purchase.
Grip texture is aggressive, just like it needs to be, and all these features combine nicely to help shooters tame the recoil the 10mm produces.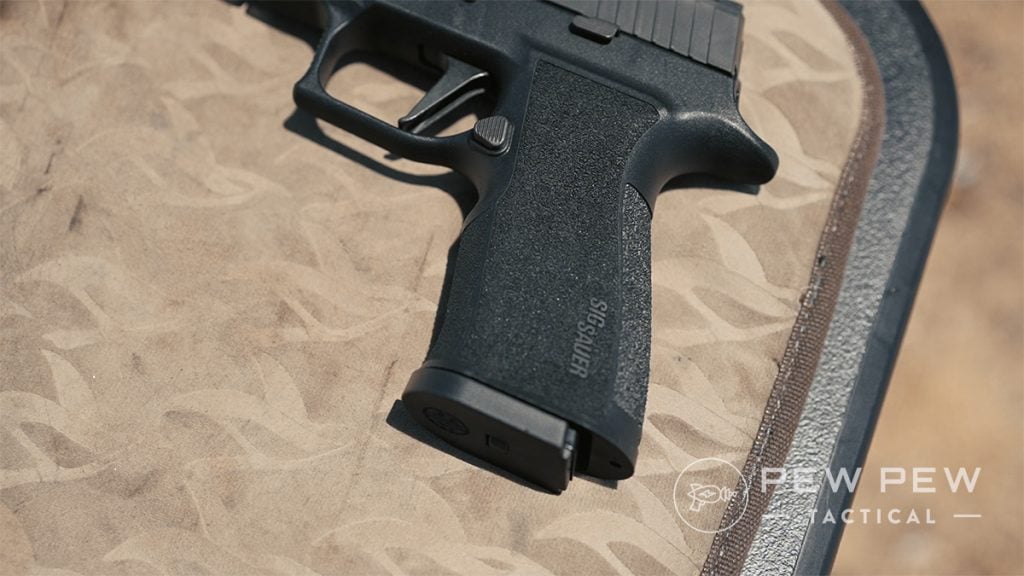 The slide comes with fore and aft serrations. This is a bigger gun, with an overall length of 8.5 inches that weighs in at just over 2 pounds. Despite this, it feels well-balanced.
The trigger is a flat-shoed model that angled forward slightly. I noticed a defined wall after a short build-up, which then broke crisply just under 4 pounds on my Lyman digital gauge.
Reset occurred quickly and was both audible and tactile. The trigger is a solid example of what can be done with a striker-fired weapon.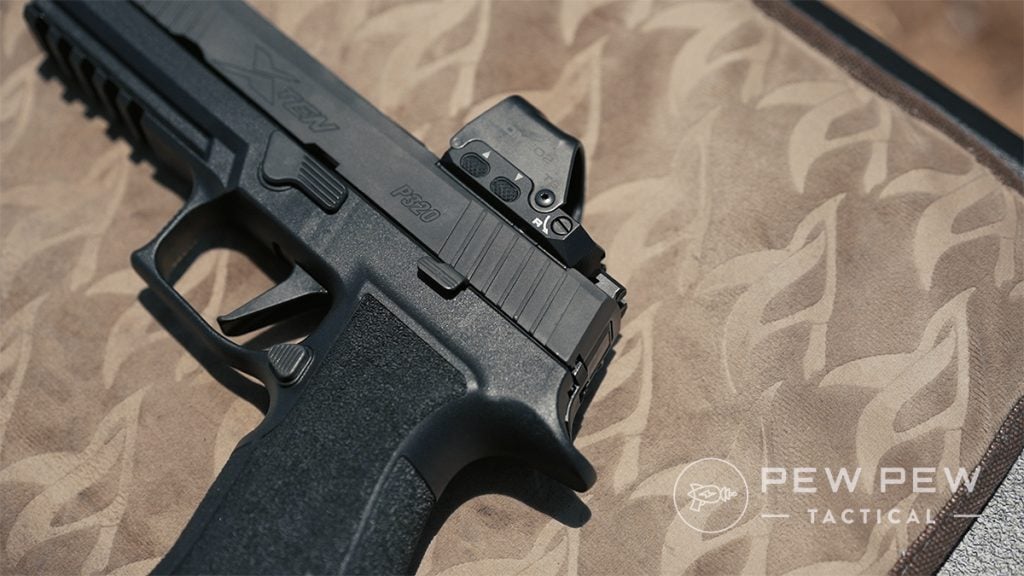 The XTEN comes standard with X-Ray 3 night sights, and these were good, but I paid little if any attention to them after mounting the Romeo 2 on the gun.
This slice of beefcake was a delight and made initial and follow-up shots a breeze.
The 15-round magazines were sturdy, loaded easily, and secured in the gun solidly. They also dropped cleanly each time.
How Does It Shoot?
This is an area that requires much on the shooter's part. The 10mm is significant, not Smith & Wesson 500 significant…but the recoil will likely be more than most are used to.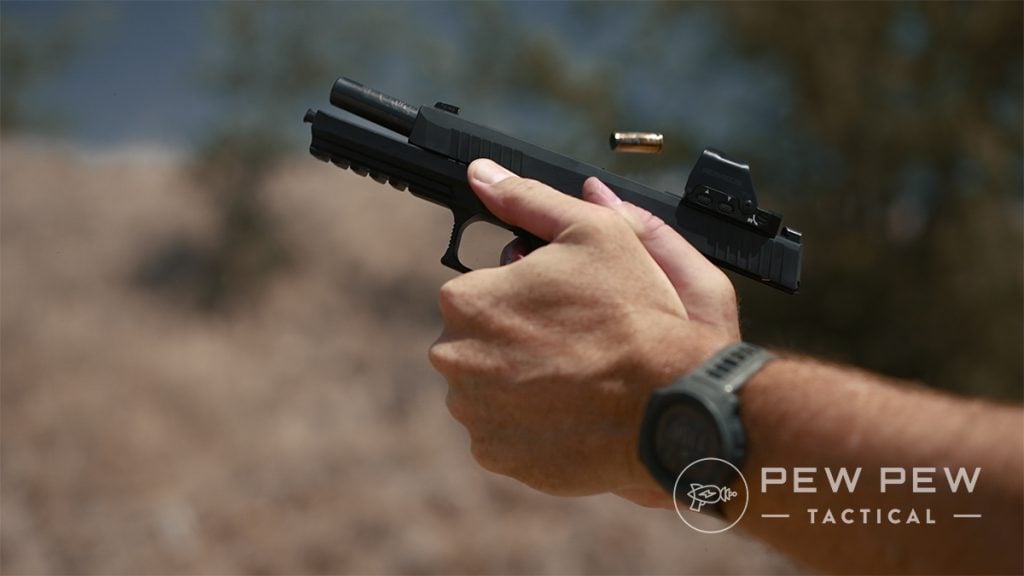 As a result, you might find yourself anticipating that recoil more, bracing against it, and pulling your shots down as a result.
You may even drop shots by jerking the trigger.
I did these things and had to remind myself to focus on good fundamentals in order to shoot accurately. This accomplished, the XTEN shot extremely well.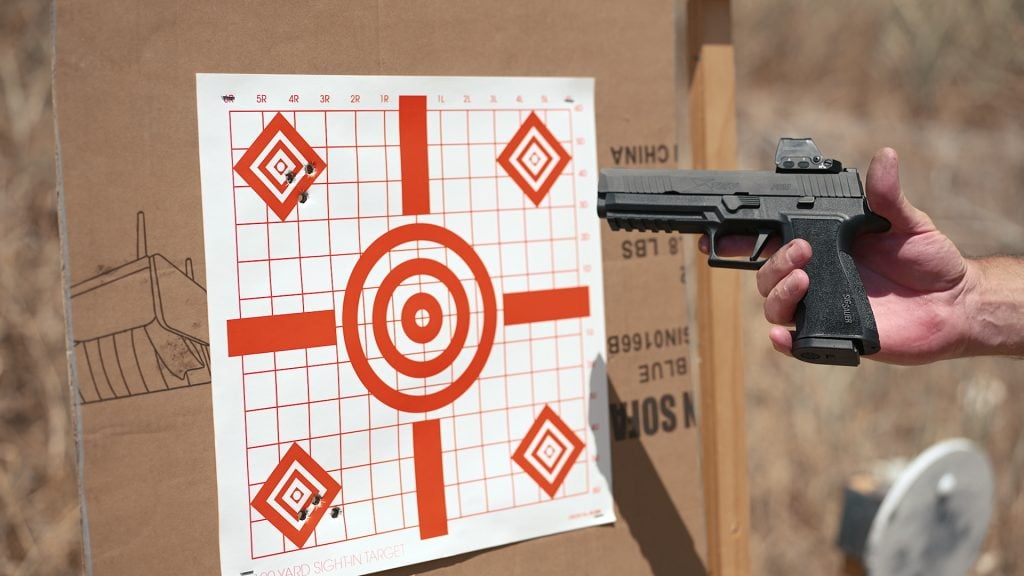 I was able to put together some 3-shot groups that were around one inch at 7 yards.
What Sets it Apart?
The XTEN felt very familiar based on my experience with other P320 models though the main difference was the recoil.
While it's not unmanageable, it does take some getting used to.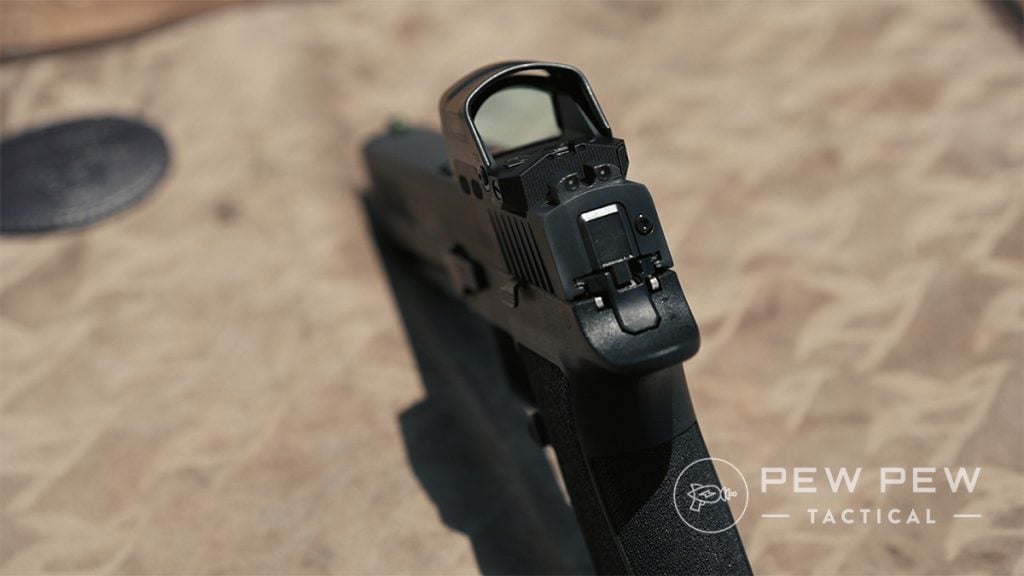 The frame design and features are the secrets to success in handling the muzzle flip.
By The Numbers
Reliability: 5/5
During testing, we fired a few hundred rounds of Sig Performance 180-grain FMJ as well as some 60-grain, barn burning (2,400 FPS) hollow point called Civil Defense from Liberty Ammunition. All fed, fired, and cleared with zero malfunctions though what the Liberty ammo did to a worthy test pineapple was anything but civil.
Ergonomics: 5/5
Fitting both large and smaller hands, Sig did an excellent job of hitting the middle ground with the grip. This was crucial because otherwise, the gun's recoil would be more difficult to master. All controls were easy to reach, and the magazine and slide release are both ambidextrous.
Accuracy: 5/5
Once you get beyond the muzzle flip and focus on fundamentals, the 5-inch bull barrel does a great job of putting together accurate shots.
Customization: 4/5
On one hand, the P320 alone is very customizable though size will dictate the XTEN only being comparable with .45 swap-out options. In addition, being optics ready, you can mount a Romeo 2 or Trijicon RMR on top, but don't scrimp here as the 10mm will eat up less sturdy red dots.
There is also a Picatinny rail up front to add your favorite accessories. On Sig's website, the only 10mm accessory for sale was a magazine, and they were out of stock.
Value: 4/5
Current pricing should be around $799, and that's a bit high, but when you consider you're getting a modular, full-sized gun that has night sights and is optics ready, it's a good value. Shop around, though, prices are ranging between $600 and $1,200 if you can find them.
Overall: 4.5/5
Upgrades for P320 XTEN
There will presumably be trigger upgrades and other accessories that will assist shooters with tooling up their XTEN down the road, but right now, the gun is a little too new.
Who knows? Maybe if popularity supports it, there might be other versions of this gun, like a Legion.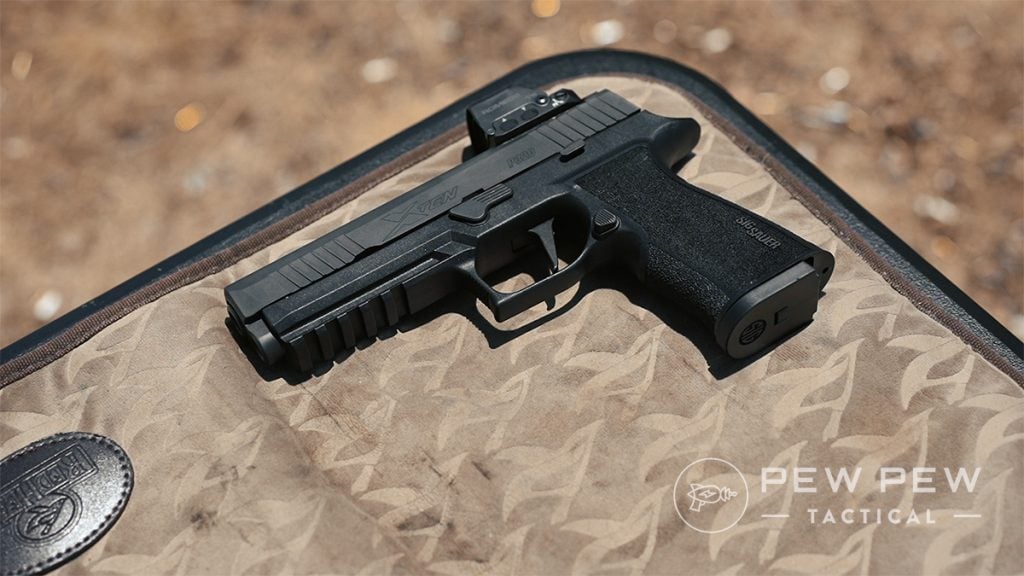 Final Verdict
The P320-XTEN was my first foray into 10mm, and I was very impressed. Having carried and shot .45 for years, the relative snap of the faster cartridge was a little surprising to my 9mm accustomed hands.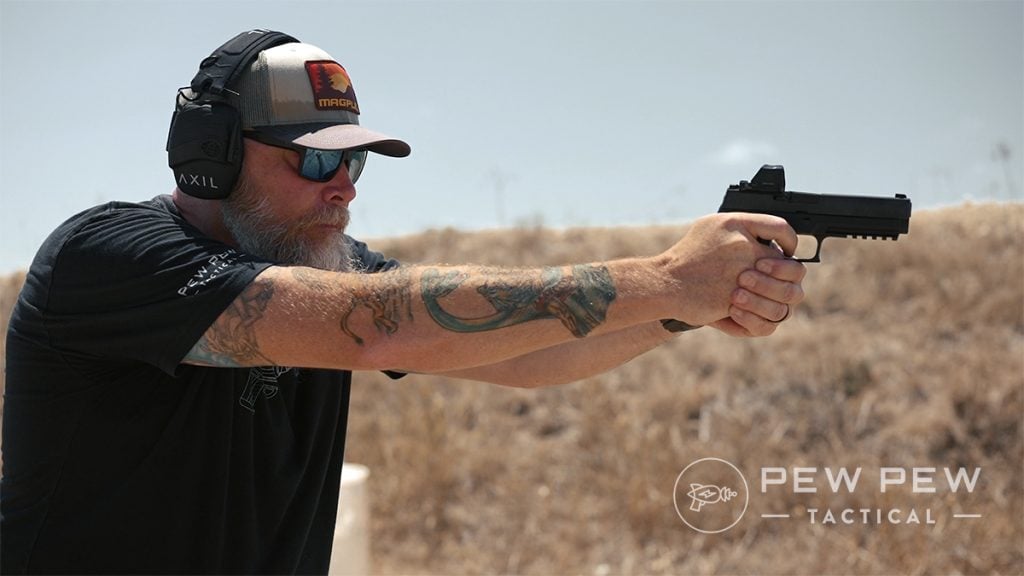 But after getting used to it, I was able to enjoy the big gun and see the merits of its use. Sig did a great job of scaling up the P320 to fit this mighty caliber.
I found the XTEN to be accurate and reliable, with great ergonomics, and it was not too much to handle. Notably, firing 9mm after shooting the XTEN seemed almost mundane.
Are you picking up an XTEN? Let us know in the comments below and for more 10mm action, be sure to check out our article Best 10mm Pistols & Handguns: Go Big or Go Home!
Also, if you own this gun, help fellow readers out by leaving a rating and review of the gun below!