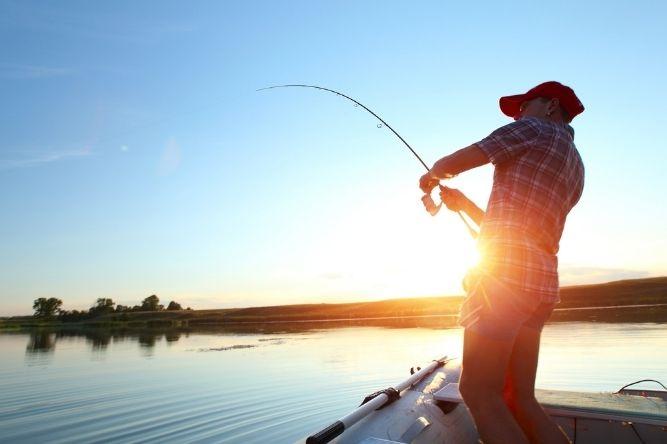 Walleye fishing is one of the most popular sports for anglers – and you can find walleye throughout the United States. We're going to look at 6 of our favorite spots for walleye fishing in the country – in no particular order – and we'll look at one lodge on each body of water that can help you catch more walleye. Let's go fishing!
Lake Francis Case, South Dakota
The Buffalo Butte Ranch
Lake Francis Case is the best walleye fishing spot in South Dakota – and one of the best places in the country. In peak season, you'll find big walleye hiding out in the 30-38 inch range. And with the trip packages offered by Buffalo Butte Ranch, including knowledgeable guides and a stay at the lodge, you're sure to catch some impressive fish.
Mille Lacs Lake, Minnesota
The Red Door Resort
If you love walleye fishing, you've probably heard of Mille Lacs Lake – it's one of the best fisheries in the world. The Red Door Resort offers a couple of experienced fishing guides to help you catch more and bigger walleye – and they even have fish houses if you want to go out ice fishing in the winter. Lots of options on Mille Lacs!
Dale Hollow Lake, Tennessee
The Willow Grove Resort
When you think fishing in Tennessee – especially in Dale Hollow, you probably think about bass fishing. What you may not know, however, is that there are a lot of walleye in Dale Hollow Lake. While the biggest walleye ever caught was in a reservoir about two hours out (Old Hickory Lake), Dale Hollow Lake tends to have more walleye, and more opportunities for big catches. The Willow Grove Resort offers more than just a place to stay – they have a number of experienced fishing guides!
Lake of the Woods, Minnesota
Border View Lodge
No list of walleye fishing spots would be complete without Lake of the Woods, the Walleye Fishing capital of the world. There may be no better spot on the planet to fish for walleye – they're plentiful, you can catch some huge fish, and there's fishing pretty much year round.
The Border View Lodge is a family-owned fishing resort. They offer chartered walleye fishing from May to October, as well as ice fishing spots. They have all inclusive packages – very worth checking out!
Saginaw Bay, Michigan
West Coast Sportfishing
Saginaw Bay is the best spot for walleye fishing in Michigan, and you'd better believe the ice fishing on the Bay is fantastic. There aren't any fishing lodges in the area since Fish Point Lodge changed hands, but you can get an excellent fishing guide at West Coast Sportfishing.
How do you know the guide is excellent? Because the website looks like it hasn't been updated since 2002 – they've been too busy out on the water catching walleye.
Lake Winnebago, Wisconsin
Schwarzy's Reeltime Fishing
There are resorts on Lake Winnebago, and fishing guides on Lake Winnebago, but no one does both. We smell a business opportunity – though it might be a bit fishy.
Nevertheless, Lake Winnebago is a spot where you probably won't actually win a bago (what's a bago?) but you'll definitely win some of the best walleye fishing in Wisconsin. And Schwarzy is an excellent guide – he's a Coast Guard Captain who loves walleye fishing. He'll take you to the best spots.
These are just 6 of our favorite spots for walleye fishing in the States. Are there any spots we missed that you'd like to add on? Get in touch with us! And if you want some help when you're out on the water, check out our guide to the best fish finders for 2021.