Last Updated on
By Tony Martins
Do you carry a handgun for protection while hunting? Some rifle hunters may consider this a silly question – some bowhunters, not so much… While hunting elk, I once walked right into a pack of coyotes feeding on a carcass in the early morning darkness, carrying only my bow. Now consider that your high-powered rifle with the mega-magnification scope dialed in for 700 yard kill shots won't offer any more protection than a bow, if a dozen growling coyotes threatening with teeth bared suddenly attack from just 20 yards away. Recalling that potentially deadly encounter still gives me the chills today. Frankly, if carrying a sidearm is legal, it's foolish for any hunter to not do so on any hunt. In fact, my home state of Arizona recently changed regulations to allow bowhunters to carry handguns for protection. A front page story from this week's local newspaper cites one reason – the growing concern over wolves stalking hunters. My friend and guide Billy Bishop reports that he had to fire several shots from his pistol to discourage a pack that threatened him and his horses.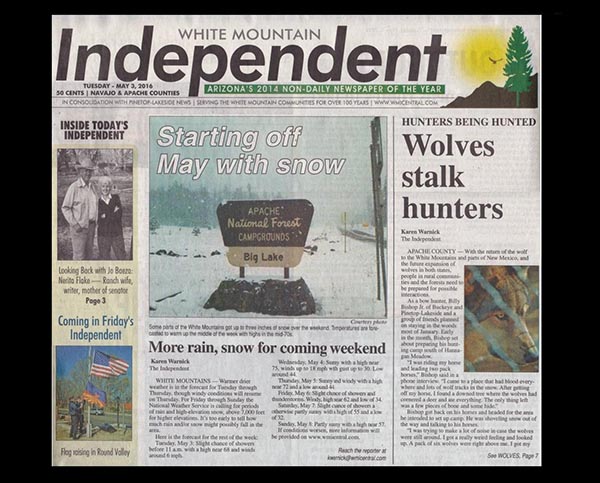 Although hunters carry sidearms for a variety of reasons, probably the most common is to dispatch wounded animals. Without question, low-powered handgun rounds are more safely and accurately discharged at close range than high-powered rounds from a rifle that is usually scoped. When hunting out west, personal safety from large predators like bears, mountain lions and wolves – which often arrive in silence – is a legitimate reason. In the south and southeast, wild hogs are the primary concern, and although I've never hunted in Louisiana or Florida, some toothy reptiles there warrant consideration as well. Smaller animals like coyotes, badgers, bobcats, javelina, and even raccoons have all been known to threaten and injure humans. These smaller animals are a greater concern when hunting with dogs, particularly where rabies is present. And, let's not forget snakes – particularly the venomous varieties.
So, what's the best handgun to carry in the field for protection? In my opinion, three factors should be considered when making that choice, (1) the type of danger that could be encountered, (2) personal preference, and (3) weather conditions. The carry system is just as important, as the gun must be available for quick retrieval to be used for defensive protection, and not stowed away in a pack or saddle bag (or left in the hunting vehicle!). Recognizing this, Eberlestock has introduced the "Nosegunner" – the first binocular chest pack to incorporate a built-in pocket for a handgun. This innovative new product was featured in my "Best of SHOT – Hunting" news story just after the 2016 show in January. Following are some popular sidearm and holstering choices, with factors and circumstances for the suitability of each. Let's start with one of my personal favorites – the Smith & Wesson .38 Special.

I rarely go into the field without my trusty 1-1/2-inch stainless S&W in my back pocket. The .38 Special was the standard service cartridge for most U.S. police departments from the 1920's to the early 1990's, and it has remained the most popular revolver cartridge in the world for more than 100 years! It's accurate, comparatively inexpensive and readily available. I vividly recall the evening my father shot a screeching bobcat out of a tree at point-blank range with his S&W 3-inch service revolver, as we cut through an orchard returning late from a rabbit hunt when I was just a youngster. Growing up with, then inheriting this blued revolver (pictured above) and its leather holster on my father's passing, the .38 Special is truly special to me.
Several years back, young friend Josh was helping our mutual friend Richie bowhunt for elk. Richie tagged one and Josh stayed with the kill while Richie hiked out to locate his truck. An hour later sitting near the carcass, Josh heard a growl and turned around to find a mountain lion claiming the downed elk. Defenseless, Josh backed away, hollering and throwing rocks at the big cat. The lion growled aggressively and advanced toward Josh when hit. Fortunately, Richie heard Josh hollering, ran to the site and shot the belligerent lion with his one remaining arrow. After relating the bone chilling story, Josh told me he was going to buy a handgun like mine the day he turned 21 and could legally do so, and never go into the woods again without it! His 2-inch Taurus Ultra-Lite (M-85UL, also pictured above) is carried in a simple belt-clip holster, or in a pocket.

Revolvers are often favored over semi-automatics for their reliability, particularly when field conditions while hunting expose the sidearm repeatedly to dirt and debris. Where foul weather is also a consideration, single-action/stainless is generally preferred over double-action/blued, especially in coastal or desert climes where salt is a factor. Popularity of cowboy-style "sixgun" revolvers derived from the legendary Colt Single Action Army remains strong – particularly in the west, where Ruger offerings like the Vaquero (pictured above) unquestionably lead the way. When more power than a .38 is desired, the .357 Mag. and .45 Long Colt models are excellent (and stylish) choices. The 4-5/8-inch Vaqueros handle great, point quickly and are easy to pack. And, although you see lots of sexy low-slung gunbelts with leg tethers, I prefer a lightweight leather or Cordura nylon hip holster that slides onto the belt of my pants, and thus rides higher for comfort while moving about in the field.

If you hunt where the great bears roam, any sidearm will do – as long as it's chambered in .44 Remington Magnum! This is especially important in some areas in Wyoming, where grizzly bears have learned to come to the sound of a gunshot, expecting an easy meal. In my experience, the stainless steel double-action Ruger Redhawk (pictured above) is the top choice of Alaskan guides, for two main reasons; (1) the durability of this over-built handgun, and (2) dependable stopping power, particularly in foul weather conditions. When my good friend Trent Penrod sent an arrow through the chest of an approaching 8-1/2 foot Kodiak bear at a mere 15 feet, his guide stood by his side with .44 Mag. cocked and ready. The big bruin turned away, bellowing as he ran off into the bush. A loud sigh of relief followed – not from Trent, whose adrenaline was surging off the charts – but from the guide, thankful that intervention with his gun wasn't needed! A secondary benefit is the loud report of the .44 Mag, good for both dissuading (hopefully) aggressive and dangerous animals in close quarters, and for attracting attention when needed. Preference for barrel length varies however, and those who favor long barreled models also favor vertical shoulder holsters to pack these heavy-duty sidearms around (somewhat) comfortably. Hands down, nylon is the better choice over leather for wet weather conditions.
Moving from one of the biggest sidearms carried by hunters for protection to one of the smallest, the ever-popular .22 rimfire might seem to be an illogical choice. This chambering would certainly be considered under-powered for large animals like bears, cougars, wolves and wild hogs, even in its most potent magnum version. Nevertheless, in areas where encounters with these larger animals are highly unlikely, the .22 rimfire is an excellent choice for a number of reasons. Handguns in .22 caliber are typically smaller and easier to handle than larger caliber handguns, and they are often more accurate in the hands of the inexperienced. Furthermore, ammo is comparatively cheap, so there's a greater likelihood that their owners will have practiced enough to gain proficiency.