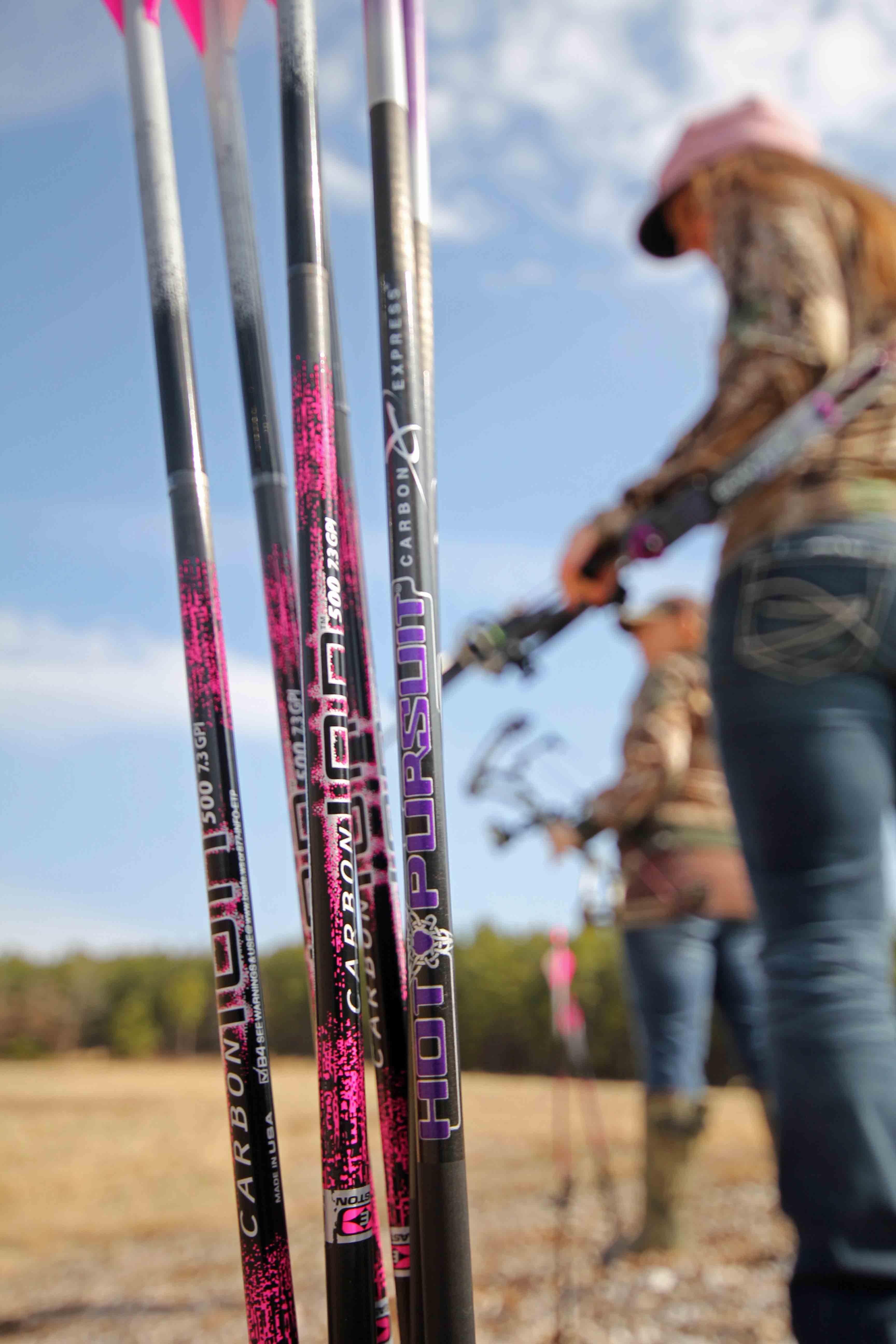 If you're a female bowhunter, listen up: the bow companies get it. Not long ago, finding a bow with a draw length and weight suitable for the average female hunter meant buying a puny youth rig, perhaps with some pink splashed on the limbs to make it a ladies' model. They were underpowered, inferior junk compared to flagship men's bows.
You don't have to use that stuff anymore. Over the past few years, the Realtree Ladies' Bow Test has provided a window into the evolution of top hunting bows for women. Although there have been some great bows in the test every year, our test panel has also reviewed more than a few clunkers. The worst never made it into the published test.
Not this year. Any of the four bows reviewed for 2014 would have won the test hands down in 2012. For two days, our test team shot bows, took notes, erased notes, shot some more and spent long moments in pondering silence, staring at cams and risers. To say these bows were evaluated carefully and objectively is an understatement.
Although there are other good women's bows on the market, these four are all brand new for 2014, and sold by Realtree-licensed partners. Those are the requirements for the test. Here are the results.
Specs, Gear and Test Criteria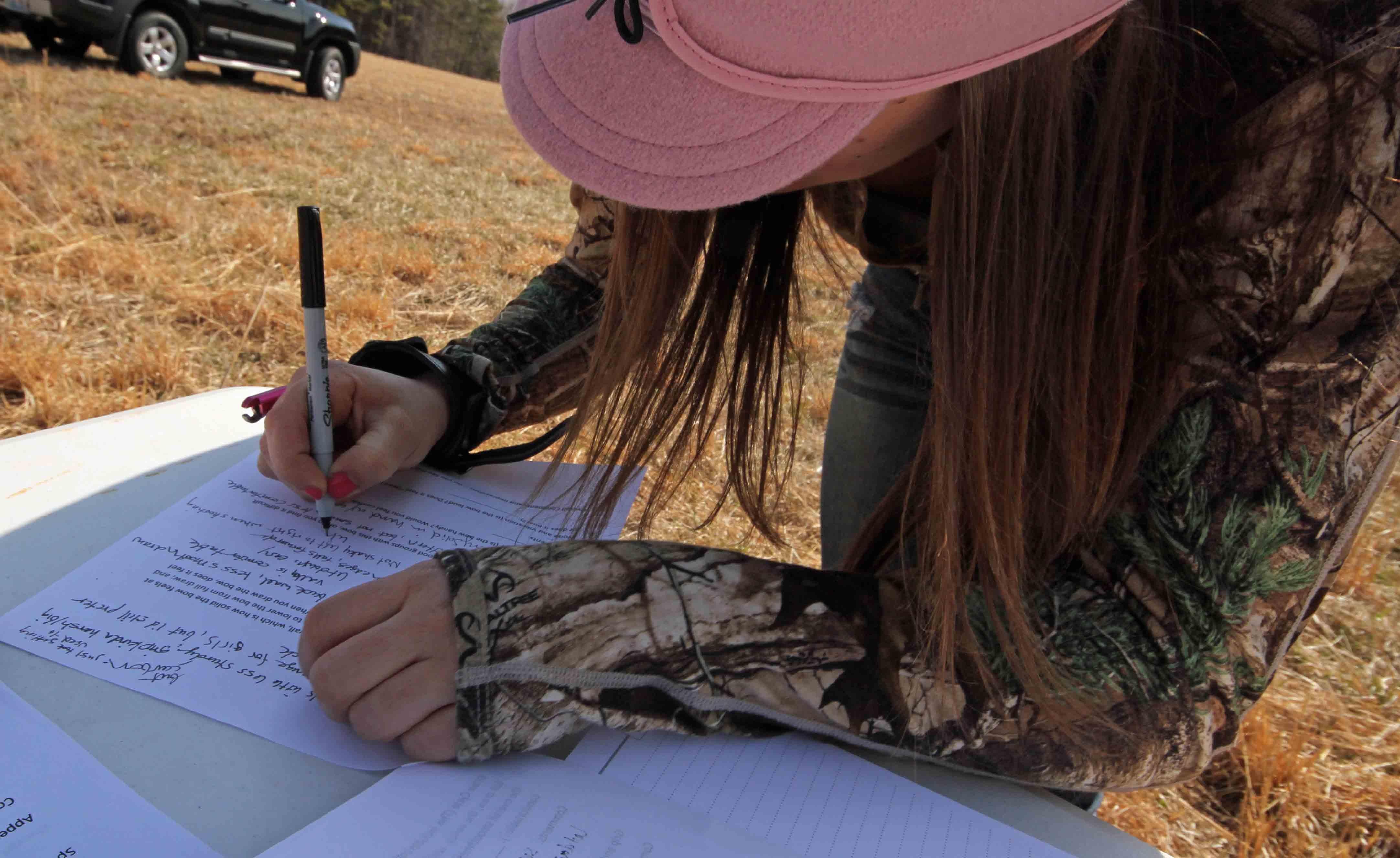 All bows were set at 40 pounds with a 24-inch draw length, and equipped with Trophy Ridge Whisker Biscuit rests and 5-pin Cypher sights. Speeds were checked through a chronograph with a 500-spine, 347-grain finished Easton Axis arrow. That's a relatively heavy, small diameter shaft that's perfect for hunting with a light draw weight bow. Range arrows were 343-grain finished Easton Ions, simply because we had more of them on hand.
Layered foam, bag and 3D targets were used, courtesy of Delta-McKenzie. Indoor range testing was conducted at Hinton Archery in Murray, Ky.
Each bow was evaluated on a variety of objective and subjective factors. Before shooting any of them, the test panel assessed their cosmetic and handling features. Over the course of two days, each panel member shot each bow 100-plus times on both an indoor and outdoor range, during which they evaluated the bows on their draw cycle, including back wall and valley; grip; noise and vibration; treestand/ground blind handling characteristics, and overall shootability. All individual feedback was kept secret until the end of the test.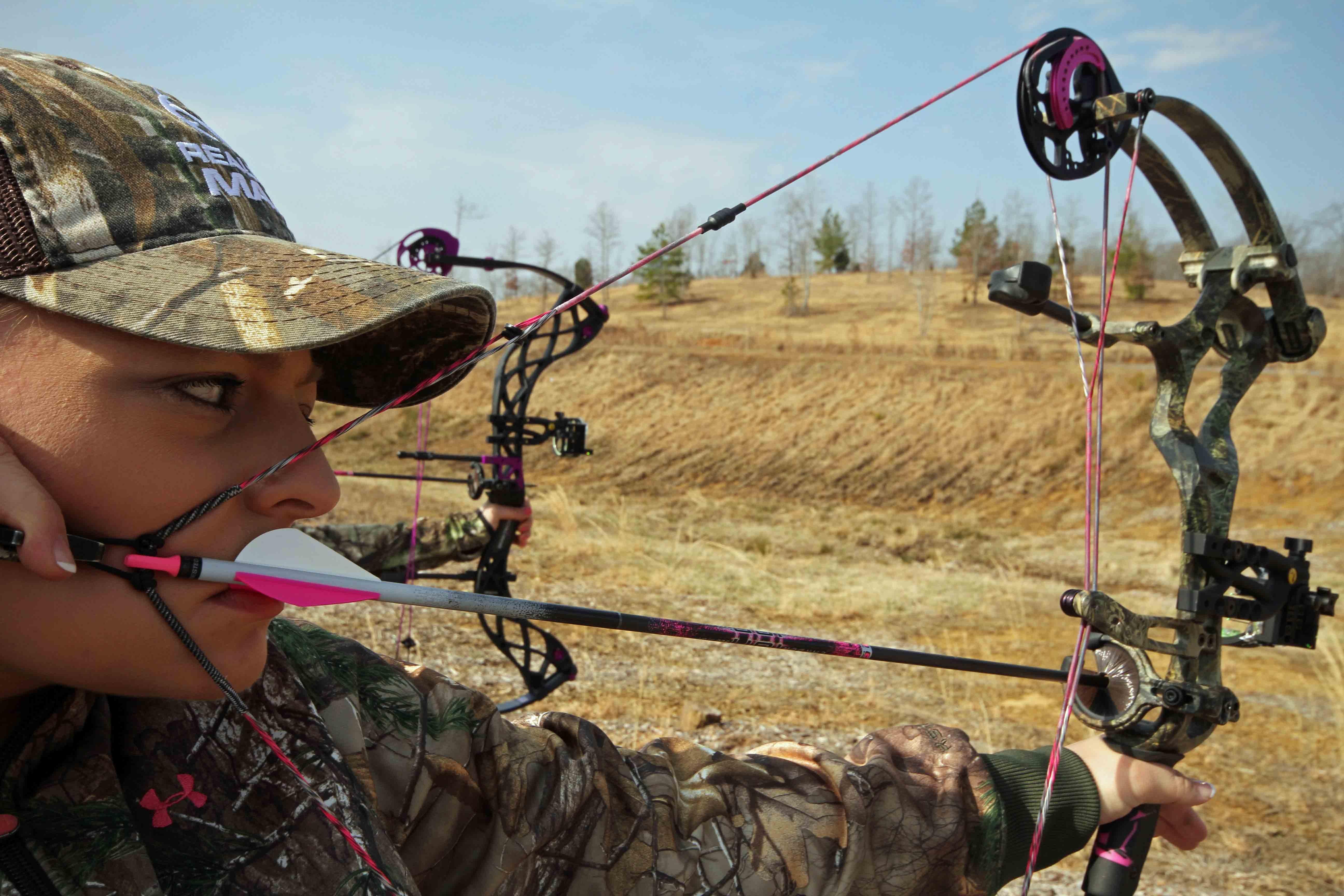 Bear Rumor
Axle to Axle Length: 30 1/4 inchesBrace Height: 6 1/2 inchesSpeed: 198 FPSWeight: 3.6 poundsPrice: $899
Bear has submitted several bows to the women's test over the years, but the 2014 Rumor is far and away the best one. A perfectly scaled-down version of the Motive, Bear's flagship men's bow in 2013, the Rumor is compact, smooth and well finished.
This is a great little bow; such an improvement over the Bear models we've reviewed in the past. Honestly, the only thing I'd change about it is the grip. – Michelle Brantley
Hits: The Rumor is smooth and accurate, and it got a cosmetic thumbs-up from the test panel, which universally liked the subtle pink accents teamed with the look of a serious hunting bow finished in Realtree Max-1. Julie and Michelle were cramming arrows into 1-inch groups with the Rumor on the test range.
Misses: At 198 fps, the Rumor is the slowest bow of the test. Although the panel was pleased with the smooth draw cycle, two of the three testers gave it low marks for a soft back wall. While Michelle didn't care for the wrap-around rubber grip, Julie liked it. Regardless, it takes a hex wrench and 1 minute to remove it.
Overall Impressions: If your perception of Bear is still a big-box-store bow company, then you need to try some of their most recent flagship models. The Rumor is expensive – but top-end bows cost money these days. And top-end is exactly what this bow is.
Hoyt Faktor 30, Vicxen Edition
Axle to Axle Length: 30 inchesBrace Height: 6 ¾ inchesSpeed: 215.7 FPSWeight: 3.6 poundsPrice: $999
Rather than a dedicated ladies' model, Hoyt has sold a Vicxen Edition line of their new flagship men's bows each year for the past few years. But don't be fooled. These bows are fit to spec for female archers, and their performance is typically outstanding. The Charger Vicxen edition won the 2013 Ladies Test. This year, Hoyt submitted the Faktor 30 Vicxen Edition, a high-end aluminum riser model.
I love the way this bow handles and shoots. Combine that with the speeds, and this one becomes my favorite of the test. – Brita Lewis
Hits: Everyone on the test panel shot great groups with this bow, both on the indoor and outdoor ranges. Good accuracy combined with those speeds makes a solid combination. The hardwood grip was a favorite, even though the test panel rejected the pink finish.
Misses: The test panel found this bow to have a rather unforgiving valley, which makes it difficult to lower from full draw. It's the most expensive bow of the test by $100.
Overall Impressions: This is an outstanding bow that seems to feel much like other Hoyts from the past few years. The typical Hoyt is smooth to draw, well finished and plenty fast, but often with a soft back wall. That was the case with the Faktor Vicxen edition.
Visit Hoyt Archery.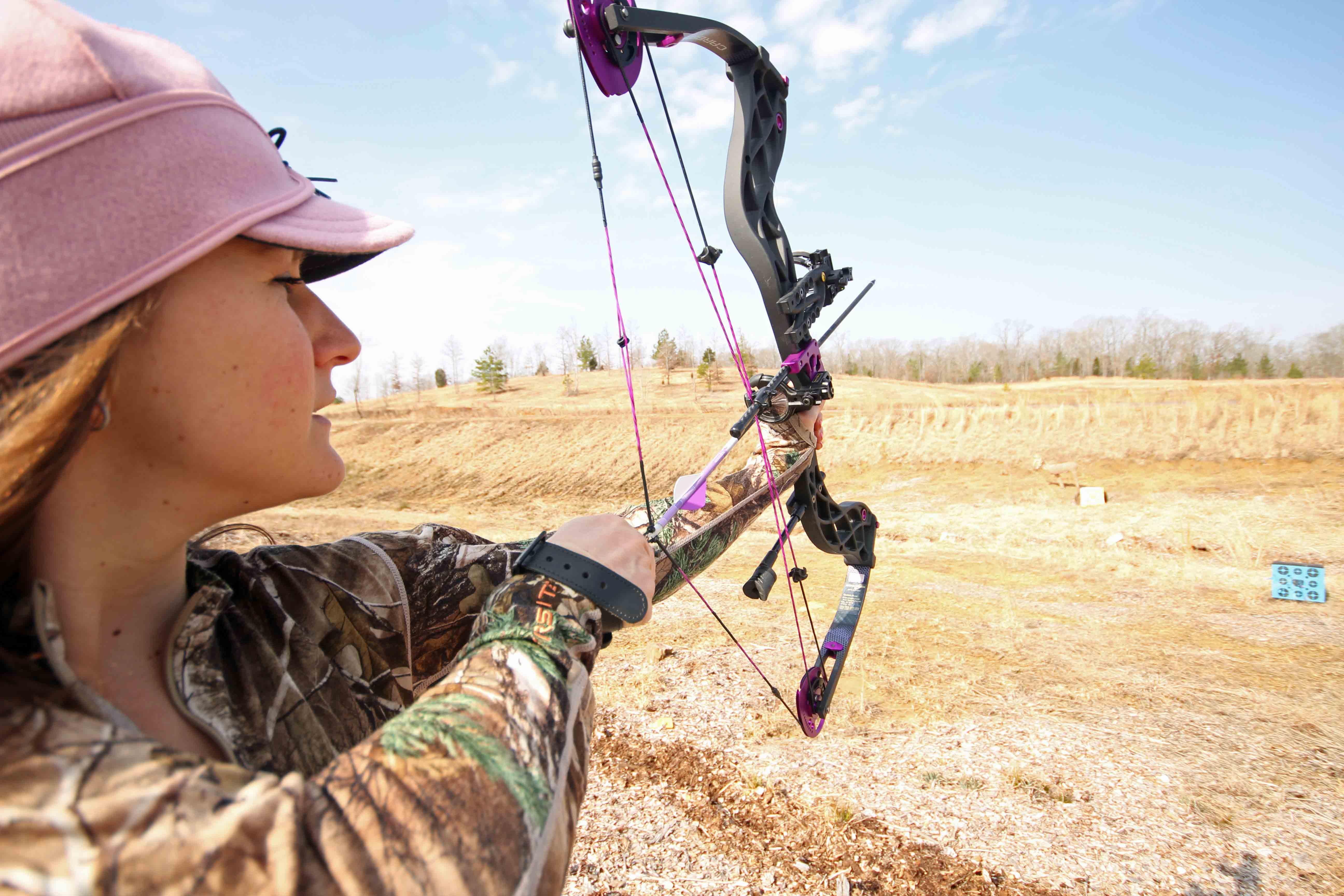 Bowtech Carbon Rose
Axle to Axle Length: 30 inchesBrace Height: 6 ¾ inchesSpeed: 218.5 FPSWeight: 3.2 poundsPrice: $599
Bowtech created a buzz last summer when they introduced the Carbon Knight, a carbon-riser bow that cost well under a grand. The company now has three carbon riser bows in their lineup, including the all-new Carbon Rose – the lightest, fastest and least expensive bow in the test.
This bow really grew on me. It's small and light, yet feels sturdy, and it's very fast. – Brita Lewis
Hits: The fastest bow of the test. For $100 extra ($699 MSRP), you can purchase the Carbon Rose rigged with a sight, rest, quiver, wrist sling and stabilizer. As "hits" go, those two are knock-out blows.
Misses: Two of the three test panel members found the Carbon Rose significantly more difficult to shoot, especially when taken to the outdoor range on a windy day. Julie and Michelle both dinged it on the thick grip, which they said was uncomfortable, and all the testers dinged it on the draw cycle, which, despite a solid back wall, was a bit rough.
Overall Impressions: Extra speed is a huge advantage with a bow set to these specs, and those speeds are quite impressive. Although the entire test panel was pleased with the lightweight handling characteristics of the carbon riser, a bit more heft might have made this bow easier to shoot.
Visit Bowtech Archery.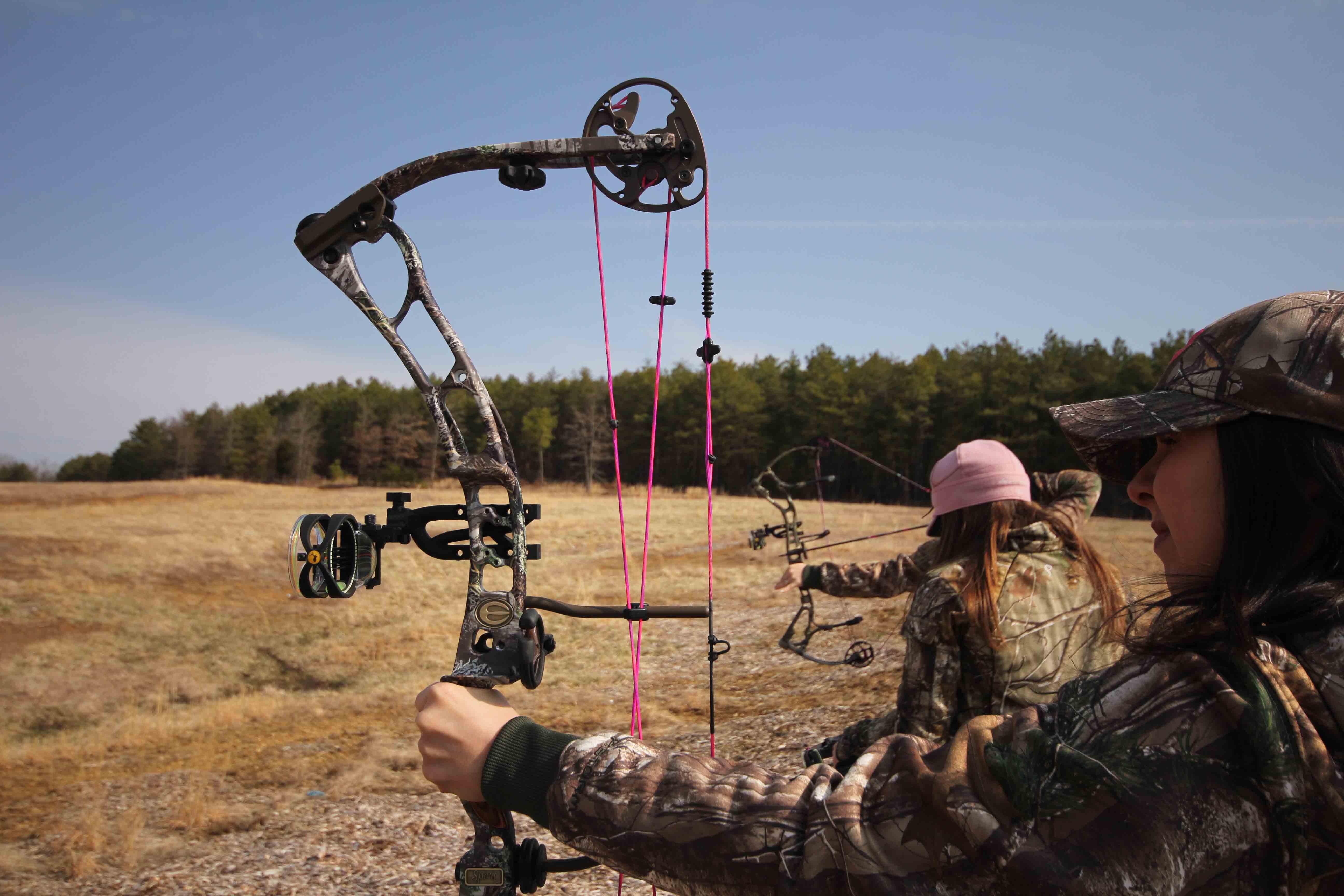 Elite Spirit
Axle to Axle Length: 31 7/8 inchesBrace Height: 7 inchesSpeed: 200 FPSWeight: 3.9 poundsPrice: $899
The Spirit is the first ladies-specific model from Elite in more than five years. It seems they nailed it. The Spirit is similar in appearance to the Energy 32, Elite's 2014 flagship men's bow, specifically in the riser cage area, which is designed to increase the riser's overall strength. Elite bows rarely win the speed contest in any head-to-head bow test, but they're consistent range favorites due to their easy shooting characteristics. The Spirit is no exception to that rule.
Great bow. Super smooth, with a great back wall and balance. Of all the bows in the test, this is the one I'd buy for myself. – Julie Wilkins
Hits: The test panel found little not to like about this bow. It was the No. 1 pick based on appearance alone, but the real advantages came through during the range testing. The Spirit was the quietest bow tested. The back wall was the best of the test, and the draw cycle was much more consistent than the Hunter, the bow reviewed in the 2013 test. Each panel member shot consistently tight groups with the Spirit.
Misses: Speed. There were two clear speed categories in this year's test, and the Spirit falls into the slower one.
Overall Impressions: Apart from the slow speeds, the Spirit was a standout in every tested category.
Visit Elite Archery.
Meet the Test Panel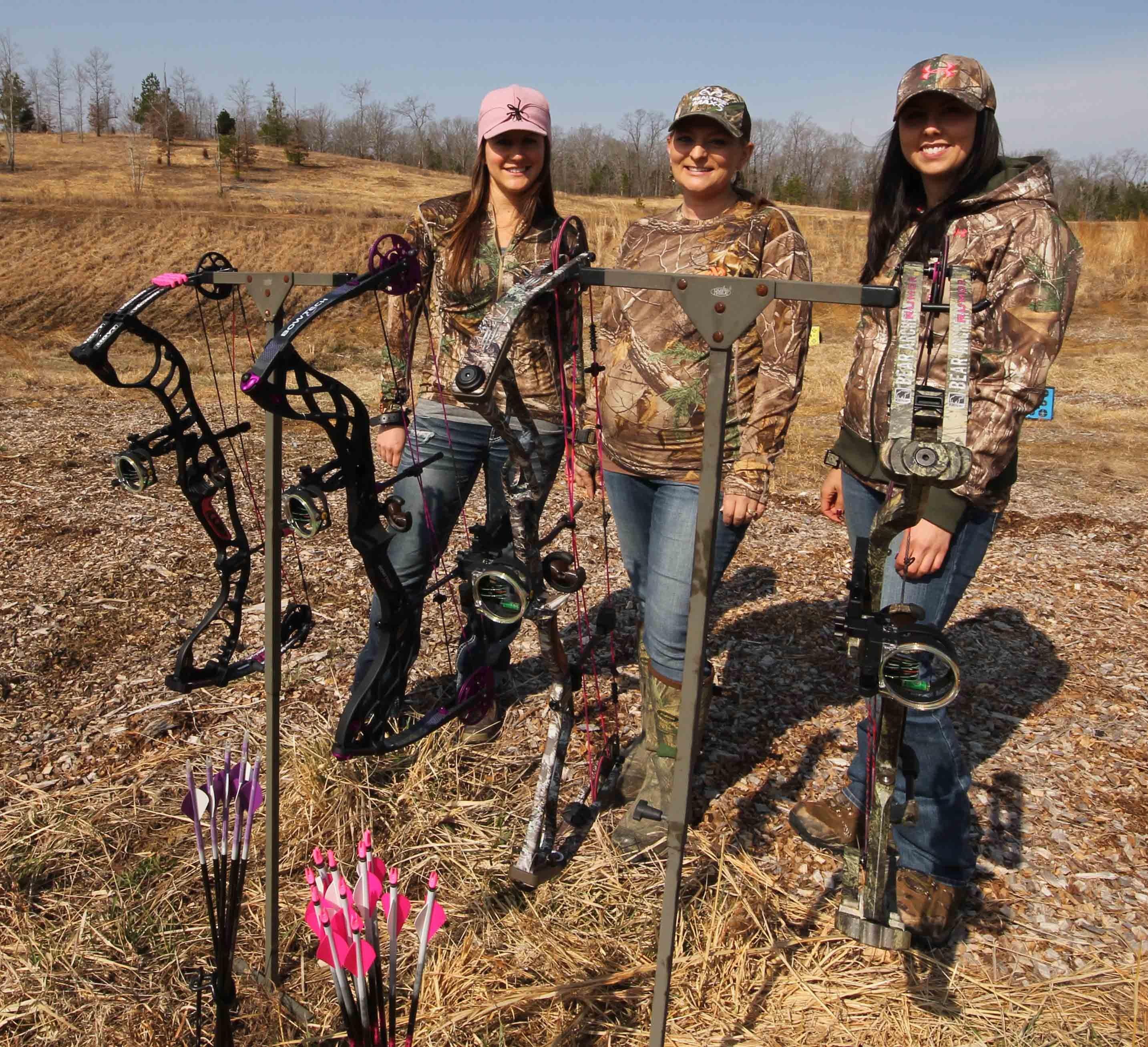 Michelle Brantley: Over the years, I've watched my wife, Michelle, spear a wild boar, shoot a mountain lion, wrestle a catfish with her hands, subdue a 10-foot alligator and shoot countless deer and turkeys. Her biggest conquest, though, is in her daily routine as an elementary school teacher. Michelle added the baby bump test to this year's review. Top Pick: Elite Spirit
Brita Lewis: Brita is marketing strategist for Gray Loon, the digital marketing agency for Realtree. Something of a redneck-hippie hybrid, she pairs her wild game diet with some weird stuff, like lentils and sprouts. She's frighteningly intelligent and methodical, and yet perfectly at ease gutting a deer, shooting a carp or swigging a Busch Light. Top Pick: Hoyt Faktor 30
Julie Wilkins: Julie is copy editor for Realtree.com, and she usually has a very calm, "I'm a little bit smarter than you" twinkle in her eye. She grew up in an avid hunting family near the Kentucky metropolis of Monkey's Eyebrow, but didn't hunt herself until recently. Last year, she picked up a compound bow for the first time, decided she wanted to start bowhunting – and then did. Now she can hit a silver dollar with an arrow at 20 yards. Top Pick: Elite Spirit
And the Winner Is…
Two winners are chosen from this test: the best overall bow, and the best value bow. Note that value doesn't mean cheap: it means performance for the price. This year's lineup was the overall best our test panel has ever reviewed, and that was especially evident once it came time to choose the winner.
Although the goal is to judge each bow as objectively as possible, personal preferences do shine through in a head-to-head bow test. That's why we have multiple shooters on the test panel evaluating each bow on individual characteristics.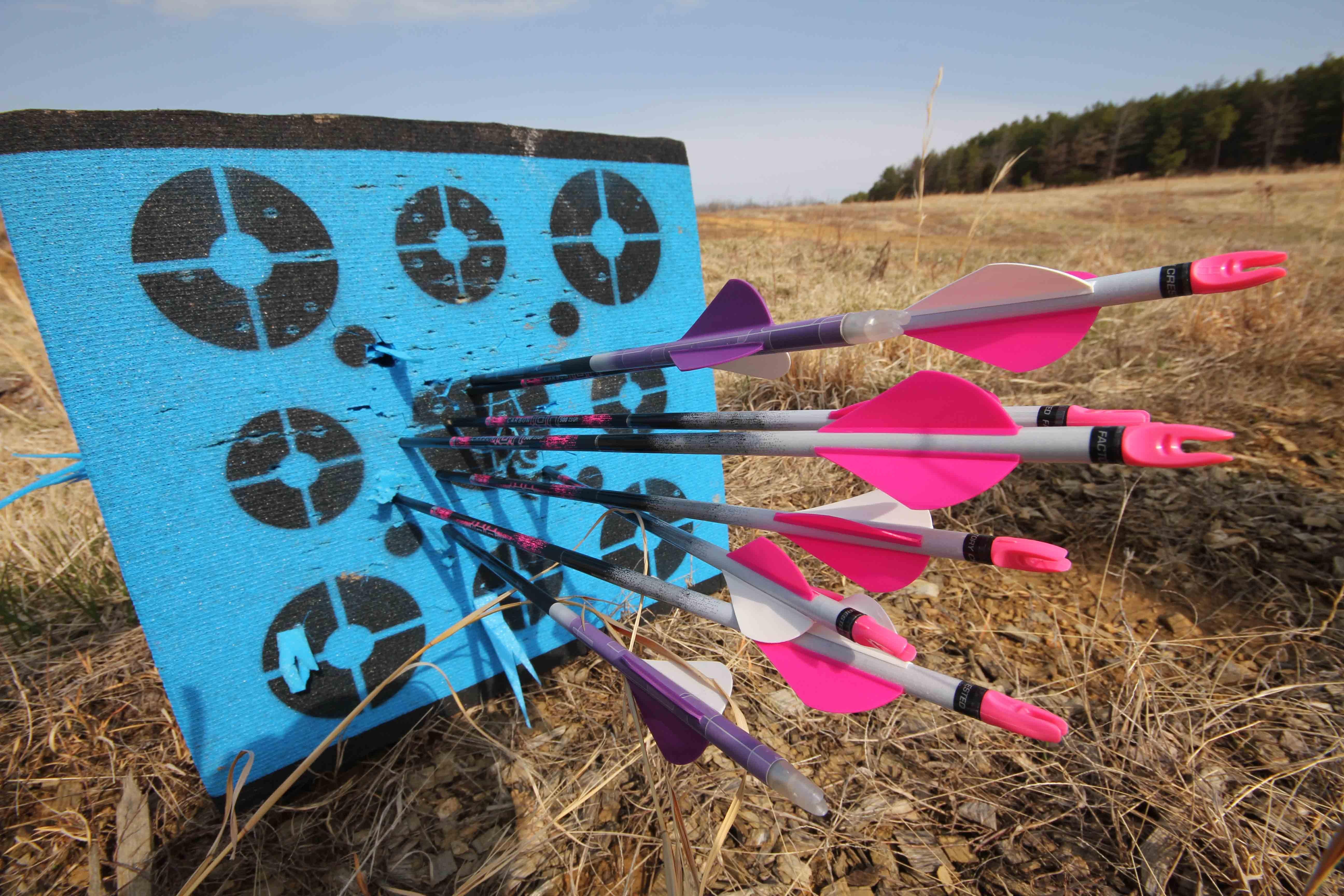 Top Overall Bow: Elite Spirit
Near perfect scoring in every other category made up for the Elite's slower speeds, making the Spirit the overall winner of the 2014 test.
Best Value: Bowtech Carbon Rose
Though this bow was the most difficult of the lot to shoot, the test panel loved its handling characteristics and blazing speeds. Combine that with a price tag that's several hundred dollars less than any other bow in the test, and it becomes the obvious choice for best value.