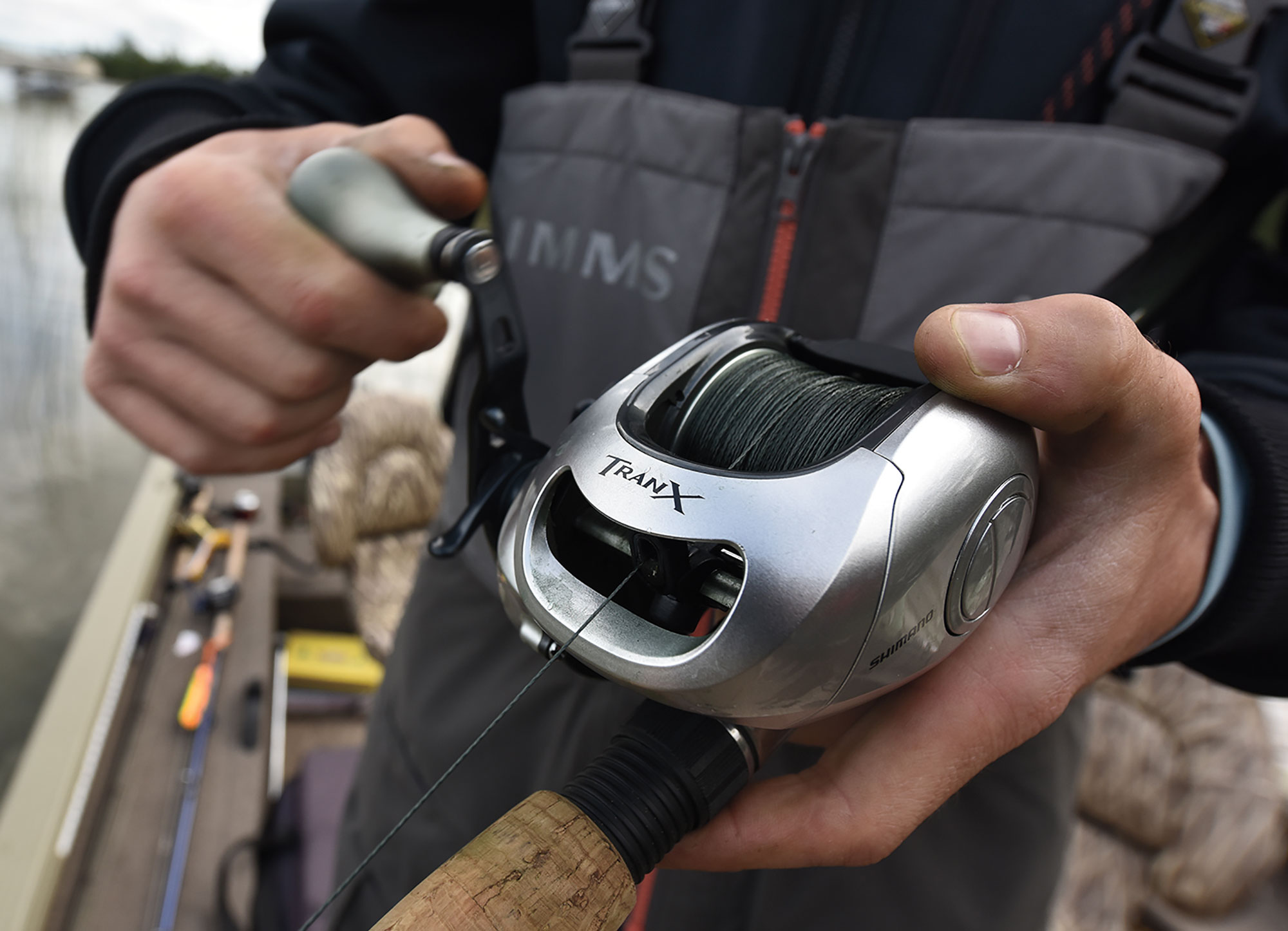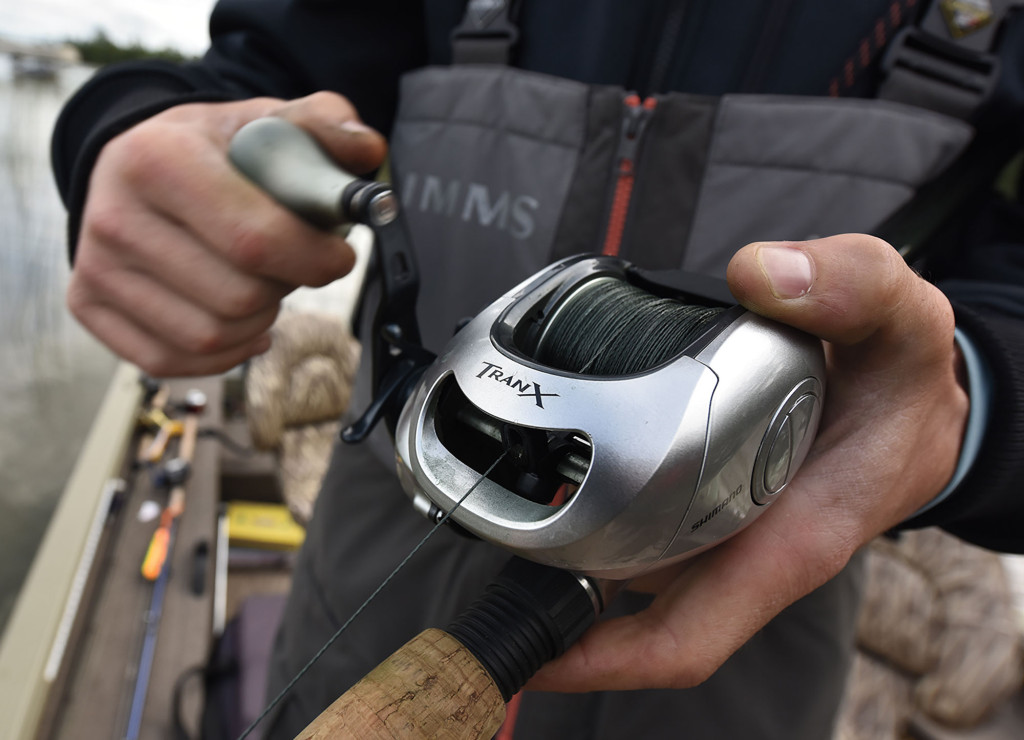 For me, the highest praise you can give a muskie reel is that when you wind one, you almost forget it's there. If it's screeching along; or regularly hitting a "speed bump" or rough spot; if it backlashes incessantly (operator error aside); if the drag sticks, my attention is distracted from fishing. Eventually, it's going to cost me a big fish.
I admit that I've spent years dealing with muskie reels that had, let's call them "issues." That's because up until about five years ago, we had about three choices in reels, and none of them were low in profile or particularly easy to palm — unless you had hands like Wilt the Stilt. So we fished what we had and dealt with it.
Probably around 2009, when a guide friend handed me a particular St. Croix rod matched with a Shimano Curado 300E, I wondered if my pal had forgotten we were fishing for muskies, not bass. Compared to the colossal rotors I was accustomed to, the Curado fit into the palm of my hand. It was the most comfortable day of muskie casting I'd ever known, a day in which I completely forgot about the reel. I'm convinced this stroke of fortune allowed me to convert two figure-eight fish in a row.
Within weeks, a couple Curados joined my arsenal. Several seasons later, I caught wind of one called the Tranx, recommended for folks fishing Cowgirls and other double #10 Colorado bucktails, which had proved to be hard on the gears of traditional reels.
The Tranx 500HG is a horse of a reel — probably too tall for folks with smaller hands to easily palm. At 20 ounces, it's heftier than some. But the Tranx has transformed the process of casting big baits for muskies. With a capacity of 270 yards of 65-pound braid, each turn of the handle picks up over 42 inches of line. Add a high-torque power handle and a brisk 6.6:1 gear ratio, and the Tranx 500HG makes retrieving large lures a nearly joyful experience.
The same thing can be said for Daiwa's Lexa 400HS-P, another low-pro tank with a gigantic spool capable of moving 37 inches of line per turn of the handle. It weighs about 5 ounces less than the Tranx 500, and like all Daiwas I've wielded, it blows you away with its smoothness.
I've worked two Tranx reels hard for three seasons, including periodic saltwater duty. Both low- and high-speed models are as smooth, powerful, and enjoyable to fish as the day I got them. I've just started using the Lexa, so I can't yet comment on durability, although I'm confident in Daiwa products.
Should you be looking for opinions other than my own, consider that Dick Pearson relies heavily on two or three reels for most of his fishing. "These days," he says, "I use low-profile reels a lot, including the Revo Toro Winch and Shimano Tranx. For burning double #8 bucktails, I go with Tranx 500HG. The reel's a treat to fish and can handle anything that swims.
"Abu's Toro Winch can handle double #10s, but the speed is a little slow for me, so I often use a Shimano Trinidad A. It's not a true low-profile reel, but fits nicely in my hand, and is so powerful I can blow double #10s out of the water with a couple quick turns of the handle (it picks up 46 inches of line per crank). Makes double #10s feel like a #3 Mepps," he says.
Speed Versus Power
A distinction should be made between high-speed "burning" retrieves and high-torque presentations with hard pulling baits, for which raw power trumps the need for speed. If you're not careful, you can fall into the trap many anglers do while shopping for a reel. Simply choosing the model with the highest gear ratio can be a mistake. If the goal is to retrieve hard-pulling double #10 Colorados with minimal fatigue, it's often best to select a lower gear ratio, which provides more power. Likewise, consider spool size and the reel's line-per-turn rate.
The best reel I've fished for effortlessly cranking giant blades is the Tranx 500PG. While this masterful reel has a 4.6:1 retrieve ratio, its massive spool allows you to pick up 30 inches of line per crank, and does so with remarkably little resistance to your hand, wrist, or forearm.
Both Tranx models feature Shimano's HEG technology, enlarged drive and pinion gears for increased leverage and power. And their X-Ship frames stabilize the gears under heavy loads, eliminating friction between the spool shaft and the gears.
Most of the time, unless fish are begging for super-fast speeds, the 500PG is the gold standard for giant blades. When I need more speed, I grab the 500HG, which picks up over 3 feet of line per crank, with minimal loss in torque. For burning double #8s, the 500HG works exceptionally well, as does the Lexa 400HS-P. The beauty of moving so much line so quickly, is that you don't need to crank on the handle wildly. A normal steady retrieve moves a lure along at a surprisingly rapid rate.
Little Palmers
Smaller in stature, yet with remarkable power and speed is another arsenal of bass-size reels. Shimano's Curado 300E and 300EJ probably instigated the low-profile muskie craze and inspired many other fine reels, such as Abu Garica's Revo Toro Winch, Revo Beast, and Revo Toro NaCl 60. The Revo Toro Winch, with a powerful 4.6:1 gear ratio, remains the reel of choice of many great anglers who wield big bladed in-lines.
Abu's new Revo Beast offers a speedy 7.1:1 retrieve ratio, which excels for burning small bucktails. Perhaps the finest all-around choice among the Revo collection is the Revo Toro NaCl — a salt-specific option with a power handle for leverage. Its 6.4:1 ratio and large spool moves 30 inches of line, but it also has the power to reduce the stress of retrieving larger baits.
Another reel that's exceptionally well built and increasingly popular within the pike and muskie community is Quantum's EXO PT series. By minimizing the amount of material in the frame, Quantum has achieved one of the lightest low-profile reels available among muskie-appropriate options, a feathery 7.5 ounces. The 300HPT operates at 7.3:1 and picks up 35 inches per revolution. For most fishing, and especially for slower, hard-pulling cranks or tailspin topwaters, the EXO 300PPT is another solid tool, with a 5.3:1 gear ratio.
It's ideal to wield several rod-reel combos matched to specific presentations — a small bucktail combo, another for double #10s, a jerkbait outfit, and one for topwater. Not everyone can afford a dozen top-quality outfits, which can easily push past $500 a crack. When choosing a reel to more or less "do it all," it's best to select one with the largest spool and a gear ratio in the 5:1 neighborhood. It's always nice to know you've got loads of drag pressure to spare, as well, particularly for locking down on figure-eights and long-distance hook-sets.
Tricked Out Traits
We haven't mentioned the added comfort these newer palm-size reels bring to the previously laborious task of flinging and winding big baits. This is particularly true when using a light, high-performance graphite rod, such as the Legend Tournament Musky split-grip series by St. Croix, or even a bass flippin' stick for smaller blade and jig presentations.
Lighter outfits allow anglers to save energy and increase stamina to stay on the water longer, while remaining focused on the task, not distracted by sore arms, wrists, or misbehaving reels.
To go above and beyond with your presentations, consider small features that make a big difference. Daiwa's Magforce Cast Control, found in Lexa, is an ultraprecise magnetic sideplate adjustment that dials up or down to control spool tension according to lure weight or wind conditions. This is, in my opinion, Daiwa's gold-standard feature, making their reels some of the smoothest casting, non-backlashing designs in fishing.
For exceptional casting distance, Shimano's Super Free Spool (in Curado and Tranx) is an innovation that eliminates friction on the spool shaft during the cast. It helps you cast baits farther than ever. At the other end of reel operation, Abu Garcia's Carbon Matrix drag systems provide smooth and consistent drag pressure, regardless of setting. Quantum's EXO PT 300 sports a double back-up pawl and ratchet system that serves as an emergency anti-reverse for the highest impact strikes and hook-sets.
Several seasons back, when manufacturers first dropped gearboxes below the rod handle, bass anglers were immediately gifted with an arsenal of ergonomic, palm-size reels that made fishing more comfortable and often more successful. But why should bassers have all the fun? Esox anglers need these rugged new tools. We're the ones making 10,000 casts.