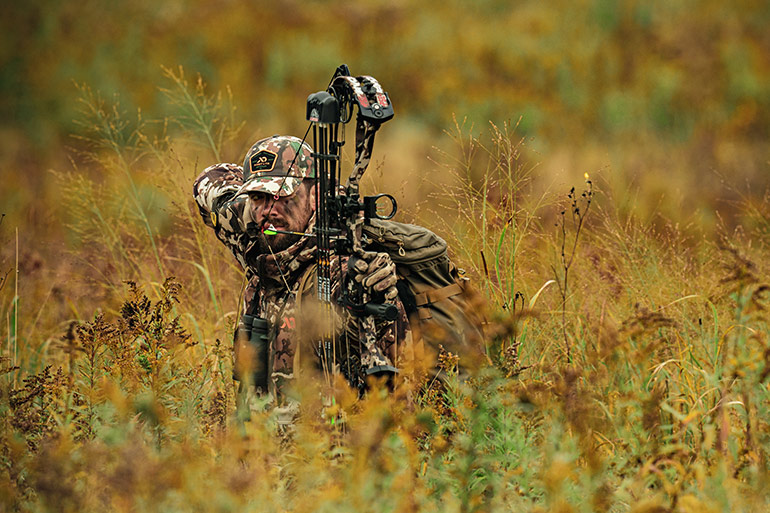 Every bowhunter wants to be successful. To that end, we spend lots of money buying the best equipment and then spend lots of time practicing with it. Practice, however, only helps if you practice proper technique, and at the top of that list is our practice with our release aids.
The fact is, most bowhunters don't practice year-round in order to perfect their release-aid skills. The good news is, you don't have to. You can improve your release-aid skills with just a little guidance and time invested. The following tips on technique will give you the basic skills you need to improve. Follow them, and you will shoot more accurately and harvest more game!
First Things First
Before we dive into proper release-aid use, I want to stress a few basics regarding bow setup and shooting form. Spend the time needed to get these just right and you'll lay a solid foundation for all that follows.
Nocking Loop
If you still attach your release aid directly to your bowstring, make this the year you switch to a nocking loop, also commonly known as a D-loop. Regardless of the type of release aid you choose, a nocking loop is a great option that offers advantages such as dramatically reduced center serving wear and the ability to improve nock travel by placing the apex of the string angle directly behind your arrow nock. I've used a nocking loop on my hunting bows since 1980, and I would guess about 90 percent of bowhunters these days do the same.
Proper Draw Length
Next, be certain the draw-length setting of your bow is properly matched to your body's holding position. You can stand in many different positions to hold your bow, but if you want to be most efficient, you need to use your back muscles to hold your bow.
Only one position uses the back muscles most efficiently to hold and release the bowstring. Proper holding position requires that the archer stand erect, shoulders level, with their bow arm extended and their holding forearm in line with the arrow.
A friend can easily check this by standing behind you and looking at your holding elbow to check its alignment. (Use the photo above as a reference.) If your elbow is in line with the arrow, then you can hold the bowstring back with your back muscles while relaxing most arm muscles. This makes you highly efficient and accurate. Holding too much weight with your arm muscles promotes inconsistent releases,as the release hand will pull out to the side instead of straight away from the arrow. Adjust the draw-length setting of your bow as needed until it allows you to get into this position and your skeleton is bearing most of the load of the bow.
Bow Hand
Set your bow hand correctly. This is vital to your success, as your bow hand is in contact with your bow for the entire shot process. In fact, it is the only part of your body touching the bow as the arrow crosses the arrow rest and enters flight.
Controlling the bow by gripping with your bow hand produces poor results. The more our fingers control the bow, the less likely we will be able to repeat our shot execution and the less likely we are to hit the target. So, we must relax our bow-hand fingers and thumb to allow the bow to freely repeat its mechanical action. The bow grip should rest against our thumb pad only. Simply put, a relaxed bow hand yields more consistent shooting.
Release-Aid Management
The brain manages the release aid through the hand that holds it. That's quite simple; we all know that. What you and most bowhunters need to know is how to properly use your release hand. In other words, you need to know how to hold the release aid in order to achieve your highest level of repeatability.
The vast majority of bowhunters use wrist-strap release aids with index-finger trigger stems, so I'll focus most of my time on this style of release aid. However, in more recent years, handheld, thumb-activated releases seem to be growing in popularity, so we'll address those designs as well.
Using an Index-Finger Release
Your release hand must be used counter to what most archers think and do. Most archers/bowhunters I know want to hold their trigger release in their hand so only the index fingertip touches the trigger. That makes sense, because that's how most of them learned to shoot a gun.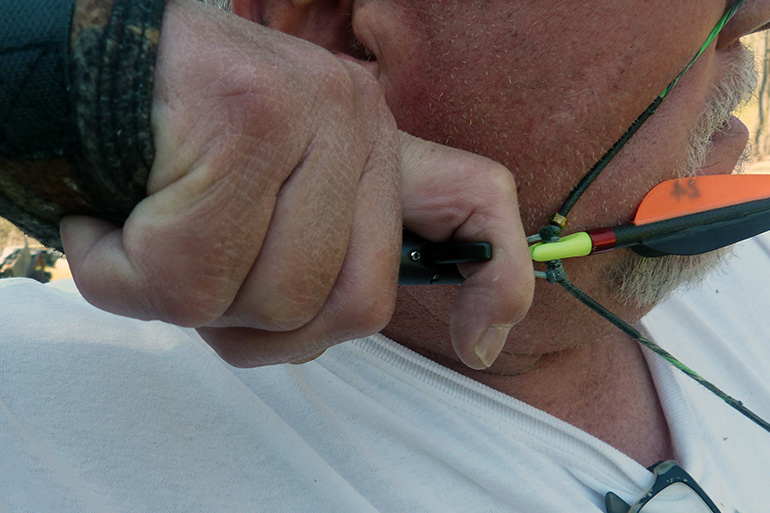 Using your highly sensitive fingertip leads to a high failure rate. Your fingertips have a much higher density of nerve receptors than the rest of your finger. These receptors are linked to the brain, where sensory impulses are processed, making our fingertips highly sensitive. When the fingertip or thumb tip is placed on a trigger, the conscious brain is aware of this "touching" sensation; more aware than if some other part of the finger or hand was touching the trigger.
This high degree of awareness is a problem for many. This "touching awareness" distracts you from the more important process of loading your back muscles; it makes the trigger far more important than it should be. For some unlucky souls, this "trigger thought" becomes so distracting that it's all they can think about — this is one form of target panic. Believe me, as an archery coach, this is not a fun thing to watch, and it's even worse to experience.
One way to escape this "release dysfunction" is to avoid placing your fingertip on the trigger. Instead, curl the second joint of the index finger around the trigger.
Set the trigger tension to medium-heavy (never light). Create a situation where you can touch the trigger with some degree of authority as you establish your full-draw holding position. Avoid the condition where you are afraid to touch it — you can't be afraid! Besides, you can't afford to have a "hair" trigger ruin your hunting trip. Set the tension so you can surround and fully contact the trigger with the less-sensitive segments of your finger.
The index finger should also be touching the side or barrel of the release aid. Shorten the length of the release stem or strap so you can hold it in this manner. Up-close, blank-bale practice is a great way to learn this technique. You can also practice with a rope loop (set to your draw length) instead of a bow to condition your hand and your thought patterns to the new feel of the release aid.
Learn to close or curl all of your release-hand fingers, not just your index finger. Do this with a gentle finger closing, not a death grip. This tightening, or contracting, can then match the corresponding contracting you should use in your back muscles to finish your release execution.
To add another important point, hold your wrist straight to keep tension out of your forearm when you reach your holding position. This enables you to better transfer more holding effort into your back muscles.
Using a Thumb-Trigger Release
Although most bowhunters use an index-trigger release aid, some choose to use a thumb trigger. Apply the same reasoning regarding your finger-tip sensitivity to your thumb tip, and don't place it on the trigger. Instead, extend the trigger/button so it touches the base of your thumb.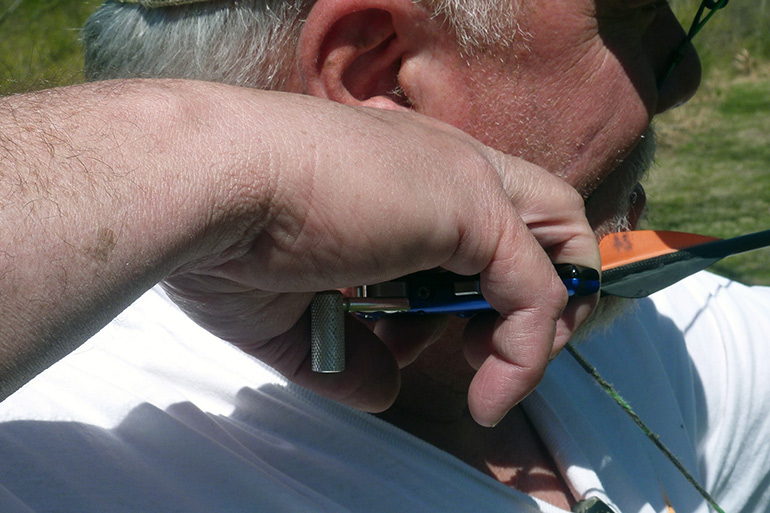 With the trigger extended a little, you can hold your knuckles flat and your wrist straight to create a highly efficient hand. This hand position improves your ability to transfer holding effort into your back muscles.
Executing With Back Muscles
With proper alignment, you can load your back muscles properly. In coaching terms, you can, as you draw and anchor, TRANSFER HOLDING to your back.
With your release hand in the proper position and back-holding initiated, you can efficiently execute your release. You must continue tightening/contracting those muscles until the arrow impacts the target long after the release occurs — never decrease back tension.
Hold your head erect, chin level, over the top of your spine. Anchor your release hand so that it lightly touches your neck under your jaw. Too much pressure between your hand and your neck can cause inconsistent left and right arrow impacts on the target.
Once holding weight has been transferred to your back muscles (the rhomboids), finishing the shot requires a subtle increase in that holding tension or muscle tightness. This tightening in the back muscles causes your release elbow to rotate about the shoulder joint — the elbow does not move directly away from the target, as many try to do. Your elbow rotates slightly in a tilted plane (about 30 degrees to the horizon), creating a pressuring force in your holding hand that helps to trigger the release aid.
As you tighten your holding-side back muscles, you must slightly increase finger tightness in your release hand. Tighten all of your fingers slightly, not just your index finger or thumb. Your back-tightening places a rotational force on your holding elbow/arm that, when accompanied by your finger-tightening effort, will pressure the index-finger trigger and activate it.
In the case of a thumb trigger, your arm rotation and finger-tightening presses the trigger into your thumb bone. Don't push your thumb into the trigger; instead, consciously focus on tightening your back muscles until the shot happens.
Perfect Practice
Only one thing remains: practice! I suggest you do lots of it, up close to a blank bale with your eyes closed. A thousand shots (35 a day for 30 days) will get you there. The more frequently you practice, the better. You don't have to shoot lots of arrows in any single session; instead, do three or four sessions per day. This is where using a string instead of a bow comes in handy — you can practice anywhere.
Holding the bow correctly, with a relaxed bow hand and the release aid properly adjusted so as to not use the finger or thumb tip, is essential to good shooting. That includes both target shooting and bowhunting. Doing it right yields that first-shot reliability every bowhunter needs in order to make that one shot count.