Have you tried upcycling your plastic barrels? Why don't you try having these DIY Barrel Planters? Here's how to make a cheap and cheerful vertical garden that will work in almost any space.
Our world is building up growing quantities of plastic, and as demand for plastic grows, so does the need for collecting, recycling and disposing of it in a responsible manner. Plastic barrels should be recycled where possible, as should all plastics.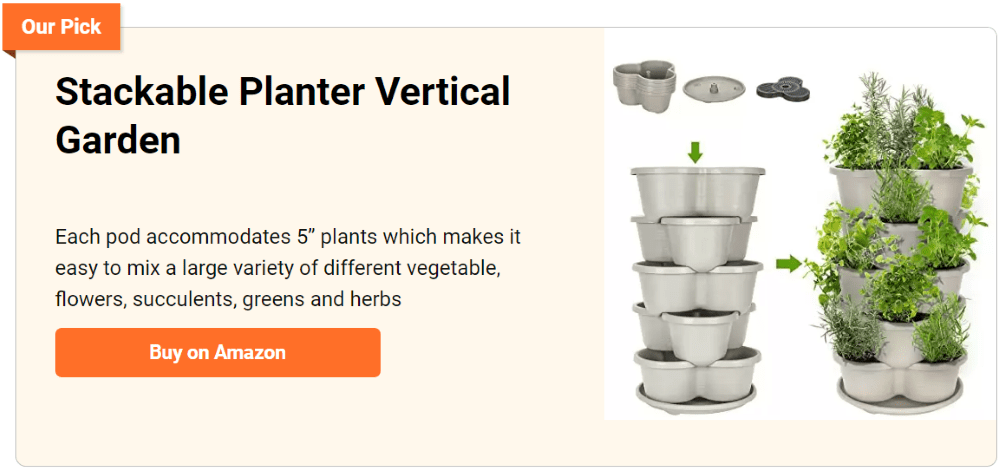 Also, until the plastic is recycled it has to be disposed of somehow. In the past, a lot of plastic has been dumped into landfills, but this is now frowned upon, and most landfills charge extra for dumping plastic.
In order to save these plastic barrels from landing in landfills, a great way to do this is by creating a DIY Barrel planter.
DIY Empty Plastic Barrel Planters is a great way of creating a vertical planter. Your empty plastic barrel will become a beautiful planter as well as a container to allocate your small plants.
You can decorate your plant with a few stones and decorative mosses, and then add some decorative objects such as some old wine corks, a beautiful ceramic pot or some old vintage bottles.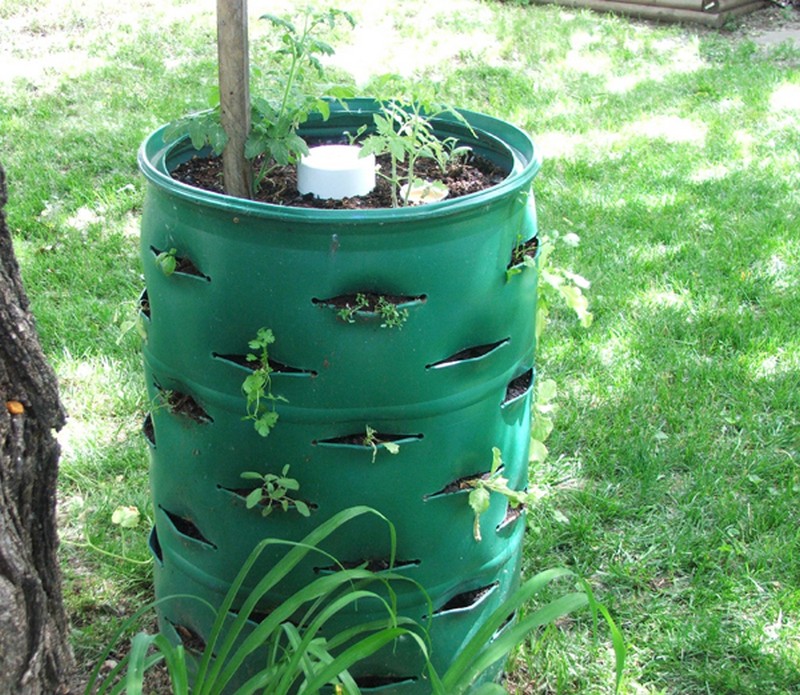 Here's how you do your DIY Barrel Planter!
Gather all the materials
A 55-gallon plastic drum barrel will be a good choice. Check out the list that we prepared for you to gather for this project
Clean the Plastic Barrel
Plastic storage barrels come in all shapes and sizes. They are a staple in every home, garage and warehouse. These barrels are used to store everything from food to plastics, to chemicals. They are also used as a temporary storage solution.
Each and every time a barrel is used to store anything, the residue from the chemical the barrel was previously storing will still be in the barrel. When a new chemical is stored in that barrel, the residue from the previous chemical will be combined with the new chemical.
This could be potentially harmful to anyone using the barrel. To be safe, make sure you clean out your chemical containers thoroughly before you use them for anything else.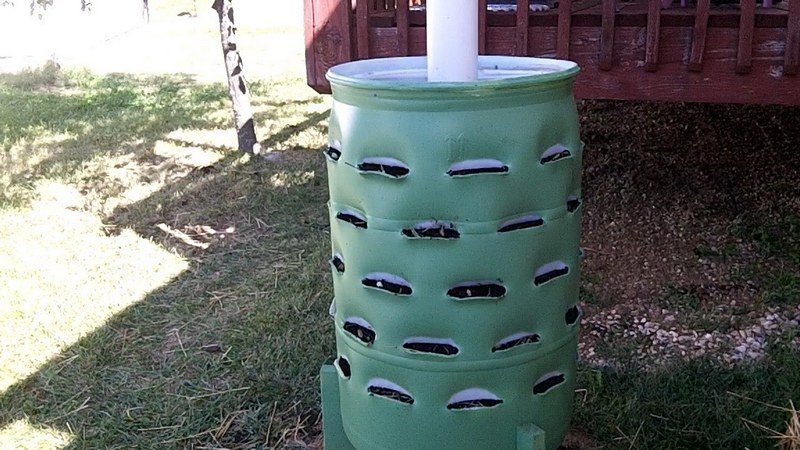 Cut holes in your plastic barrels
To create a barrel planter, use a marker to mark your plastic barrels. These marks are where you cut or drill holes for your plats.
After cutting your plastic barrels, prepare to attach your PVC Pipe which will serve as an irrigation system for your vertical planter. You should poke holes in the PVC Pipe first, before attaching it to the barrel.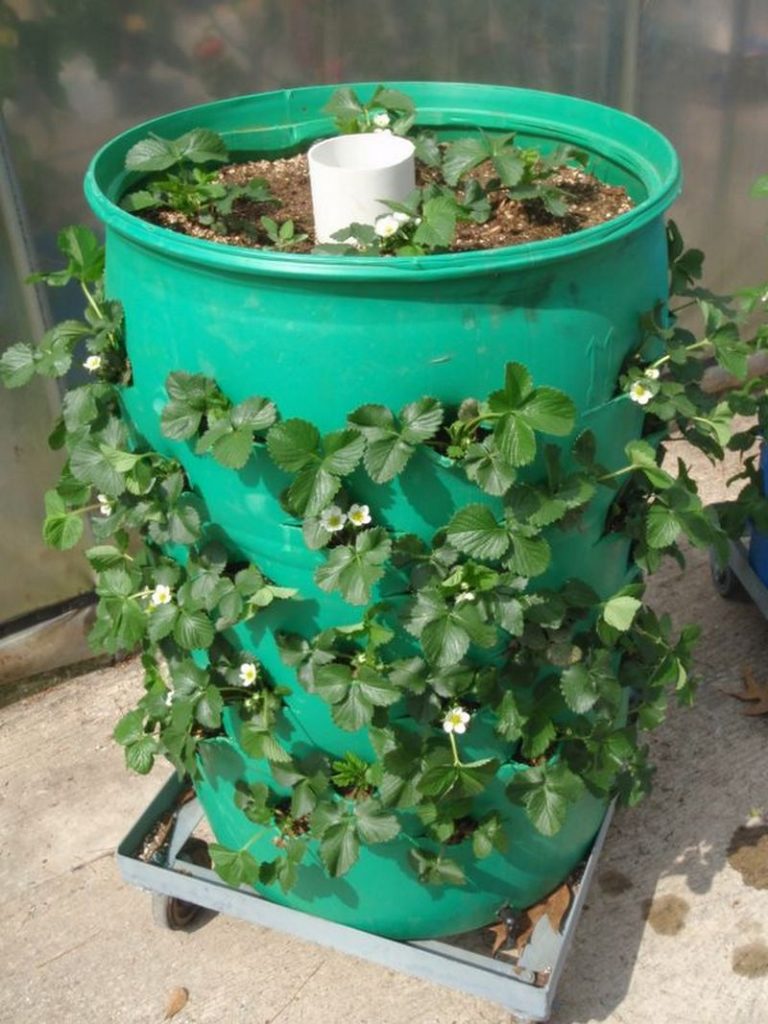 Fill your Barrel Planter with Soil
After attaching the watering system to your Plastic Barrel Planter, fill it with soil and fertilizer. Once the soil is in, you are ready to plant seeds or seedlings.
And you can put wheels on it, it becomes a movable vertical garden.
You'll need these materials:
55-gallon Plastic Drum Barrel
6-inch Schedule 40 PVC Pipe
Another 6-inch PVC Pipe (lighter duty)
Permanent Marker
Flexible Plastic Ruler
2 x 4 Timber
Test Plugs
Timber Legs
2-1/2″ Bolts, Nuts and Washer
And these tools:
Sawzall
Drill
Jigsaw, with a regular multi-purpose blade
Butter Knife
Torch
Wrench
Silicone Gun Sealer
Hot Glue Gun
Click on any image to start the lightbox display. Use your Esc key to close the lightbox. You can also view the images as a slideshow if you prefer 😎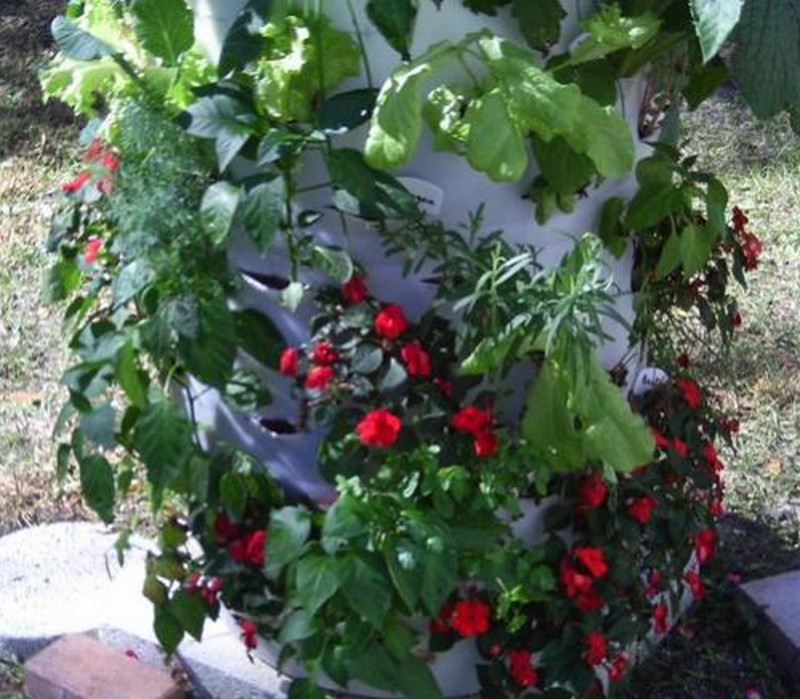 Thanks to Half-Pint Homestead for this great project. You can get step by step instructions here…
If you liked this project, you will also like viewing these gardening ideas…