It was late this spring when I answered a call from my gun dealer Randy. He was excited. "I'm looking at the most beautiful Marlin that I've seen in quite some time. Man, what a rifle. I could sell loads of these!"
I wasn't surprised. I explained to him that Ruger's new ownership and management of Marlin had proven extremely successful in their relaunch of the Model 1895 a couple of years ago. I expected nothing less with the release of the Model 336. Officially, the newest Marlin is called the Model 336 Classic, and I can tell you straight up that it fits the bill.
For starters, well-figured premium black walnut is used for the forend and pistol-grip buttstock. Pointed, laser-cut checking I measured at 18 lines-per-inch wraps attractively around the forend and pistol grip in a pattern reminiscent of those popular in the early 20th century. An elegant ebony grip cap replete with the Marlin horse and rider logo crowns the pistol grip and a simple, solid red rubber recoil pad with a black line spacer caps the butt.
Marlin aficionados will be pleased to see that a trademark Marlin red-on-white bullseye insert embellishes the underside of the buttstock, while sling swivel studs are fixed to the buttstock and the forend tip for those that use them. All metal surfaces are polished smooth as glass and satin-blued except for Marlin's iconic gold-tone trigger. Barrel length is 20.25 inches and overall the rifle is just a tad over 38 inches. Easy to carry and fast to the shoulder, the 336 tips the scale at 7.5 pounds, and the receiver's flat, slab sides allow for comfortable carry when in the field.
The only plastic I could find on the rifle was the grip cap, but it was of such high quality and fitted so well that one could assume it to be metal or bone. All in, from a cosmetic standpoint, I had to completely agree with my buddy Randy – this rifle was a keeper and one that anyone would be proud to own and brag about to their friends.
For decades, our traditional, rimmed, lever-action rifle cartridges were considered to be suitable only for short-range use. This was due to two things. First, the use of flat or round nose bullets that allowed safe use in tubular magazines, and second, the anemic ballistics of available factory loads. So, for decades, most of our traditional lever-action rifles were found in the hands of deep-woods hunters and horsemen's saddle scabbards.
But this all changed in 2006 when the engineers and ballisticians at Hornady developed and introduced LeveRevolution ammunition. Featuring modern, aerodynamic spitzer-type bullets with unique soft, flexible polymer tips, along with the latest high-energy propellants, LeveRevolution brought rounds like the .30-30 and .45-70 into the modern era.
Today, with improved accuracy, range and terminal performance, the .30-30, .45-70 and other traditional lever-action rifle cartridges are considered to be far more versatile than ever before. Now, not only Hornady, but also Winchester, Federal and Barnes and Buffalo Bore all offer enhanced loads for many lever-action cartridges like the .30-30, .45-70 and .35 Remington. So, with improved versatility in mind, I decided to equip my rifle with dual optical sights in addition to the traditional open rear sight with which the rifle is fitted.
For fast, close-range work, I opted to use the Aimpoint Accro, an enclosed reflex sight design known for its high quality and enhanced durability. As it seemed to be that this was to be the first time an Accro had been fitted to the new 336, I asked Andy Larsson of Skinner Sights fame to craft a compatible base. He and his workers produced a viable prototype in record time, especially considering Andy was heading out the door for an African safari. Enter the new, low-profile Skinner "SoLo" (so low) base, which is now available for purchase and permits the Aimpoint to be mounted as close to the bore's axis as possible.
My second sight option is a Leupold VX-3HD 2.5-8×36 scope with a custom CDS-ZL turret calibrated for Hornady's original 160-grain Flex Tip, LeveRevolution load. This is a lightweight, quality optic that to my eye is perfectly scaled to the Marlin's receiver and short barrel, producing a very attractive, yet practical package for the hunter. I think this set-up is perfect for engaging targets out to 250 yards, which is what I consider the maximum effective range for deer of this rifle/optic/cartridge combination.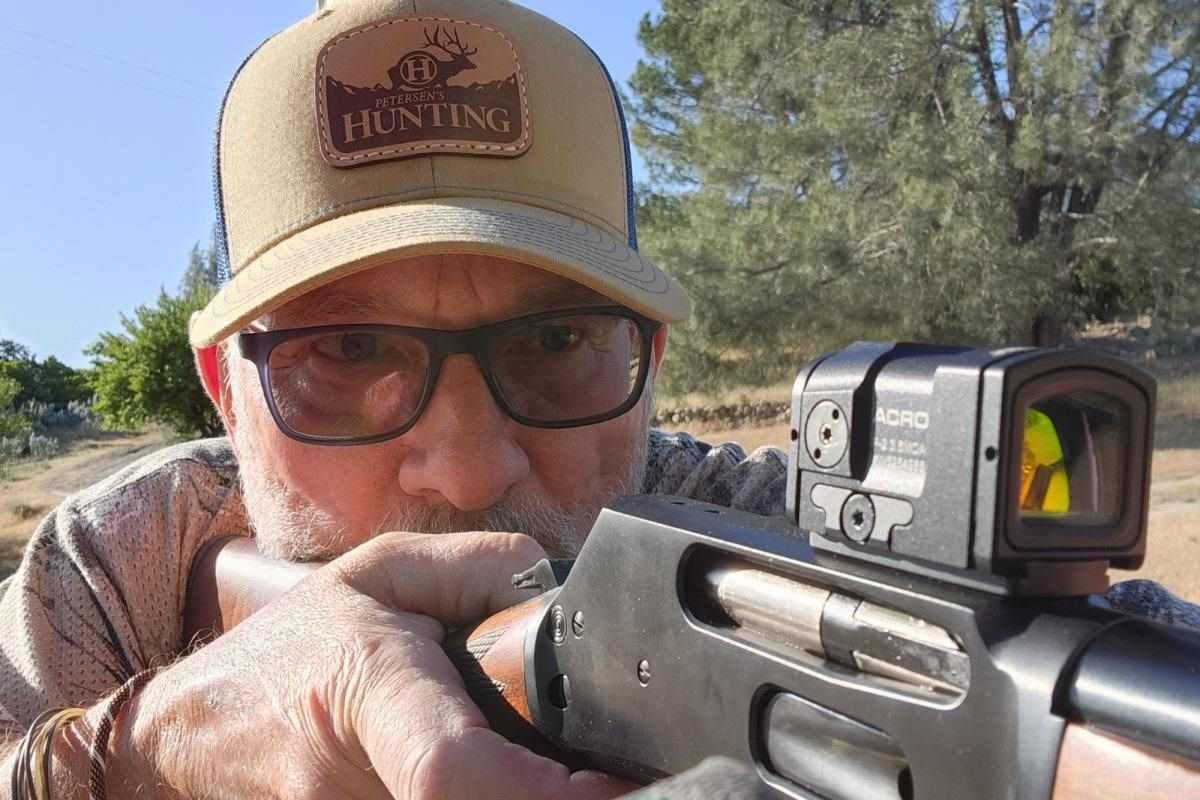 Zeroing the rifle with the Leupold affixed, I found it would average about 1.75 minute of angle. One exceptional group put two shots into the same hole, with the third shot falling less than an inch away. This is a vast improvement from forty years ago when the standard of accuracy for a lever rifle was three inches at 100 yards. Thus equipped, I was anxious to depart for an axis deer hunt down near Mountain Home, Texas, with my compadre Steve Jones of Backcountry Hunts.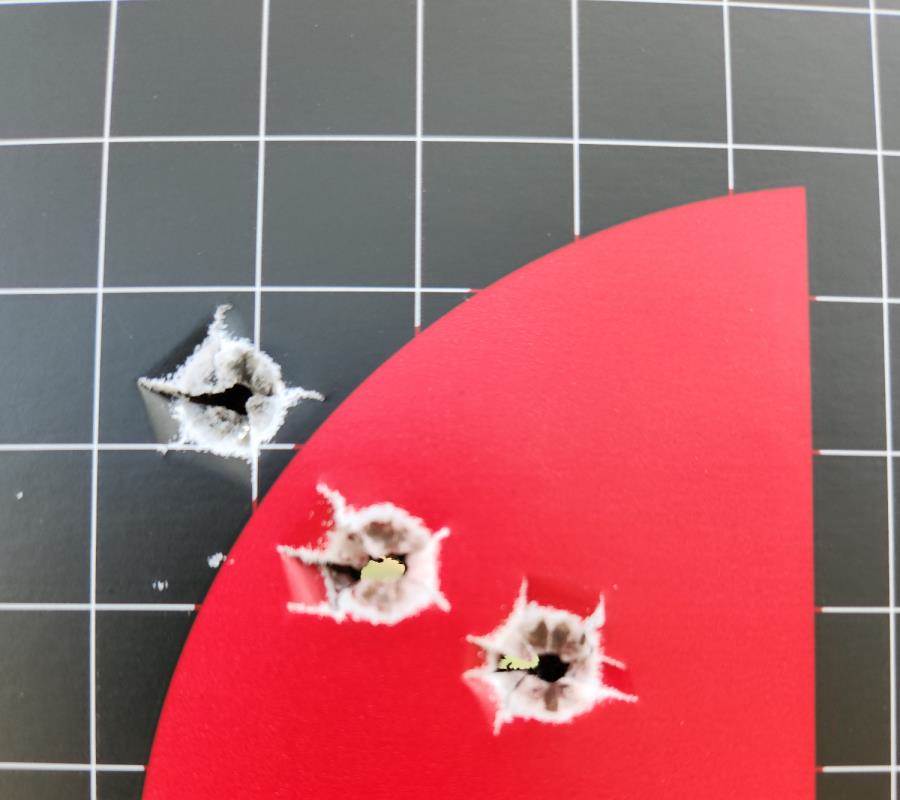 Late afternoon on the second day of the hunt found Jones and I parked in the shade of a tree near a water tank. As we were scanning the countryside with our binoculars, Jones casually stated, "I see a couple of bucks."
Shifting my gaze, I spotted a bunch of axis does and fawns, some young bucks and a couple of big ones, no less than 500 yards away. They too were taking refuge among a mott of shade trees. Some were feeding lazily in the heat while others were bedded down, taking a siesta. "What do you think?" I asked. "There are for sure a couple of shooter bucks in there," Jones replied. "But we're gonna have a devil of a time gettin' close enough to 'em to get a shot."
I could only concur with Jones's assessment. Apart from a few scattered groups of trees there was only open ground between us and the deer and the grass was short. There was only one, desperate avenue of approach. About 100 yards to our front was a shallow, dry creek bed offering maybe twelve inches of cover below ground level if we crawled. The good news was it angled toward our prey's position and if everything worked the way we hoped, we could maneuver into a good position for a shot.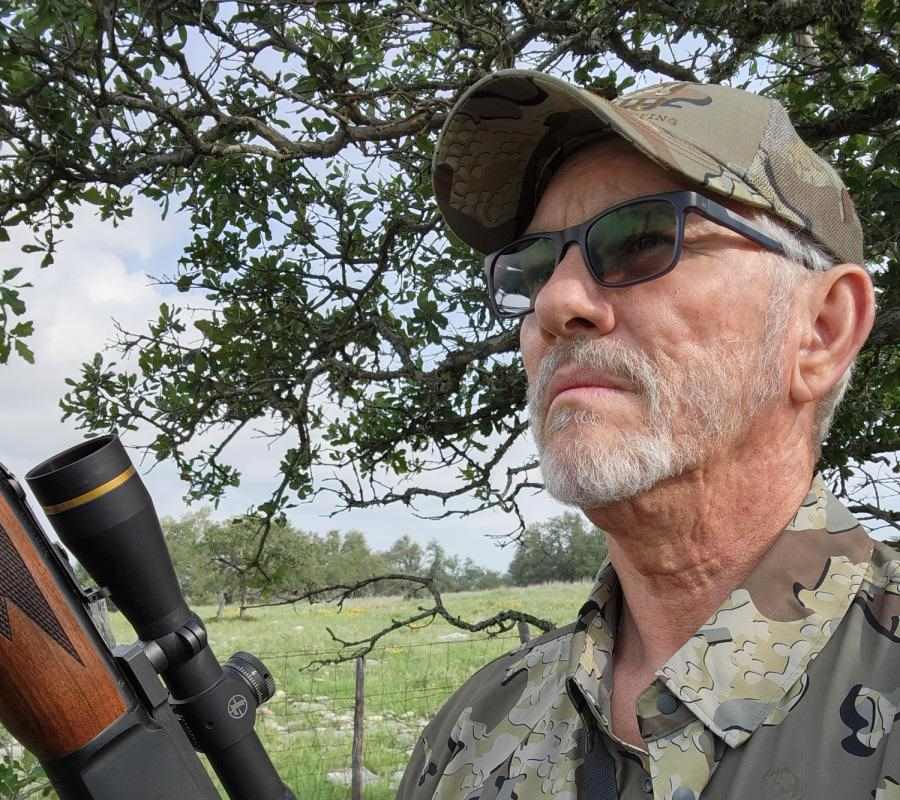 Now, Jones and I are about the same age, and both of us are veterans of decades of hard hunting. That said, we both realized that this stalk was going to be an uncomfortable challenge. Embrace the suck the young guys say, so that's just what we did.
By the end of our ¼-mile stalk we were still in the creek and within 60 yards of the axis deer. I took a deep breath, thumbed the hammer back on the rifle and in one motion popped up above the creekbank, set the crosshair on a buck's shoulder and pressed the trigger.
I heard the bullet hit and watched the buck hunch-up on impact. The herd, at least 12-14 animals, raced off, with the buck amid the melee. With my eyes never leaving the fleeing deer, I jacked a fresh round into the chamber and hoped the buck would peel off. He did and appeared to nose-in under a tree about 100 yards in the distance. My shot was a high shoulder hit, going into the lungs.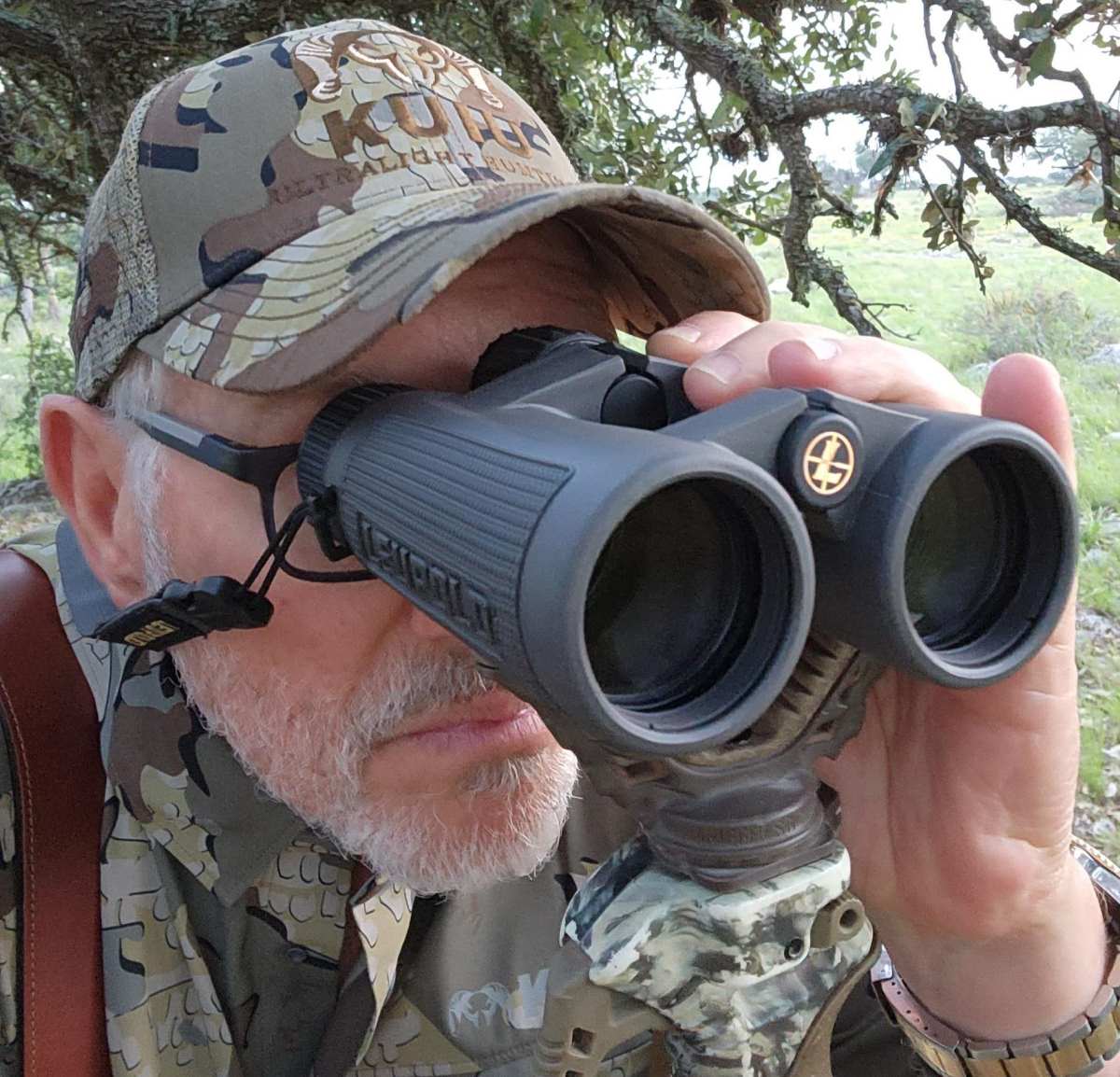 All in, I came away impressed with this new Marlin from Ruger. The 336 is as iconic an American lever-action as you can get, and right now the quality of these rifles is better than it has been in decades. Believe me, if you opt to buy one, you'll be getting your money's worth and will own an heirloom firearm you'll be proud to hand down to your descendants.