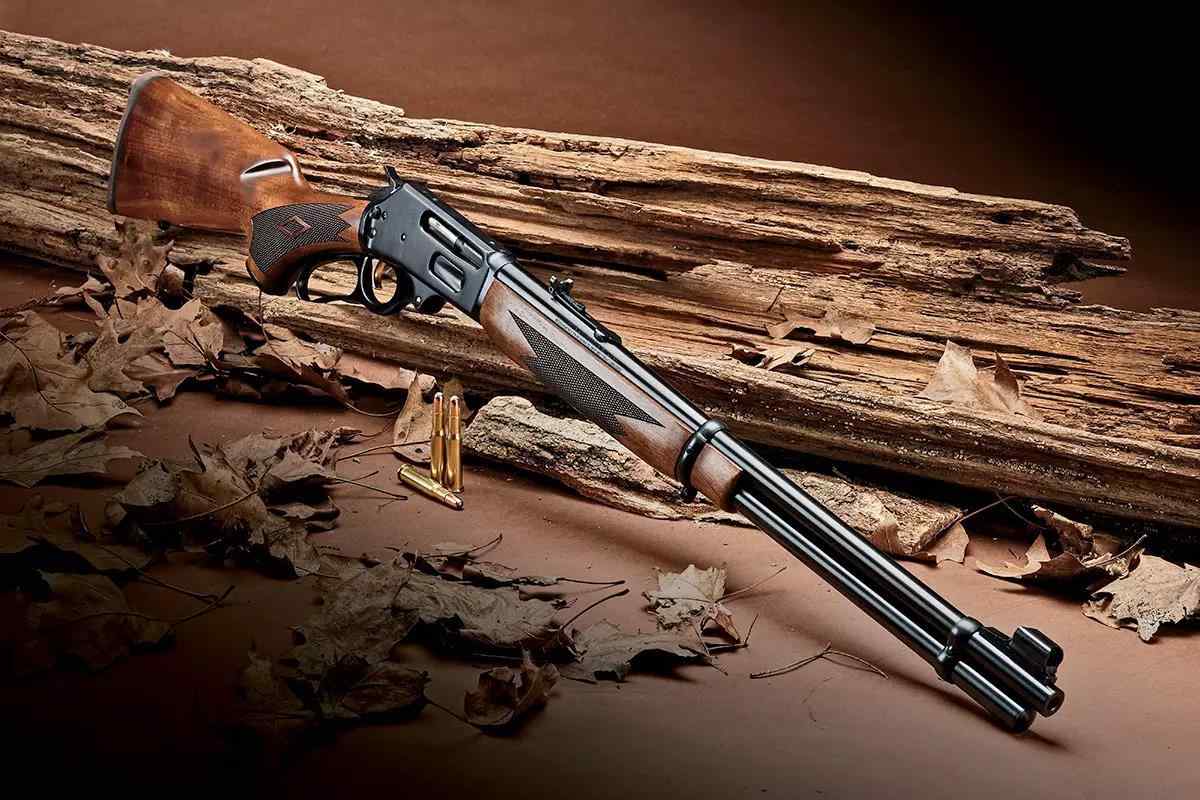 When the word came that Ruger had purchased Marlin a few years back, I fully expected the Model 336 to be the first Ruger-made Marlin. I was wrong, as usual. That honor went to the Model 1895 SBL, a .45-70 with a laminate stock, large loop and shiny stainless metal. But now the Model 336's time has come. Chambered in .30-30 Win., it's rendered in classic walnut and blue steel, fitting for its Model 336 Classic moniker.
It's a real looker. The American black walnut buttstock and fore-end feature laser-cut point checkering, and it's exquisitely done. The butt's pistol grip has checkered panels on both sides with a diamond in the center. The grip cap is black plastic with a metal medallion featuring the Marlin horse-and-rider logo, a classy touch.
The Marlin bullseye is at the bottom of the stock just forward of the rear sling swivel stud. As was done with the 1895, the bullseye is red and white instead of the traditional black and white—a move that recognizes Ruger's ownership (red being its brand color) and actually harkens back to some early Marlin marketing uses of the bullseye. The recoil pad is red rubber, slightly curved, with the horse-and-rider logo in the center. It's set off from the butt with a black spacer.
The fore-end features wraparound checkering, with a diamond underneath. The steel barrel band located here incorporates the front sling swivel. It's a hand-filling fore-end, but it's considerably slimmer than on my Model 444, a rifle that was built when Remington owned Marlin. The checkering—both on the fore-end and on the buttstock—is head and shoulders above that found on my Remington-made Marlin as well.
Ruger made a change to one process regarding the stock that further assures the rifle will last a lifetime and more.
"Previously, stock cracking was primarily a problem that occurred during proof testing," said Marlin product manager Eric Lundgren. "In the past, a secondary stock was used for proofing, and then the finished stock was put on. We do not do this."
In other words, if there is a flaw in the stock, it's going to show up during proofing, and under Ruger's management the stock that buyers are getting is one proven to withstand recoil forces.
The original Marlin 336 had a rifle-length barrel, while the barrel on the new 336 Classic closely matches that of the old 336C, the carbine version. It's 20.25 inches long, and it's cold hammer forged as opposed to the Ballard or Micro-Groove rifling used on older Marlin rifles. This is a change for the better, as cold hammer forging tends to produce higher-quality, longer-lasting barrels.
The full-length magazine tube holds six rounds of .30-30, and it's secured to the barrel via two bands: one on the fore-end I just mentioned and one just behind the front sight.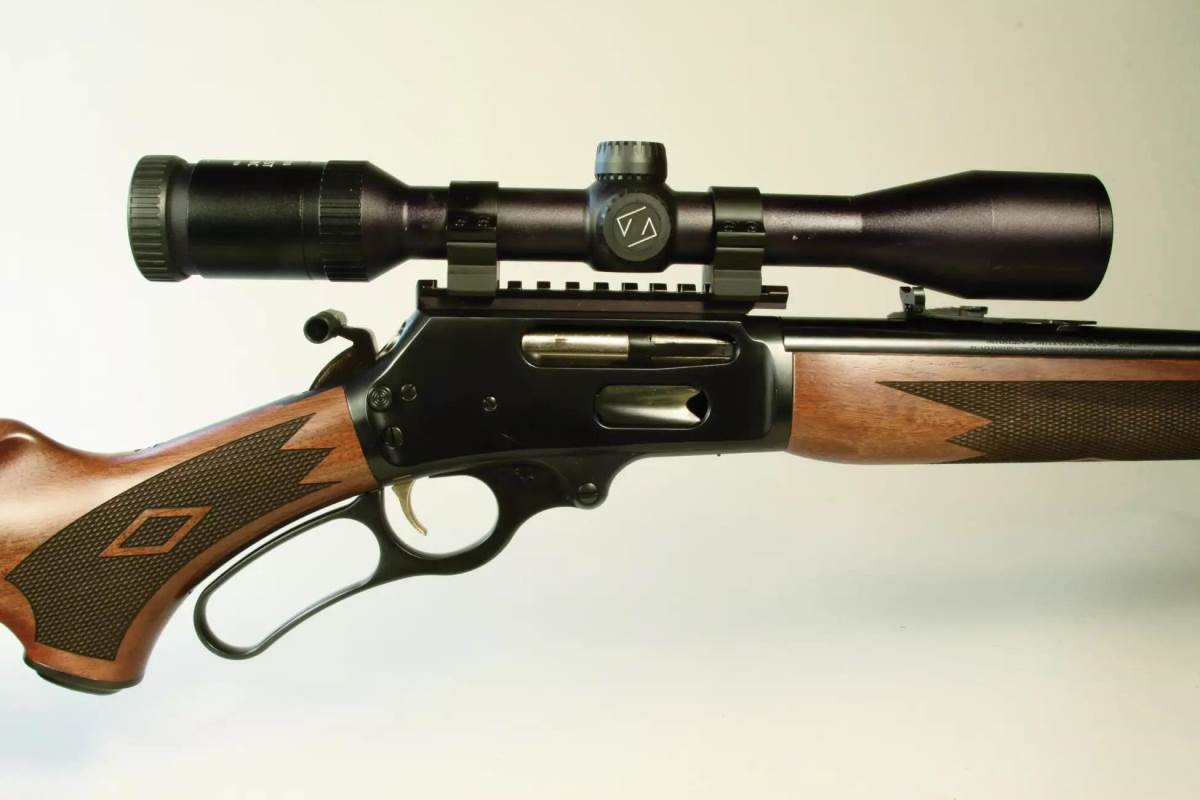 The receiver, lever and trigger guard plate are CNC machined from alloy steel forgings. When Ruger purchased Marlin, it inherited the machinery that Remington had been using. Transferring the equipment and installing it in Ruger's Mayodan, North Carolina, plant where Marlins are built—and this location is roll marked on the barrel—was a monumental task. Much of it had to be upgraded to meet Ruger's manufacturing standards, and the result is a gun built to much tighter tolerances.
The trigger came in for some extra attention. "The critical interaction is between the sear and the notches on the hammer," Lundgren said. "The hammer notches are cut with a wire EDM machine. This is what gives us a very clean trigger pull and consistency from one gun to the next."
The change has paid off. The trigger on my sample was excellent. It averaged four pounds, four ounces and was as crisp as you could want on a lever-action rifle.
You'll note the trigger is gold plated, which is pretty cool and a handsome contrast to the walnut/blue scheme. Gold triggers made their debut on the Model 336C in 1959, according to Marlin Firearms: A History of the Guns and the Company that Made Them, Bill Brophy's invaluable Marlin Firearms reference. The gold trigger was dropped in 1982.
The bolt is the round style that made the original Model 336 stand out when it was introduced in 1948. The 336 Classic's bolt is smooth, polished steel. It can be removed from the rifle relatively easily. Open the action, place it on Safe and move the lever to the halfway position. Remove the lever mounting screw, and pull the lever down and out of the receiver. Withdraw the bolt to the rear and use a needlenose pliers to carefully remove the ejector from the receiver.
The owner's manual does a nice job of describing this process, as well as cleaning and lubrication—with good photography and simple, effective text to guide you through all the necessary steps.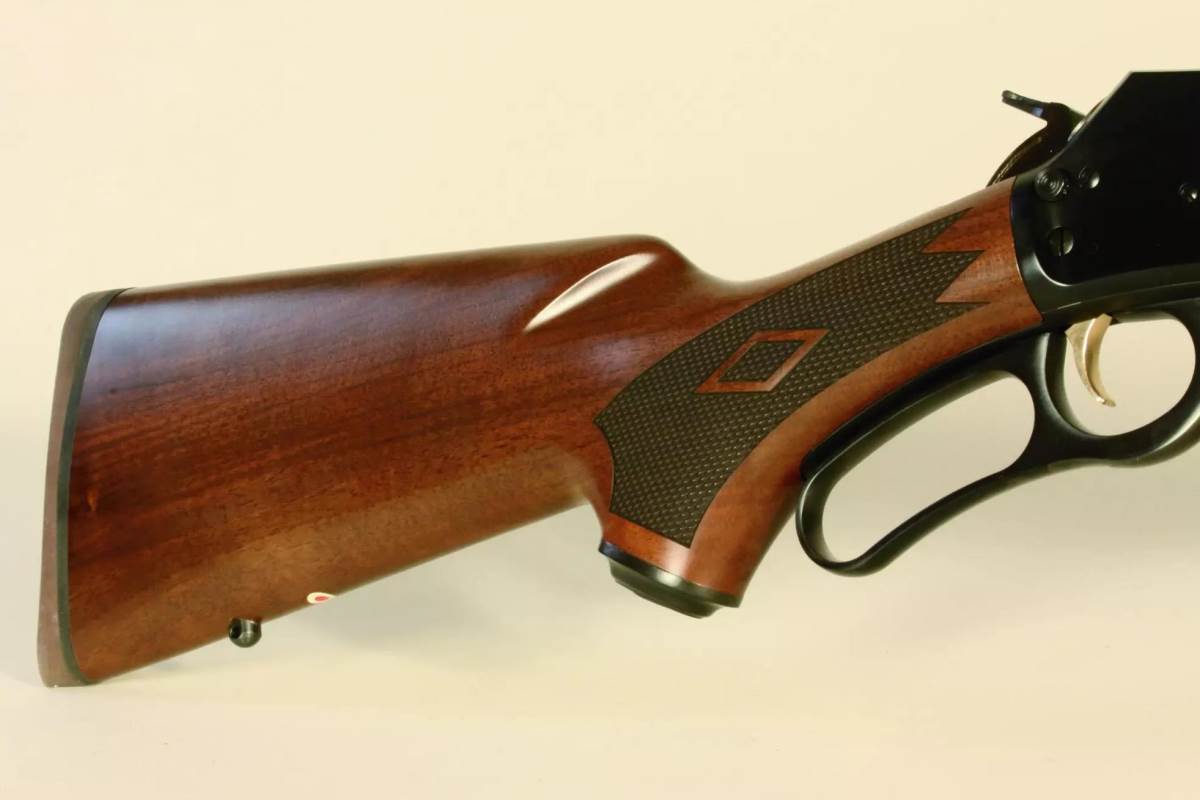 The original Model 336 initially came with a Rocky Mountain rear sight, but today's Classic features your standard semi-buckhorn with a sliding elevator. The front sight is a brass bead, complete with a hood in a size and shape you might recognize as Marlin's venerable Wide Scan hood.
The receiver top is solid and features side ejection—big selling points back in the day because they allowed a scope to be mounted in a conventional manner, whereas the competing Winchester Model 94 could not.
I grew up when the Model 94 was the deer rifle in my home state of Pennsylvania, and I started my deer hunting career with one. For a long time I looked down my nose at the Marlin, which, after all, didn't have the cachet bestowed on it by Hollywood's romanticized version of the Old West like the Winchester did.
My preference for the 94 came despite the fact that I had a scope on the rifle from the get-go, and the side mount required by the top-eject Winchester was as ungainly and unsightly as it was an obstacle to good shooting. Now that I'm a lot older and a little wiser, I recognize the Marlin always was a better hunting tool than the Winchester.
Marlin began drilling and tapping the Model 336 specifically for a scope as far back as the mid-1950s, and today there's no shortage of options for scope mounts. For testing I installed an EGW Picatinny rail on the receiver and added Leupold PRW2 low steel rings.
It's a decent setup, although if you want to get the scope lower, ditch the rail and look for low ring/base mounts that mount directly to the receiver. That's what I did on my .444, and it lowered the scope height by a quarter-inch compared to the rail/ring setup. Admittedly it's not much, but it does help in getting a better cheek weld when using a scope.
There's no getting away from the crossbolt safety. It's been on the 336 for nearly 40 years, and it's here to stay. A pro tip for those who have spent most of their lives shooting lever actions lacking such a safety: If you pull the trigger and the hammer drops but the gun doesn't fire, you might want to check that crossbolt position. I speak from experience.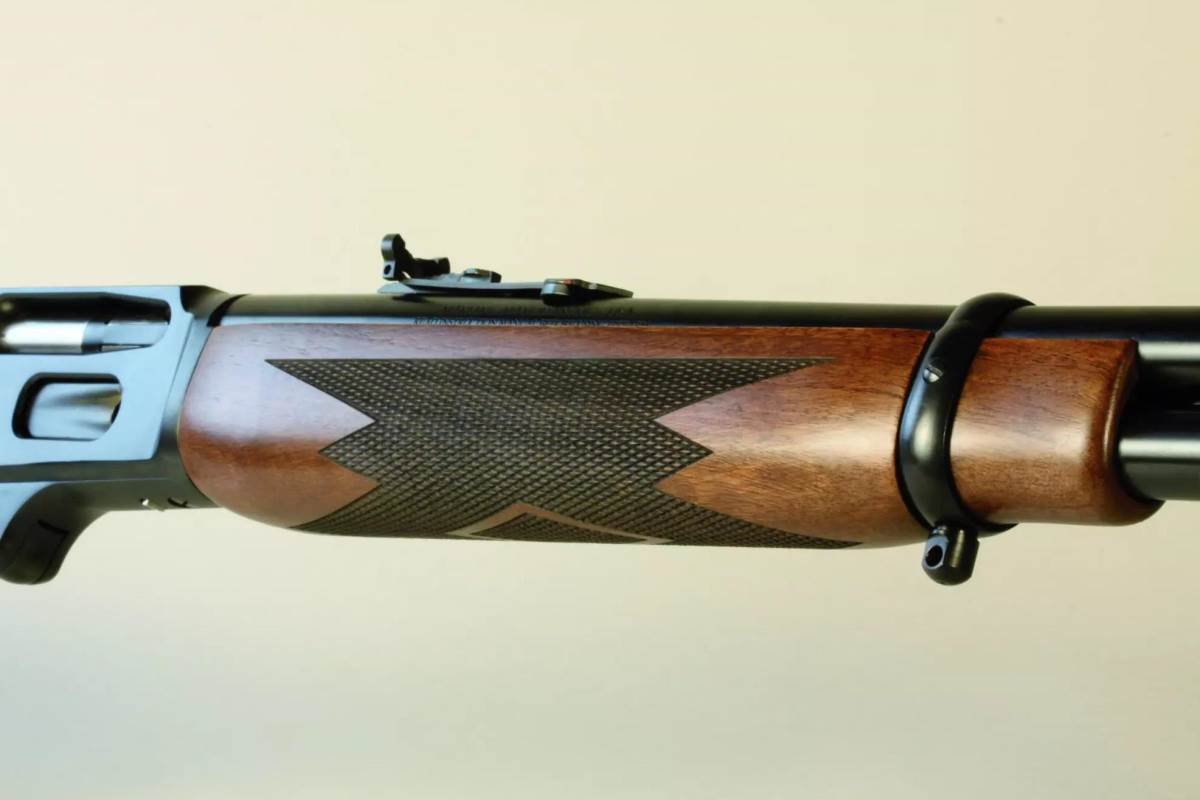 The 336 Classic also incorporates a half-cock hammer notch, as well as a trigger block that prevents the gun from firing unless the lever is fully closed.
Like on the Ruger-made Marlin 1895 SBL, the finger lever on the Model 336 Classic gets an extra pass through the grinder to smooth out sharp edges. The levers on the Marlins I own aren't pleasant to shoot fast or for a long time without gloves, and it's especially so on the hard-kicking .444. The 336 Classic is a big improvement in this regard.
Marlin provides a hammer spur extension. I thought this was simply a nice touch, but in reviewing the owner's manual I found it's actually an add-on Marlin takes seriously. "Do not use the rifle with a scope unless the Marlin offset hammer spur is securely attached in the proper position," it reads.
Excellent advice. The spur is a no-brainer to install, although it takes more turns with the provided Allen wrench than you might expect. Keep going; it will snug up.
For accuracy testing I mounted a Zeiss 3-9X Conquest in the Leupold rings I mentioned. As set up, the rig weighed eight pounds, nine ounces without sling or ammo, which is about a pound heavier than its bare weight. The Marlin outweighs the Winchester 94 by about three-quarters of a pound, but the extra weight sure makes it nice to shoot, and the 336 Classic with a scope aboard is a real pussycat.
Accuracy results are shown in the accompanying table. This sample wasn't exactly a tack-driver, but for hunting big game in environments where a .30-30 excels—tighter cover, closer shots—I wouldn't hesitate to take it afield.
While it's not a sub-m.o.a. rifle, it was very consistent, with all the groups hovering right around their respective averages—as opposed to one group being super tight with another being really bad and one in between.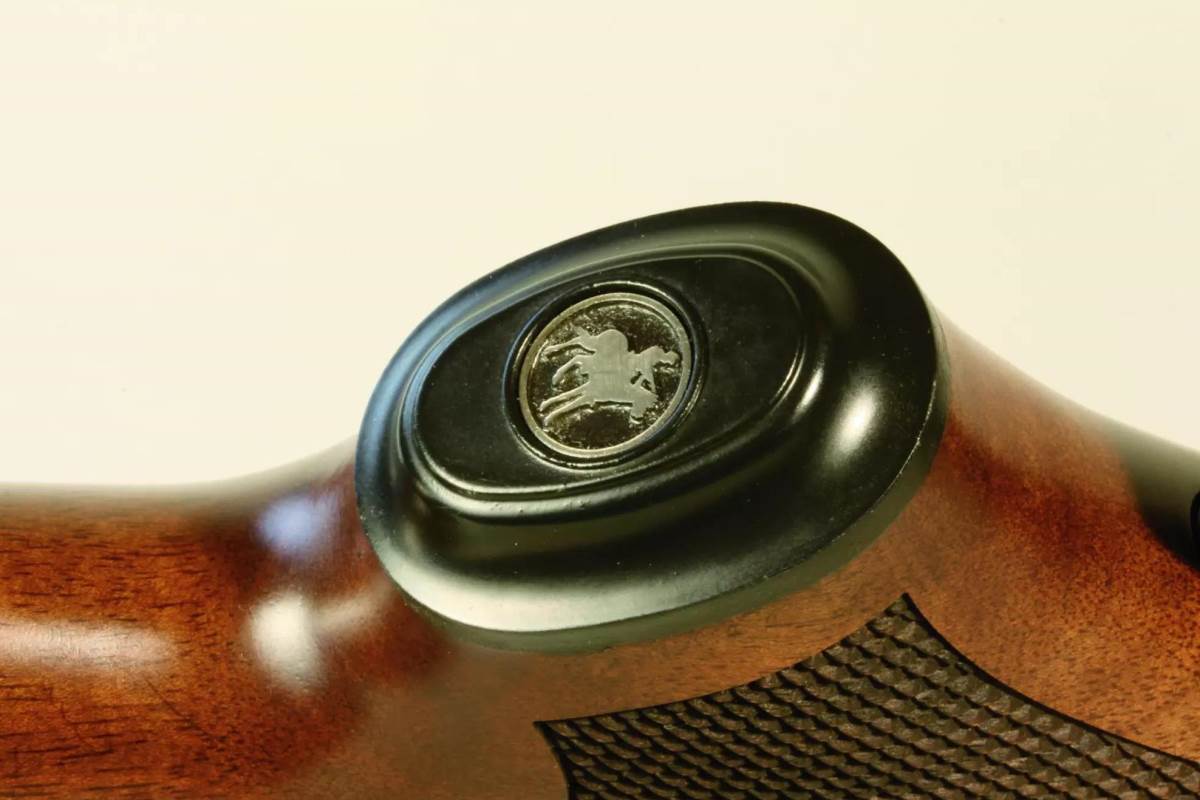 There aren't a lot of .30-30 Win. loads out there beyond what I tested, but there are some, plus you can handload if you want. I believe that, thanks to this consistency, you could conceivably find a load or loads that would get closer to the one m.o.a. mark.
A few months ago, Ruger held an event at FTW Ranch in Texas to show off the 336 Classic and a few other new rifles. FTW is one of my favorite places to visit. Home of the excellent Sportsman All-Weather All-Terrain Marksmanship series of courses (FTWsaam.com) for hunters and shooters, it features top-notch long-range facilities, and it also has moving and charging targets it employs in some of its hunting-focused classes.
Using iron-sighted 336 Classics, my fellow writers and I shot a moving buffalo target, both left and right runs, and the Marlin swung smoothly and functioned fast and flawlessly. Later we faced down charging targets, an exercise that required quick shooting, moving and reloading. Unfortunately I was trampled to death by an elephant when I lost track of my round count and ran dry. But that wasn't the rifle's fault. It pointed true and cycled like lightning.
We all really liked the 336 Classic, and I think Ruger has a hit on its hands. Perhaps the best proof of that came when I picked up the rifle at my local gunshop. The guys and gals who work there see a lot of guns, and they've handled a bunch of transfers for me. They'll sometimes show passing interest in what I'm picking up, but when the 336 Classic showed up, all the folks behind the counter rushed over to handle it.
We're not talking old geezers who grew up when the lever was a popular hunting action. These are people in their 20s and 30s who are accustomed to tricked-out rifles in the latest, greatest calibers—not a lever-gun design dating back to 1948 and chambered to a cartridge that's nearly 130 years old. Such a level of interest from this generation says a lot.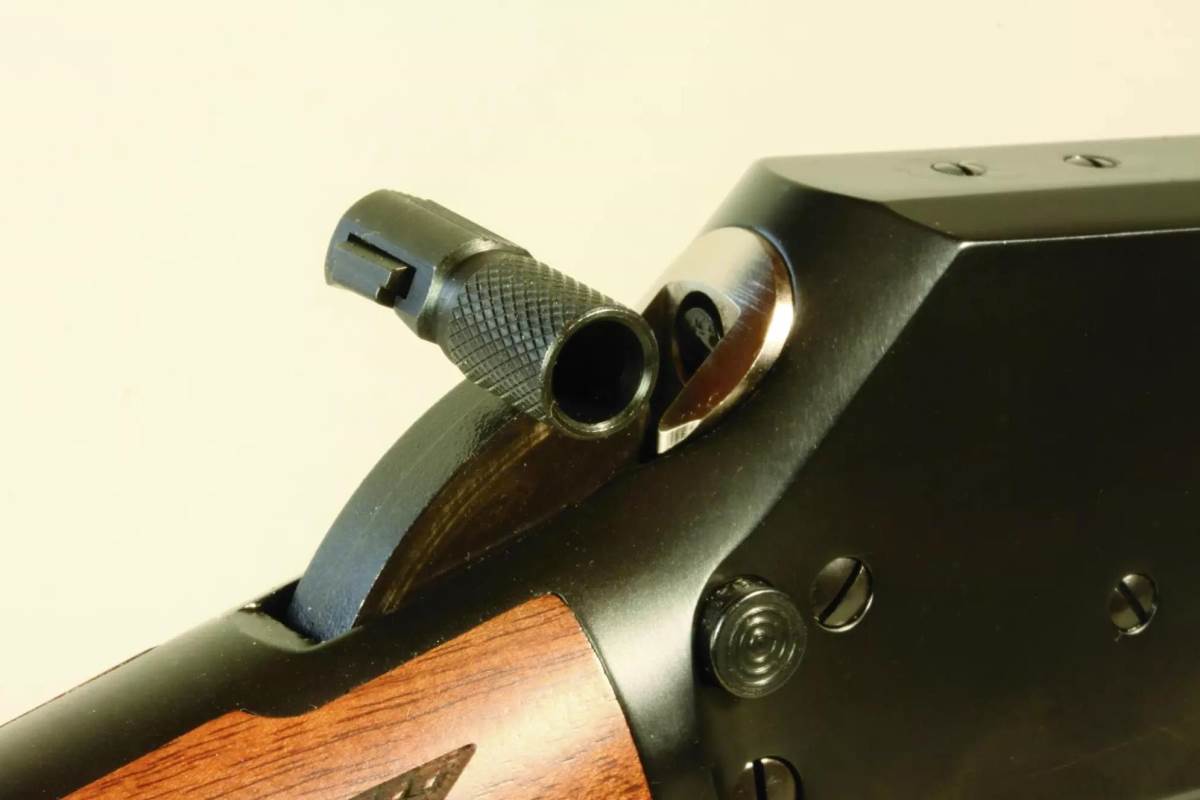 What's Next
The original Model 336 was initially chambered in .32 Spl. in addition to .30-30 Win., with the .35 Rem. offered beginning in 1953. Since I know there are fans of the .32 and .35 out there, I just had to ask Marlin if additional chamberings might show up in the future.
"We're not saying 'no' to anything," said Marlin product manager Eric Lundgren. "We're focusing on getting our processes and lines healthy and robust. That means we'll focus on .30-30 Win. [Model 336], .45-70 Gov't [Model 1895], and .44 Mag and .357 Mag. [Model 1894, slated to be introduced soon] right now."
Lundgren said once the company believes it has Marlin on a solid footing, it will look at other options based on consumer demand. It's important to realize that, as Lundgren said, Ruger didn't buy a functioning manufacturing plant but rather machines and intellectual properties. He said getting all this integrated into Ruger—and doing it right—has been quite the process.
"I liken it to the invasion of Normandy," he said. "We hit the beach in January of 2021. It was chaotic at the beginning, as we worked to understand and overcome everything that was purchased. Getting a new supply chain established during the height of the reaction to Covid was a major roadblock. But we've got a solid beach head, and we're moving inland. We see improvement and optimism every day."
Marlin Model 336 Classic Specifications
Type: Lever-action centerfire
Caliber: .30-30 Win.
Capacity: 6+1
Barrel: 20.25 in. cold hammer forged, 1:12 twist
Overall Length: 38.63 in.
Weight: 7.5 lb.
Finish: Satin blue
Stock: American black walnut
Sights: Semi-buckhorn rear, brass bead front w/hood
Trigger: 4 lb. 4 oz. pull (measured)
Safeties: Crossbolt, half-cock hammer notch, trigger block
Price: $1,239
Manufacturer: Marlin Firearms, MarlinFirearms.com