The latest advancement in trail camera technology is the ability to transmit images or videos wirelessly using cellular networks to a mobile device like a phone or tablet. Trail cameras that send pictures to your phone use cellular networks to wirelessly transmit images or videos. They use a SIM card like a mobile phone and connect to a cellular network in the area. When the camera detects movement, it captures an image or video and sends it to a cloud-based server using the cellular network. The server then sends the photo or video to your phone, which you can view remotely.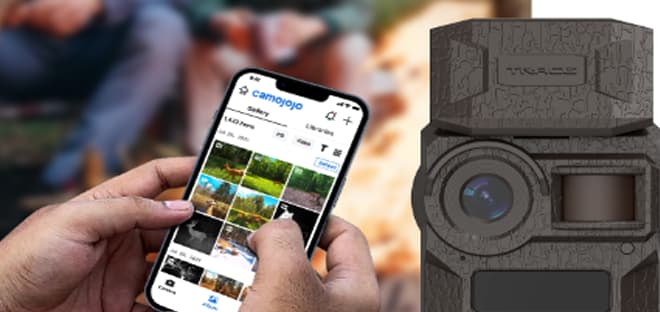 Benefits of Trail Cameras That Send Pictures to Your Cell Phone Immediately
Real-time monitoring: You can receive notifications on your phone and view pictures instantly from anywhere, so they are ideal for hunters, wildlife enthusiasts, and security experts.

Convenience: You don't need to physically check the camera to retrieve images or videos, as they are sent to your phone automatically. This also helps prevent disturbing wildlife if you are a hunter or enthusiast and interfering with what you are doing.

Advanced features: Camojojo security trail camera has AI recognition systems that detect and identify different subjects of the camera and group them into species.
How Camojojo Trace Trail Camera Sends Pictures To Your Phone
Cellular trail camera has to be able to send pictures to your cell phone immediately with a SIM card. After the cellular trail camera sends the image to the network, the data is transmitted to a server. The server then checks your phone and determines which tower is closest to your phone. The image data is then transferred to the tower through radio waves, decoded, and sent to your phone through a wireless connection. Your phone then lets you view the image.This process takes only a few seconds, allowing you to receive the shot quickly and easily.
There is no need to ask for HD or wait since the system will automatically transfer the entire video to your phone. It also has a power-efficient Auto Mode setting that minimizes battery consumption when the camera is not in use. These two functions provide the right balance between effectiveness and power consumption.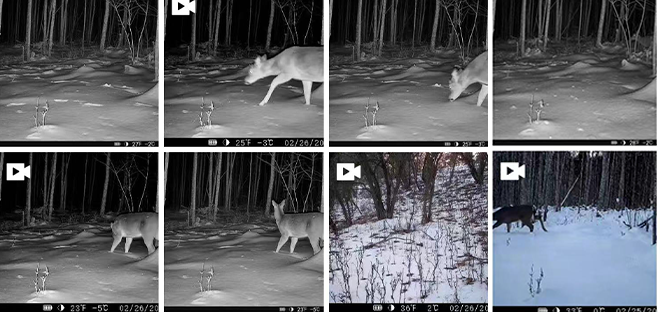 Features of Camojojo Trail Camera That Sends Pictures To Your Cell Phone
Picture Quality
The Camojojo trail camera is the perfect device if you are looking for the best trail camera that sends pictures to cell phones. It boasts a high-quality 5MP camera with 1080P video resolution, ensuring that every detail is captured. This provides tremendous help for monitoring wildlife or securing properties.
Detection
Camojojo Trace trail camera's motion sensor detects movement within its detection range of 65 feet and detection angle of 80 degrees. After detecting motion, the sensor triggers the camera to take pictures. The Camojojo trail camera has a trigger speed of 0.2 seconds, meaning it takes an image almost instantaneously after detecting motion. This picture-sending trail camera can also take multiple pictures.
Cellular Connectivity
With a built-in AT&T-supported sim card, Camojojo trace trail camera uses 4G LTE cellular connectivity to immediately send images to your phone, which you can access via the mobile app.
Data Plan
You can buy Camojojojo trace camera data plans. With $4.99 monthly, you can receive 300 images and videos on your device. $7.99 gets you 800 pictures and videos, 10 full minutes of live streaming, and 10 HD downloads monthly (Elite Plan). The Premium Plan lets you take unlimited photos and videos, watch 20 minutes of your camera's live stream, and download 20 HD-quality images monthly.
AI Recognition
Camojojo trace trail camera has an AI recognition system that detects and identifies animals. This AI system also helps you classify your images and provides detailed statistics of the pictures taken by the camera.
Simple Steps to Set Up Your Camojojo Trail Camera to Send Pictures To Your Cell Phone
1. Download and install the Camojojo mobile app on your mobile device and create an account.
2. Connect the Camojojo trail camera to your mobile device by tapping or scanning the NFC or QR code on the camera.
3. Configure the camera settings using the Camojojo app, including image capture frequency, resolution, and other relevant settings.
4. Mount the camera in a suitable location for capturing images of wildlife or other objects of interest.
5. Wait for the camera to be triggered.
6. When triggered, the camera captures images and sends them to the cellular network.
7. The cellular network transmits the images to the cloud server for processing.
8. The cloud servers process the images and send them to your account.
9. You will receive a notification on your mobile phone via the app when new images are available to view.
10. Open the app on your phone, navigate to the image gallery, and view the new images captured by your camera.
In conclusion, trail cameras that send pictures to your phone use cellular networks to transmit images or videos wirelessly. The Camojojo trail camera boasts a high-quality sensor, video resolution, and cellular capabilities for instant picture transmission to your mobile device. Its PIR sensor helps prevent false alarms and ensures you only receive alerts for actual wildlife or human intruders. Setting up the Camojojo trail camera to send pictures to your cell phone is easy and can be done through the Camojojo mobile app. The Camojojo trail camera also has a high battery life, which lasts longer when coupled with a solar panel. If you're in the market for a trail camera that sends images to your phone, the Camojojo trail camera is worth considering.
FAQs
How many pictures can the camera store if it can't connect to the cellular network?
The Camojojo trail camera has a built-in 32 GB memory card allowing it to store thousands of images and videos. The exact number of pictures that can be stored on the memory card will depend on various factors, such as the resolution of the images, the length of the videos, and the amount of activity in the camera's detection zone.
How long does the battery last when using the picture transmission feature?
The Camojojo trail camera has a powerful battery lasting up to 6 months on standby mode. When using the picture transmission feature, the battery life may vary depending on the frequency of picture transmission. However, you can extend the battery life by using the Camojojo solar panel.
Can I view pictures from multiple cameras on one app?
Yes, the Camojojo app allows you to connect and view pictures from multiple trail cameras on one app. This makes monitoring and managing your cameras from a single platform easy.