Whether you're car camping at your local state park for the week or venturing deep into the backcountry, you'll need a quality shelter that's spacious enough for your group, reasonably weather-worthy for the conditions, and able to withstand regular use and abuse. From popular brands like REI Co-op and Big Agnes to budget options and smaller companies that cater to thru-hikers, the picks on our list represent the most well-known and respected players in the tent world. Below we break down each brand individually, including a brief history and background, their most popular models, and what sets them apart from the competition. For more information and our top picks in each category, see our camping gear and backpacking gear reviews.
Big Agnes
Location: Steamboat Springs, ColoradoPopular models: Copper Spur, Tiger Wall, and Fly CreekWhat we like: Top-rated backpacking designs with great livability and overall performance.What we don't: Most of their top models utilize thin and less durable fabrics.
Based in the heart of the Colorado Rockies, Big Agnes sells some of our favorite lightweight backpacking designs. Their Copper Spur series has been on the market for over a decade and developed a very loyal following among weekenders and serious explorers alike. The latest HV UL2 model tops our list of the best backpacking tents for its impressive balance of weight (3 lbs. 2 oz.), interior pace (29 sq. ft. of floor area and a 40-in. peak height), and features. And last year, Big Agnes introduced the Copper Spur HV UL2 Long, which is 6 inches longer and 3 inches taller than the standard model and a nice option for taller folks who want a bit of extra space. Their ultralight Tiger Wall and Fly Creek collections are also very competitive, with user-friendly three-season constructions at strikingly low weights. All in all, if you head into the backcountry with some regularity and don't want to sacrifice convenience with a specialized, trekking pole-supported shelter, Big Agnes' designs hit an excellent middle ground.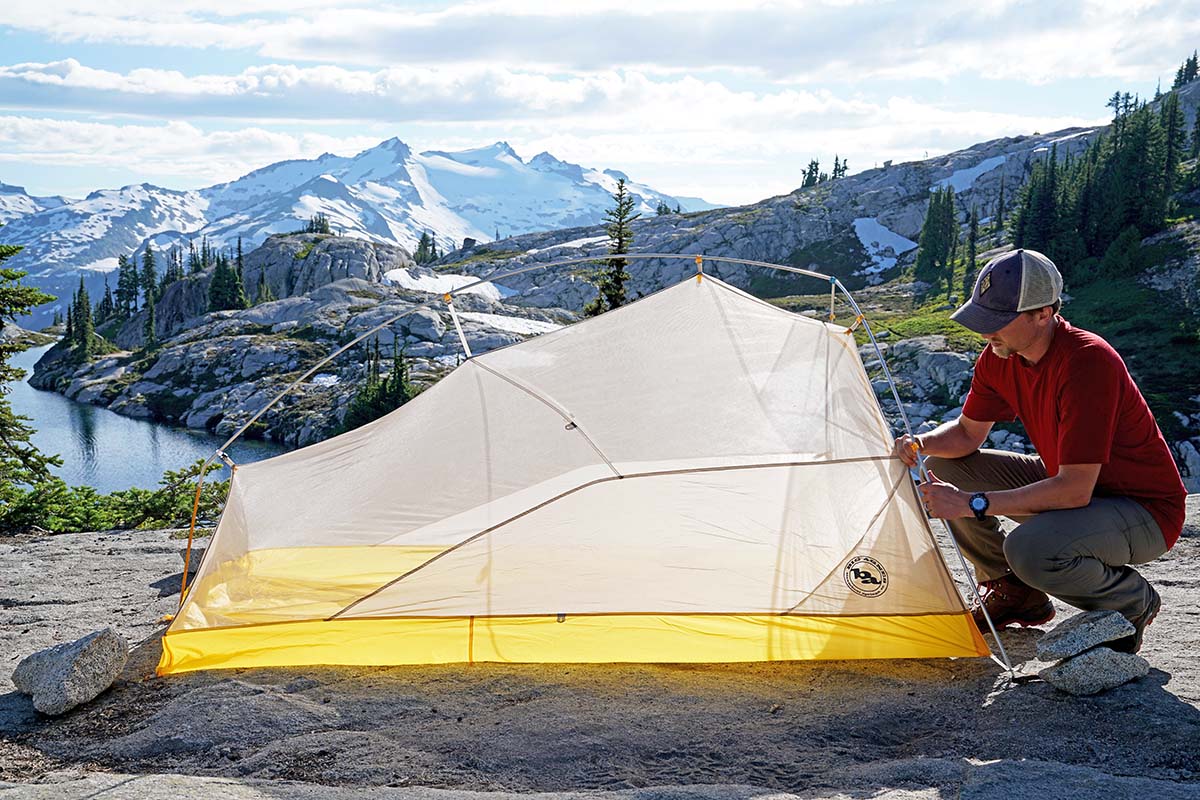 The biggest drawback to choosing a Big Agnes tent is cost: The aforementioned Copper Spur is a steep $550 for the two-person version, while the Tiger Wall and Fly Creek are similarly pricey at $450 and $400 respectively. And you can spend even more with their superlight Platinum and Carbon variations, which top out at over $1,500. Another knock on Big Agnes is they don't stand out as much in the car camping market, with a smaller and less innovative collection than you get from alternatives like REI Co-op and Marmot. That said, if you're looking for the best mix of build quality, weight, usable space, and all-around performance for backpacking (they also make a couple bikepacking-focused variations of some core models), we think Big Agnes is a clear leader. Finally, we appreciate that they're continuing to push the boundaries by incorporating solution-dyed fabrics, which drastically reduce the amount of water, energy, and chemicals required in the manufacturing process.
MSR
Location: Seattle, WashingtonPopular models: Hubba Hubba, Access, and HabitudeWhat we like: A quality selection of highly durable and weather-worthy backpacking designs.What we don't: Only one true camping option.
Mountain Safety Research, better known as MSR, started in 1969 as a safety-focused newsletter for avid climbers and mountaineers (the archives are fun to peruse). In an effort to make equipment safer and more reliable, founder and engineer Larry Penberthy collected donations from subscribers to fund field tests and new product development, which spawned the gear company that we know today. Since then, the brand's collection has expanded considerably and now ranges from backpacking and mountaineering tents to trekking poles, portable stoves and cookware, snow tools and snowshoes, water filters, and more.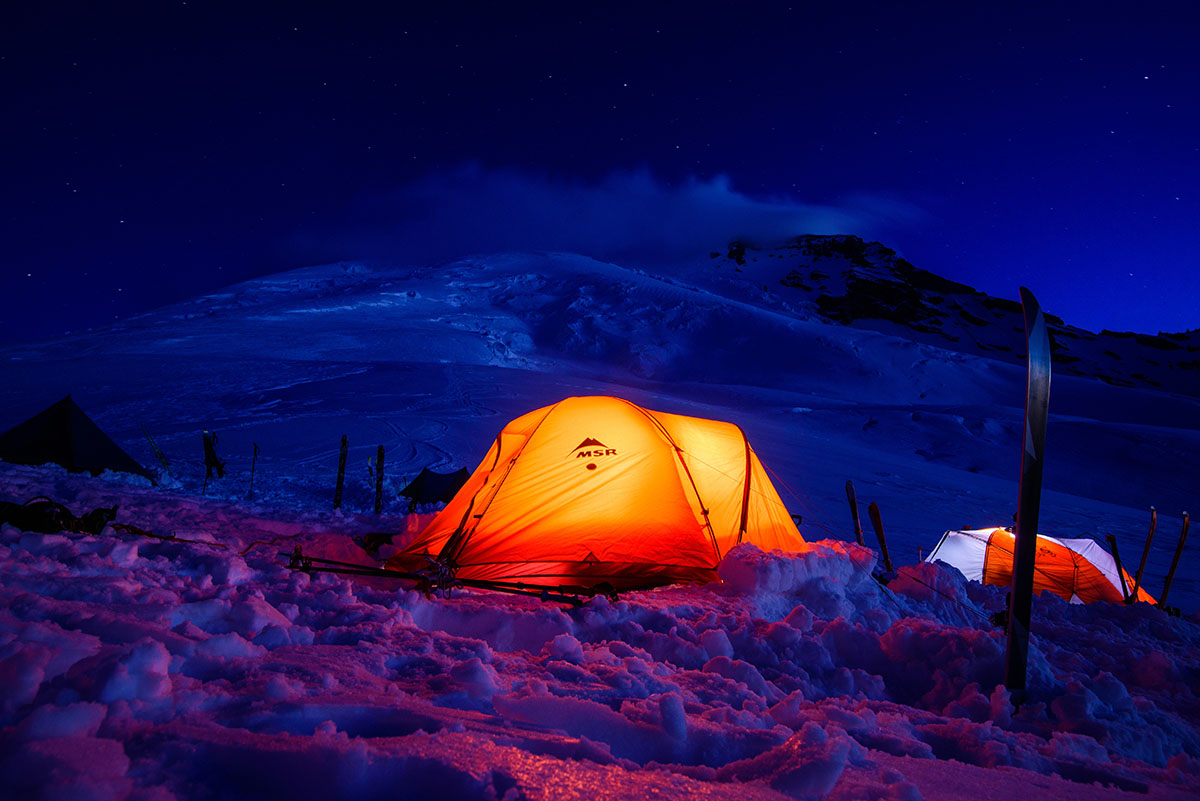 Compared to Big Agnes above, MSR's designs are typically more weather-worthy with robust fabrics and very sturdy constructions. Their Access and Remote are two strong options in the mountaineering realm, and even their backpacking-focused Hubba series—which got a considerable update last year—is impressively impervious to the elements with a hubbed pole structure and full-coverage rainfly (here's our in-depth review of the latest version). The company only recently jumped into the camping world with their flagship Habitude series, but they recently added another model (the Habiscape) to the collection, and we're hopeful that they'll continue to diversify. And it's worth mentioning that MSR's parent company, Cascade Designs, also comprises other leading outdoor brands including Therm-a-Rest, Platypus, and SealLine.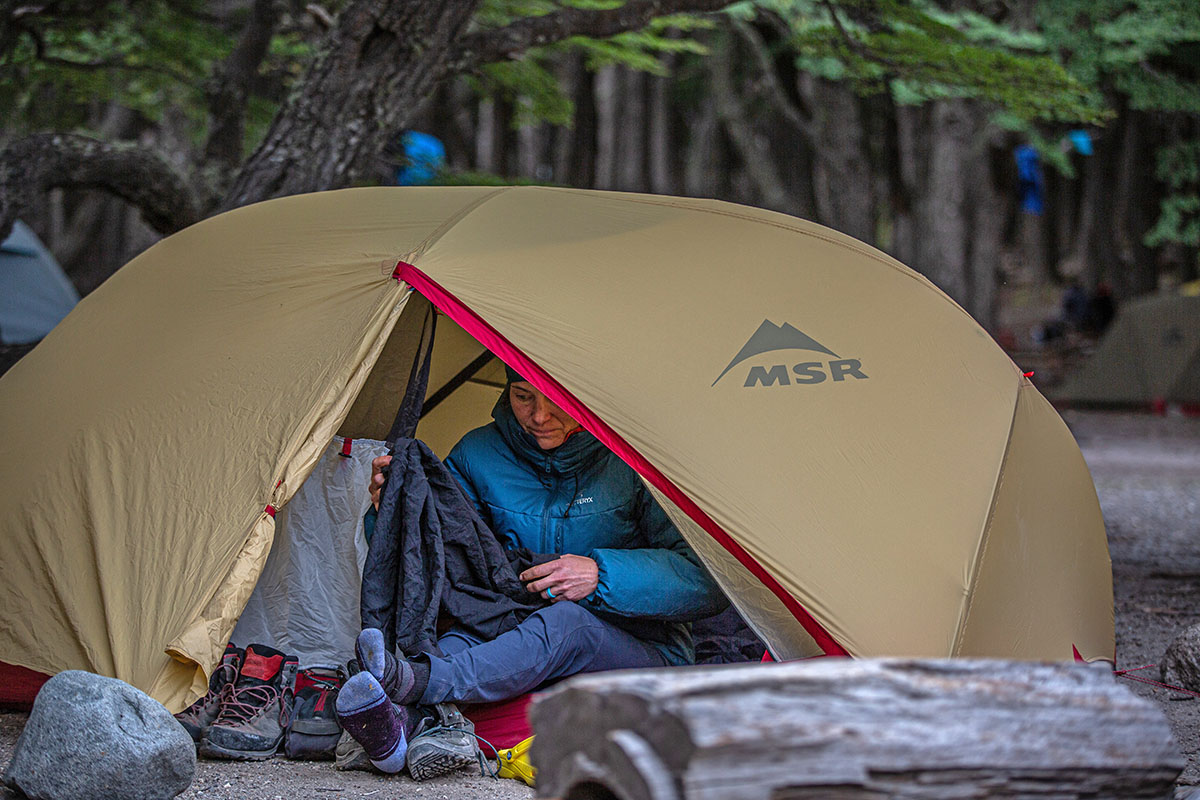 REI Co-op
Location: Kent, WashingtonPopular models: Half Dome, Wonderland, and SkywardWhat we like: Value-oriented tents that don't sacrifice much in the way of performance.What we don't: Generally heavier than comparable designs from Big Agnes and NEMO.
REI Co-op is beloved among outdoor enthusiasts across the country, and for good reason. Known for being value-oriented, REI's in-house selection of tents typically undercuts the competition considerably without sacrificing much in the way of quality or performance. Plus, they're consistently class leaders in livable space. Their camping-focused Skyward 4 is case in point: The 4P model retails for $299, includes a quality aluminum pole structure and near-vertical walls, and has a generous 78-inch peak height. Additionally, you get organization features like a large vestibule and pockets along the interior, along with loops for attaching lights and other gear. On the backpacking side, their legendary Half Dome is a consistent favorite thanks to its roomy interior, overall ease of use, and very competitive price tag.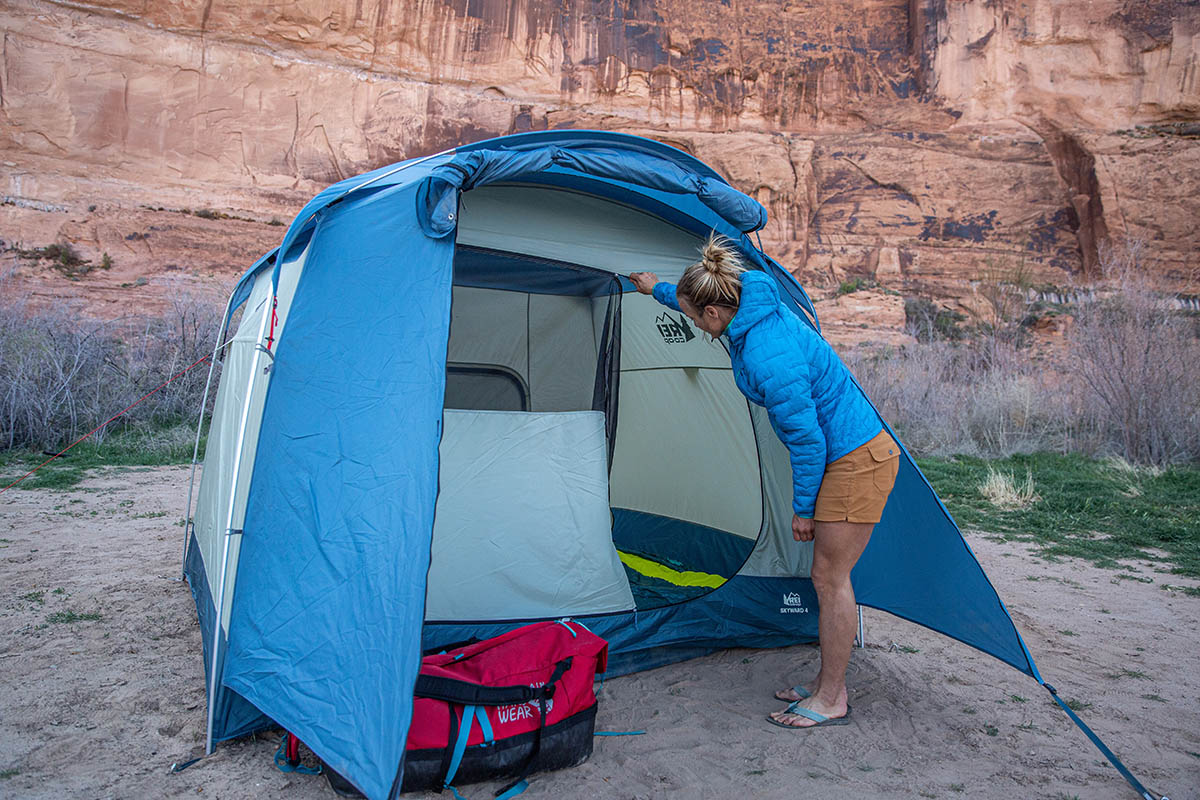 Despite generally being heavier than the competition, REI has made a recent shift toward creating lighter and more premium designs, including the trekking pole-supported Flash Air (2 lbs. 13.7 oz. for the 2P) and latest Half Dome SL+ (4 lbs. 11.5 oz. for the 2P). But their camping and budget models remain the cornerstone of their lineup, including the sturdy Base Camp, massive Wonderland, and new Trailmade series that's a great entry-level option for new backpackers. And a final bonus to shopping at REI is their excellent warranty and co-op membership ($30 to become a lifetime member), which includes benefits like yearly dividends on purchases and additional coupons throughout the year.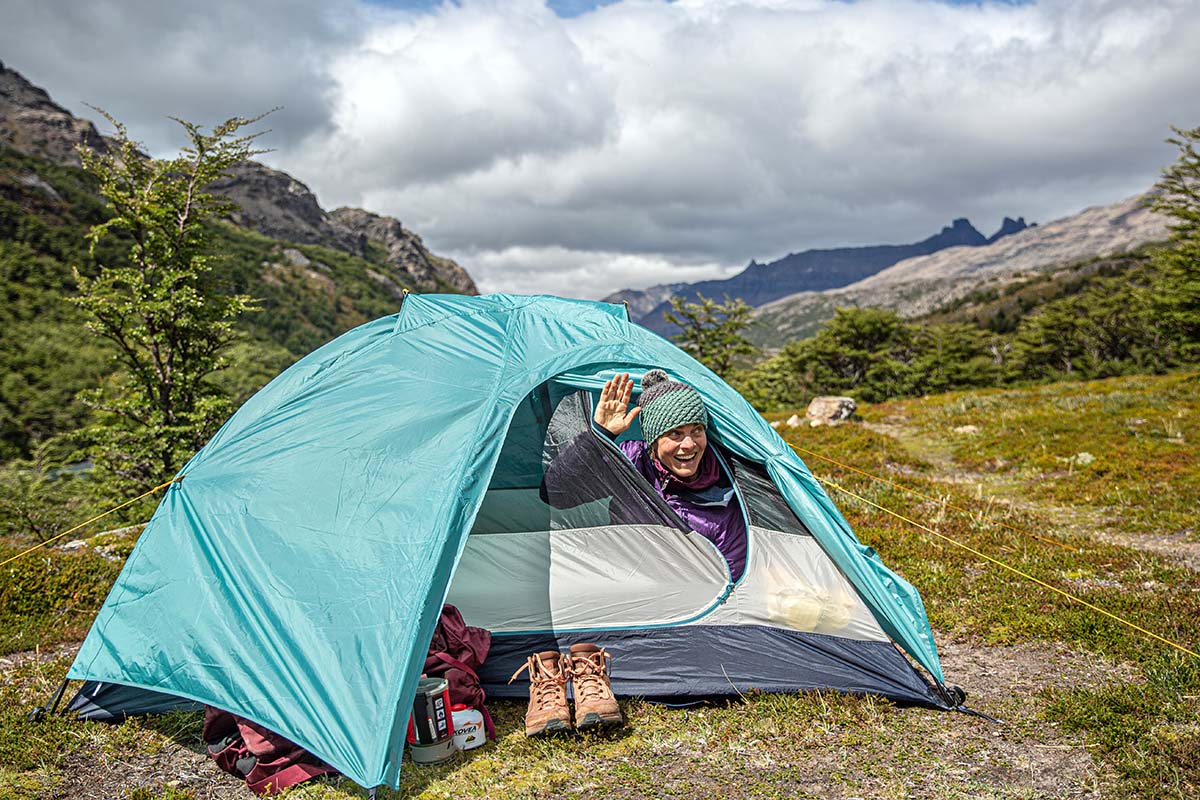 NEMO Equipment
Location: Dover, New HampshirePopular models: Dagger, Hornet, and AuroraWhat we like: Thoughtful and creative tent designs across multiple categories.What we don't: They don't offer any true budget options.
Cam Brensinger founded NEMO Equipment in 2002 after spending a sleepless night bivying atop New Hampshire's famed Mount Washington, which is notorious for its harsh and unpredictable weather. Since then, the brand has assembled a wide-ranging selection of thoughtful and creative tent designs that run the gamut from dedicated ultralight models to bikepacking-specific options, four-season-ready shelters (the Kunai 2P has been a go-to of ours for years), and standard camping offerings. And they truly stand out in the lightweight backpacking category: Their recently updated Dagger (now the Dagger OSMO) is one of our top-rated picks for its reasonably low weight (4 lb. 2 oz. for the two-person version), easy-to-pitch freestanding build, roomy interior, full feature set, and durable construction (check out our in-depth review here).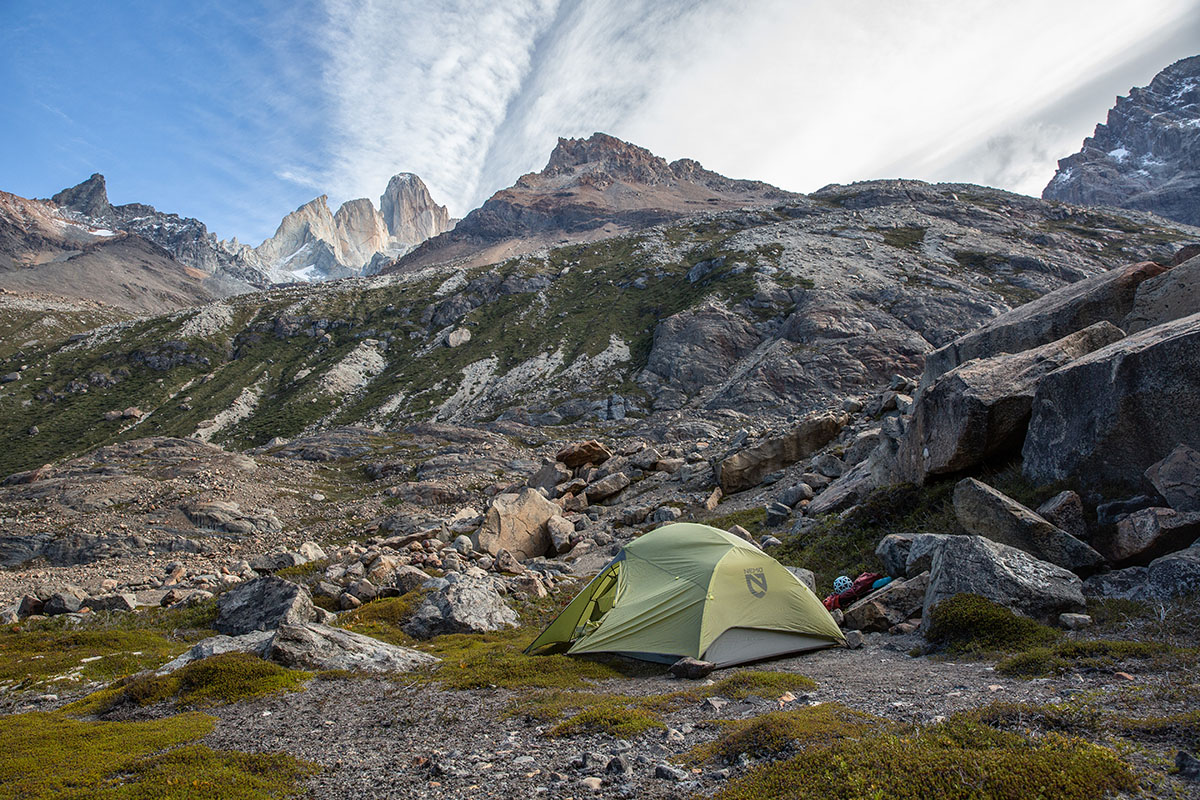 As with Big Agnes above, you do pay a premium for the NEMO name, with the aforementioned Dagger OSMO coming in at $530. Even their heavier, camping-oriented models are fairly costly, including the Aurora ($360 for the 3P) and luxurious Aurora Highrise ($400 for the 4P). But price aside, NEMO is known for their attention to detail and creating tents that nicely balance weight, livability, and durability. And if you're just getting started, NEMO's sleeping bag and pad lineups are similarly well made and consistently some of the most comfortable designs we've tested.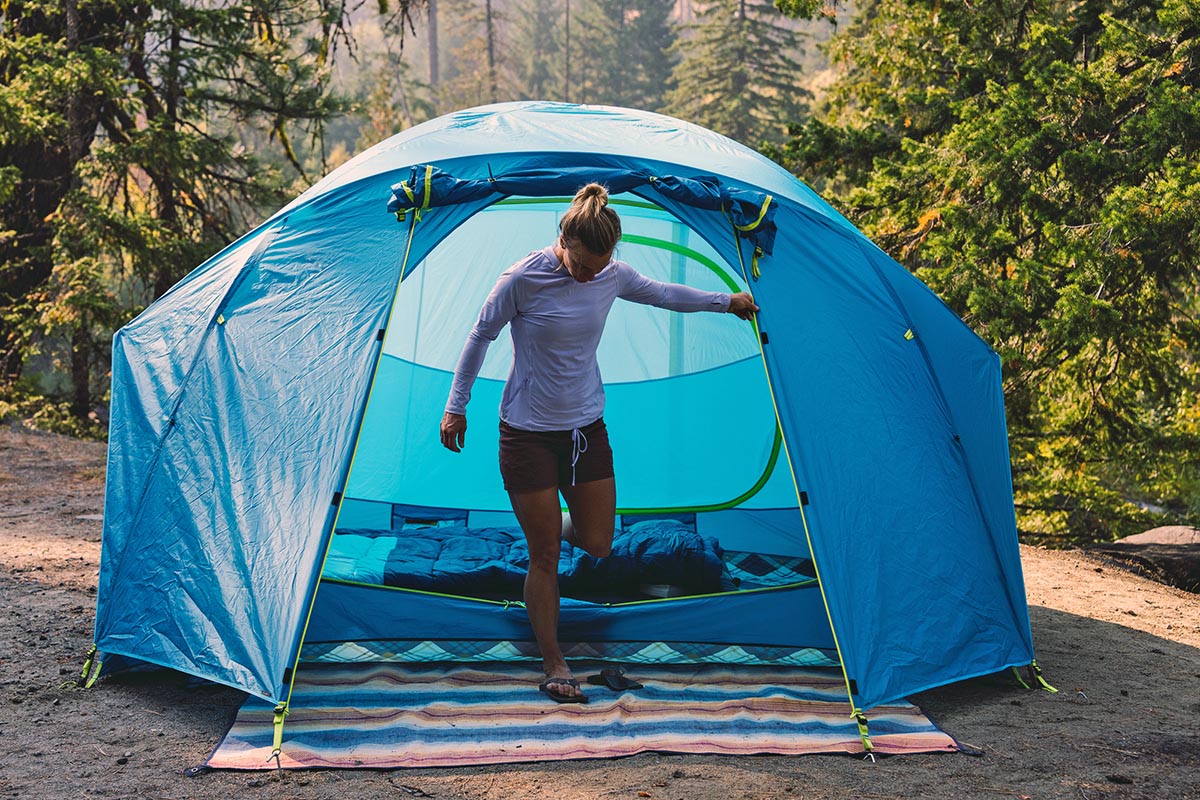 Marmot
Location: Rohnert Park, CaliforniaPopular models: Tungsten, Limestone, and LimelightWhat we like: Some excellent crossover camping/backpacking options.What we don't: Not as competitive as Big Agnes or NEMO in the lightweight backpacking market.
Started by two U.C. Santa Cruz students who met on an Alaskan glacier in the early 1970s, Marmot has built up a good reputation in the tent market over the years for their combination of build quality, spaciousness, and price. We've been especially impressed by many of their crossover car camping/backpacking options, including the Limelight (5 lbs. 15.9 oz. and $299 for the 2P) and Tungsten (5 lbs. 14.2 oz. and $249 for the 2P). Stacked up against the competition, both models offer reliable, long-lasting constructions and plenty of space for two adults at very reasonable price points (and again, the option to bring them along on short backcountry trips is very helpful).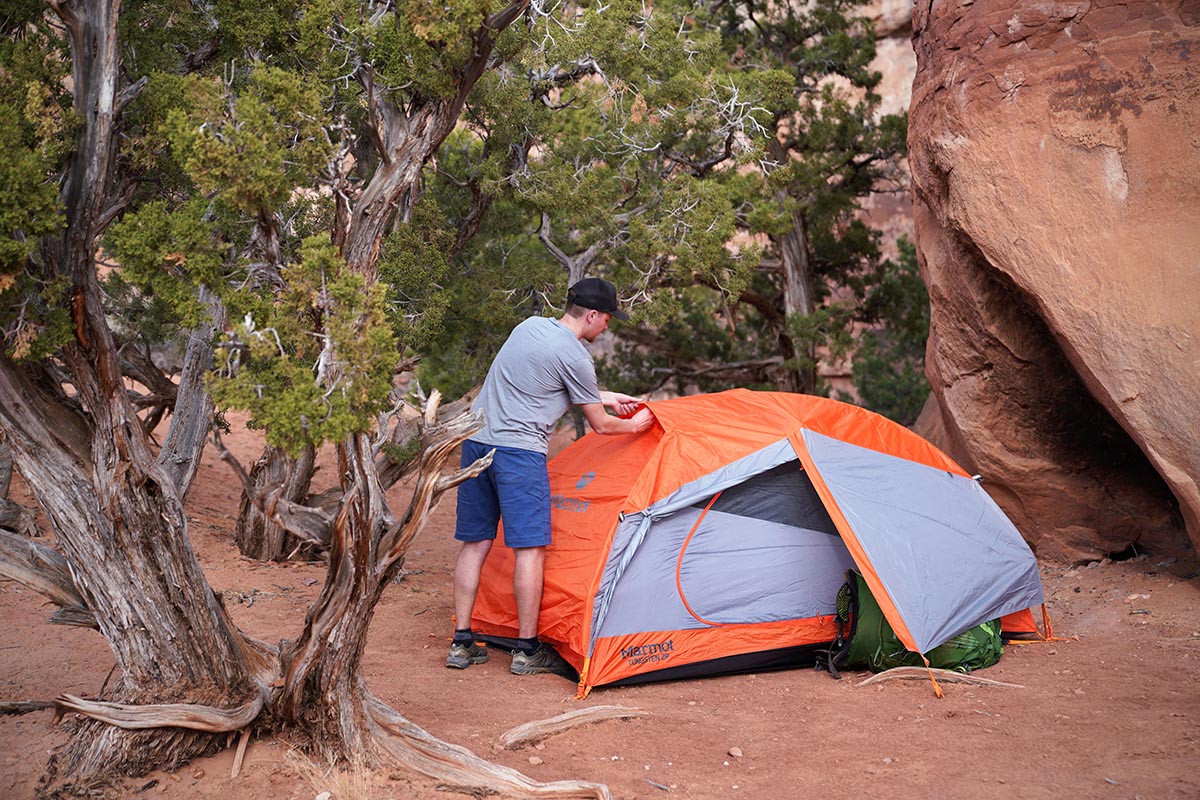 In general, Marmot isn't as competitive as brands like Big Agnes, NEMO, or even REI in the lightweight backpacking tent market, but they utilize quality materials, offer decently roomy interiors, and have shifted recently to using PFC-free waterproofing (perfluorocarbons are known to be harmful for the environment). One notable ultralight exception is their Tungsten UL, which clocks in at a low 3 pounds 6.5 ounces but manages to include two doors and vestibules and a fairly roomy interior. It's been around for a few years and comes up short of an alternative like Big Agnes' Copper Spur, but the price is hard to beat at $379 for the two-person capacity.
Zpacks
Location: West Melbourne, FloridaPopular models: Plexamid, Duplex, and Free DuoWhat we like: An ultralight specialist for thru-hikers and minimalist backpackers.What we don't: Targeted designs lack widespread appeal.
Triplecrowner Joe Valesko founded Zpacks in 2005 after thru-hiking the Appalachian Trail and not being able to find gear light yet durable enough for his trek. Now, just 17 years later, Zpacks stands out as one of the biggest and most revered players in the ultralight market, with a quality selection of feathery yet hardwearing tents and shelters for minimalist backpackers and hikers embarking on long trails like the AT, PCT, and CDT. The key to success is the use of Dyneema, which is a high-tech fabric praised for its strength-to-weight ratio and hydrophobic properties.
Our favorite UL model in Zpacks' collection is the two-person Duplex (here's our review), which checks in at a scant 1 pound 5 ounces (with stakes and using two trekking poles for support) but includes a bathtub floor for protection (many other UL options are floorless) and a fairly generous 48-inch peak height. The biggest compromises are cost and convenience: The Duplex is incredibly pricey at $669 and requires some practice to get a taut, even pitch with trekking poles (you can purchase the freestanding Flex Kit for an additional $149 to streamline the process). Of note: They recently released the $699 Duplex Zip Tent that boasts zippered doors with peak vents, and we're eager to test it this summer. All in all, Zpacks tents aren't for the average camper, but there's a reason for the very strong brand loyalty among ULers. And Zpacks' Dyneema offerings extend well beyond tents with UL packs and even a 2-ounce rain kilt.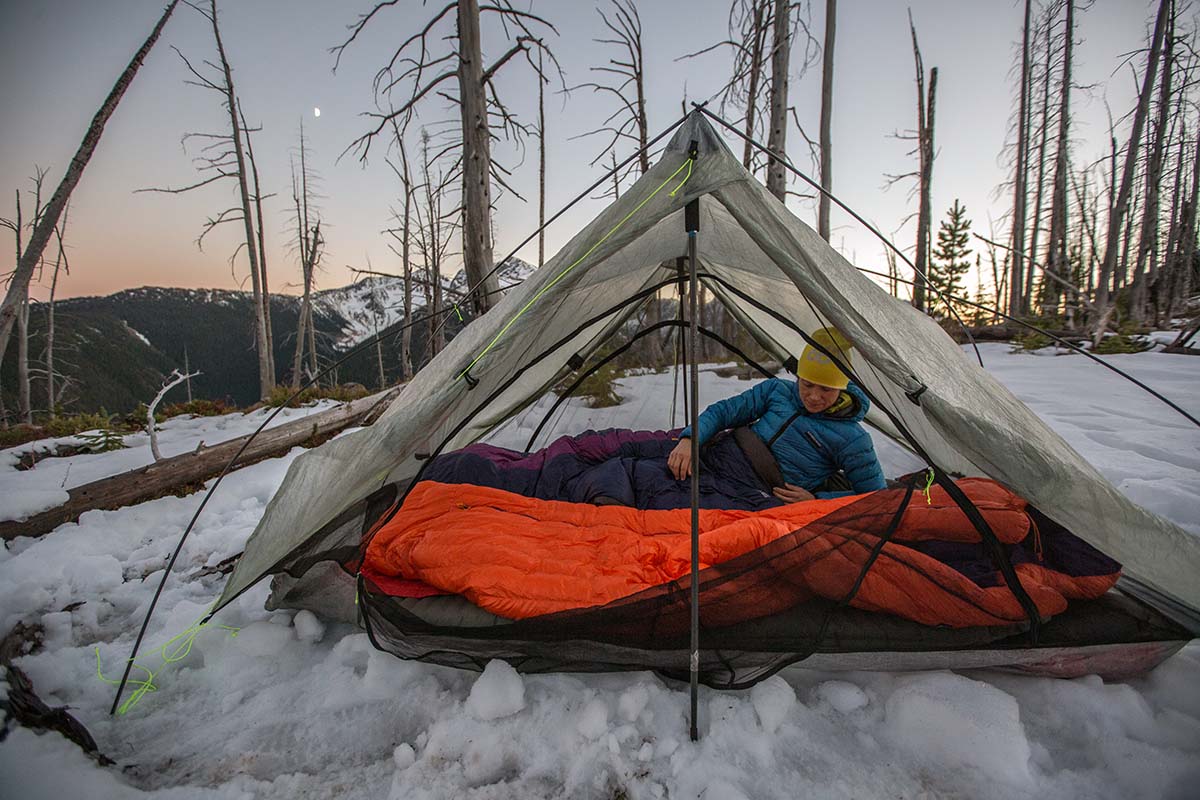 Kelty
Location: Boulder, ColoradoPopular models: Late Start, Wireless, and Grand MesaWhat we like: Quality, budget-friendly designs for casual campers and backpackers.What we don't: Not at the forefront of innovation.
For casual recreationalists, Colorado-based Kelty hits the mark with a healthy selection of value-oriented camping and backpacking tents. The majority of their offerings are priced between $100 and $300, and they've done a nice job incorporating fun and family-friendly touches. One of our favorites in their camping collection is the Wireless 6, which costs a wallet-friendly $300 for the six-person version and includes several upgrades over most budget competitors, including a full-coverage rainfly and center ridgepole that stretches the walls up and out. They were also one of the first companies to embrace stargazing features on their backpacking tents, with rollback rainflies and mesh-heavy tent bodies that allow for open views of the stars at night.
You won't find any true ultralight models in Kelty's lineup, and they're rarely at the forefront of innovation, but what they do offer is a reasonable balance of price and quality. For casual weekenders who don't want to spend an arm and a leg on their set-up, that combination is hard to beat. And it's worth noting that that value focus extends throughout the rest of the company's lineup, including backpacking packs, sleeping bags and pads, camp furniture, and more.
Hilleberg
Location: Frösön, SwedenPopular models: Nallo and AllakWhat we like: Expertly crafted tents that are purpose-built for harsh mountain environments.What we don't: Overkill for most mild-weather and sub-alpine adventures.
Founded in 1971, Hilleberg is a family-owned and -operated company that specializes in expertly crafted tents built to withstand harsh four-season conditions and high-altitude environments (it wasn't until 2012 that they even introduced three-season models in their Anjan and Rogen). The main ingredient here is the brand's signature Kerlon fabric, which is triple-coated on both sides with silicone (rather than more common polyurethane) and is incredibly strong, weather-ready, and tear-resistant for its weight. For reference, one of our editors purchased the popular Nallo while traveling in the Arctic Circle, where it deftly fended off the notoriously strong gusts, and the Allak has been one of our favorites for ski touring adventures in the Pacific Northwest.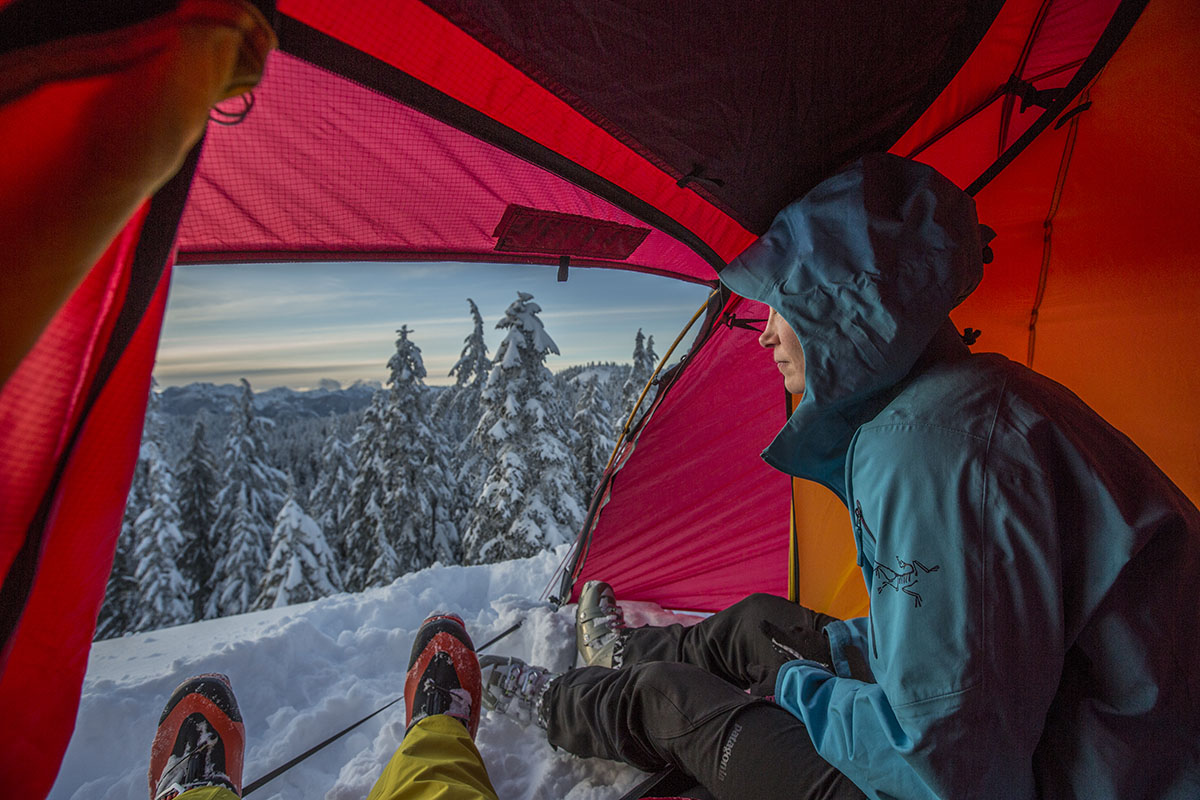 Hilleberg categorizes their tents with a fairly helpful labeling system: Black Label models are the most weather-worthy and purpose-built for four-season conditions, Red Label tents are lighter-weight and a step down in all-out protection, Yellow Label designs are made for warmer and snow-free outings, and Blue Label tents are specialized offerings for specific activities (like the all-season Altai yurt and Stalon XL group tent that can accommodate 14 people). You might also spot GT variations within their lineup, which indicate an extended vestibule for added gear storage. In the end, Hilleberg tents are decidedly overkill for most mild conditions and sub-alpine outings both in price and construction (the tougher and thicker fabrics don't breathe very well). But for the right environment, they're truly hard to beat.
Black Diamond
Location: Salt Lake City, UtahPopular models: Eldorado and FirstlightWhat we like: Climbing expertise transfers over nicely to mountain-ready tent designs.What we don't: Mainly built for four-season adventures and high-altitude basecamping.
Black Diamond is a climbing company first, but that expertise has trickled down nicely as they expanded into four-season-ready tents and shelters. Their Eldorado in particular has been a classic for decades: This single-wall, two-pole shelter can withstand blustery alpine conditions and tough summit pushes with expedition-ready durability and build quality at a fairly low weight (5 lbs. 1 oz.). It doesn't breathe nearly as well as double-wall alternatives, but the weight savings are worth it for many alpinists (and weather protection is often the bigger concern).
However, Black Diamond's focus on technical mountain pursuits means there's limited appeal for casual campers and backpackers. It's worth noting that they recently introduced the two-person Mesa and three-person Vista, which are decently well-rounded three-season tents at competitive price points ($350 and $440 respectively). The rest of their offerings are decidedly technical and overkill in both price and performance for below-treeline adventures—the aforementioned Eldorado costs a steep $900—but the brand continues to make inroads year after year, and we're hopeful that their lineup will continue to expand.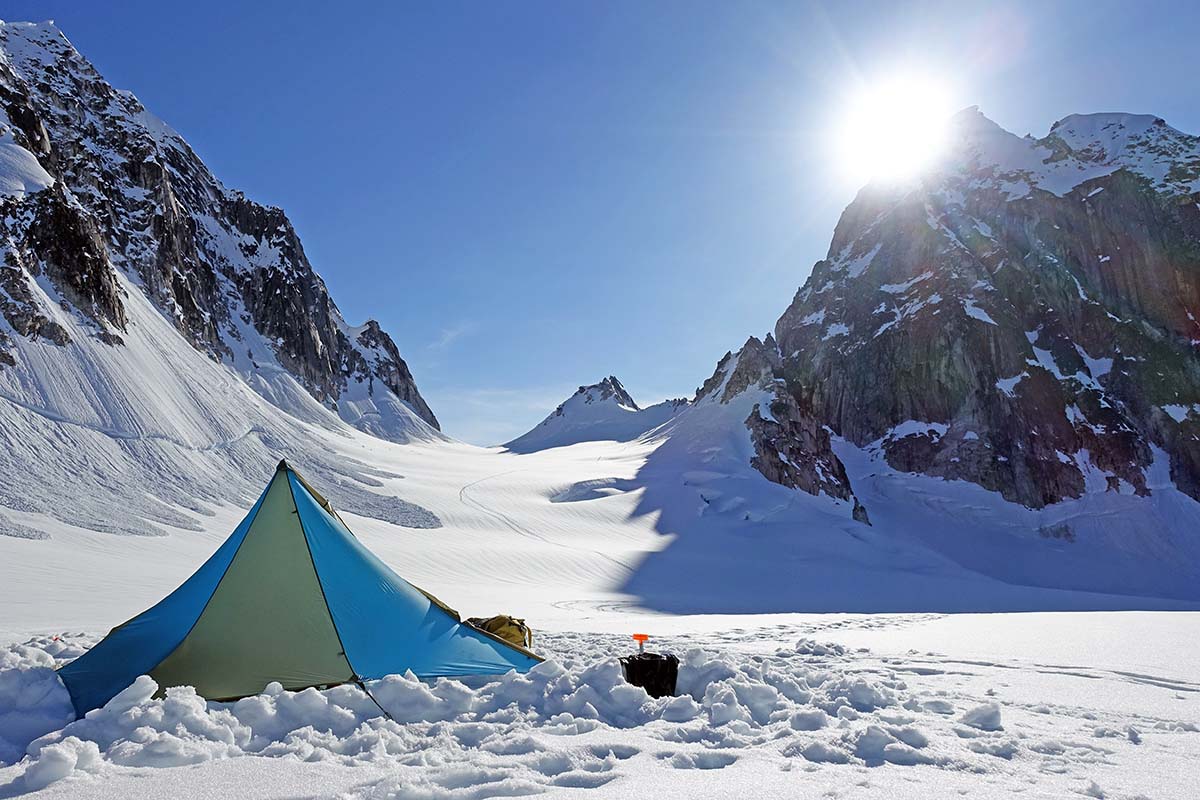 The North Face
Location: Denver, ColoradoPopular models: Wawona, Stormbreak, and Mountain 25What we like: A popular sight at high-altitude basecamps across the world.What we don't: Far less variety than most of the brands above.
With a decades-long background in mountain travel and far-off expeditions, The North Face is no stranger to harsh alpine environments. Therefore, it comes as little surprise that you're likely to spot their dome-style tents at high-altitude basecamps around the world. For example, their legendary Mountain 25 and 2-Meter Dome Tent are trusted in some of the most inhospitable regions of the planet due to their burly double-wall builds and stout and time-tested designs. While newer and less proven, their single-wall Assault is another alpine-ready design for lower altitudes that utilizes their in-house FUTURELIGHT waterproof membrane.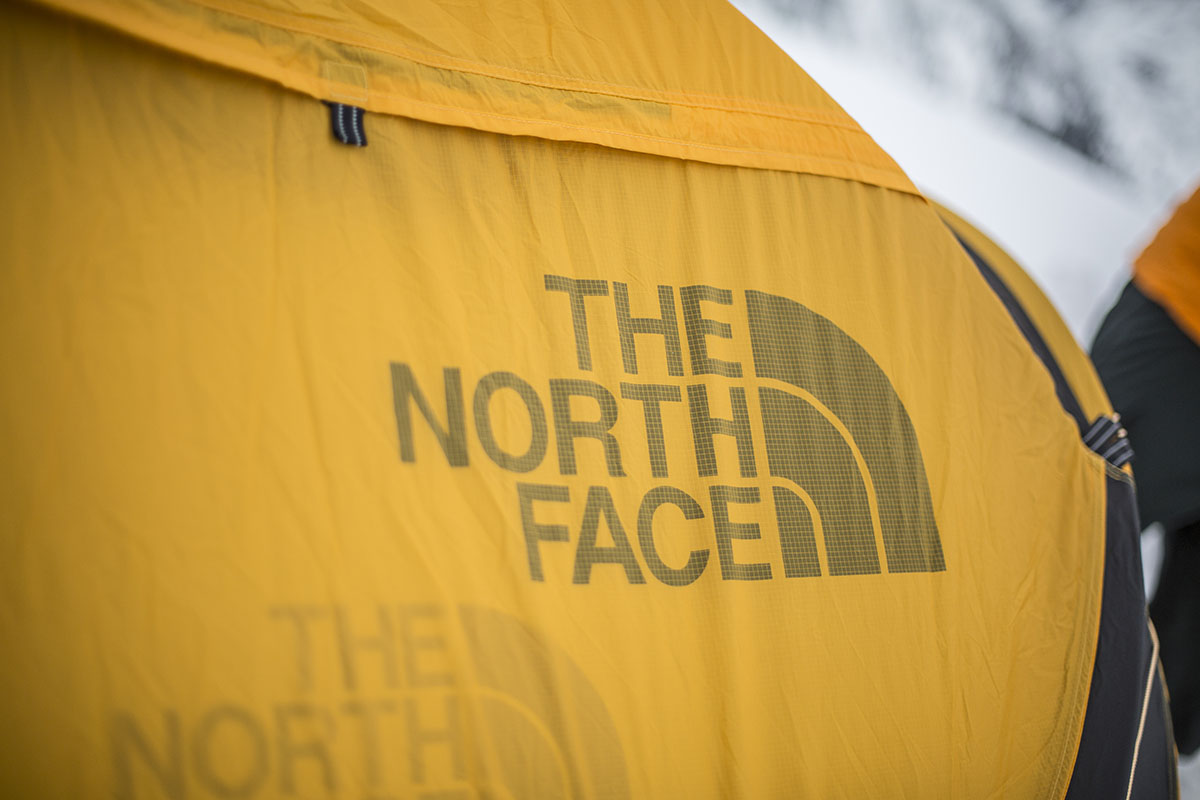 We list The North Face farther down our list for one key reason: lack of variety. To be fair, we like their Wawona series (offered in four-person and six-person variations) for car camping, and their Stormbreak collection is lighter-weight and a fine crossover camping/backpacking option, but they really only excel in the technical mountaineering realm. Again, there's a reason that the distinctive TNF logo is a popular sight in places like Nepal and the Himalaya, but most campers and backpackers (especially in the Lower 48) will find what they're looking for elsewhere.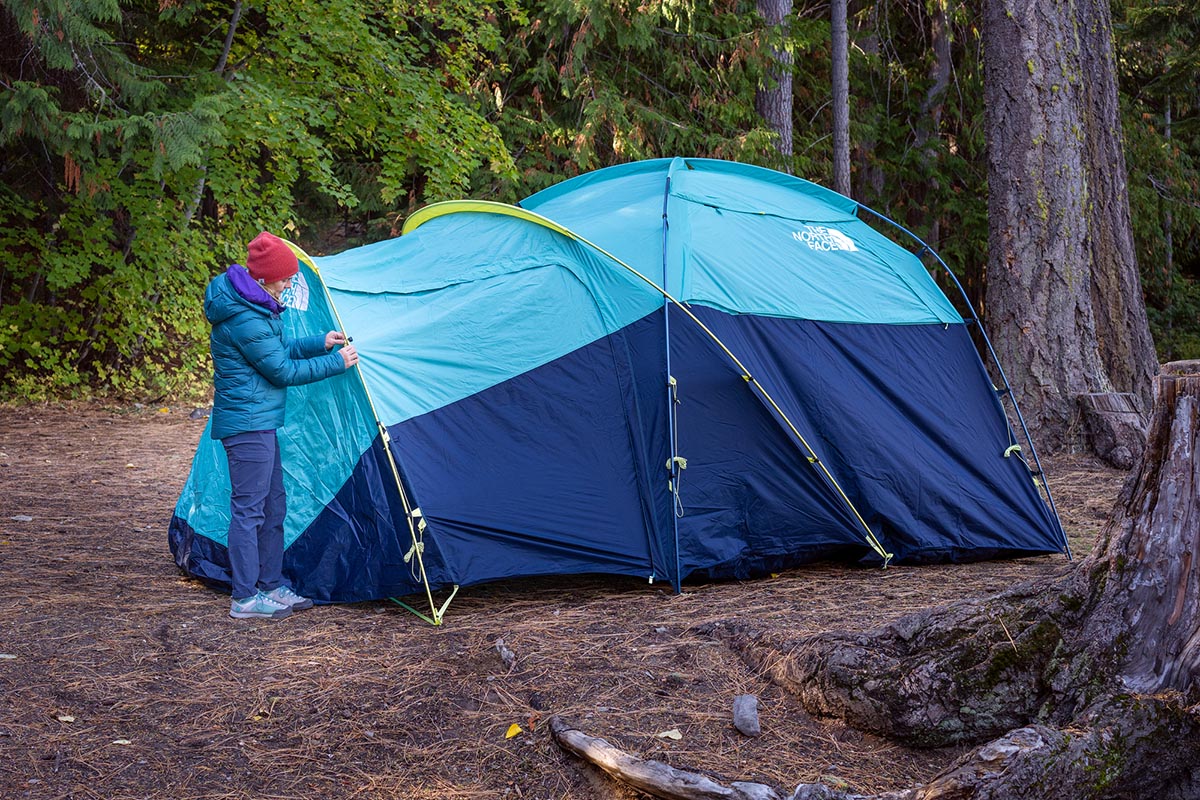 Coleman
Location: Chicago, IllinoisPopular models: Sundome, Montana, Skydome, and Instant CabinWhat we like: Some of the cheapest tents on the market.What we don't: A considerable step down in quality from the brands above.
At the extreme budget end of the spectrum is camping giant Coleman. We'll start off by stating the obvious: By spending less, you can expect to make a number of sacrifices, including all-around quality, longevity, and weather protection. But if you only plan to camp in fair weather, it's hard to beat the savings. For instance, the popular Sundome 6 can regularly be found on Amazon for around $150 or less ($130 at the time of publishing), offers a decently roomy interior with 100 square feet of floor space, and is quick and easy to pitch. You won't find a full-coverage rainfly, vertical walls, or any fancy features, but it's still a lot of tent for the price.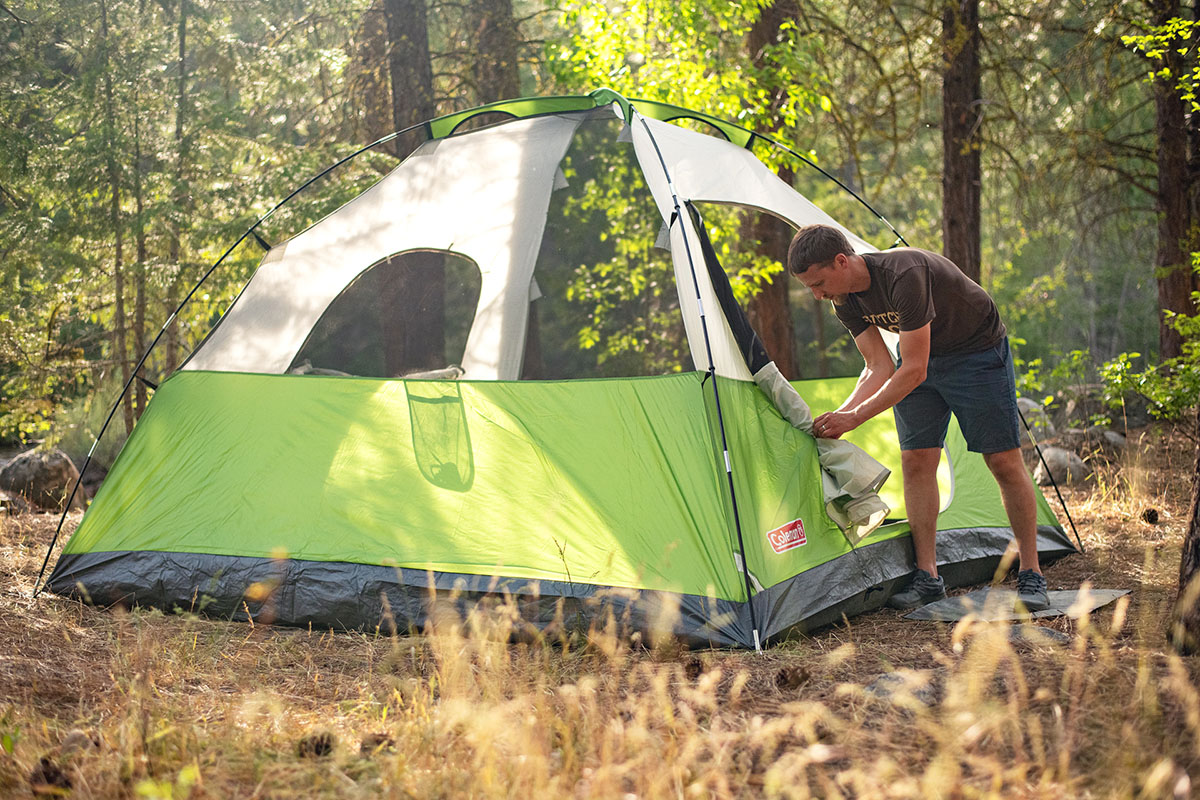 In general, however, we recommend committed campers steer clear of Coleman designs. A step up in price to brands like REI or Kelty above will get you considerably better protection and longevity with upgraded materials (many of Coleman's tent poles are fiberglass rather than aluminum), hardware, and seam sealing. But for weekenders and families who don't mind the inherent performance tradeoffs, Coleman tents are undeniably appealing. And for those who prioritize convenience above all else, Coleman's "instant" tents and sun shelters can be set up in around a minute with pre-attached poles.
Sea to Summit
Location: Perth, AustraliaPopular models: Telos and AltoWhat we like: Innovative Tension Ridge pole design is a real boon for livability.What we don't: Still very new to the tent market.
Australia-based Sea to Summit only recently started making backpacking tents, but they entered the competitive market with a bang. For 2021, they introduced two models: the semi-freestanding Alto TR and fully freestanding Telos TR. This year, they followed up with the more spacious and budget-friendly Ikos TR. The headliner among all three is the unique Tension Ridge (hence the "TR") pole, which gently bends upward at each end rather than the more common downward-sloping design. It's a small tweak in construction with a significant effect, resulting in taller doors, increased livable space, and better airflow (the vent naturally remains agape at the apex rather than drooping closed). All three tents also boast a creative fly that sets up in multiple configurations, and the original two include a snap-on "Lightbar" that diffuses your headlamp's beam for a nice, even glow.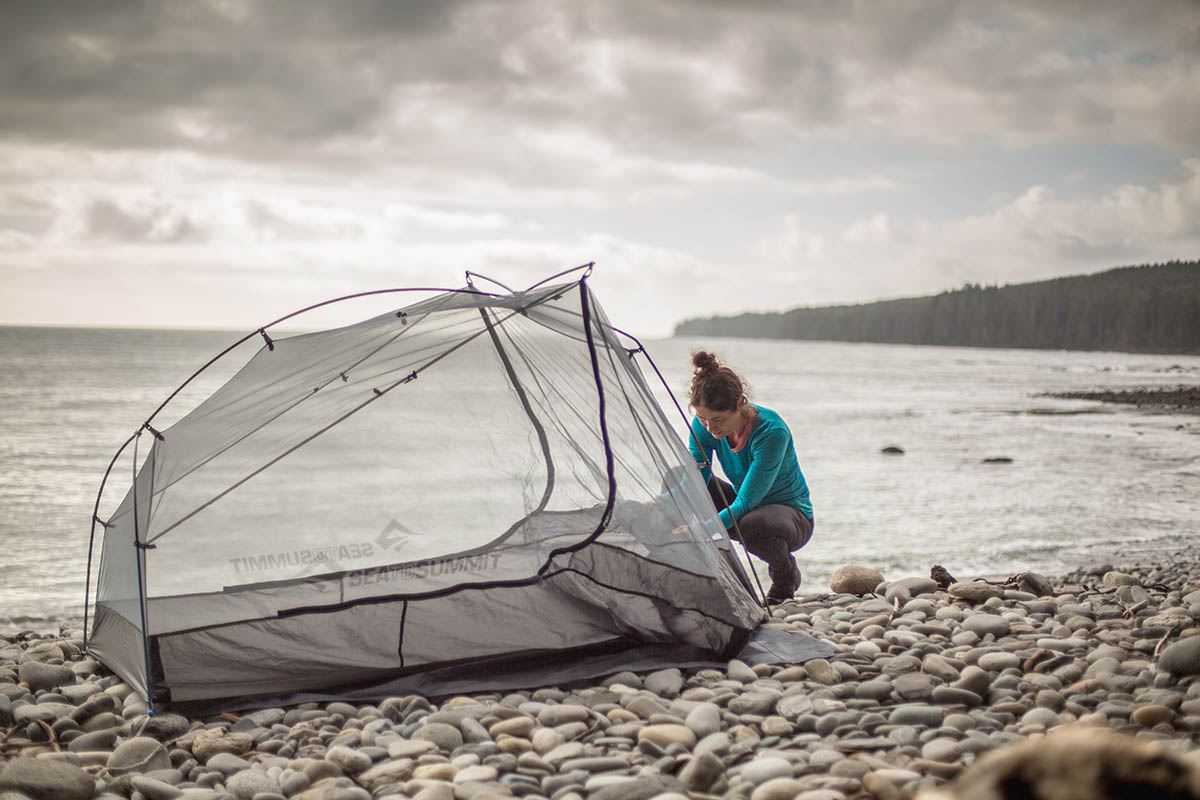 Sea to Summit is still new and relatively unproven in the backpacking tent market, and they have yet to enter the camping space (although their Ikos is roomy enough to pull double duty for occasional car camping). We also experienced a noteworthy flaw in the Tension Ridge design while testing all three models: During heavy rain, water tends to pool in the concavities of the fly and slowly drip inside through the vent opening, even when it's closed. But most tents need to go through a few iterations before reaching perfection, and we really like the direction that Sea to Summit is headed.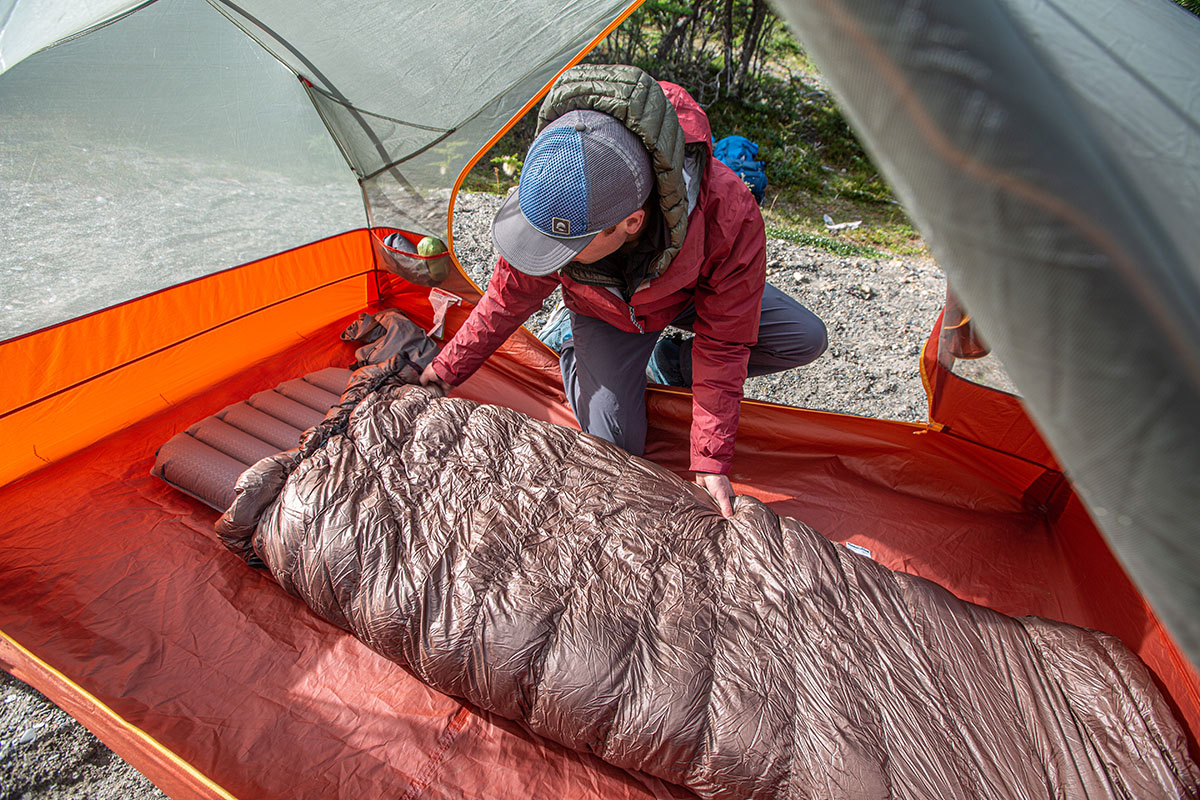 Hyperlite Mountain Gear
Location: Biddeford, MainePopular model: UltaMidWhat we like: Another UL Dyneema specialist with a focus on functional simplicity. What we don't: Backpacks are their strong suit.
Like Zpacks above, Maine-based Hyperlite Mountain Gear is a UL leader that specializes in featherweight Dyneema tents and shelters for thru-hikers and other minimalist backpackers. This company is the antithesis of luxury: You won't find any frills or extra features here, and the designs are decidedly dull-looking and muted. But the goal is functional simplicity, and we think they've accomplished that: Like Zpacks' offerings, Hyperlite's tents are strikingly light for the level of protection they offer.
All that said, Hyperlite is more of a pack specialist—their Southwest and Windrider collections are two of our favorite UL models—and their tent offerings are limited. Their two- and four-person pyramid-style tents are customizable with varying combinations of mesh inserts and flooring, but they're highly specialized designs with limited appeal for most. Hyperlite also recently released the more approachable Unbound 2P, which bears a strong resemblance to Zpacks' Duplex mentioned above, including the use of strong but lightweight Dyneema fabrics (we'll report back on its performance soon). But again, none of these tents are for the average camper: All require trekking poles to set up, and most variations don't come with floors. But for the right user, Hyperlite tents are strong, well constructed, feathery light, and handmade right here in the U.S.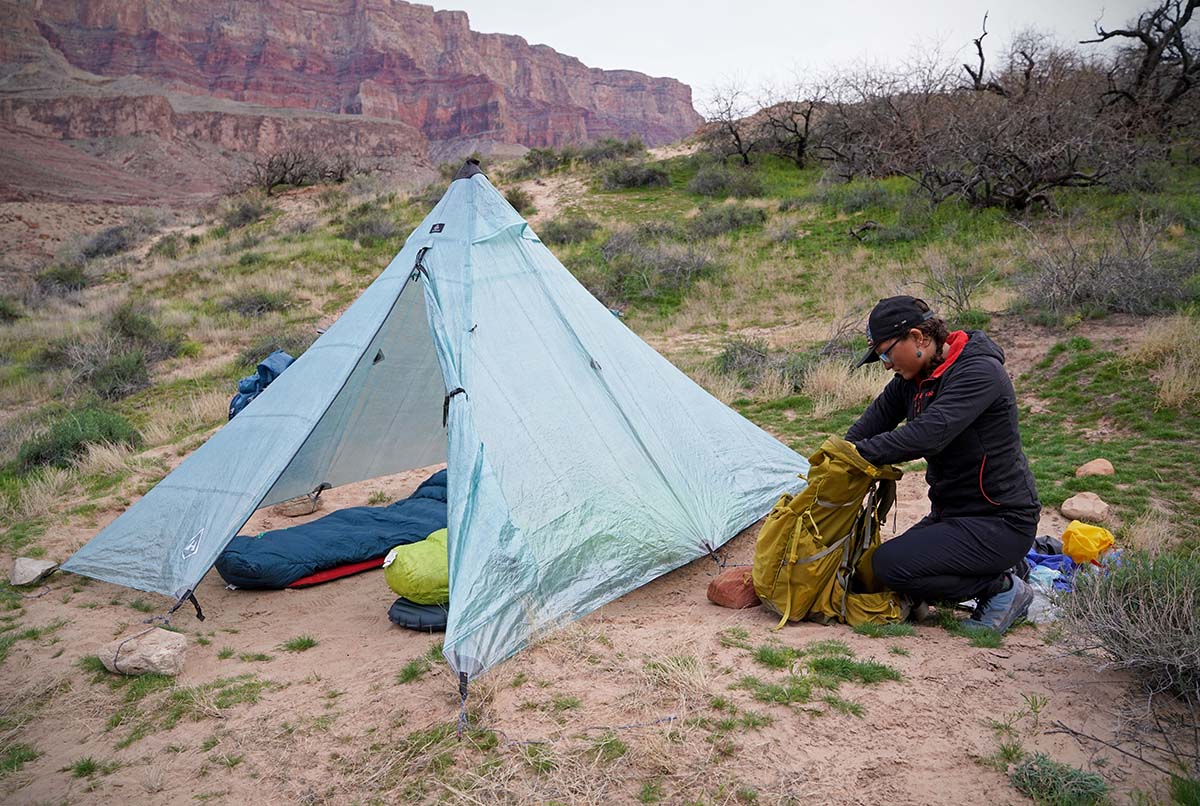 Cabela's
Location: Sidney, NebraskaPopular models: Alaskan Guide and West WindWhat we like: Storm-ready designs at pretty reasonable price points.What we don't: Lacking in versatility.
Best known for their hunting and fishing equipment, Cabela's isn't as much of an all-rounder as many of the brands above. But we've included them here for one collection in particular: their four-season-ready Alaskan Guide. This tent has been a favorite for rough weather and hunting trips for years, with a strong, six-pole geodesic shape and full-coverage rainfly that prioritize stability, durability, and protection above all else. In fact, the tent is rated to withstand gusts up to 50 miles per hour, but mesh vents and windows still allow decent airflow in mild temperatures.
Unless you truly need the burly, weather-ready build, however, we think there are better options out there. For instance, the tunnel-shaped REI Wonderland 6 boasts significantly more usable space, ventilation, and interior storage at a much lower weight (by over 10 lbs.). And in terms of other models, Cabela's does offer their West Wind and Outback Lodge, both of which are also very robust and sturdy, but most campers simply don't need the specialized, storm-ready constructions and features.
Alps Mountaineering
Location: New Haven, MissouriPopular models: Tasmanian and LynxWhat we like: Nice combination of price and performance.What we don't: Not the lightest or most premium designs.
Short for Active Lifestyle Products and Services, Alps Mountaineering strikes a nice middle ground between true budget designs from Coleman and more premium models from companies like REI and Marmot. In other words, Alps doesn't make the lightest or most innovative tents, but they're affordable, decently durable, and often a great option for beginner backpackers. And for added convenience when assembling your first kit, Alps offers a wide-ranging selection of other equipment too, from sleeping pads to bags, camp chairs, and more.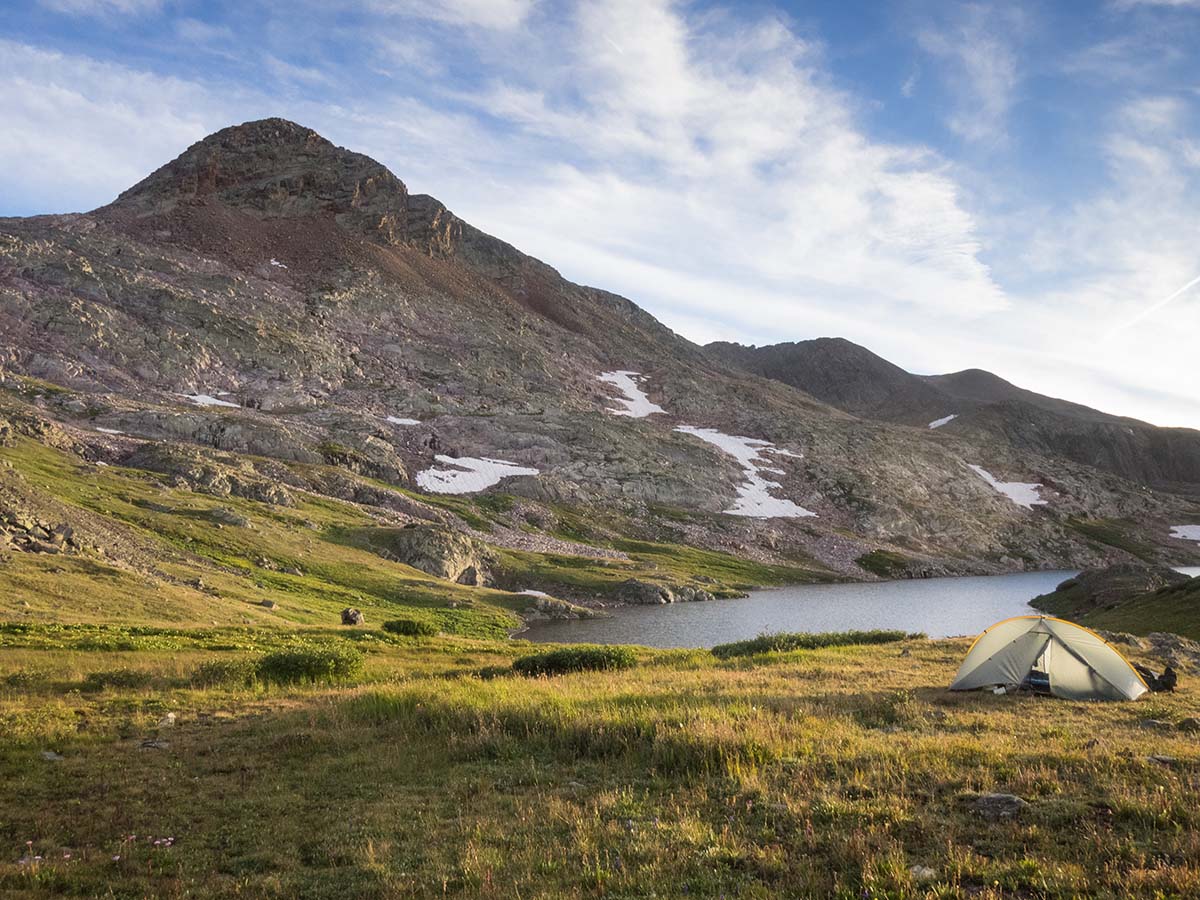 One standout model in Alps' tent lineup is their Tasmanian, which is a sneaky-good four-season option for less exposed, below-treeline winter trips. The two-person variation retails for a reasonable $250, boasts a full-coverage rainfly and sturdy aluminum poles, and uses hardwearing (75D) materials along the floor and fly for added assurance against the elements and rough ground below. And their Lynx ($160 for the 2P) is a step down in all-out protection but nevertheless serviceable for casual backpacking trips.
Eureka
Location: Binghamton, New YorkPopular models: Copper Canyon, Space Camp, and MidoriWhat we like: Affordable designs for casual outdoor-goers.What we don't: A little gimmicky and cheap-feeling.
For a step up in quality from Coleman, Eureka targets the entry-level and mid-range end of the market with affordable but functional options for casual outdoor-goers. These aren't the most weather-worthy, feature-rich, or well-built options, but they're decently cheap and will get the job done in most mild conditions. The cabin-like Copper Canyon, for example, is a classic choice for warm summer camping trips and festivals: The 6P model is big enough for a group of six-foot adults to walk around in comfortably, boasts a full mesh roof for stargazing and airflow, and costs a pretty reasonable $330 (and you can often find it on sale for less).
As expected, the affordable price tags come with a corresponding drop in performance. In general, Eureka's tents aren't very protective (the Copper Canyon's fly only covers the mesh roof) and require more care than the pricier competition. But for those just getting started or if you don't head out in inclement weather, there's a lot to like. And to help narrow your search, Eureka offers a handy tent finder that takes into account your preferred activity (car camping, bike touring, festivals, etc.), seasonality, conditions, number of people, desired features, and more. They also provide a mail-in repair service, as well as a generous 60-day trial period/return policy.
Cottage Backpacking Tent Brands
We included a couple of smaller players above, including Zpacks and Hyperlite Mountain Gear, but there are a healthy number of other cottage backpacking tent brands that push out quality, competitive designs. Notable players include Gossamer Gear, Tarptent, Six Moon Designs, SlingFin, and Durston (all of which are represented in our ultralight tent round-up). Overall, these brands push the boundaries on ultralight fabrics and construction, which we've seen trickle down into the wider backpacking market (Big Agnes, for example, started using Dyneema and carbon in some of their tents recently, and REI offers their trekking pole-supported Flash Air). In other words, these cottage companies have played a crucial role in normalizing and mainstreaming ultralight backpacking. If your goal is to cover long distances with minimal weight and bulk, there are some excellent models to consider.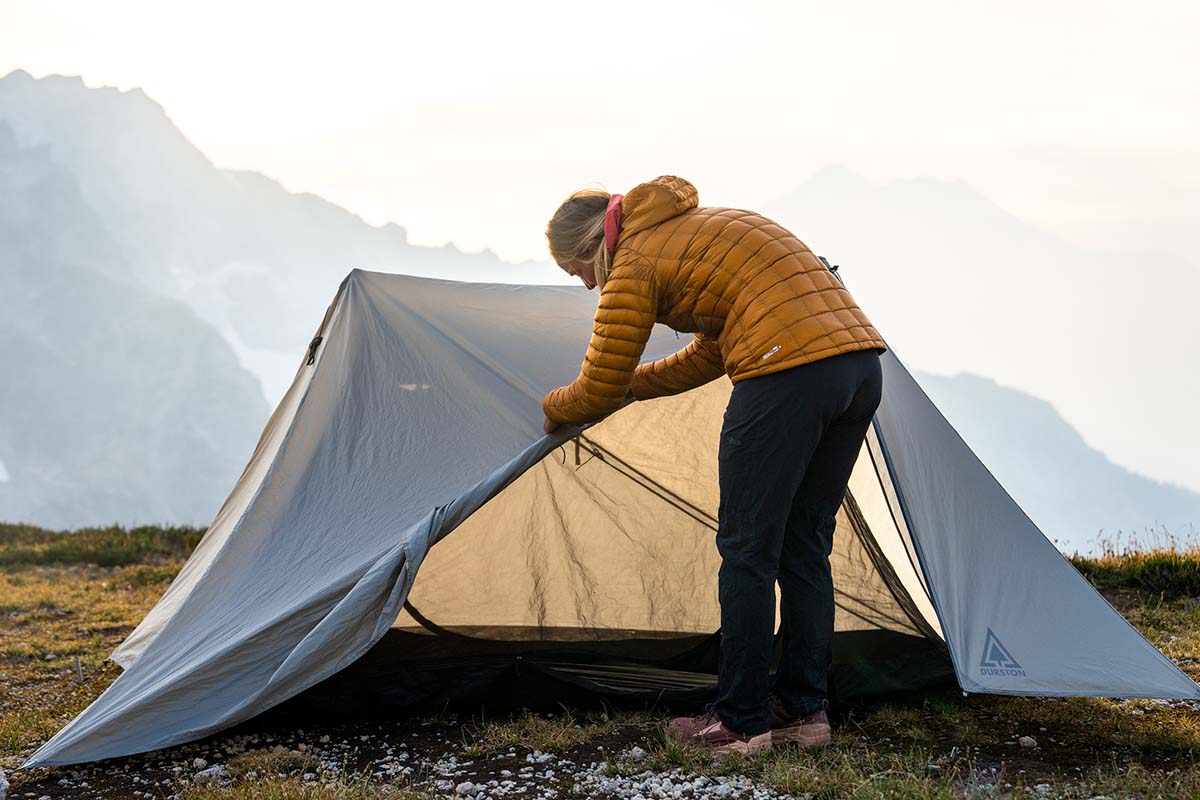 Where to Buy Tents and Other Camping/Backpacking Gear
We'll start off by noting that there's no substitute for walking into your local gear shop and stepping inside a tent to get a feel for the interior space, organizational layout, etc. However, in 2023, buying online often brings additional convenience and a wider selection of manufacturers and capacity options. REI Co-op is one of our favorite retailers and carries many of the brands above (and if you live close to one of their locations, they often have displays set up for you to step inside certain models). Plus, you get the convenience of their well-documented return policy and member benefits (10% back for full-price items). Backcountry also excels in the camping and backpacking markets, with good variety, free standard shipping if you spend over $50 (which you will for a tent), and a helpful chat tool for questions. And Amazon is where you'll often find the best prices on cheaper models from Coleman, Eureka, and Alps. Finally, a number of the companies above have modern websites that allow you to access their full collections, including Big Agnes, NEMO, MSR, Kelty, and more.Back to Our Top Tent Brands See Our Backpacking Gear Reviews