River systems throughout the upper Midwest can offer some of the best and most exciting bass fishing in spring. Depending on its fishery, action and trophies can both be possible on a near daily basis.
As most northern rivers are home to a combination of resident and non-resident populations of smallmouths, their fishing success hinges on understanding the timing and progression of their upstream spawning migrations. At least on my rivers of Wisconsin, they'll first need to migrate between their downstream overwintering flowage and upstream river to make any productive spring fishing happen. Additionally, a few more other important variables must be given consideration as well.
Timing the Upstream Migrations
On many river systems throughout Wisconsin, a small percentile of their populations is sedentary year round residents, while a majority is non-resident and nomadic, traveling long distance for overwintering and spawning between downstream flowages and their upstream river pools. Every spring, the same fish return upstream after ice-out, and as dictated by current discharge rates, and optimal water temperature.
Riverine smallmouth bass are more migratory than anglers and fisheries biologists believe them to be. Although their seasonal movements are of interest to fishermen, biologists haven't yet calculated how far smallmouths would migrate without dams. Some studies by the American Fisheries Society suggest that "Northern reaches of smallmouth bass range exhibit long distance migrations, upwards of 25 to 60 miles in length due to severe winters and extensive high water."
One of the greatest challenges to achieving river fishing success is the fact smallmouths aren't populated everywhere in river systems. They migrate every season, and rarely hold in one place.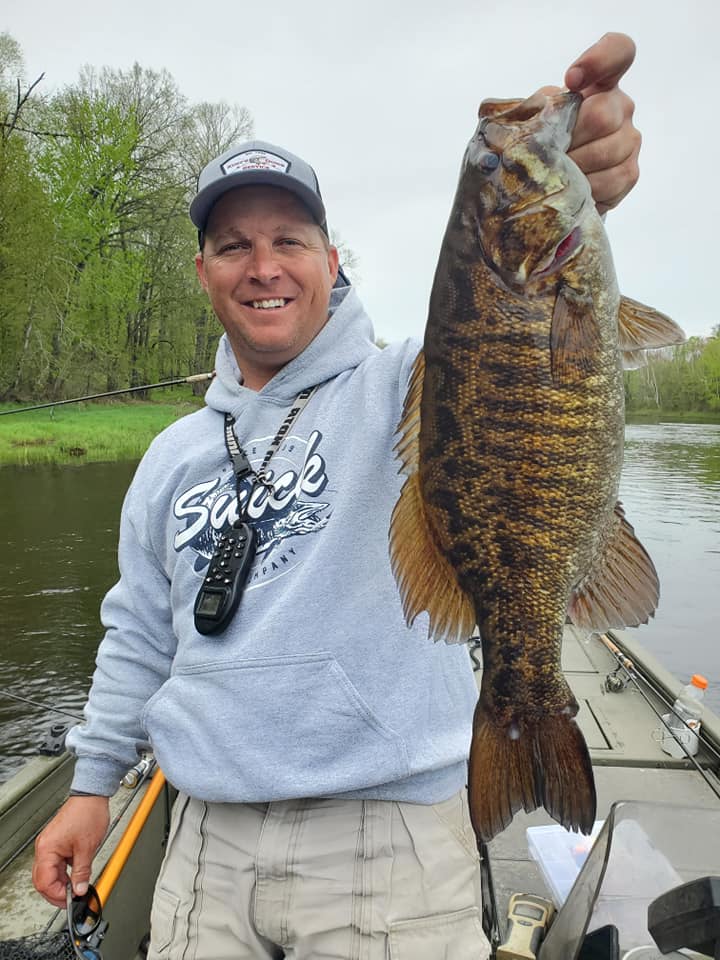 The Wisconsin River is ready for bass fishing as soon as the ice flows melt away in April, and bass migrate from their wintering holes into the main stems of the river for feeding followed by spawning. Well-known Wausau, WI region guide, Kurt Schultz has also carefully observed and studied river migrations – (715) 571-7132 www.kurtsguiding.net
According to Schultz, every pool of this river behaves differently. "The smallmouth bass spawn, like most other river species, is different in every pool of the Wisconsin River," Schultz says. "I've observed the spawning period start as early as mid April, and some years it doesn't happen until late May or early June," he adds. "It all has to do with climates, weather patterns, stream flow rates, and water temperatures," he concludes.
Schultz, who guides on the river from the Tomahawk to Wausau pools, follows a springtime biologic calendar, and applies it for his decision-making and execution. Each spring season differs, thus the key to any spring smallmouth movement and the trigger for spawning all correlates to the ice-out schedule and climbing water temperatures.
During our early season floats, water temperatures must be optimal. They'll single-handedly influence a river migration in spring. 40 degree range, it's too cold. Nothing but spawning walleyes and post-spawn northern pike are in the flow. At 48 to 52, we'll finally find some smallmouth success, but only from isolated staging sites. Good luck ever locating them as 99% of the river will be vacant.
In this case, you must seek staging pools.
Locate Staging Pools
The month of May is prime time for a mega fish. Water temperatures single-handedly influence upstream river migrations. 51 to 55 degree water temperatures will usually trigger a major bite. During spring floats, majority of the smallmouths will be concentrated in only a few locations, associating to larger pools and staging sites with depths greater than the rest of river. They will predictably hold in these pools until water temperatures climb further towards 60, prompting them to continue migrating upstream to their optimal and annually-visited spawning grounds.
Typically, smallmouths migrate several miles upstream from their flowages located far downriver. Mid-40's water temperatures trigger the movement. Most of these runs are on average 10 to 20 miles in length. On most mid-May floats, I seek out staging pools where we run into huge concentrations of smallmouths. Fish gather and hold until warming water temperatures and currents dictate their next progression further upstream, where they'll disperse throughout the system and infiltrate further up river to feed, then spawn behind every available current break & boulder, log jam, sandy bottom undercut bank, and near-shore and main stem eddy.
Once smallmouths resume migration and disperse throughout the system, every current break will become a casting target. River spawning requires ideal water level as nests can be best-protected near shore and in current breaks. The same adult fish we catch return to the same locations every spring. The same nesting sites and leftover nests of the previous year get re-used by smallmouths too.
In the event much of the river is still devoid of smallmouths, continue further downstream until you reach what could be a staging pool. It'll be loaded.
I'm convinced the staging pools I fish congregate the same individual fish every spring to host their spawn.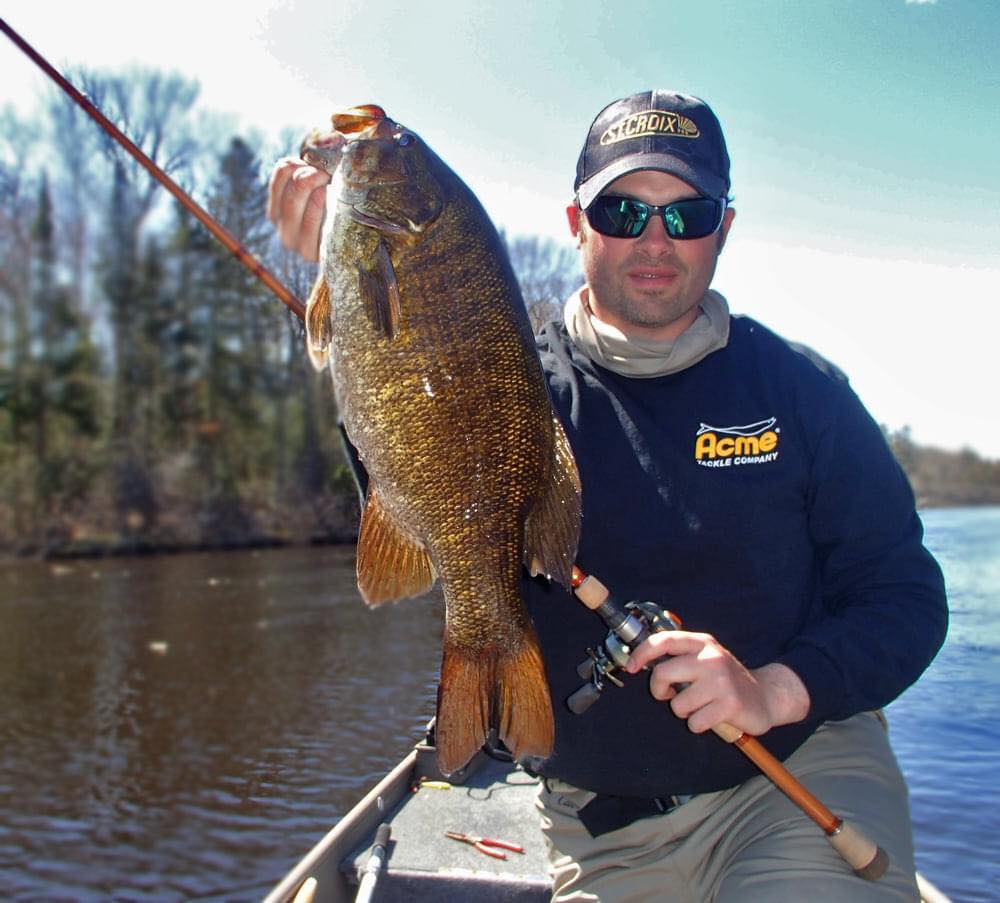 The Strike Zone
The strike zone is larger and wider on river fisheries in comparison to that of lake fisheries. Always on the move, river smallmouths readily chase and fly in for baits – if they're seen.
Environmental conditions have a dramatic influence on fish behaviors and feeding habits. On river systems, warming water temperatures, and the stability of current and water clarity are two of the most important factors in shaping the strike zone.
Good anglers will experiment with size, speed, color and action of baits to match the fish's present feeding mood. In spring, we often like to cover water and fish with baits that provide a lot of hang time – this enables smallmouths to effectively catch up to it and strike, at least the specimens who are committed to feeding.
Suspending jerkbaits and weightless Texas-rigged fluke styled minnows are two of my all-time favorites for river smallmouths. The latter being the better option due to avoiding snags, and its abilities to cleanly fish through all types of cover and river obstructions.
In river systems, the fluke minnow evolves into a glide bait. The push and glide from current will do most of the work for you.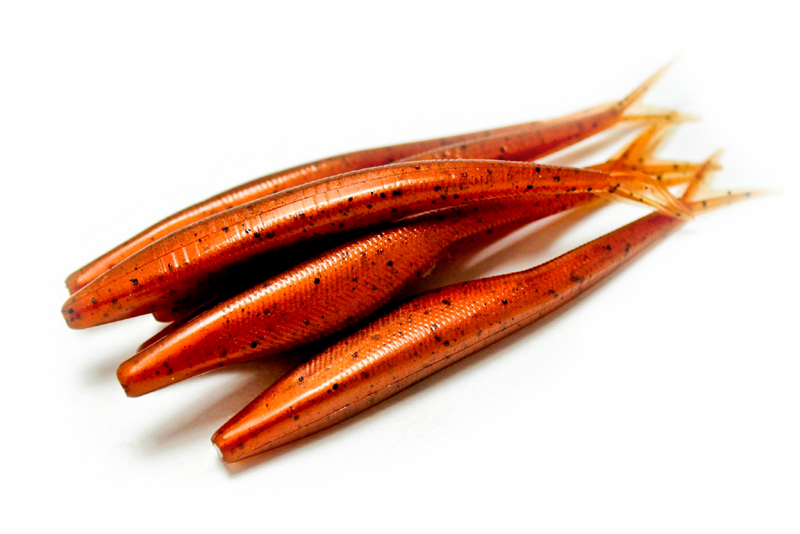 Crankbaits Rule
When water temperatures are still in the 50's, smallmouths will pursue lures with considerable interest. Crankbaits are my fish-finders.
Crankbaits in craw pattern are deadly in these spring schooling and staging situations. On the river holes, shallow divers such as rusty crawdad Rapala DT 4's are best with a medium-steady retrieve. Balsa isn't the most durable crankbait body material for river fishing and will not hold-up to the abuse from rocks and boulders, but it's the most effective.
Likewise, squarebill crankbaits in craw patterns (whichever brand you prefer) also generate considerable fish interest.
Cast crankbaits upstream and horizontally through holes. As you dive deep into undercurrent benthic zones, and bang away at the terrain of the hard bottom, you'll potentially catch several staging fish holed up together.
On any river system, you will catch the most active fish with crankbaits first. Bites will come quickly, but often dissipate as fish grow conditioned. After one flurry of bites comes and goes, another window might soon take place again a few hours later.
Rod and reel choice is an important player in these fisheries. Hook-sets are near-automatic in current with my medium-moderate St. Croix Legend Glass (LGC72MM). Its S-Glass construction aided with no-stretch 10 pound fluorocarbon line are my tools for the trade.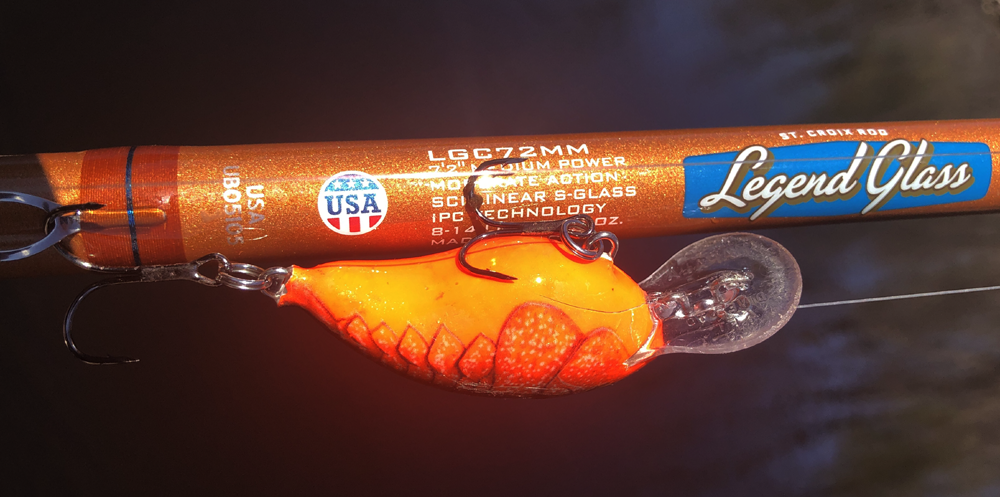 It's Never too Early to Throw a Topwater
Topwaters are understandably neglected and underutilized during the cold-water seasons. River systems and their fisheries are a different animal. On shallower systems, topwaters patiently worked slowly across current breaks will produce in early spring. It's overlooked.
"Most guys will never work a topwater at this time," says Schultz. Every season, some of Schultz's biggest fish are enticed by topwaters worked slower and more methodically when water temperatures are still in the 40's.
We've done particularly well with Rapala X-Rap Pops. Popper style baits that allow for pauses and breaks in between are recommended. Remember, the colder the water the longer the pause. It's a deadly tactic through near-shore eddies and quiet slack-water pools.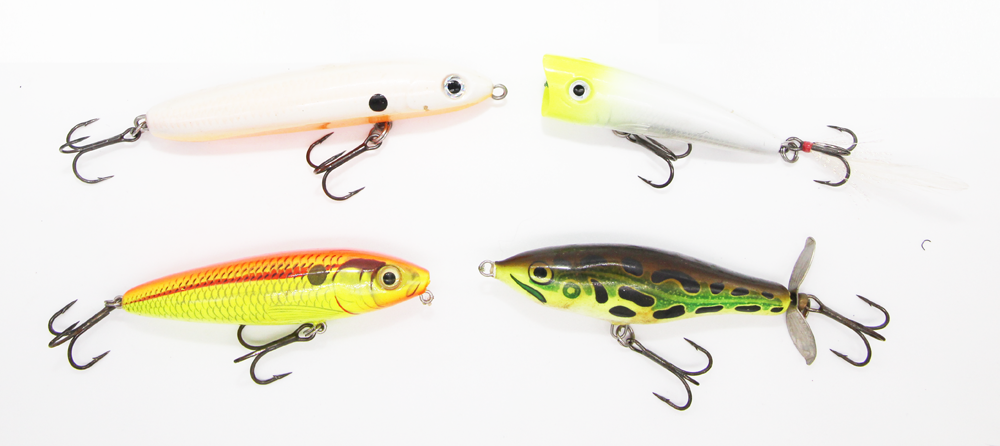 Each river system has its own personality, intricacies, and functions in which how its fish species use the system. Not every river behaves the same. No matter the river system, the most important lesson I will give you is river smallmouths are always on the move. They never hold to structure and spots like lake fish do. And every day on flowing waters is a different story, inviting new strategies.
Schultz admits that if you are new to the Wisconsin River, your first few outings may be trying times. "Every minute you spend on the river, whether catching bass or simply navigating it, you should be learning things," he says. What sets Schultz apart from most river anglers is his ability to process information, and retain the knowledge learned from over 20 years of river fishing experience. "I have become a great river angler because of all the times I've spent on this water, catching nothing," he says. When Schultz catches fish, he analyzes how it was caught, and why it struck his lure. It enables him to figure out their patterns, and find their locations.
Rivers are my favorite destinations in spring. I'm confident these insights will help shape and influence the ways and strategies in which you approach them for smallmouths too.
Andrew Ragas splits time between the Chicago area and Wisconsin's Northwoods. Based in Minocqua, WI, he specializes in trophy bass fishing and offers guided trips from May thru October. While big bass is the passion, he dabbles in multi-species as well. He may be visited online at www.northwoodsbass.com