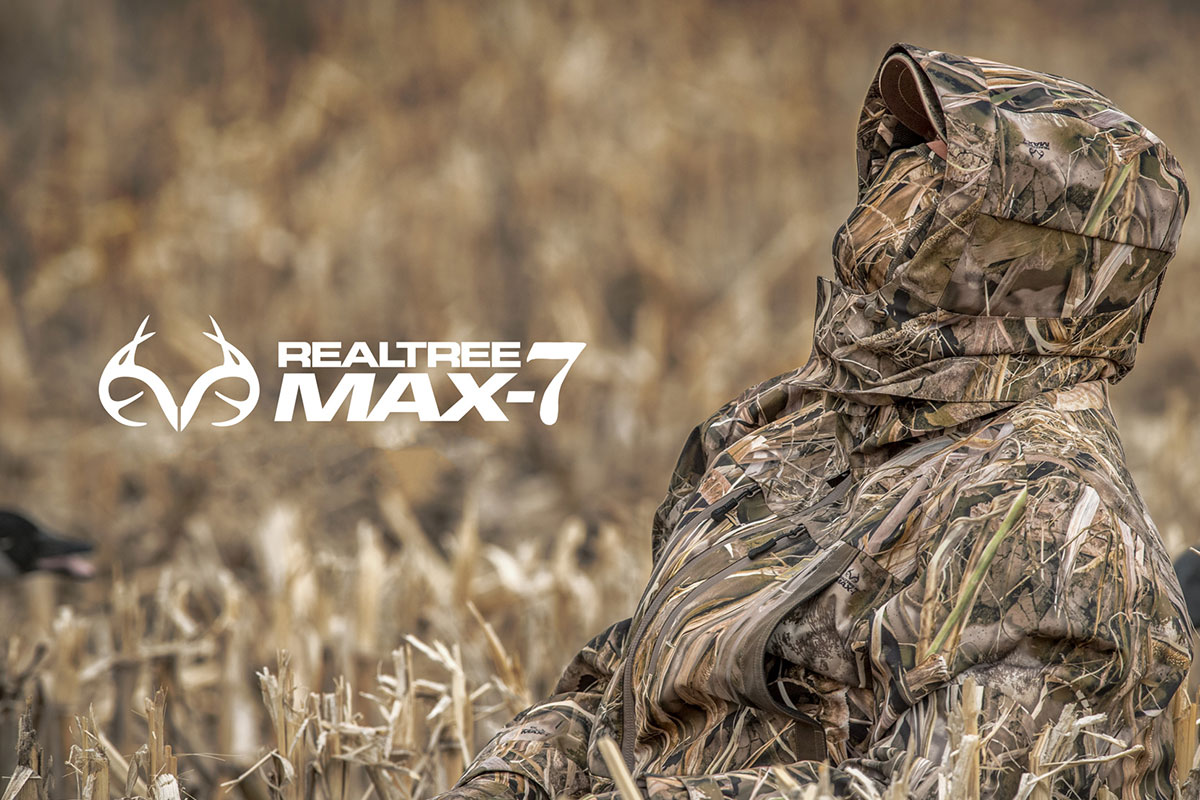 We are excited to announce that TWN Industries has launched Realtree MAX-7® Water Transfer Printing film. Realtree MAX-7 is a state-of-the-art waterfowl camouflage pattern and is a "must-have" for waterfowl hunters. The improved design offers a greater competitive advantage and all-around versatility compared to other waterfowl camouflage patterns on the market. The launch of our Realtree MAX-7 hydrographic film allows our customers to customize shotguns, duck calls, and other hard goods in Realtree MAX-7.
Realtree MAX-7 is available for purchase in 3-meter and 15-meter roll quantities. If you would like to purchase a larger quantity, please contact us directly here: https://watertransferprinting.com/contact/.
Order Realtree MAX-7 Hydrographic Film
Realtree MAX-7 Hydrographic Film: Behind the Design
Realtree MAX-7 features photorealistic imagery of common elements that are found in natural waterfowl habitats like reeds, mud, cattails, milo, and corn. Realtree MAX-7 combines these elements in the foreground of the pattern to create shadows and highlights that blend in naturally with your surroundings. A unique characteristic of MAX-7 is the highly detailed background layer that features cracked mud and moss. This background layer unites the pattern and enhances the pattern's concealment capabilities.
Realtree MAX-5 vs Realtree MAX-7
The biggest difference between Max-5 and MAX-7 is where the two are designed to work. MAX-5 was specifically designed to have a slightly darker color pallet to blend in with flooded timber as well as flooded fields. After the release of Max-5, Realtree designed a purpose-built timber pattern called Realtree Timber.
The launch of Realtree Timber allowed the team to create MAX-7 with a focus strictly on more common areas of waterfowl hunting that do not contain a large amount of flooded timber. MAX-7 is a versatile flooded and dry field pattern that is slightly lighter which allows it to blend in more naturally with reeds, dirt, and muddy open water.
What Environments is Realtree MAX-7 Designed For?
The "X" in the Realtree X series of patterns refers to where waterfowl want to land. Birds land for 3 reasons. To rest, eat, or mate. Most waterfowl hunters try and avoid resting spots or "roosts" to keep birds in an area and not overwork or stress them. There are many different sources of food for ducks and geese and these change as weather changes.
From milo to corn, winter wheat to duckweed, peanuts, rice, insects, snails, and even some small fish are all sources of food for waterfowl. In order to conceal yourself, you need to be able to match the environments that house the food source. This includes everything from large lakes for divers, farm ponds, flooded rice fields, dry milo fields, flooded and standing corn, riverbanks, and many other places. MAX-7 was purpose-built for these exact environments.
What Makes Realtree MAX-7 Superior?
Realtree MAX-7 contains elements that match every optimal waterfowl hunting environment. The carefully selected color palette, precise shadowing and contrast, and high-definition imagery make Realtree MAX-7 a top-performing waterfowl camouflage pattern. Realtree MAX-7 is able to morph and blend into almost any waterfowl hunting environment out there.
Find Your "X" with Realtree MAX-7
MAX-7 is built not only for but also by, waterfowl hunters. MAX-7 features versatility, and a broad application regardless of the flyway. Realtree's attention to detail has allowed them to create a waterfowl pattern with unrivaled effectiveness. If you want a pattern that is going to help you MAX out your limit, look no further than Realtree MAX-7!