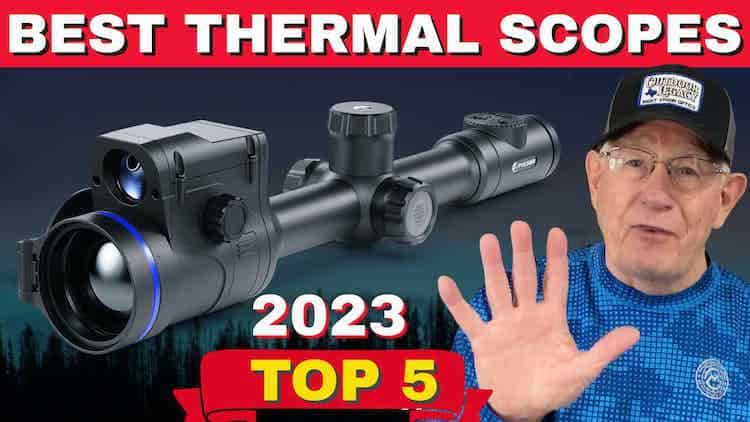 We have some great new Thermal Rifle Scopes in 2023. Here is a list of my Best 5 Thermal Scopes 2023. We are currently in the process of reviewing them and will be posting videos on The Old Deer Hunters Youtube Channel.
ALL Scopes Available at Outdoorlegacygear.com
Pulsar Thermion 2 DUO D XP50 Thermal/Day Scope
Best Thermal/Day Scope – Multi-spectral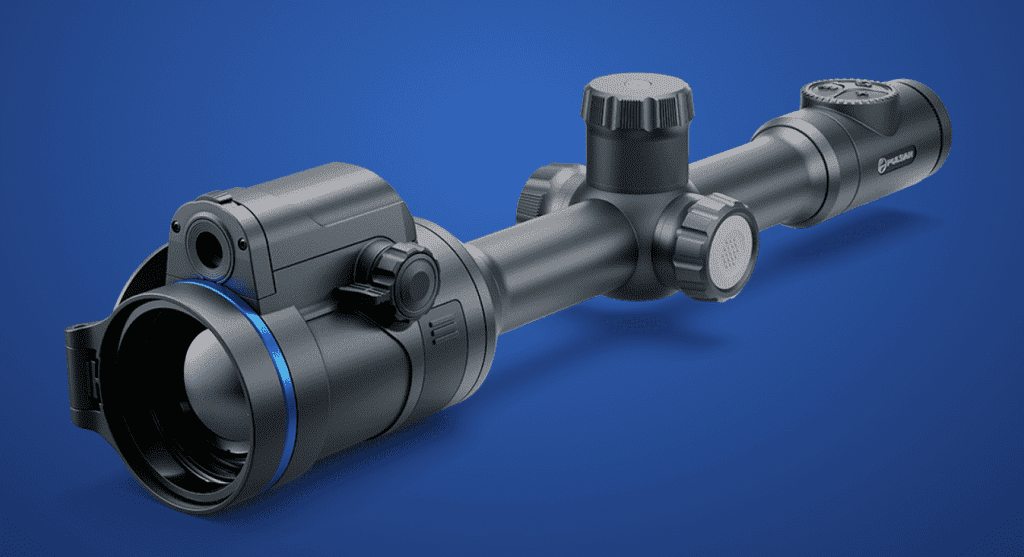 Pulsar Night Vision has release the Pulsar Thermion 2 Duo DXP50, the first multi spectral hunting riflescope. It combines thermal imaging with of full-colour daytime optics to provide the hunter with a true night or day hunting scope.
Thermal Image for Night Hunting – Full Color Digital Image for Day Hunting
The Pulsar Thermion 2 Duo DXP50 is based on the Thermion 2 XP50 Pro, plus a 4k full-color channel for daytime hunting.
The Thermal can be use in darkness, fog or rain, and the 4k resolution digital camera gives you a clear, full color image during the day. Plus you can record your hunts.It requires only one click of a button to switch between the two channels – thermal and daytime digital. It's simple, fast and convenient.
Using the Thermion Duo DXP50 as a daytime riflescope is simple and easy as the lens does not require focusing. The daytime digital channel gives you a focused image at any range.
There is an equal field of view for both thermal and digital channels. You can easily switch between thermal and digital without compromising focus on the observed object and clearly identify your target any time or any weather condition.
The new riflescope is equipped with a high-sensitivity European-made Lynred sensor with < 25 mK NETD which unprecedented heat separation when observing in low temperature contrast conditions such as rain or fog.
The 640×480 pixel resolution ensures exemplary detail and identification of the target and the surrounding landscape. The size of the sensor allows for a wide field of view for comfortable and informative observation of both static and dynamic scenes.
Just like the Thermion 2 LRF, the Thermion Duo DXP50 features high-precision ambidextrous focusing knobs. They now come with a fin lever, which perfectly does the job for precise focusing of the thermal channel. Positioned on both sides of the scope, the knobs make this device comfortable for both left- and right-handed users.
High-definition digital zoom allows the hunter to zoom-in with up to eight times magnification without loosing image quality—ideal for long-distance shooting. One of the Best 5 Thermal Scopes 2023.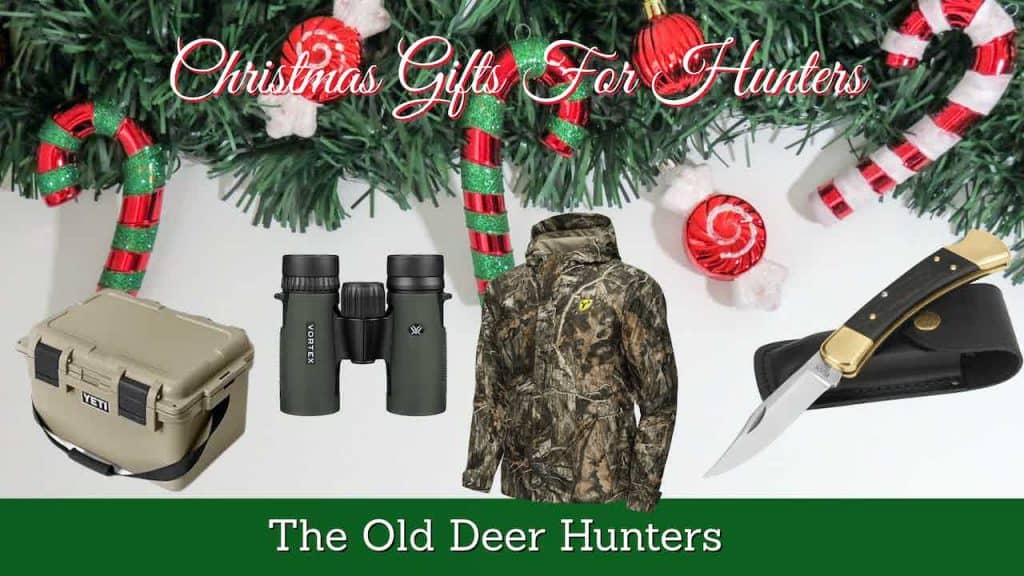 See our Christmas Gifts Suggestions For Hunters
Pulsar Thermion 2 LRF XG50 Thermal Scope
Best ALL PURPOSE Thermal Scope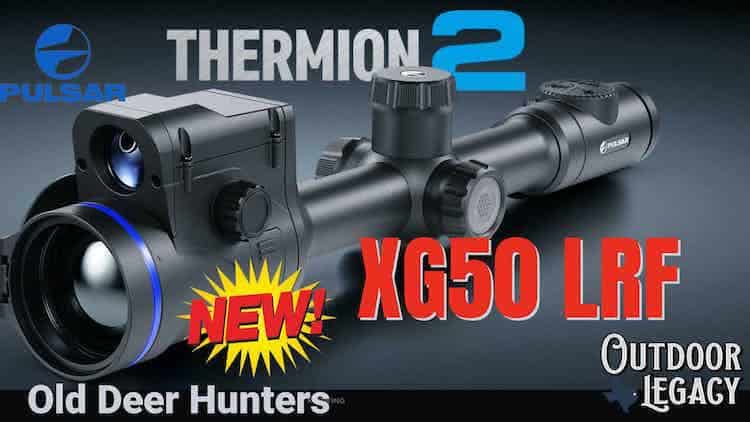 The 2023 Pulsar Thermion 2 LRF XG50 is a new thermal rifle scope with a lot of improvements over the original Thermion XG50 introduced a couple of years ago. It has a new thermal sensor, Laser Range Finding (LRF) capability, magnification of 3X-24X and is priced at $6000.
The Thermion 2 LRF XG50 has a new sensor for improved image quality and overall performance. The original XG50 used a BAE sensor, but it did not quite live up to normal Pulsar performance standards.
Fast forward to 2023 and Pulsar has upgraded from the Thermion XG50 to the Thermion 2 series. The Pulsar Thermion 2 LRF XG50 now has a new 12-micron Lynred thermal sensor for improved image quality and overall performance. Plus, it now has laser range finding capability and Stream Vision Ballistics software (coming soon) that actually plots the aiming point for the target. (more about that later).
The combination of LRF and 3X base magnification make this scope ideal for coyote hunters who have to often deal with longer shots than hog hunters. It is also great for hog hunters because the field of view is 46 feet wide at 100 yard. The LRF is a good option for all hunters because it is so difficult to judge distance at night.
The new Thermion 2 LRF XG50 is a 640×480 high definition thermal rifle scope. The differences between the new Thermion 2 LRF XG50 and the Thermion 2 XP50 Pro are the magnification range and the different types of thermal sensors.
The XP50 Pro has a magnification range of 2-16X with a 17-micoron <25 MKv sensor. The Thermion 2 LRF XG50 has a magnification range of 3-24X with a 12-micron <40 MKv sensor. I compared these scopes side by side, and both have about the best image available in this price range of under $6000.
The Big Question everyone has "Is the XG50 image quality as good as the XP50?"
The Thermion 2 XP50 Pro has a little better heat separation capability so the image may be a little better in bad weather. The Pulsar Thermion 2 LRF XG50 has a 12-micron sensor that makes the animal appear larger in the screen with more detail. Lets take a look side by side and see how they compare in the video below.
After testing the two scopes side by side, the answer to the Big Question is YES! The image of the LRF XG50 is as good as the XP50 Pro.
The image of the Thermion 2 LRF XG50 is as good or maybe better because you can see more detail of the target animal, and the detail of the background is not bad either. Just look at the video abovw to see for yourself. One may be better than the other in different weather conditions, but on a good thermal night, they are both great. The video shows you a good image, but the image in the scope is even better. You will be very pleased with the image quality.
Hunting With The Thermion 2 LRF XG50 is totally enjoyable. There are no "I wish my scope had…) thoughts going through your mind. I think it has the perfect magnification range, a superior image and with all the features of a Pulsar Thermion 2, you can hardly ask for more. One of the Best 5 Thermal Scopes 2023.
Awesafe Gun Safe, Biometric Gun Safe for Pistols*

Awesafe Single Bedside Gun Safe $65 at AMAZONAwesafe 2-Handgun Bedside Gun Safe $119 at AMAZON
InfiRay Bolt V2 TH50c Thermal Scope
Best Thermal Scope For Coyote Hunting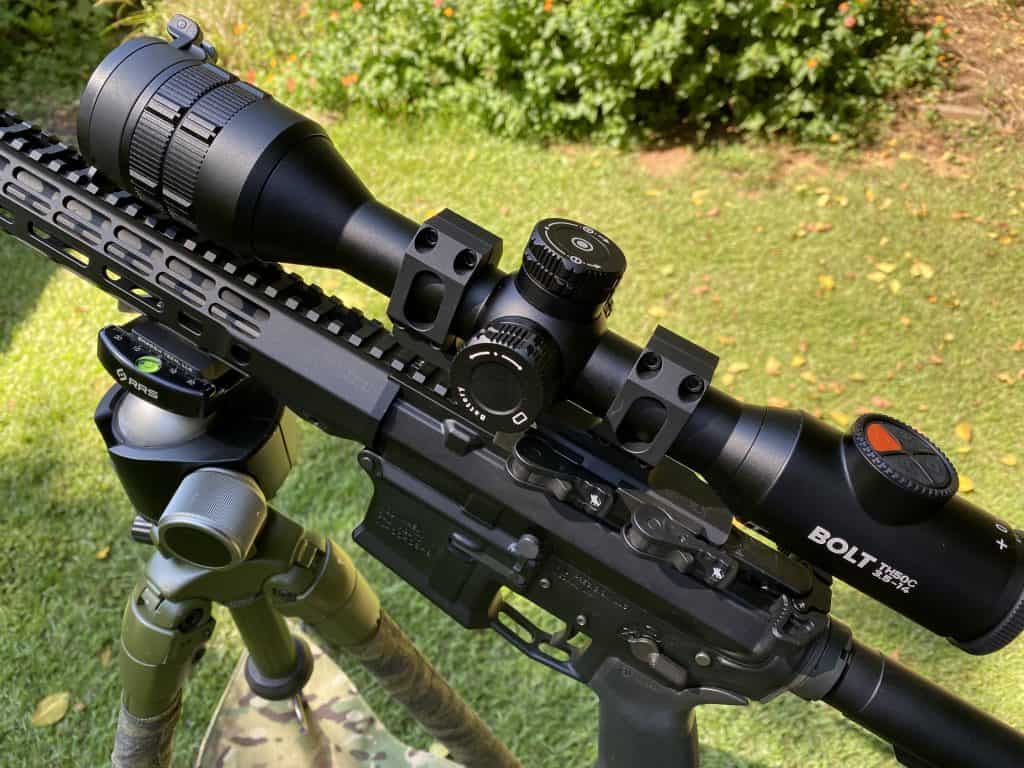 The new InfiRay Bolt TH50c V2 now has audio recording in 2023 to go with one of the best thermal scope images available on the market.
The InfiRay Bolt TH50-C Thermal Riflescope is the latest addition to the Bolt series of thermal rifle scopes and is distributed in the United States by IRay USA. The InfiRay Bolt TH50 3.5x14x5 has a 640×512 12-micron thermal processor, 3.5X base magnification, and a 50mm objective lens. It is a tube-type thermal scope that looks very much like a traditional glass scope which makes it more user-friendly for bolt-action rifles. Of course, it is right at home on a modern sporting rifle as well. The image is displayed on an OLED screen, with a 2560×2560 pixels resolution. It has all the features needed to be a great scope and carries a price tag of $5495.
Features Include:
High-Resolution 640X512 Sensor
Rugged Aircraft Aluminum Housing
Internal Recording
Wifi connectivity with InfiRay Outdoor App
8 Hour internal battery
18500 Removable/Rechargeable Battery Capable (4hrs)
Full Circular Display
Tactile Turret Adjustment
30mm Mounting versatility
Weighs 33 ounces
I was very happy to see InfiRay and IRayUSA offer the new Bolt series of Thermal Rifle Scopes. I have to say I am a fan of the new tube-type thermal rifle scopes. Not only do they work much better on my bolt action Tikka T3, but they are much easier to use. The controls are handier to use in the dark than the older models with just a row of buttons on top. Zooming is done with the top turret knob. The power, record, brightness, and palette buttons are grouped together on top of the eyepiece making it very convenient.
Overall, the InfiRay Bolt TH50-C is one of the best thermal scopes I have used. It has an excellent image, is solidly built, comes with a 5-year warranty, but most of all it is easy to use. If your main hunting interest is coyotes, there is nothing in this price range that will beat the overall capability of this scope. The scope has excellent image quality, the dual battery system gives you 8-10 hours of battery life with inexpensive 18500 backup power in your pocket. Controls that hunters use the most at the tip of your fingers. It may not record audio, but it is a coyote killing machine. One of the Best 5 Thermal Scopes 2023 I have tested.
If you buy this scope, you will not be disappointed. AVAILAVABLE at Outdoorlegacygear.com
Best Compact Thermal LRF Scope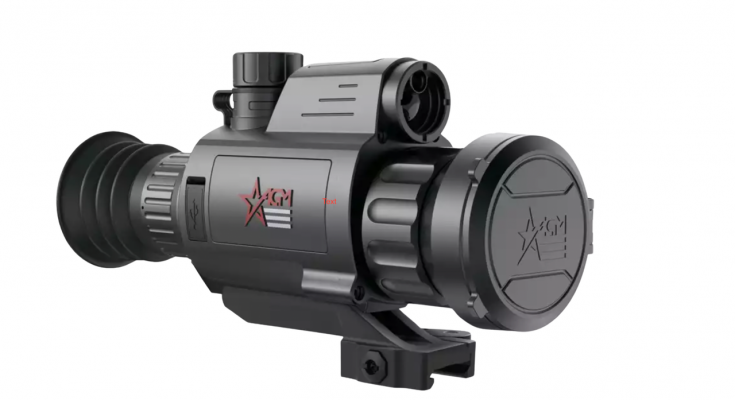 The AGM Varmint LRF TS50-640 2.5-20X Thermal Rifle Scope is AGM's top-of-the-line laser range-finding thermal scope. This new thermal rifle scope gives you a great image and a built-in, easy-to-use Laser Range Finder for under $4995. In addition, this new scope is powered by a single rechargeable 18650 battery that will give you up to 4-6 hours of hunting time on a single charge.
The AGM Varmint TS50-640 2.5-20X LRF is a compact thermal scope with laser range finding capability. It uses a 640×512 resolution, 12-micron thermal processor. It has a base magnification of 2.5X and a digital zoom to 20X. The AGM Varmint LRF TS50-640 2.5-20X has a 1024×768 OLED screen and provides an excellent image day or night.
This optic can be used as a thermal riflescope or handheld monocular and can be applied to scenarios such as patrolling, hunting, and static observation. It is only 8.5 long × 2.6 wide × 4.2 in tall and weighs less than 25 ounces.
The built-in laser range finder of the AGM Varmint LRF is accurate out past 600 yards. It has a small box on the screen that you bracket the target in, then a single push of a button gives you the range that is displayed in the upper right corner. The range has a single or continuous 15-second scanning mode.
One 18650 rechargeable battery gives the device up to 6 hours of continuous operation time on a high-grade fully charged battery. Compared to a similar scope using CR123 batteries, the Varmint's 18650 rechargeable battery will save you about $10 per hunt. Two 18650 batteries are provided with the scope.
An external 5V power bank (battery pack) can be used via a USB to USB-C connector but you probably won't need it if you charge the two supplied batteries before your hunt. The device has 16 Gig's of storage for onboard video recording and image capturing. It does not capture audio. An internal Wi-Fi module for live video streaming and video/image recording via the T-Vision application are included.
Another plus for this thermal riflescope is the mount. It comes from the factory with the excellent American Defense Manufacturing single lever quick detachable mount at no extra charge. This single lever configuration is not only secure but makes reattaching the scope to the rifle quick and easy without a need to re-zero. One of the Best 5 Thermal Scopes 2023.
N-Vision Optics Halo-XRF Thermal Scope
Best Thermal Scope On The Market <$10K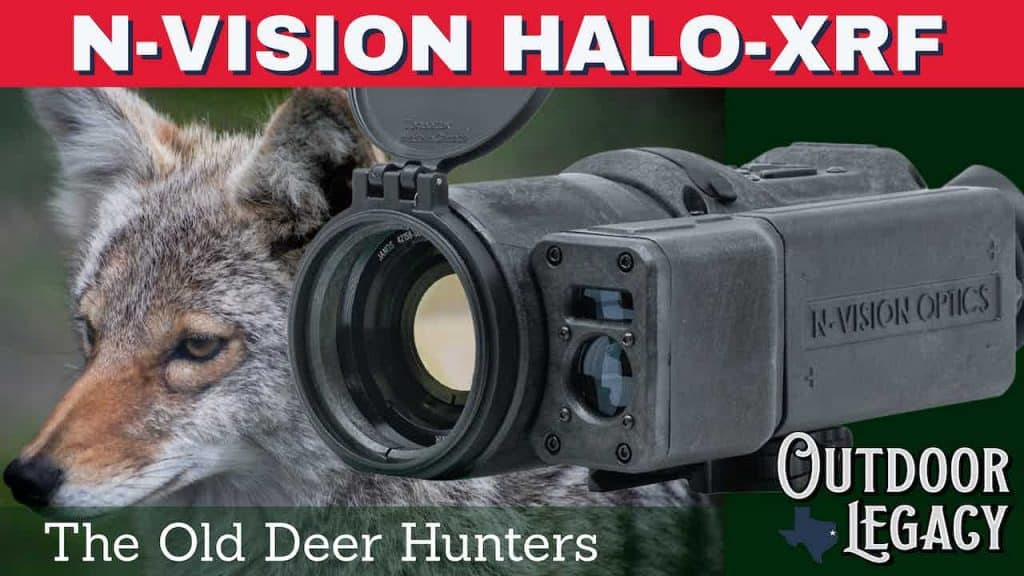 The N-Vision Optics Halo-XRF Thermal Scope is arguably the best thermal scope on the market. It is priced at $9,495.00. Based on the American made BAE thermal core, it has a fantastic image even above the base magnification. It also runs on 18650 batteries and has an ADM QD mount. One of the Best 5 Thermal Scopes 2023 – actually the best of all.
If you can afford this scope, buy it and you will be extremely happy.
See N-Vison Halo XRF Video Review Here
AVAILAVABLE at Outdoorlegacygear.com
Specifications
Calibration (NUC) Manual: Manual
Identification range: 380 yards Display Type: OLED 640×480 B&W Size: 8.9 x 4.1 x 3.4 inches Recognition range: 726 yards
Detection range: 2020 yards
Power: two 18650 batteries
Digital Zoom: 1x/2x/4x/8x
Sensor Pixel Pitch: 12 um
Remote power: USB 5.0V
Resolution: 640 x 480
Magnification: 3.5x
Refresh Rate: 60 Hz
Weight: 41.5 oz
Lens: 50mm F1.1
Focus: Fixed