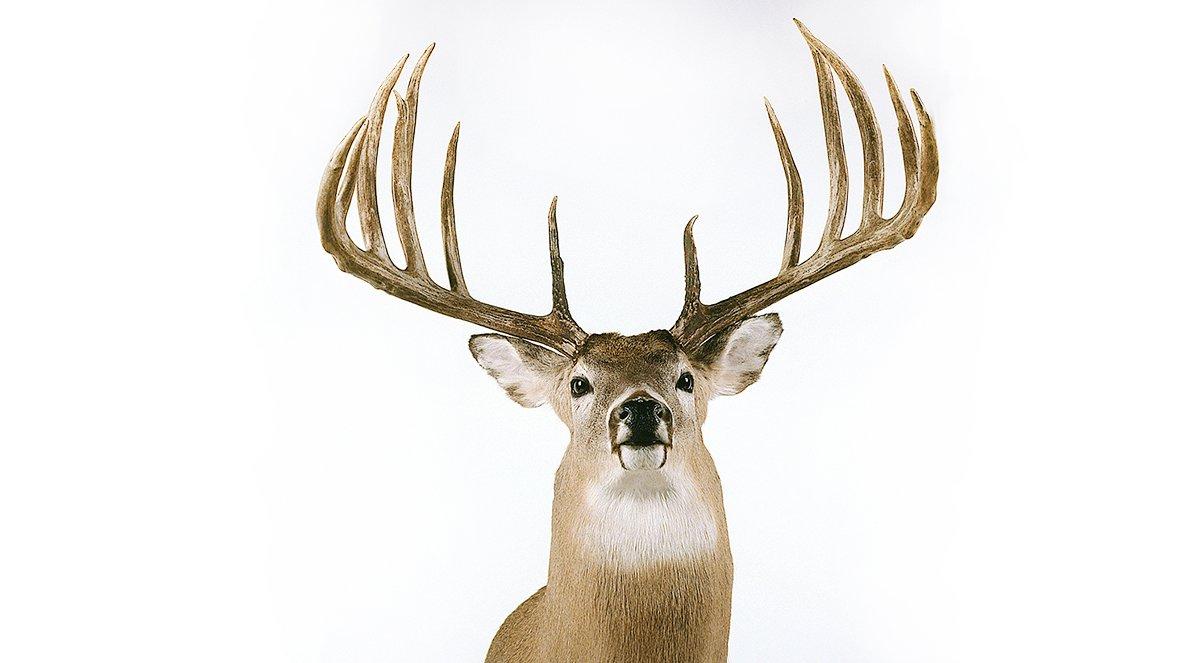 I remember the first time I saw the 14-point, 213 5/8-inch world record B&C buck that Milo Hanson shot in 1993 with his .308 Winchester Model 88. I remember thinking out loud that I had seen whitetail racks with thicker beams and greater inside spreads, but none with the combination of width, height, symmetry and sheer typical whitetail beauty of the Hanson buck.
Its inside spread measures just over 27 inches. Its greatest spread is over 29 inches and six of the 10 main points exceed 11 inches. I remember introducing myself to Milo, getting my picture taken with him and his deer and chatting for what seemed like hours. The whole time we talked, I was staring at his magnificent buck and felt overcome with the sensation that I was in the presence of true greatness. It has been years since Milo harvested his deer and the Hanson buck is still the world record typical white-tailed buck.
Don't Miss: Top 5 Typical Bucks from the Southeast
Taking a Closer Look
The Hanson Buck, because of its wide spread, appears to be a much larger buck, but looks can be deceiving. The right side of its rack scores over 95 inches, the left more than 97. The Hanson buck boasts a 24 4/8-inch tip-to-tip spread. This deer totals 35 3/8 inches on its eight circumference measurements. It has 28-inch main beams. The Hanson Buck has 7 inches of difference from its right side to its left.
Don't Miss: Top 5 Typical Bucks from the Northeast
The Hanson Buck Withstands Challengers
Several times since being crowned the world record, the Hanson buck has been threatened with the prospect of being dethroned. Some of the challengers have been real, some have been fake. Regardless, to date, the Hanson buck has withstood all challenges. The most famous of these challenges is the Mitch Rompola's Friday the 13th buck, which started on, of course, Friday, November 13, 1998. On that date, Mitch Rompola claimed to have harvested a buck, with archery gear, that had a net typical score of 218 5/8 and had an outside spread of 38 inches. Later, he claimed the buck scored 216 5/8.
The Detroit Free Press published an article dated November 20, 1998 just seven days after Rompola supposedly killed his buck. The article headline read, Man Arrows Likely World Record Deer. Within days, every outdoor publication on the planet was attempting to cover the story. Rompola however refused to have his deer officially scored and examined for alterations. The hype lasted several months until in the April 1999 issue of Outdoor Life magazine, an article entitled, World Record or Record Hoax focused on the Rompola buck and cast serious doubt on the Michigan hunter's claim to whitetail fame. Most hunters and antler collectors believe the Rompola Buck was a hoax. In fact, Rompola himself signed an agreement saying he will not claim his deer is a world record. By signing the agreement, Rompola staved off a threatened lawsuit.
Another (more recent) threat was the King buck. However, Boone and Crockett concluded that it would not surpass the current world record Hanson buck. Therefore, it still reigns as the top typical whitetail in the Boone and Crockett books. Click here to see some other bucks that came close.
Editor's note: The article above was reprinted by permission of Whitetail Fanatic magazine and first was published on WhitetailFanatic.com. The full-length, two-part article was featured in the magazine. This was originally published August 7, 2003.
Don't Miss: Top 5 Typical Bucks from the Midwest
Are you a deer hunter wanting to learn how to accomplish your goals? Check out our stories, videos and hard-hitting how-to's on deer hunting.
Follow us on Facebook.