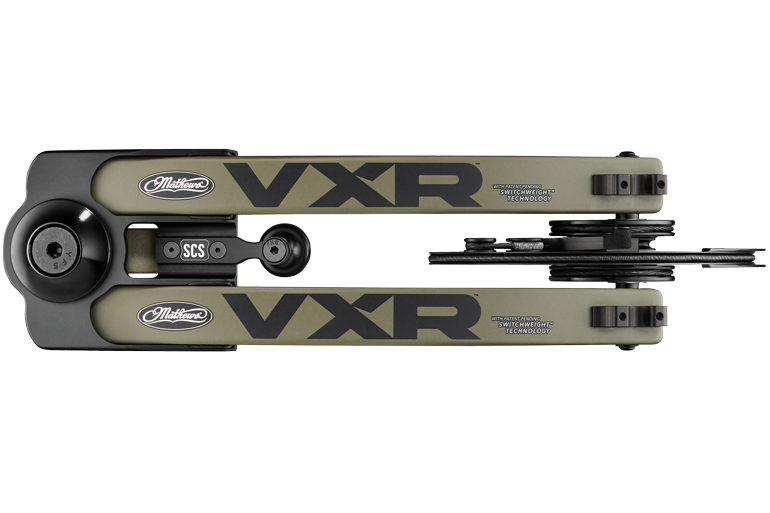 Mathews has long been a leader in the bow arena, with a rich history of innovation across many facets of bow performance and utility. The company's manufacturing capabilities are world-class, and the quality of its rigs is always on point.
It's because Mathews has reached these levels that we expect so much from the company year in and year out. With the introduction of the 2020 VXR Series, which includes the 28 and 31.5 models, it's time to see if Matt McPherson's team has again brought its A-game.
The VXR 31.5, as the name suggests, measures 31.5 inches between the axles and is home to Mathews' new Extended Six-Bridge riser design. Together with 3D Dampening technology, the new riser is designed to shoot like a target bow while remaining maneuverable in the field. VXR cams employ AVS tech and modules that control draw length, letoff and even draw weight. Other features include wide-stance split limbs, a Reverse Assist Roller Guard, Engage Grip and more.
Six-Bridge Riser
The VXR 31.5's Extended Six-Bridge Riser is the longest riser platform Mathews has used on a hunting rig when compared to the axle-to-axle length. This longer design pushes more weight away from the grip to add stability while aiming and shooting, thereby providing the improved balance and accuracy of a longer bow while retaining the maneuverability of a shorter rig. Optimized cutouts and bridging along the riser's length reduce weight while maintaining strength, stiffness and rigidity in critical areas.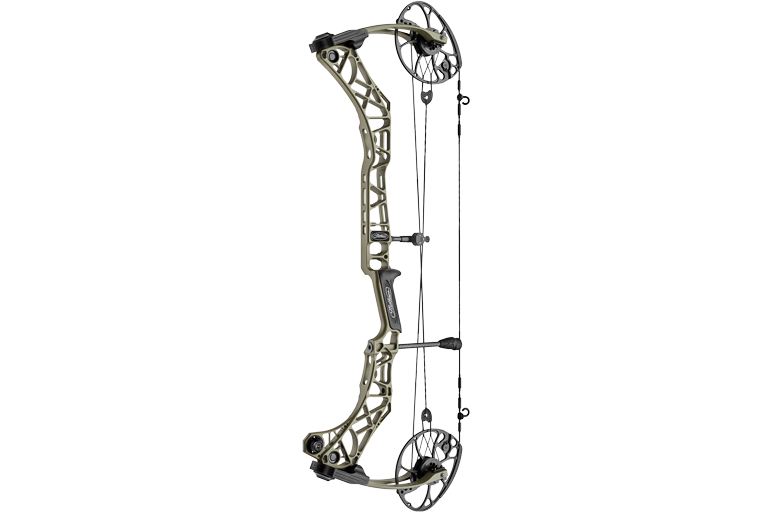 The riser also features Mathews' 3D Damping Technology, which, based on complex computer modeling, reduces vibration from the point of the grip. Mathews found that maximizing the distance of its Enhanced Harmonic Stabilizer from the grip along the X, Y and Z axes gave the best results. The VXR is outfitted with the molded-polymer, one-piece Engage Grip that produces a neutral wrist position and features added thumb clearance, an ergonomic index-finger rest, a textured rear surface and a throat with increased depth.
The riser's rear surface directly behind the traditional arrow-rest mounting hole incorporates a machined dovetail that accepts QAD's Ultra Rest Integrate MX rest. The bow is also compatible with Mathews' Silent Connect System kit, a unique and silent attachment fixture for the company's new bow rope and bow sling.
Many finishes are available, including Realtree Edge and Mathews' new solid Ambush Green (pictured). You can visit mathewsinc.com for a full list.
Switch Cross
Mathews outfits the VXR 31.5 with a cam system built on the popular Crosscentric design, which employs a partially concentric string payout and the company's Advanced Vectoring System Technology. Two small discs on each cam are mounted offset to the axle and attached to the harness cable ends. When the bow is drawn, these discs rotate in a non-concentric path, shifting the force vector to store more energy on the front end of the draw and decrease letoff on the back end.
SwitchWeight modules are a triple threat, as they not only dictate draw length and letoff, but they also have a designated draw weight. Module peak weights are available in 60, 65, 70 and 75 pounds, meaning those weights are max with that module — you still, however, have the limb-bolt adjustment, which decreases the weight approximately 10 pounds from that peak. Draw lengths range from 25.5-30 inches, in half-inch increments, and an 85 percent letoff is standard. An 80 percent letoff is optional.
Completing the Package
The VXR 31.5's short, split limbs and full-capture limb pockets create a wide stance to enhance the torsional rigidity (no twist) needed to manage the large SwitchWeight Crosscentric cams. Limbs reach beyond parallel at full draw to take advantage of the inherent benefits of such a configuration — namely, reduced shock, vibration and noise.
Mathews equips the VXR with the company's Reverse Assist Roller Guard to support cables on the side opposite typical designs, resulting in a smoother draw, reduced torque and increased efficiency.
At the Range
As I have come to expect from Mathews, the VXR 31.5 was flawless in fit, form and function. There was very little report at the shot, with only a small bump in the handle and nearly no detectable vibration. Shot noise followed suit. The bow balanced well at full draw, was steady on target and had a good follow-through. The grip proved to be comfortable and repeatedly seated my hand in the same position. If I could change one thing about the VXR 31.5 while keeping all of its other performance markers the same, it would be to reduce the bow's weight — 4.66 pounds as advertised, 4.65 pounds as tested. The draw cycle was firm but consistent.
The Specs
Manufacturer: Mathews, 608-269-2728; mathewsinc.com
Model: VXR 31.5
Riser: Extended Six-Bridge
Grip: Engage, one-piece
Limbs: Wide base, split
Draw Weights: 60-, 65-, 70- and 75-pounds peak; modular
Draw Lengths: 26.5-31 inches, in half-inch increments; modular
Cam System: Crosscentric Cam with SwitchWeight Technology
Letoff: 80 or 85 percent, modular; 81.4 percent (as tested)
String: Zebra Trophy, 452X, 63.125 inches
Cables (x2): Zebra Trophy, 452X, 30.625 inches; yokes, 12.5 inches
Brace Height: 6 inches
Axle-to-Axle Length: 31.5 inches
Weight: 4.66 pounds (as advertised); 4.65 pounds (as tested)
Finish: Realtree Edge, Ambush Green and many more
Advertised IBO Speed: 343 fps (80 percent letoff)
MSRP: $1,199
Comments: A high-performance, top-quality rig from end to end.