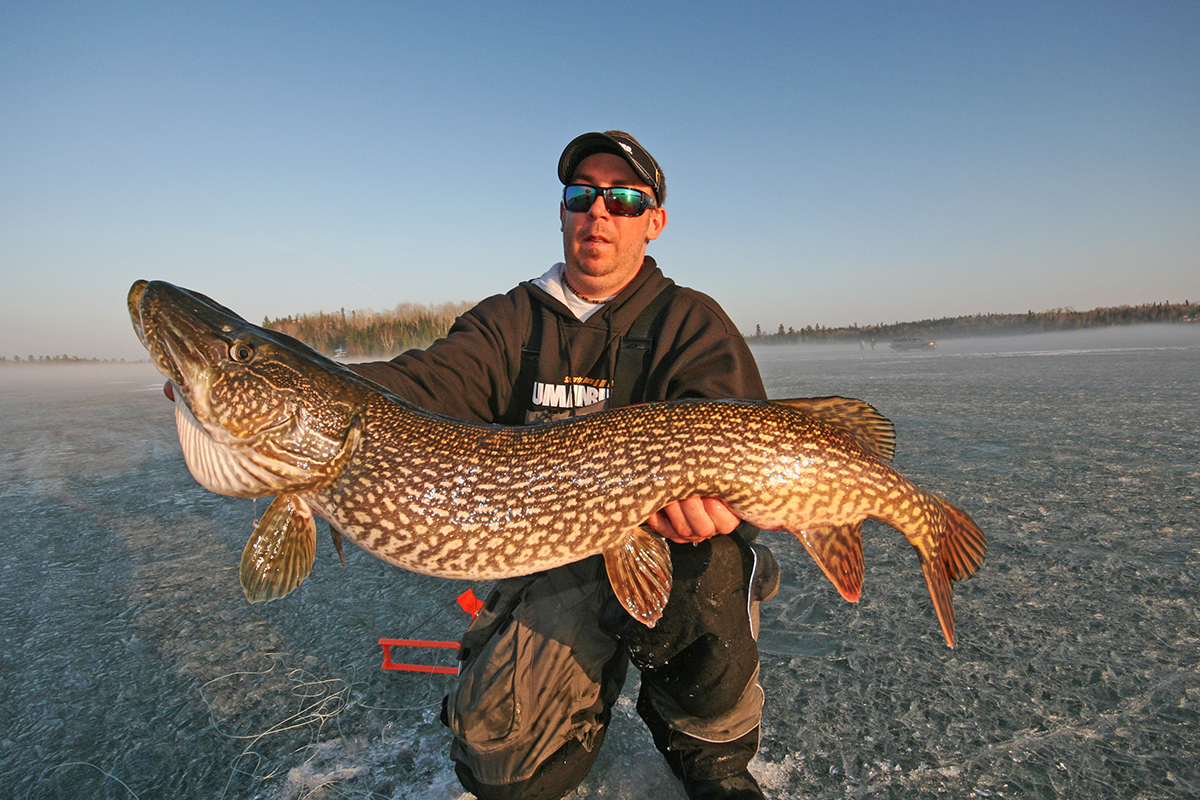 Few things about ice fishing warm you up more than seeing the flag of a tip-up fly and then the spool top spinning rapidly, the sure sign a pike has taken the bait. That scene will make me go from standing still into a full-out run about as fast as if I ran into a rattlesnake in the woods … I'm not a fan of snakes!
Growing up in Ontario's Sunset Country, on the shores of Lake of the Woods, the pike grow large and you just never know what's going to be on the end of the line, it's always exciting.
Where to Catch Pike Through the Ice
Pike fishing in Northwest Ontario means looking for big fish. They're plentiful in many waterbodies and they don't get fished all that much with most anglers focused on catching walleye and lake trout. Pike can be caught throughout the season but if you want to increase your odds at making contact with the highest number of big fish, you want to think late ice.
Pike spawn shortly after ice-out in the back ends of shallow weed-filled bays. Before the ice departs, they stage in front of these spawning areas, feeding and waiting.
On most waters, flats between 8 and 12 feet of water—just out from that first drop-off, are prime locations. Earlier in the winter, pike will start to show up on these same flats but farther out, towards the main basin and in deeper water. We see these locations start kicking out fish in February but the later part of March is prime time.
Are You Using Tip-ups?
It's been well documented through In-Fisherman content over the years that the best way to catch trophy pike through the ice is with a tip-up and a quick-strike rig, tipped with an oversized dead bait, usually a cisco or sucker minnow. Sure, you can catch fish jigging with lures but you won't catch as many, nor the true giants that you'll contact with the dead baits.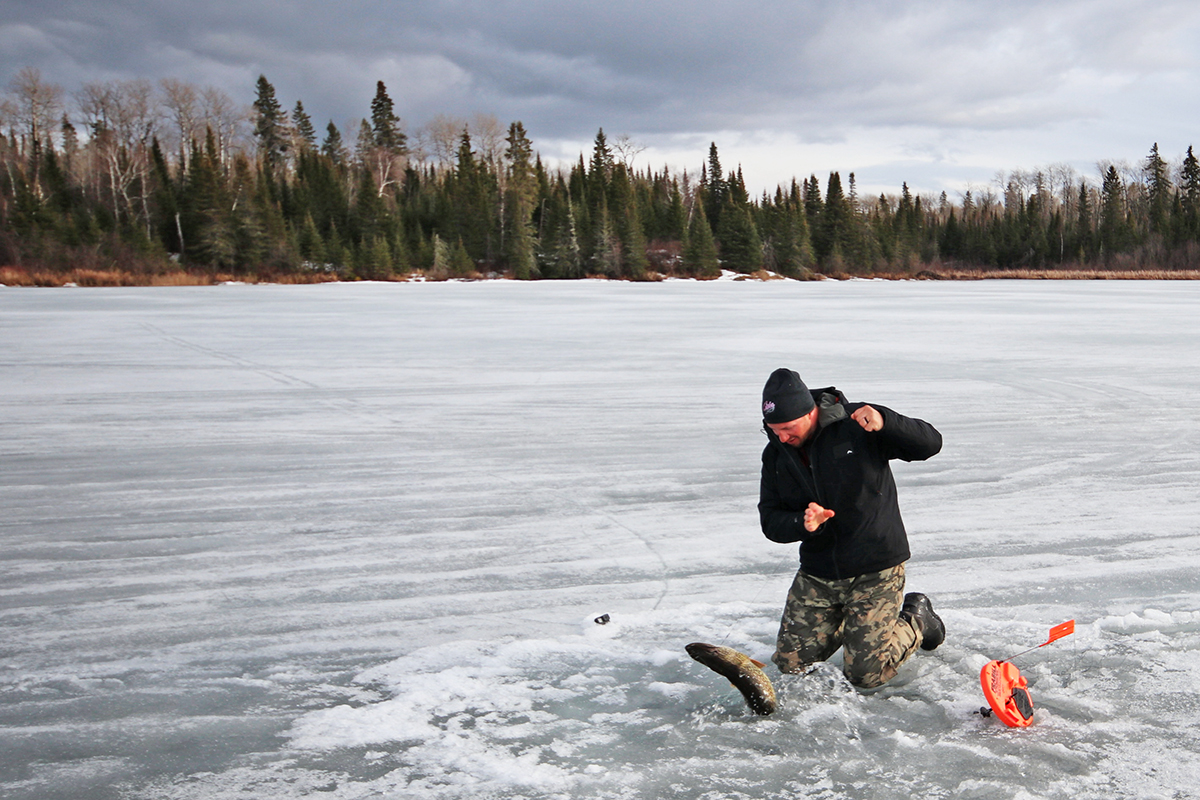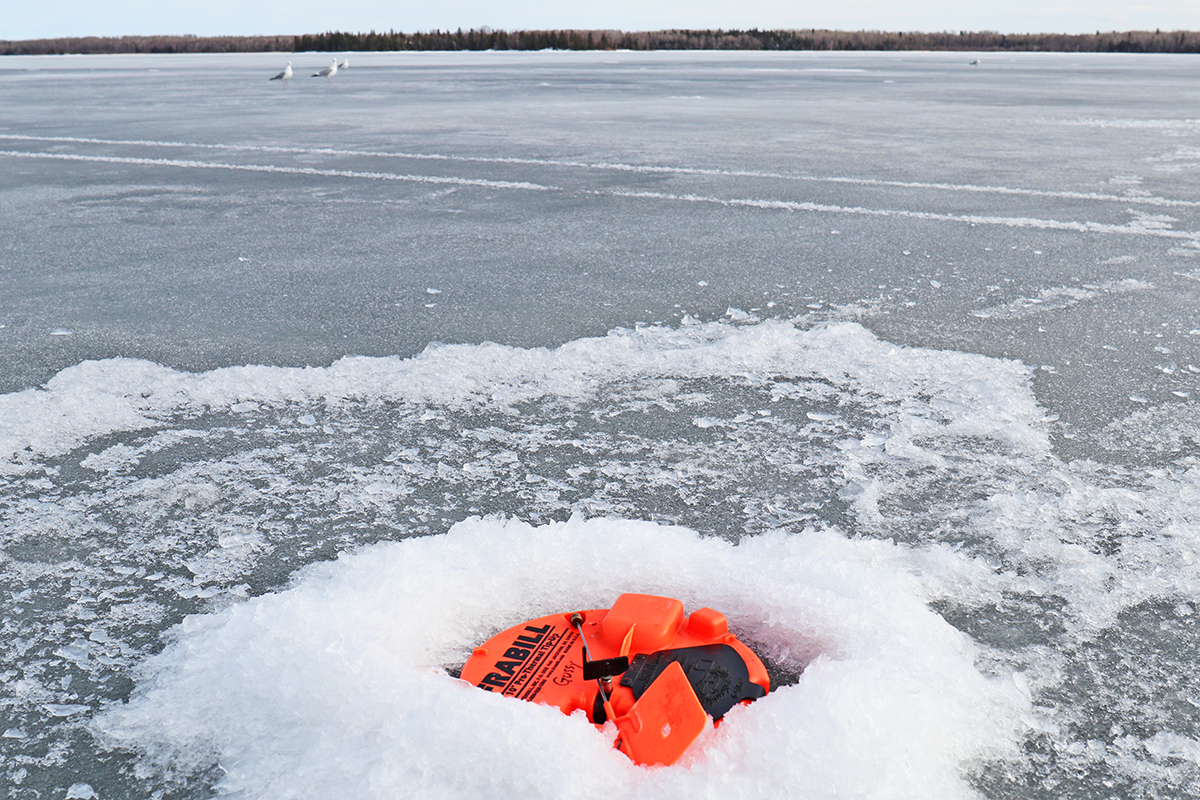 I once interviewed Manitoba angler Aaron Wiebe about ice fishing for pike and he told me that he wouldn't sacrifice a single line to jigging, instead opting to use tip-ups and meat whenever he is chasing pike under the ice.
"We've tried and tried to jig them up and you just won't catch those giants".
Days and days of ice fishing in March have revealed the same scenario for me. Sure, you can catch pike jigging with lures but if you want to catch a big one, listen to what we're telling you here.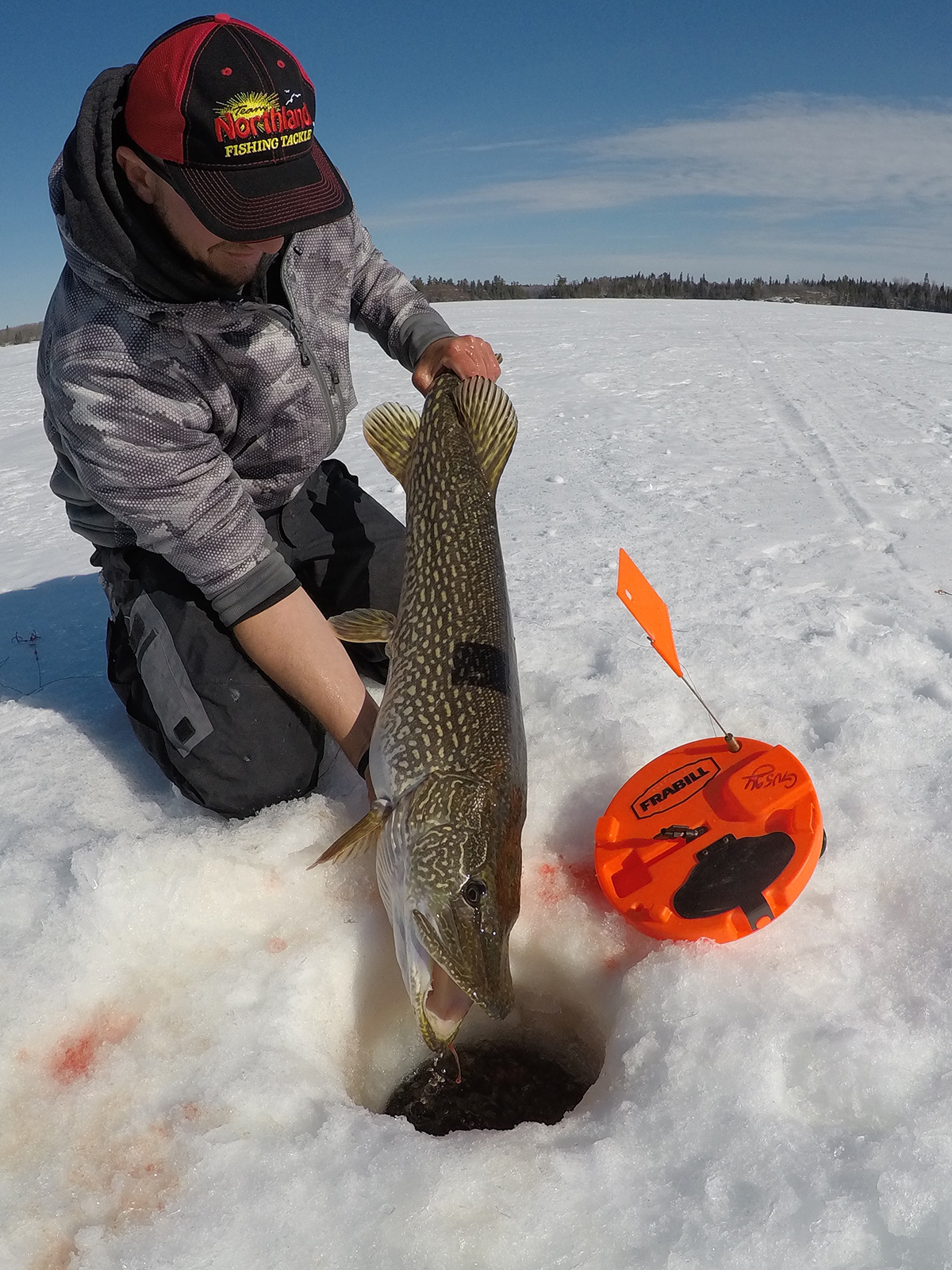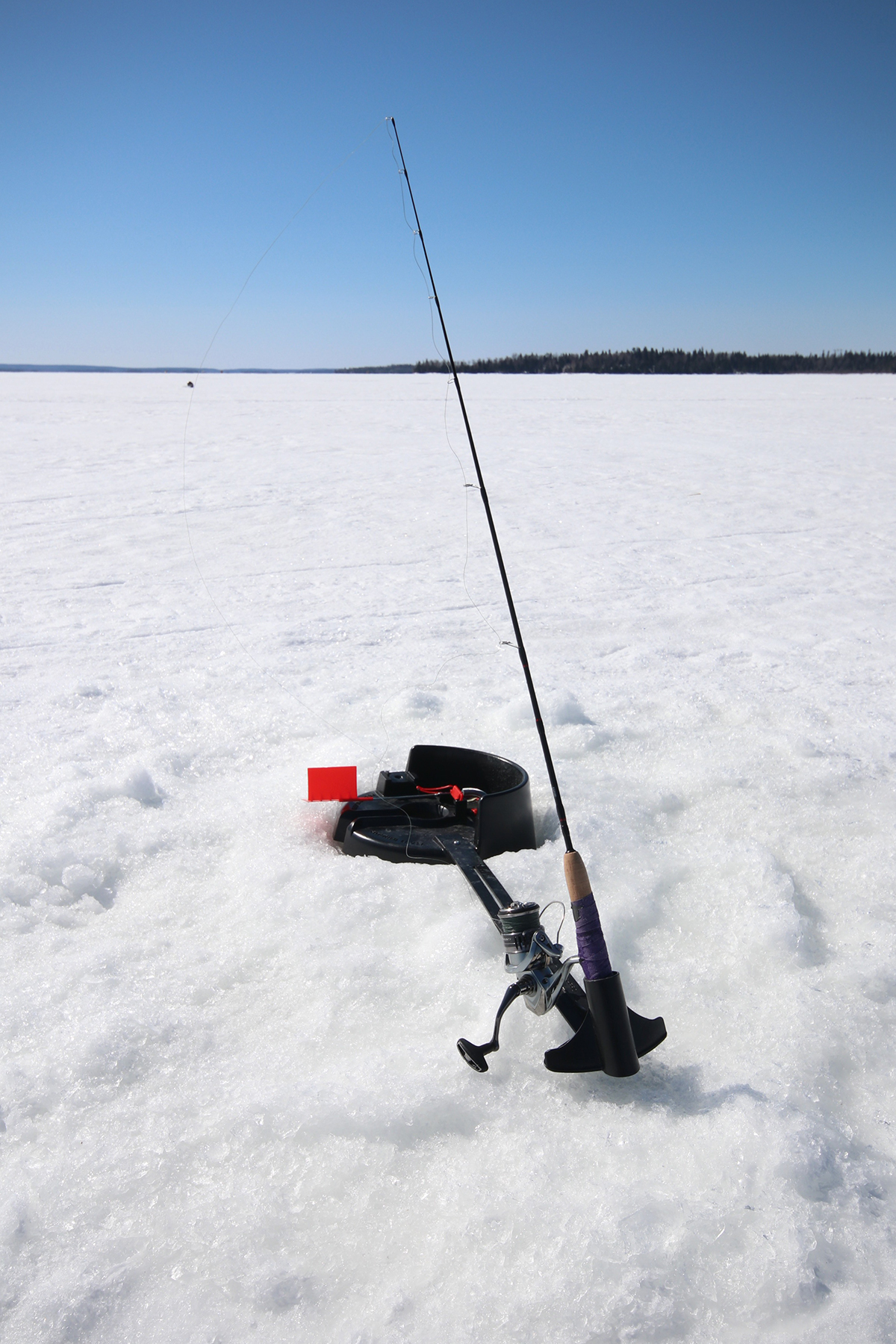 I prefer the disc shaped tip-ups that cover the hole because they slow the freezing over process, and they'll keep blowing snow from piling in the hole. Last year, I got to use an I FISH PRO for the first time, which allows anglers to use a rod and have the same function as a tip-up. If you prefer to fight fish with a rod and reel, this is a cool solution that worked great. There is something about fighting a big pike on a hand line that is exhilarating though.
The Business End
On a tip-up, I like to go with whatever heavy tip-up line I can find. There isn't a need for finesse with this program. Eighty-pound braid works fine as well but caution should be taken when using braid because it can cut your fingers if you happen to get the line wrapped around them while fighting a big fish.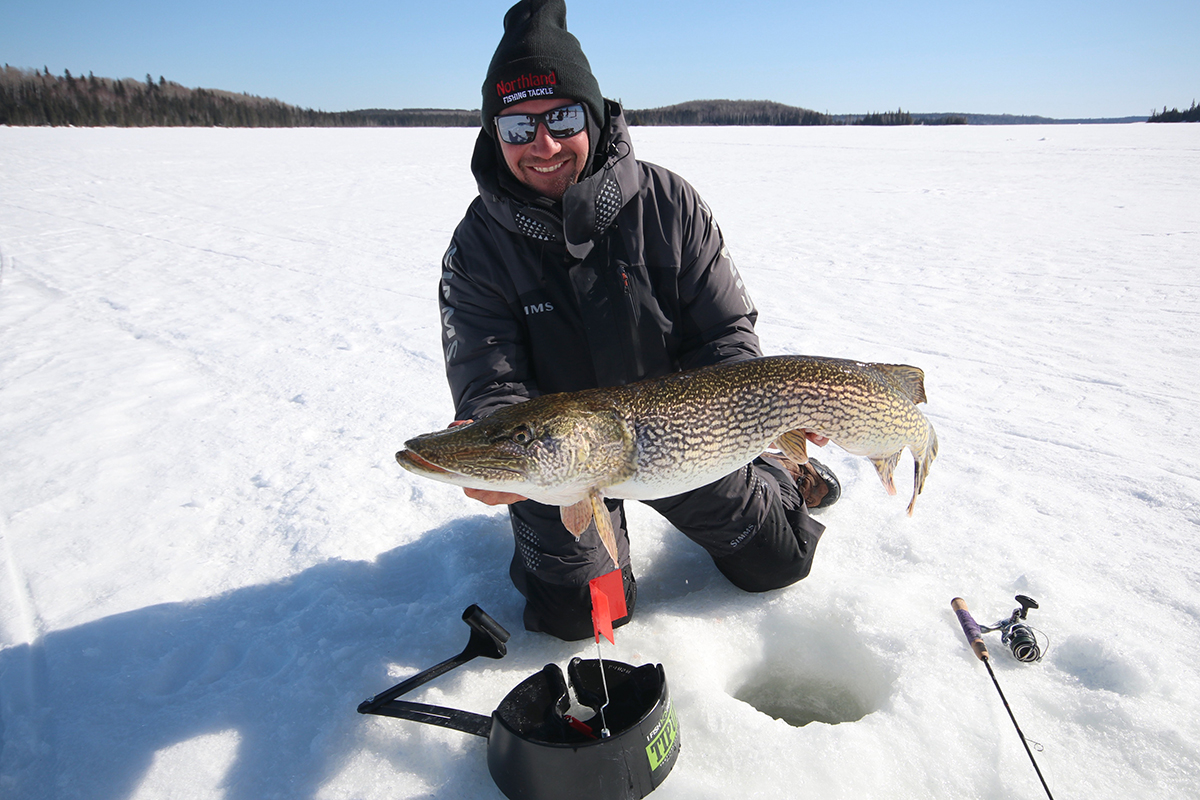 For years I've used the Northland Predator Rig tied directly to the end of my line. It's a hanging style quick-strike rig, meaning one treble hook goes in the head of the bait, the other around the dorsal fin and it will hang in the bait in a natural, horizontal position. In-Fisherman editor Doug Stange has long been a proponent of in-line rigs, where one hook goes in the head, again, one around the dorsal fin, often resulting in your bait pointing down. I have used both and they both work fine.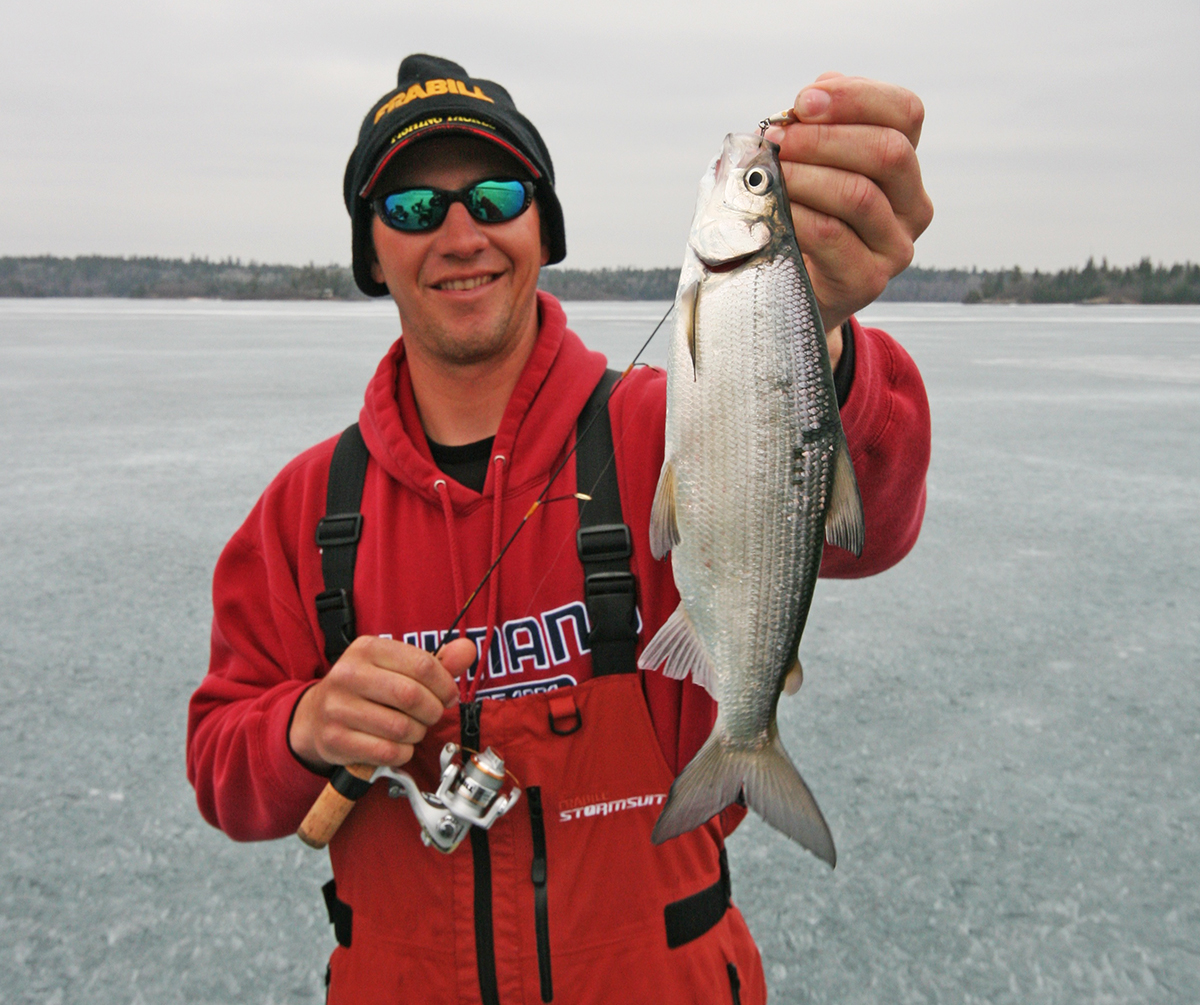 On trips where I've run out of Predator Rigs from catching some many pike, we've made our own in-line rigs with 100-pound Seaguar fluorocarbon and No. 4 Gamakatsu treble hooks, which have performed great. You will go through rigs because there are times when you need to cut hooks or the leaders just get chewed up from their teeth and you need to replace them. I've never had a Predator Rig actually fail.
Just Above The Bottom
The whole system is pretty simple but there is one tip you need to know to get your baits to sink. Take a knife and poke a few holes in the side of the bait, then squeeze all the air out of the air bladder. Thawing the baits at least partially in advance of hitting the ice makes life easier. Just store them in a small cooler and they will be workable.
You can simply add some weight to the baits to get them to sink but I like to get all the air out and they naturally sink at a good rate. If the baits are too heavy they tend to trip the flag, resulting in false alarms.
My routine is always to let the bait hit the bottom, then raise it about a foot. One foot off the bottom is where I always set me baits. We have put Aqua-Vu underwater cameras down to watch the baits in the past and pike always just show up creeping along the bottom. It's interesting when they find the bait, they will get up close to it and watch it from inches away. They'll do this for several minutes, then pounce on the bait with all their power when they actually bite it.
Seasons close for pike in some regions prior to the late season prime-time bite but in Northwest Ontario, the season is open year-round, so we get to enjoy fishing this excellent time of year. Walleye fishing is always really good in March as well.
Come visit us this winter and catch a big pike.