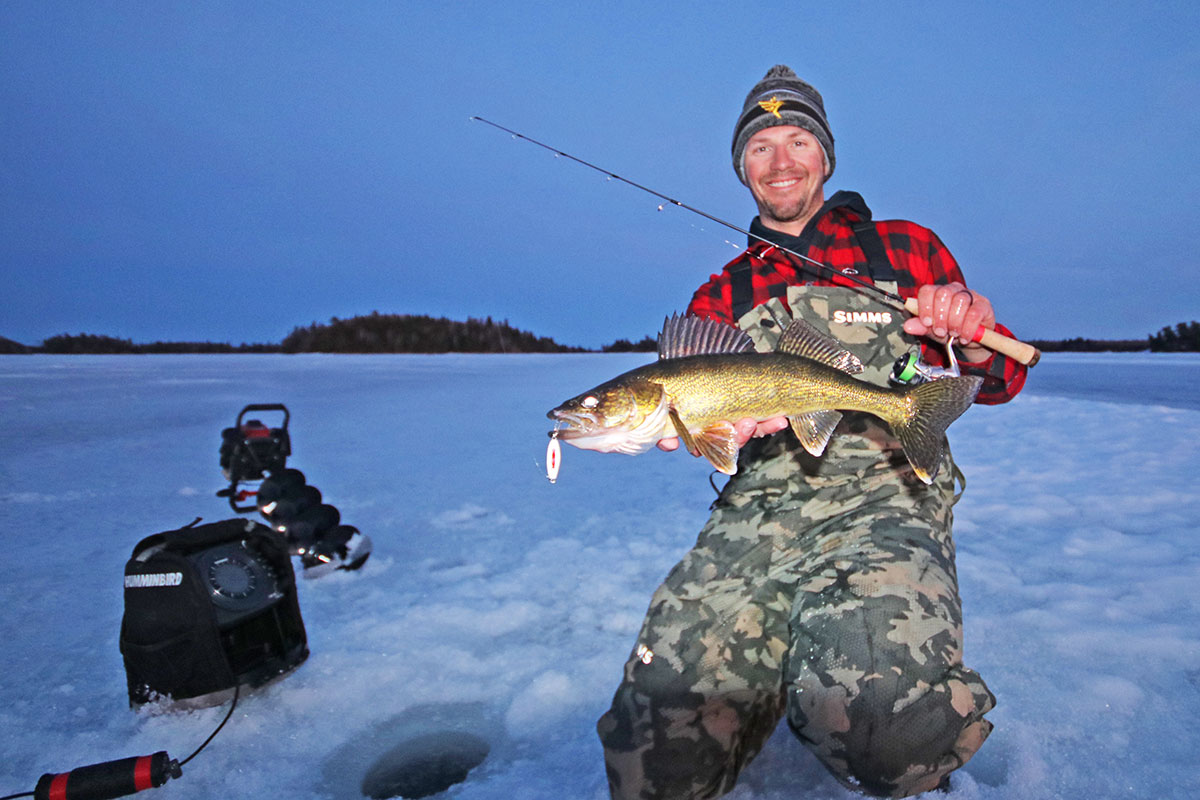 Living in Keewatin, Ontario, Jeff "Gussy" Gustafson has plenty of time to ice fish when he is not travelling the country on the Bassmaster Elite Series. Living just a short snowmobile ride from Lake of the Woods, the hard-water opportunities are endless, and Gussy takes full advantage. He offers guided ice trips all winter and clients have the opportunity to catch trophy-class crappies, lake trout, pike, whitefish, perch, and walleyes.
Walleyes are one of the most targeted species across the Ice Belt, and one of Gussy's favorites to catch. With several walleye-rich bodies of water nearby to explore over the years, the Canadian angler has learned the intricacies of the finicky walleye. Here are and three tips to maximize your success on the ice this winter.
1. Spoon Feed Them
Spoons are a proven favorite of ice anglers and catch a variety of different species. Gussy likes a spoon when targeting walleyes as he can quickly get his bait in the strike zone with a 1/4- to 1/2-ounce bait. Walleyes can be very finicky and having a bait that closely matches the baitfish they are gorging on will increase your chances of getting bites.
"I keep a selection of Northland spoons tied on, usually the Buck-Shot Rattle Spoon that has been around for years. The newer Glo-Shot Spoon is similar in profile but offers a glow chamber instead of a rattle chamber for a different look. Plus, I always tip my spoons with a minnow head."
He utilizes his Humminbird Ice 55 flasher to gauge how fish react to his presentation. If fish shy away, a color swap will usually do the trick. For tannic and stained water, gold- and red-colored spoons can be the most productive. When in clear-water situations, some of the glow-colored baits are his choice.
"Regardless of the color, if I am not marking fish, or can't get them to come in, I like to crash my bait into the bottom a few times to create some disturbance. That commotion will usually call a few fish in closer."
2. Electronics Don't Lie
When it comes to electronics on ice, he isn't shy about the importance of keeping his favorite tool with him at all times. Whether it' s the Humminbird Ice 55 flasher, or the newer Mega Live technology, he would almost rather stay home than to go without.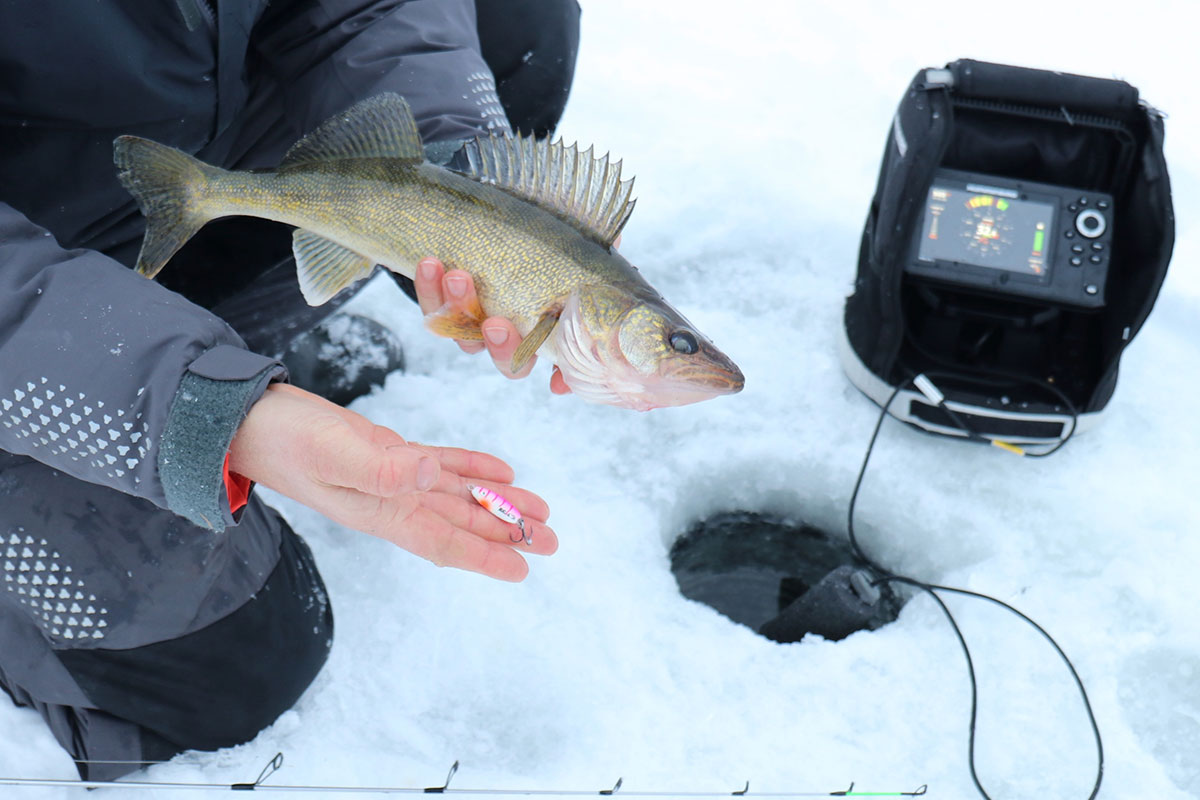 "As far as I'm concerned, some sort of sonar is mandatory for all ice fishing," he said. "To be honest, I would rather sit at home and watch The Bachelor with my wife than go fishing without an ice unit to use—you need something if you want to catch more fish."
The flasher allows him to quickly see if he is on top of fish and be able to quickly move around and cover water. When he locates a walleye, the flasher gives him the ability to present his bait and work the fish in real time or move along to find a different fish willing to bite.
"I'm really big on the 5-minute rule," he said. "If I fish a hole for 5 minutes without seeing a fish, I'm on to the next hole or the next spot. If I mark fish and they don't bite, I need to adjust my presentation – maybe color, bait profile, etc."
One of the keys to keeping the electronics running at peak performance in cold weather is to always have a full charge and a high-quality battery. For long days on the ice, Gussy rigs up a fully charged X2 battery to keep his units powered.
3. Shelter From the Cold
Although he isn't a fan of sitting in a shelter, there are some days when the Frabill is the only way to fish. Gussy is a self-proclaimed hole hopper on ice and believes that's the best approach to catching the most fish. When the weather is cold, rather than staying home, the shelter keeps him on the ice longer.
"Where I live in Canada, we get real winter and many of the days that we choose to go fishing are brutal cold. Fishing in a shelter makes it a lot more enjoyable." He explained.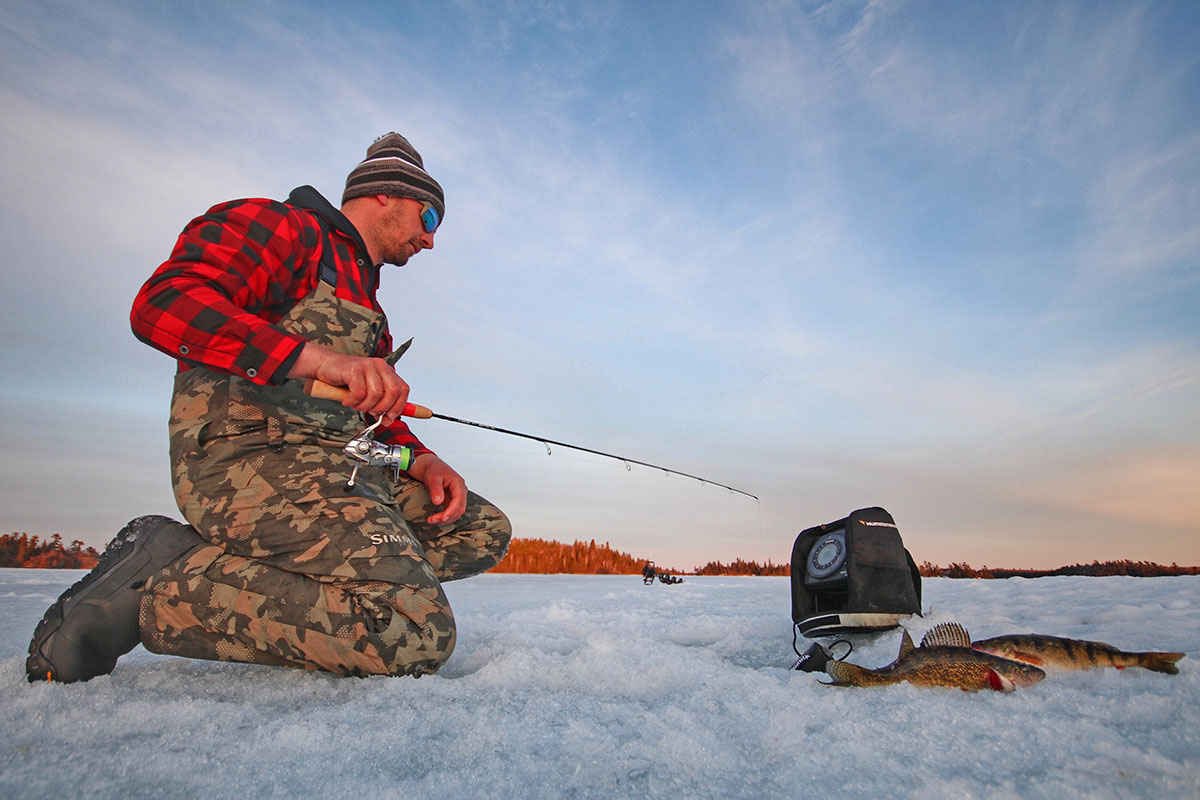 Using a snowmobile to get to and from the lake, he also pulls the flip-over shanty around on the ice behind the snowmobile. By hauling everything in one sled, it keeps him mobile on the ice and allowing for multiple set ups—all the while staying warm and dry in the Frabill shelter.
"The newer insulated models that most companies offer are even better for providing a warm fishing experience," he added. I like to trick my shelter out with some Frabill bar lights and use the Sit-N-Fish buckets to sit on when exploring outside the shelter. The ICE 55 unit fits perfectly inside the Sit-N-Fish bucket while in transport."
Keep it simple on the ice to catch more walleyes this winter.