January 10, 2023 10:23 am
Written by Adam Hogquist
The BWCA is one of my favorite places to explore and fish during winter. It is hard to beat the views, isolation, and experience of an ice-fishing trip to the wilderness, so I spend most of my weekends exploring the lakes the BWCA offers. While there is the opportunity for ice fishing walleye, northern pike, and crappies within the wilderness, the most exhilarating species to fish for, in my opinion, is trout. These energized fish will give you a fight through the ice unmatched by any species within the state. Two different trout species can be widely found throughout the BWCA, which are lake trout and brook trout.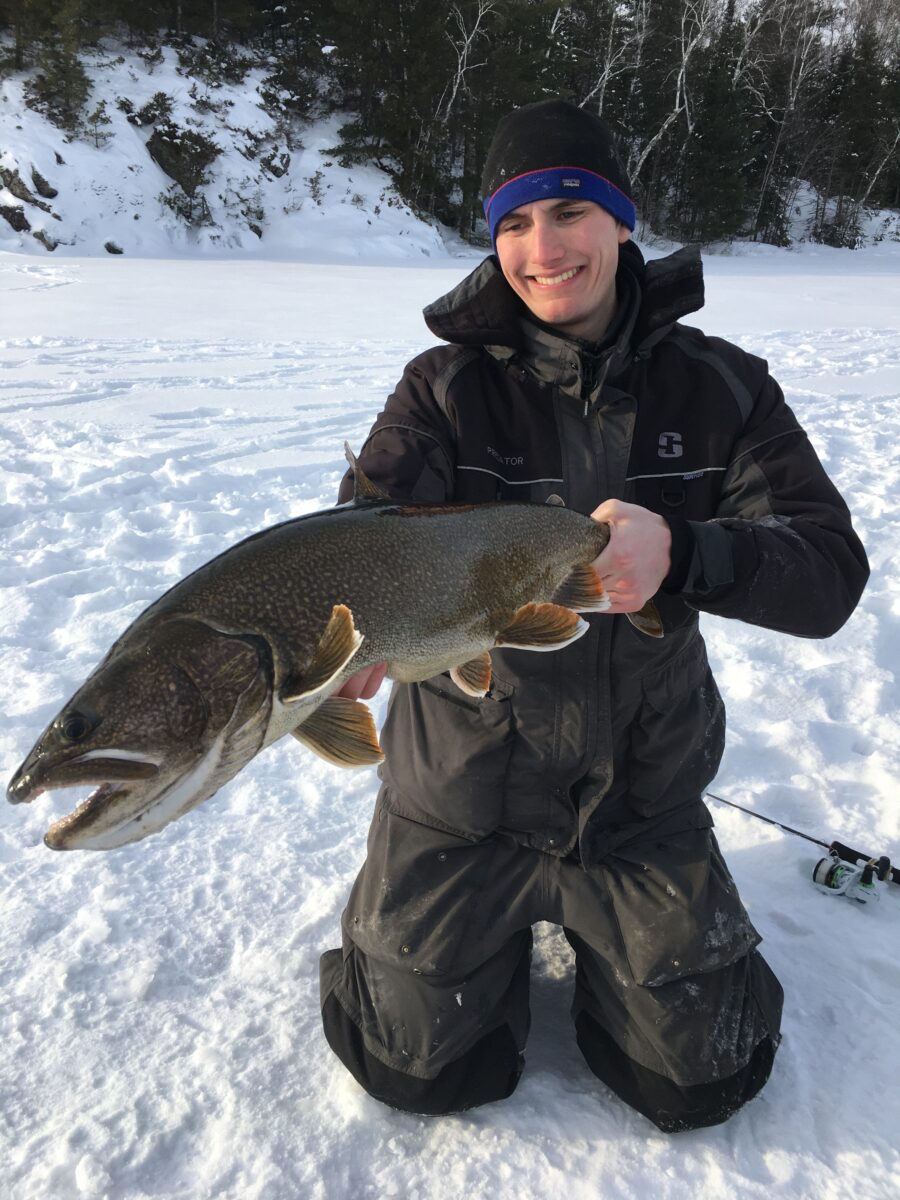 A 10-pound lake trout from the BWCA.
Trout fishing is unlike fishing for anything else, which may make it a challenge for beginners to understand the locations and tactics for targeting them. This guide will go over the general areas of the lakes, finding a lake best suited for you, and tactics for landing a BWCA trout.
Regulations
The BWCA has some special regulations regarding travel and the use of specific items. The following link details the rules and regulations you need to know before making your trip: BWCA Trip Planning, Rules, & Regulations
To clarify the prohibited use of power augers, drills, or electric augers; these are NOT allowed in the BWCA. Many first-time BWCA goers think this rule only applies to fuel-powered augers, but this regulation applies to any mechanized auger.
Areas to fish
The BWCA has multiple areas where you can access trout lakes. The most popular of these areas is the Gunflint Trail. This 57-mile paved road accesses most lakes that hold trout within close to vehicle parking, which makes day-tripping more manageable for those who would prefer to stay in local lodging. There is a large moose population in this area, and there's a good chance you will see one if you drive the entire Gunflint Trail.
The Ely area is also a popular destination for many BWCA trout anglers. Except for only a couple of lakes, the trout lakes are generally a longer journey and would require winter camping unless you plan on traveling 3+ hours in each direction. Most of the lakes in this area are accessed from Fernburg Road (County Road 18) at EP 25 or EP 26, which are the gateways to a few of the most renowned trout waters in the wilderness.
Choosing a Lake to Fish
With over 100 lakes containing trout within the BWCA, it can be hard to choose just one lake to try. There are a few factors to consider to help narrow down your decision.
The biggest factor is the distance to the lake from the closest entry point. Lakes within a few miles will tend to have more travelers, which makes travel much easier due to portages and trails on the frozen lakes already being broken in. However, a lake within close proximity to an entry point doesn't always mean easy travel. Most notably around the Gunflint Trail, the topography can be extreme, making travel with a full load of gear a bear. If you want to make a trip deep into the wilderness but don't want to put in the work of hiking all the miles, there are guided dog sled trips available that can take you out for the day or overnight camping.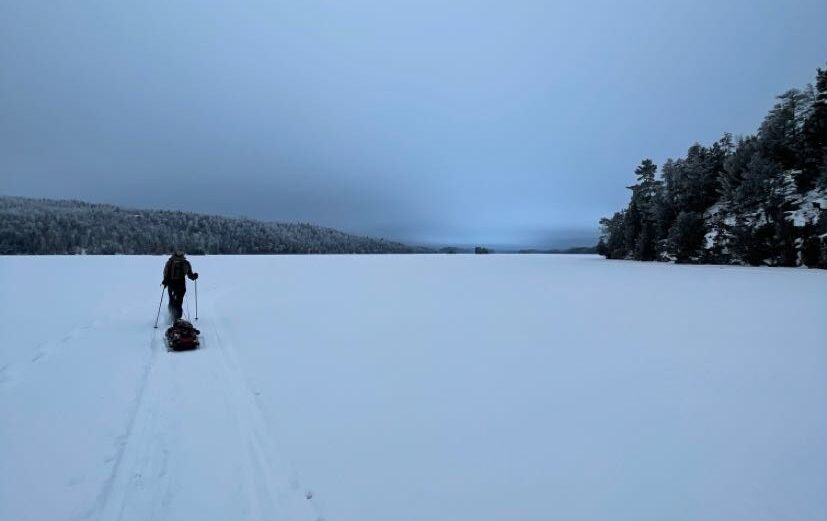 Hiking out of a trout lake in the Ely area.
Another factor to consider is fishing pressure. In general, lakes within a couple of miles of travel tend to receive the most fishing pressure and can be crowded on nice weekends. To get away from the crowds, you will need to travel distances exceeding 5 miles in most cases. If you're willing to put in 10+ miles and break trail into one of the many untouched lakes during the winter, it can lead to the best trout fishing the BWCA has to offer!
The final factor to consider is the size structure of the trout in a specific lake. This can be hard to determine at times, but tools such as the Minnesota DNR Lakefinder can help anglers determine the average size and abundance of certain fish species in a lake. In general, lakes with a high abundance of trout tend to have a smaller average size, whereas lakes with a lower abundance will have a larger average size.
While Lakefinder is a good tool for finding lakes based on surveys alone, the surveys don't always reflect a lake's true potential. Lakes with a good forage base, such as cisco, may also have a healthy trout population, even if the surveys are underwhelming.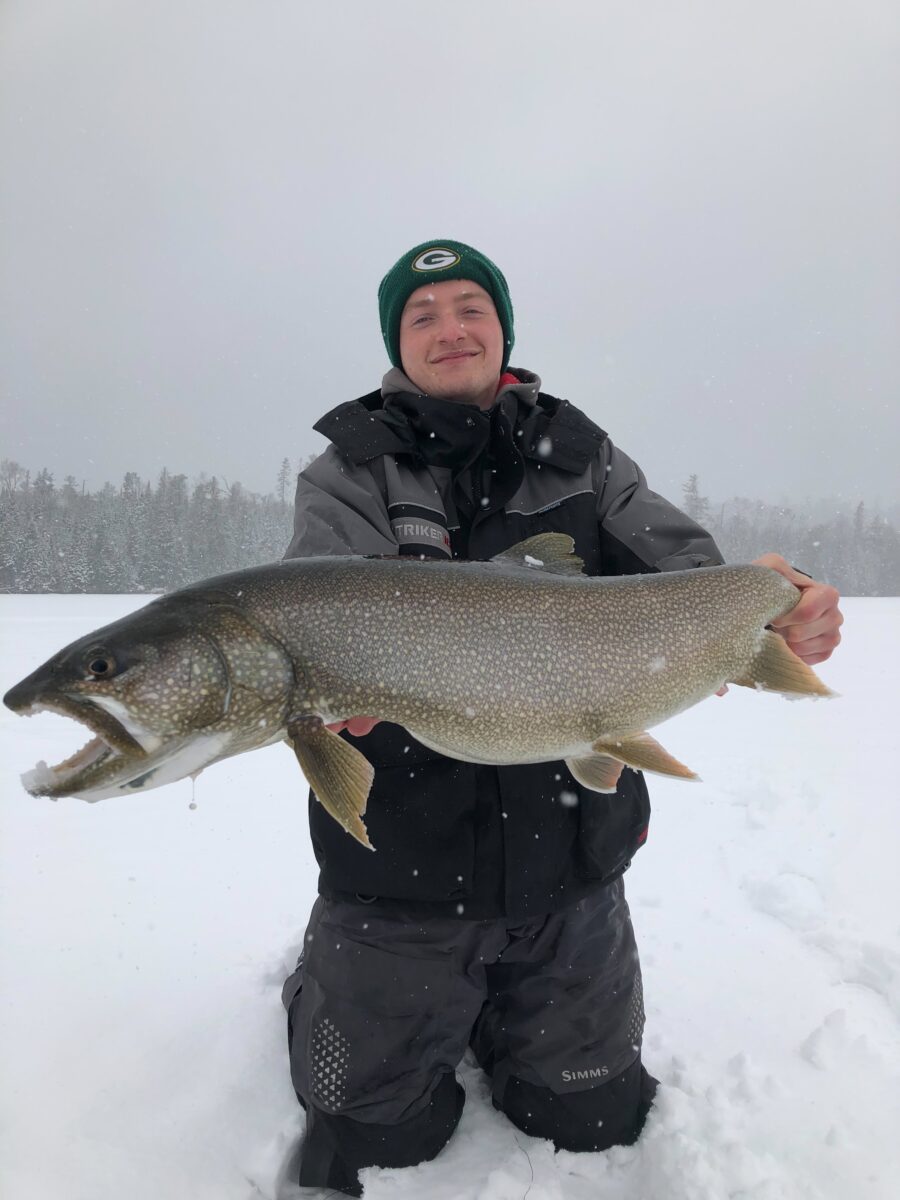 A 15-pound lake trout caught on a BWCA lake with a large cisco population.
Spots and Tactics For Lake Trout
Once you have a lake picked out, you will need to locate and hook up with the trout species you are targeting. Lake trout and brook trout behave much differently from each other and require different tactics to catch them successfully and consistently.
Lake trout tend to relate to depths of 30 to 70 feet but can also be found at depths outside this range. Steep breaks, points, reefs, and flats adjacent to depths near 100 feet are all high-percentage areas that would be worth a try. Make sure to jig the entire water column, as lake trout can come in at any depth, even a foot below the ice. When you start to mark a lake trout on your sonar, make sure to play keep away from it since they naturally want to chase down their prey. Reeling away from a lake trout is a great way to trigger one to chase and attack your lure.
Baits that are effective for jigging include tube jigs, spoons, and rattle baits in ¼ to 1-ounce sizes. Most lake trout lakes in the BWCA allow anglers to have two lines in the water, making tip-ups a great tool for maximizing the potential for getting on fish. Using frozen dead bait and either suspending them in the water column or laying them on the bottom can help to hook up with quality fish.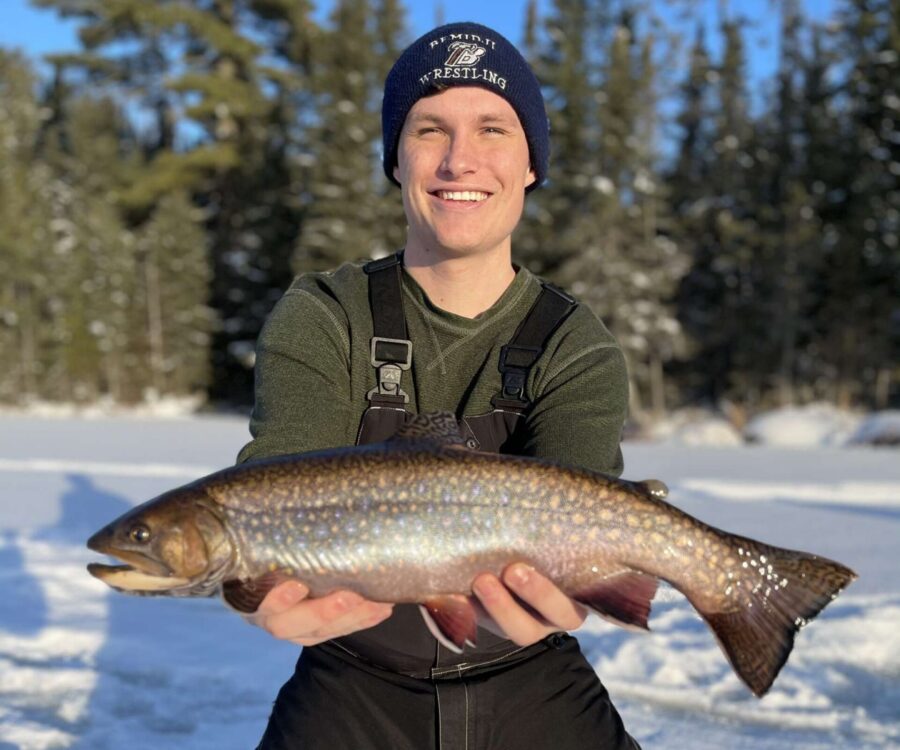 An 18-inch Brook Trout caught around the Gunflint Trail.
Spots and Tactics For Brook Trout
Brook trout tend to relate to shorelines in less than 10 feet of water. The structure to look for on these small lakes include shoreline points, sunken trees, transitions in the bottom substrate, and steeper breaks. Sight fishing is the most common tactic on these lakes because of how shallow and fast these trout move through an area, requiring you to bring an ice shelter to see the whole water column for a longer period effectively.
For jigging tactics, try to play cat and mouse with a fish when it comes below your hole. Common baits used for jigging include spoons, small tubes, and panfish jigs tipped with a waxed worm or plastic. Remember that brook trout are found in designated trout lakes where only one line per angler is allowed, so set lines will not be necessary.
Get Outside!
Now that you have a basic rundown of the areas, different types of lakes, and tactics, all you need to do is make your way up to the wilderness and let your adventure begin. The BWCA is a special place to me and many others, and I think you will be blown away by the pure beauty of the area in the snow-covered months and, hopefully, by the fishing too!
Adam Hogquist was born and raised in Bemidji Minnesota and started fishing at an early age. After his first trout fishing trip to Ely in 2016, he became addicted to trout and northeast Minnesota and moved to Duluth in 2017 to be closer to the BWCA and trout fishing. He spends most his free weekends fishing trout in the BWCA and Canada and is always looking for new waters to explore.
Categorised in: Blog, Fishing, Uncategorized