The Taurus "G" series guns have turned a lot of former Taurus haters into Taurus owners. These guns are solid.
The brand-new G3X is the latest addition to an already-distinguished line.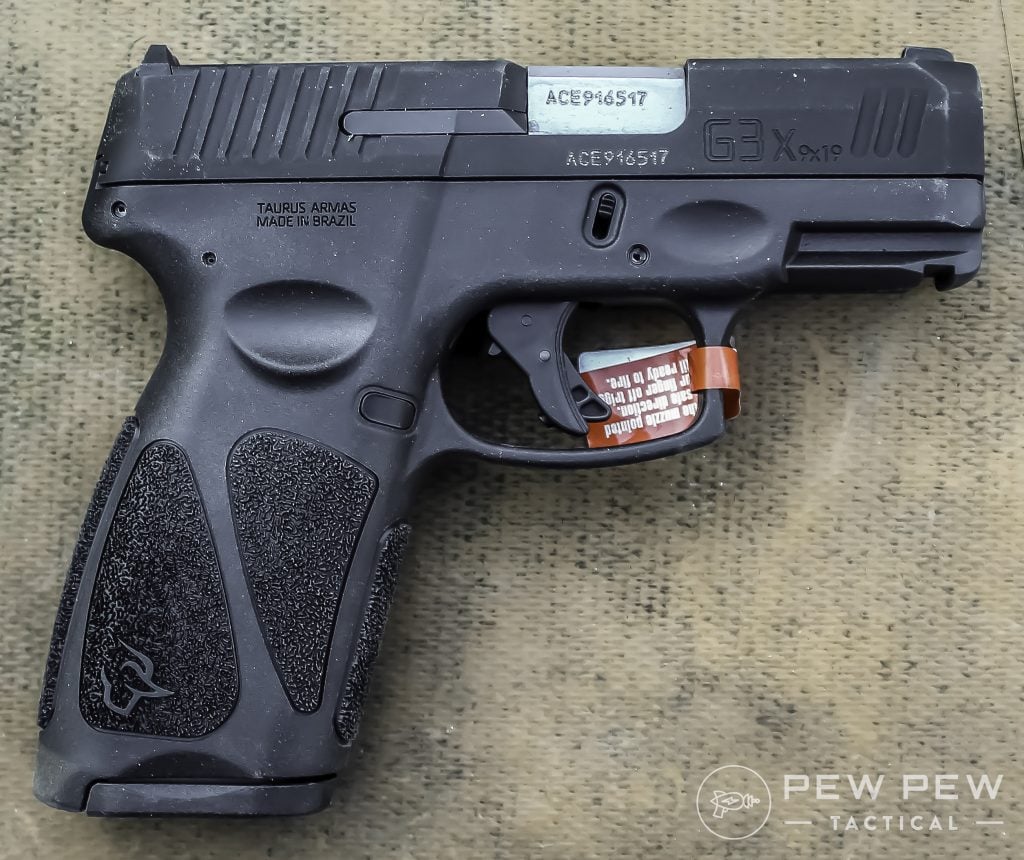 But does the G3X hold its weight in an already crowded and saturated concealed carry pistol market? And even more important, does it hold up at the range?
We were determined to find out, so follow along as we lay out the specs, features, pros, and cons and take this gun to the range to help you decide if it's the right one for you.
Keep reading!
Taurus G3X Review at a Glance
Pros
Nice aggressive texturing on grips
Easy to conceal
Rail for adding a light/laser
Cons
Trigger takes some getting used to
The Bottom Line
The Taurus G3X is a great budget-minded option for those that want a decent concealed carry option without breaking the bank.
Specs & Features
Specs
Caliber: 9mm
Width: 1.2"
Length: 6.3"
Barrel Length: 3.2"
Height: 5.2"
Weight: 22.6 oz
Capacity: 15-round standard, 17-round aftermarket mag available
Features
Picatinny rail for accessories
Steel sights
Source: Taurus
Taurus G3X Background
Before I present the G3X to you, dear readers, let me acknowledge that Taurus has had many problems in the past with bad QC and even worse Customer Service.
I won't elaborate too much but suffice it to say that I had personal experience with Taurus's slow-as-molasses-in-January Customer Service a few years ago.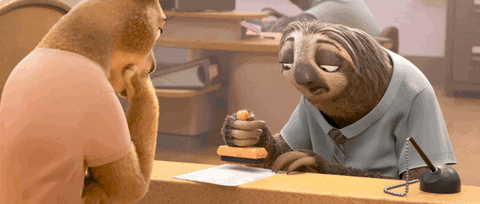 It seemed to take one forever to get a gun replaced and another forever for two measly little springs to be replaced in my .380 Spectrum – they wouldn't just send me the springs. And we're talking a recoil spring – nothing buried in the gun that required fitting.
It's different now, though. Things are turning around.
When Bret Voorhees took over the company's reins a few years back, he vowed to clean things up. He has, by and large, done so. Wait times are a fraction of what they used to be, and guns are coming into gun stores ready to rock 'n roll – QC has been amped up.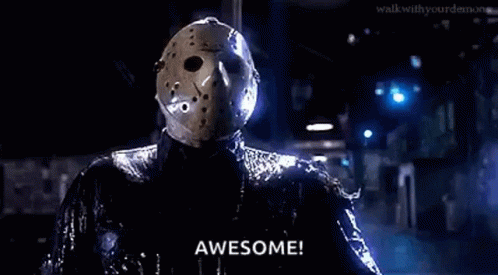 This leads us to the gun under the spotlight now, the G3X…
Before the G3 came the G2C Millenium. I owned two of them. They held 12 rounds, offered an adjustable rear sight, had all sharp edges "melted," and were very reliable.
The G3 comes in three different versions – the G3 full size, compact, and X (the topic of today's review).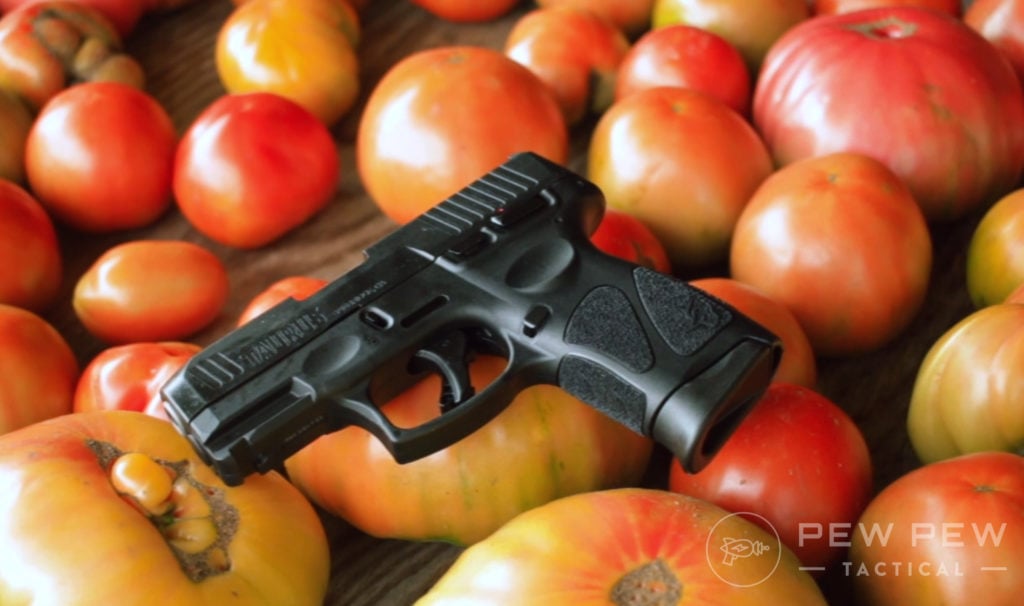 Who Is It For?
The G3X would work very well in an IWB or an OWB holster. The 15-round grip (or 17, with extended mag) stays hidden pretty well.
Some shooters are reluctant to carry an adjustable-sighted pistol because the rear sight could get "knocked" and either broken or put out of alignment.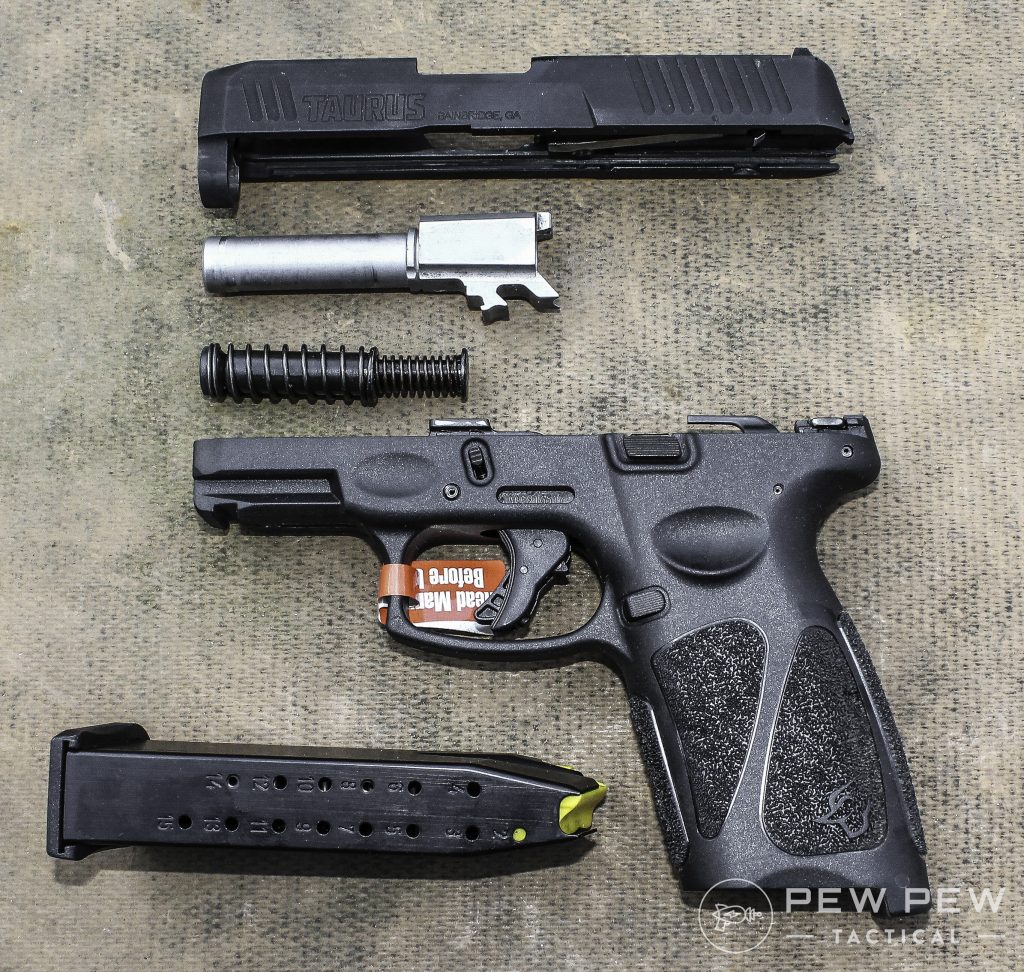 Whether or not you belong to this particular team, it's not a problem here. No way could that happen with the G3X. The rear sight is solidly mounted in its dovetail and is made of steel.
Another possible buyer might be those looking for a bedstand pistol that hides well but still carries a bunch of rounds. With the rail below the barrel, you could add a laser or light to help with any nighttime scaries.
Not to mention, at $343 MSRP with street prices lower than that, the price point is pretty decent.
Fit & Feel
The full-length grip of the G3X makes it very easy to shoot well.
The grip is large enough to include six textured sections. This texturing is roughly comparable to about 200-grit sandpaper.
FINALLY!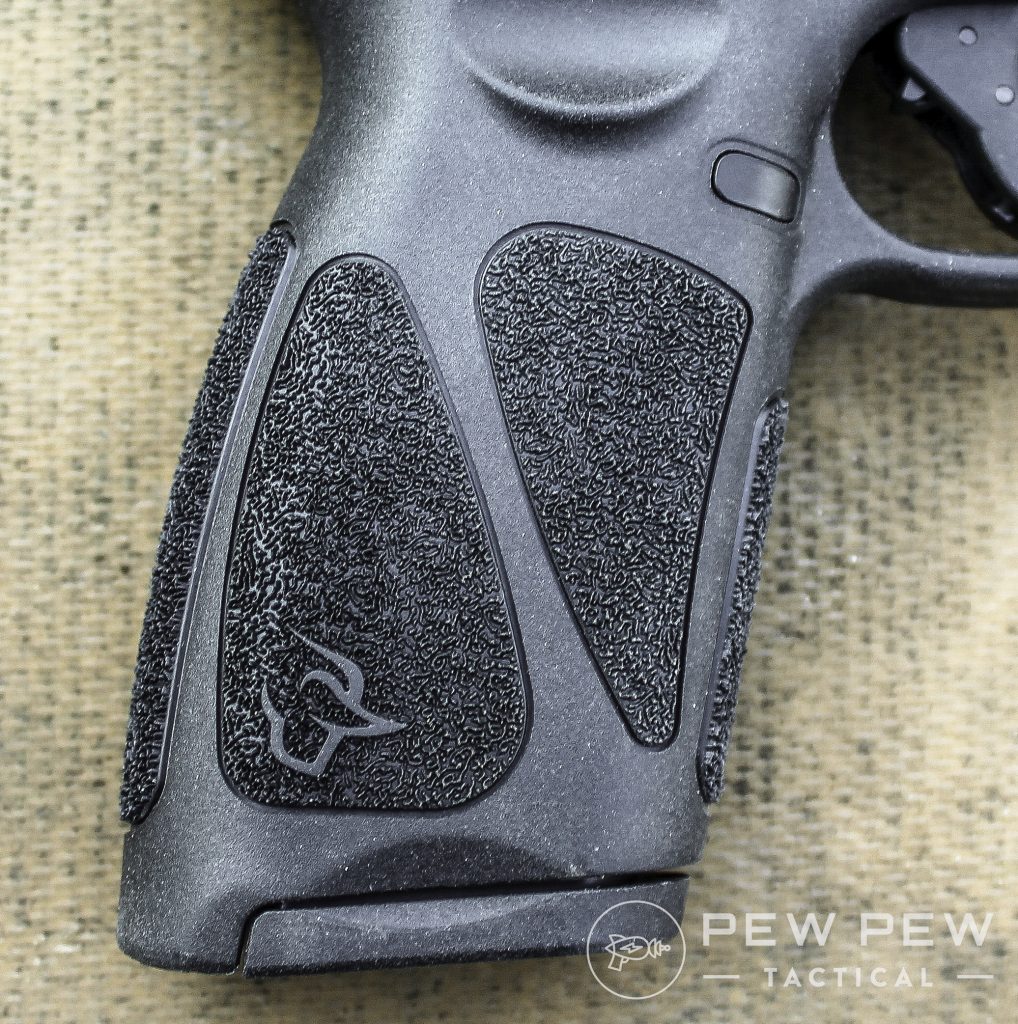 A gun manufacturer has made a grip that stays put in your hand!
I typically stipple my poly-framed pistols' grips because they are usually too slick for me. I have also been known to use stair tread tape that I got at my local Rural King.
But the Taurus G3X is just the right amount of texture.
Now let's talk about the trigger…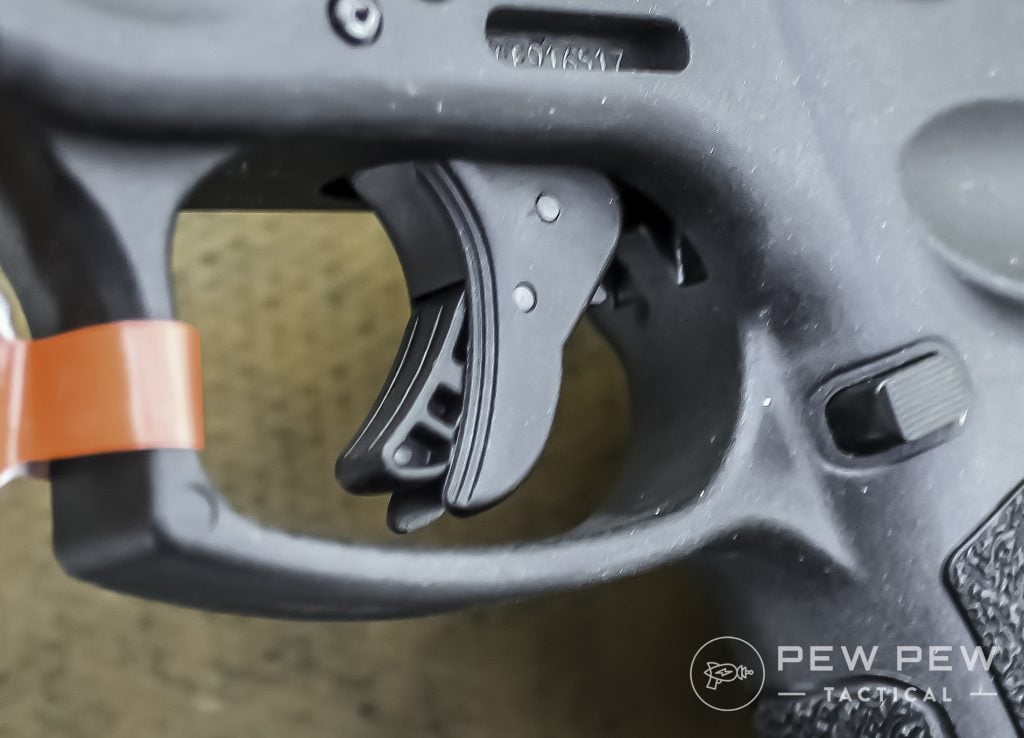 The single-action trigger is partially cocked when you rack the slide, so you are not having to cock the gun strictly by pulling the trigger.
When I measured the trigger with my Lyman digital gauge, I got a discrepancy of around 2 pounds when I pulled the trigger after racking the slide versus just using the second-strike capability.
Physically racking the slide lowered the pressure needed to release the striker.

A couple of trigger observations…first, the trigger face was smooth. The central blade's edges are rounded, as are the trigger surfaces. This doesn't irritate your trigger finger like some triggers I've used.
Secondly, even though there are slightly more than ½ inches of take-up, the trigger broke cleanly. It broke very crisply at just over 4 pounds once the "wall" was reached.
How Does It Shoot?
It was with great expectations that I ventured into my backyard shooting range. I am blessed to live in the boonies, where I have a 100-yard range handy.
So, I set some targets up at 15 yards.
The loads I have on hand are dwindling – ammo is still pretty scarce in my neck of the woods. I had some Fiocchi Range Dynamics FMJ and Training Dynamics FMJ, with 115-grain bullets. I also shot my favorite handload of a cast Lee 120-grain truncated cone bullet over 4.8 grains of Long Shot powder.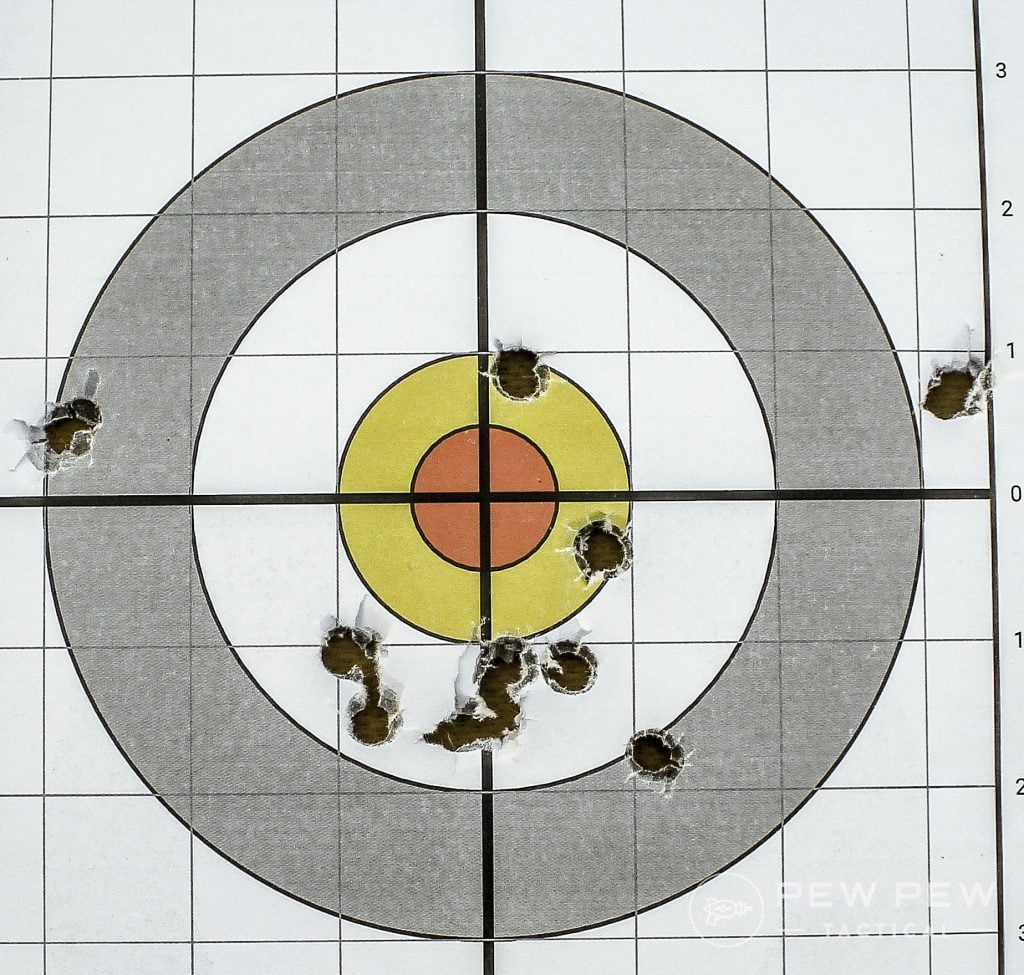 This load has proven accurate in most of the guns I've put it through. Likewise, any Fiocchi ammo I've ever shot in many calibers has displayed more than enough accuracy for the intended purpose.
I had a few outliers that I chalked up to the trigger. It's not bad; I just wasn't used to it. Once you get used to the trigger, you'll be good to go.
Another trigger plus is the central blade in its face. Both it and the trigger are polished and did not bite my finger. I can't say this for all triggers so equipped on many guns.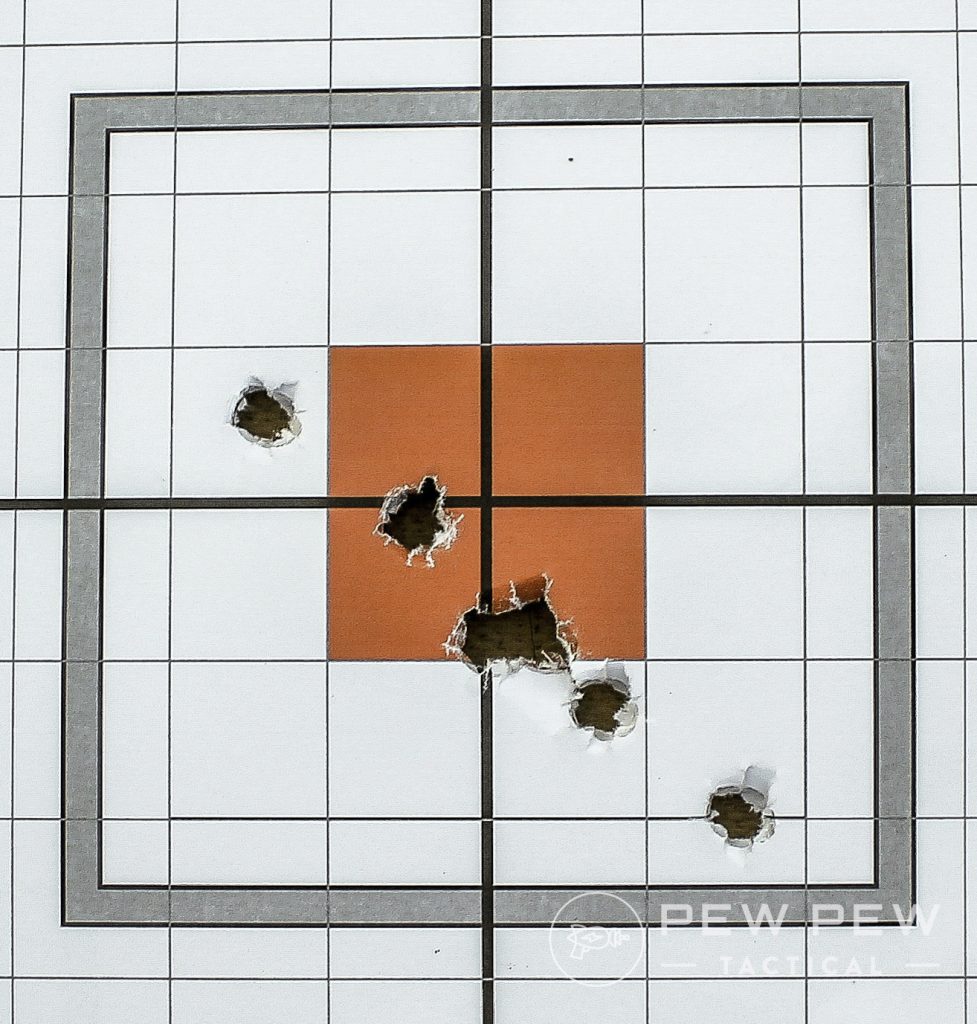 The excellent grip helped cement the gun into my hand. I had no problems at all holding the gun on target. I shot off a Caldwell pistol rest and bag, which helped.
And, finally, the sights…
The blacked-out rear was very helpful at "popping" the white-dot front sight out onto the target.
The sights were regulated well, putting the shots pretty much in the center of the target. I did zero sight adjusting because there was no need.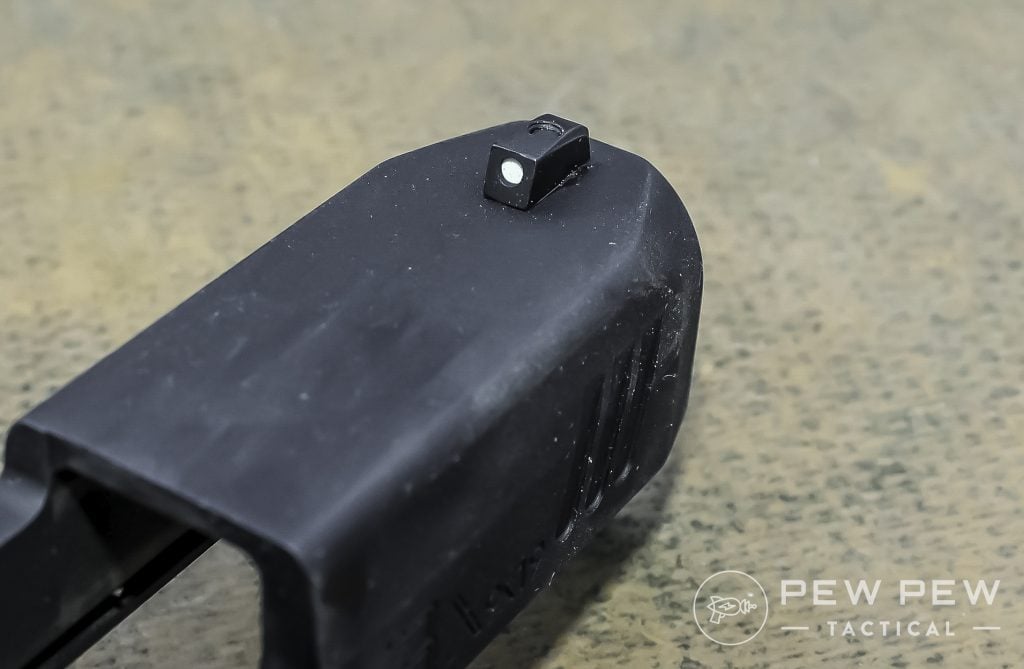 What Sets It Apart?
The G3X presents a decent budget option for those who want a good, concealed carry gun but don't want to pay over $300.
It's versatile enough to be a bedside gun or ride along in a holster.
And how about from its other G3 brothers?
By the Numbers
Reliability: 4/5
The Taurus G3X worked well at the range and performed as I needed.
Ergonomics: 4.5/5
I liked the aggressive texturing, but the trigger took some getting used to.
Accuracy: 5/5
With both regular loads and handloads, the G3x hit its mark.
Customization: 4/5
You can do some things to enhance the pistol, like adding accessories or even Glock sights.
Value: 5/5
Less than $300, this is a great value for those that don't want to spend a lot.
Overall: 4.5/5
Upgrades for the Taurus G3X
The recoil spring is mounted on a polymer guide rod, but you can pick up a Lakeline stainless assembly if inclined.
And, since Taurus made their dovetail cut on the rear to match Glock's, you can use Glock aftermarket sights!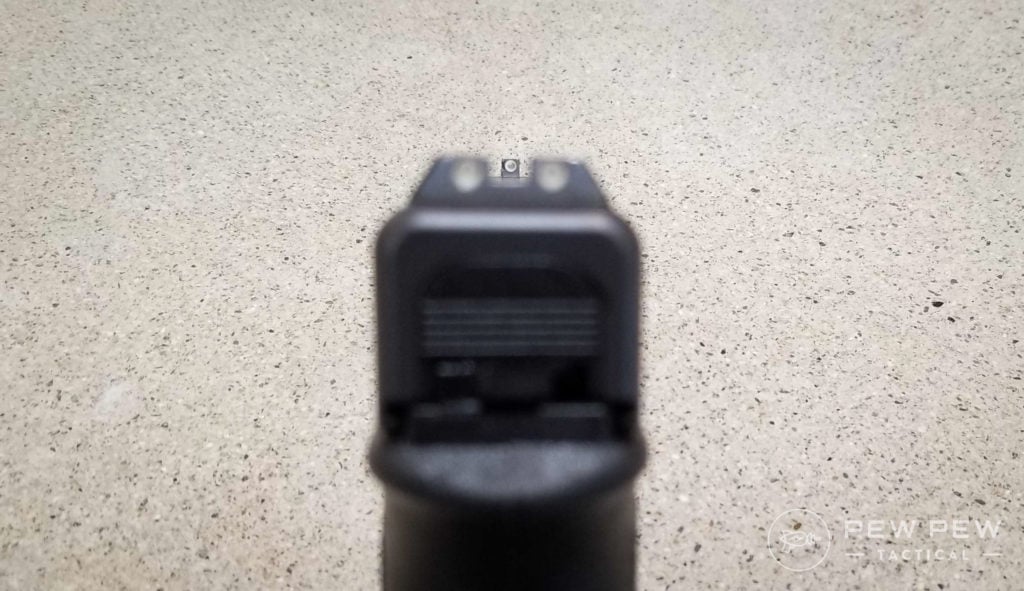 Finally grab a spare mag or a bigger, 17-round mag to make range time more efficient and increase that capacity.
And of course some available plinking ammo!
Final Verdict
Taurus has its finger solidly on the shooting public's pulse. They keep bringing out hit after hit, guns that are increasingly well-built and which represent a solid bang for your buck.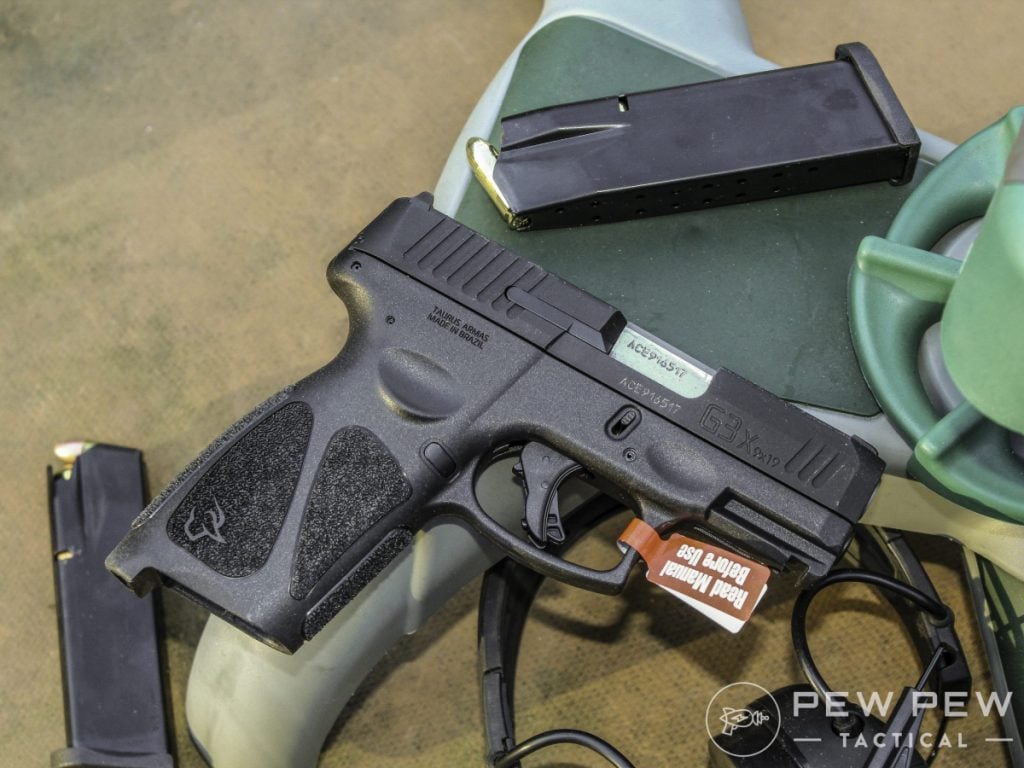 The striker-fired G3X supports 15- or 17-round magazines in the world's most popular caliber. Throw in its good sights, accuracy, reliability, and skateboard-tape rough grip texture, and you have a winner.
Add in the Taurus limited lifetime warranty, and this gun suddenly becomes very attractive.
What do you think of the G3X? Let us know in the comments below. Interested in more concealable pistols? Check out our guide to the Best CCW Pistols.