Juicy, tender Smoked Venison Roast that is so flavorful from a homemade dry rub. Make this easy smoked game recipe on your pellet grill for an easy dinner recipe. The smoked deer roast will have a irresistible smoke flavor that everyone will love.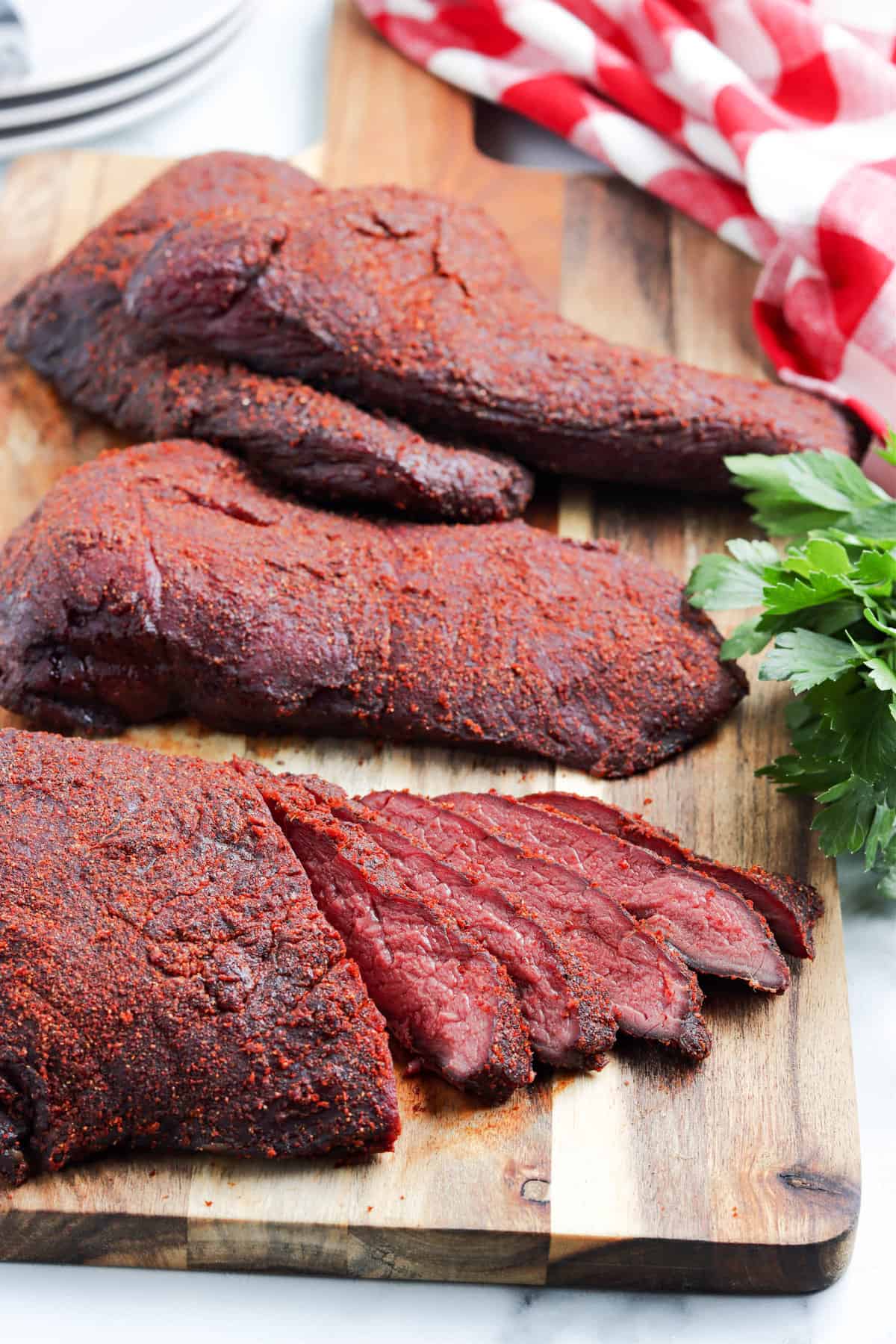 Smoking a venison roast doesn't have to be difficult! With this simple dry rub recipe and detailed instructions, you can make a smoked deer roast that is tender, juicy, and flavorful.
Smoking venison is one of the tastiest ways to prepare this wild game. It brings out a lovely flavor in the meat and is a great way for beginners to learn the smoker.
Smoked venison roast pair beautifully with seasoned smoked potatoes and these easy smoked vegetables. If you prefer to keep the smoker reserved only for the meat, then you can make some baked potatoes and vegetables on the grill.
Why You'll Love this smoked Venison Roast
Smoking a venison roast doesn't take as long as other meats. This meal will be ready to eat after only an hour and a half of cook time.
The dry rub needed for this recipe contains spices that you most likely already have in your kitchen.
You don't have to do much to this venison roast once it's in the smoker. It's a great recipe to have in order to make smoked meat during a busy party.
Ingredients for Smoked Venison roast
Venison Roast – If you're not a hunter, it can be difficult to find venison depending on where you live. Check with your local butcher store to see if they sell venison roasts.
Olive Oil – You'll need a touch of oil with help the dry rub adhere to the venison. I find that olive oil gives the most subtle flavor.
Homemade Beef Rub – This recipe is the perfect rub for this smoked venison.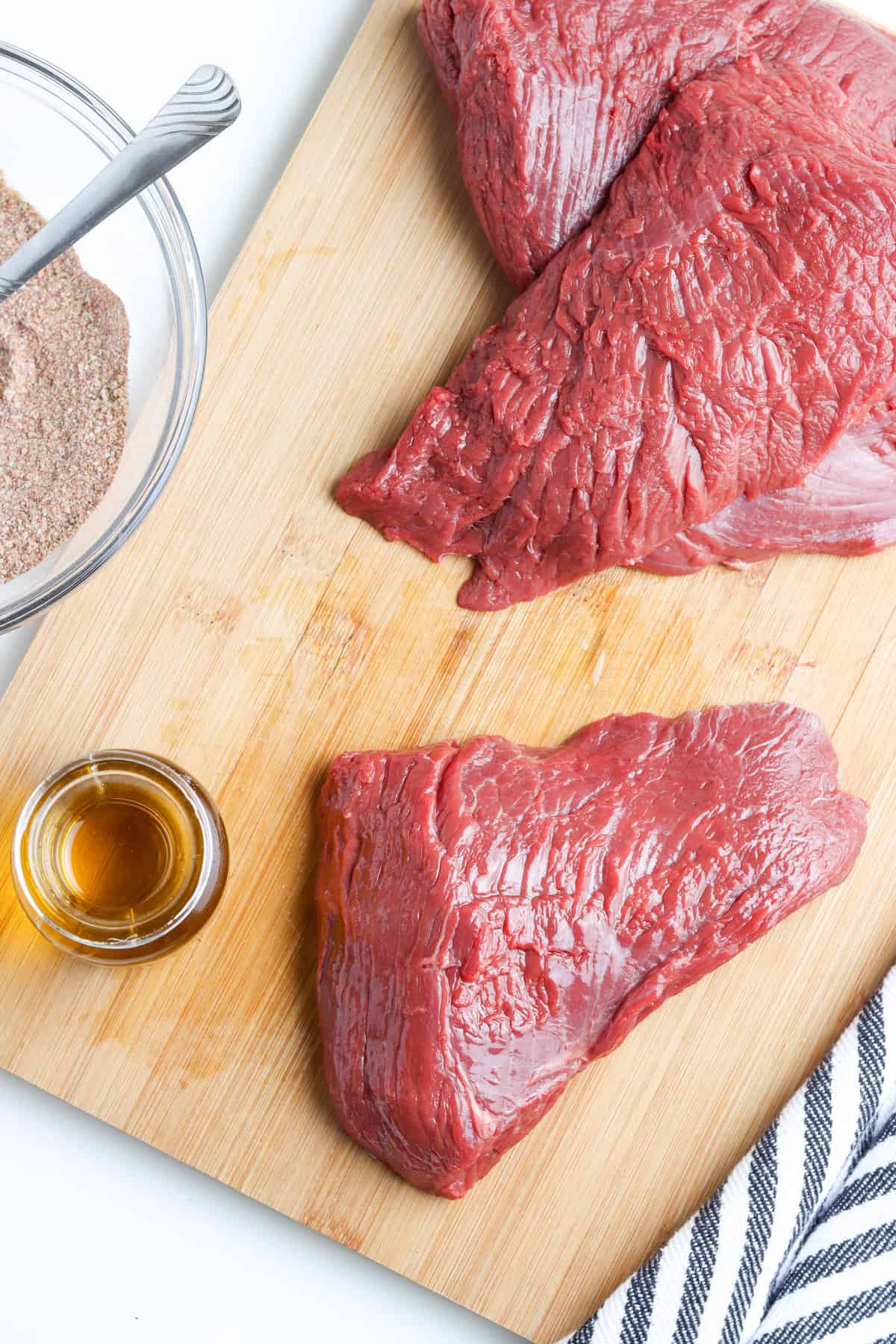 How to Make Smoked Deer Roast
After trimming any excess fat off of your roast, lightly coat in in olive oil and cover all sides in dry rub.
Place the venison roast in the fridge to marinate for 2 hours.
Once the meat has marinated, preheat your smoker to 225 degrees Fahrenheit.
Place the roast directly onto the grates and cook for 1 hour, or until the internal temp reaches 130 degrees Fahrenheit. Then, turn the smoker down to 180 degrees and smoke the meat until it reaches an internal temp of 140 degrees. This should take about 30 minutes to an hour.
Remove the smoked venison roast from the smoker and place it onto a cutting board. Allow the meat to rest for 15 minutes, then cut and serve!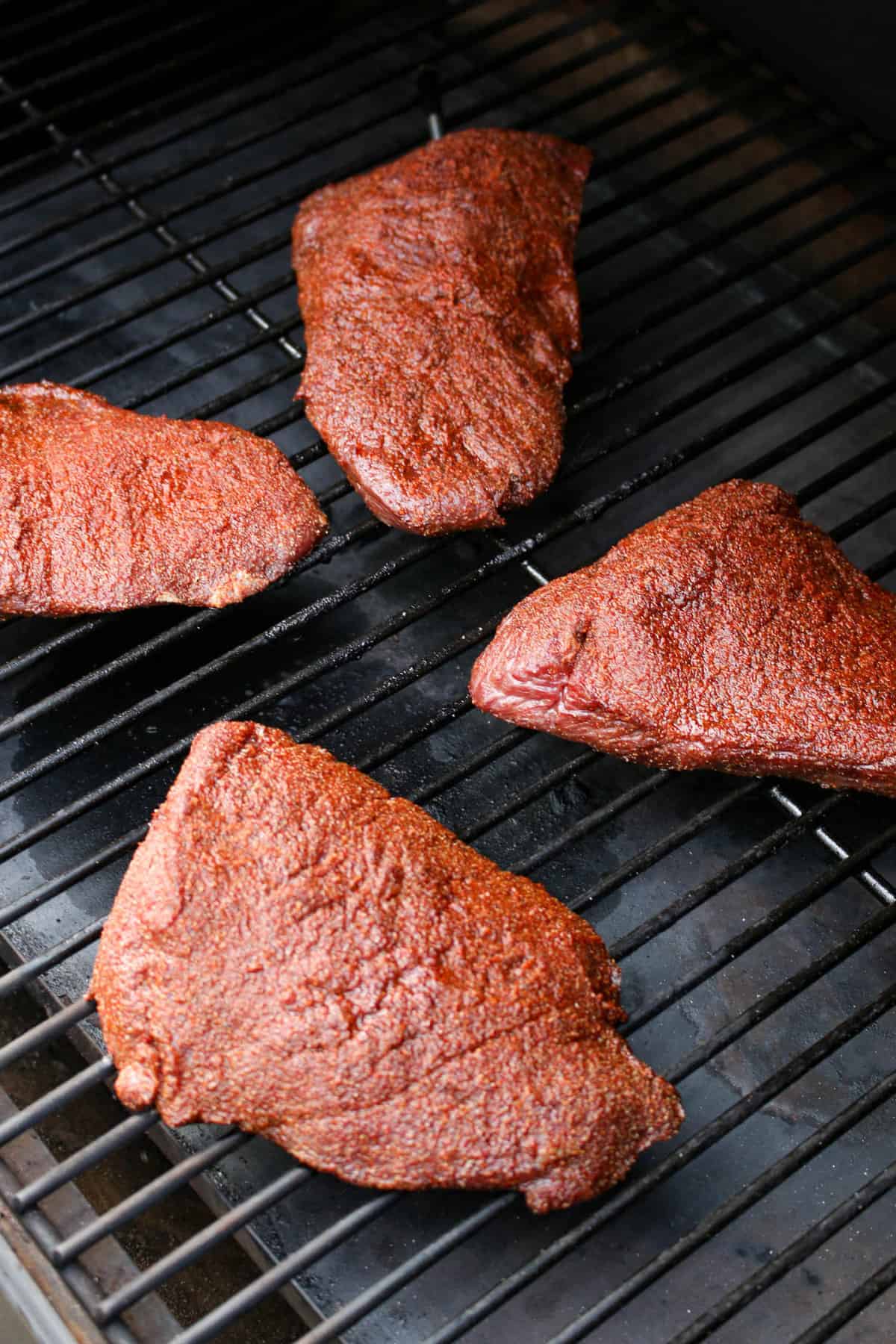 What is the best wood to smoke venison?
The best option for wood chips to use with smoked venison is Oak, Hickory or Walnut. This is because they are of medium intensity and versatile choices in flavor.
If you are looking to add a little sweetness to your venison then use a apple or cherry wood chip.
What Beef Rub should I use?
We recommend our Beef Rub that we have developed and is our go to rub. You can make it homemade here or purchase it here!
It's a blend of salt, brown sugar, garlic powder, black pepper, onion powder, white sugar and smoked paprika. Absolutely mouthwatering!
What to Serve with Smoked Deer Roast
This lean meat will pair well with creamy side dishes like smoked mac and cheese or smoked cheesy potato casserole. It's also great with simple side dishes like baked beans and grilled asparagus.
Storage Tips for Smoked Venison roast
If you've got any leftovers, it's easy to store and save for later!
FRIDGE: Store your leftovers in an airtight container or ziplock bag in the fridge for 3 to 4 days.
FREEZER: Freeze leftover smoked venison in an airtight container for up to 3 months.
Why is my Smoked Venison Tough?
If you roast ends up tough, you likely smoked it for too long. The internal temperature needs to be 140. Keep a close eye on it after reducing the temperature of the smoker to make sure that you don't overcook your roast.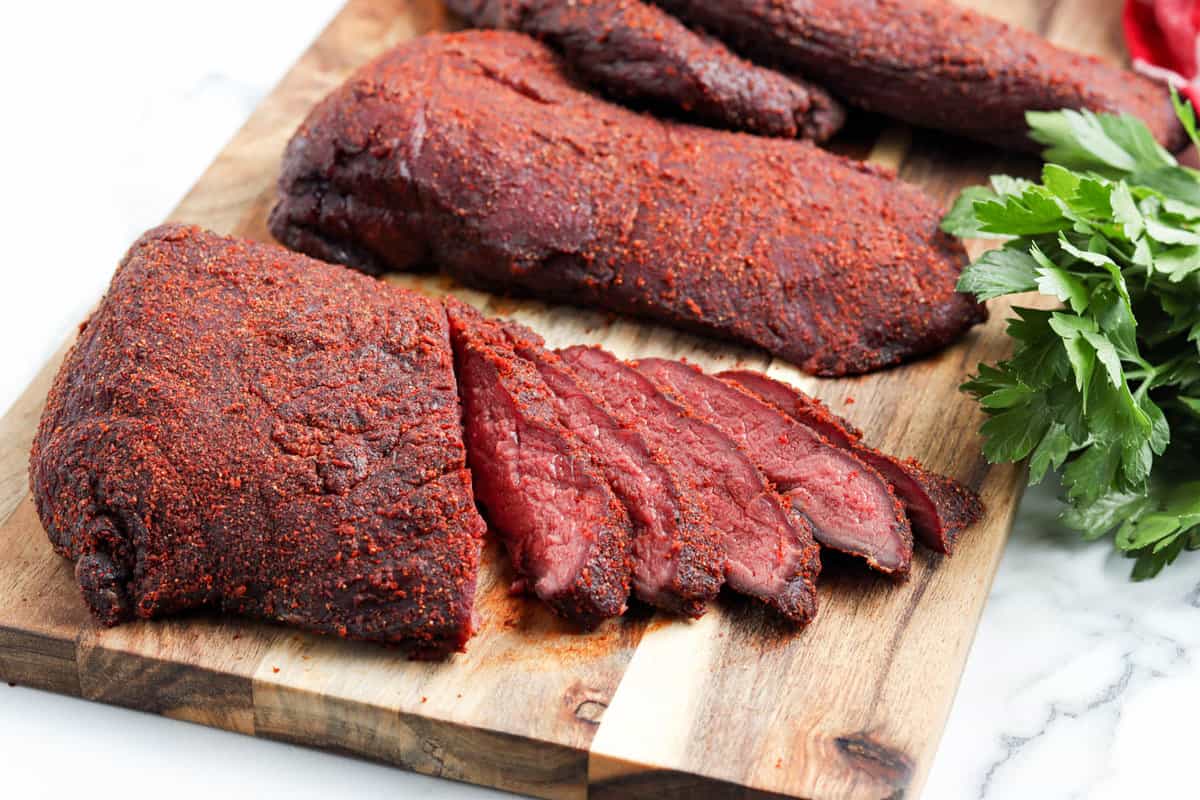 This simple recipe is a great way to prepare wild game! Let us know how you like it.
More Smoked Meat Recipes You'll Love
Grilled burgers are always tasty, but have you ever tried Smoked Burgers? They're next level!
Looking to step-up your Thanksgiving game? Check out our Smoked Turkey recipe.
Smoked brisket is one of the most popular prepared meats on the smoker, and our recipe is a game changer!
Make weekend cookouts extra tasty with these Smoked Chicken Breasts.