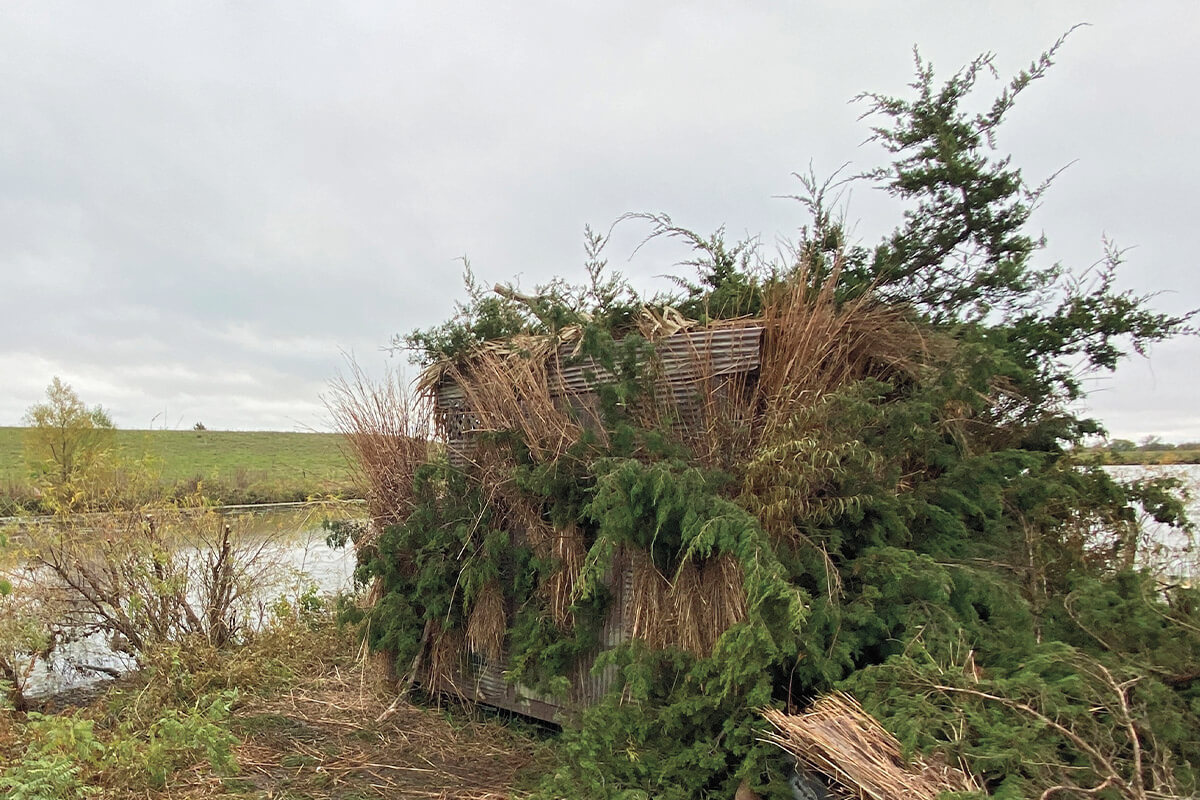 On February 1, 2022, the temperature was 32 degrees and a cheek-stinging wind sliced an overcast sky at 15 mph, the perfect conditions for hunting waterfowl in Douglas County, Kansas. Watching in comfort inside a corrugated metal blind was 64-year-old Michael Pearce and his cousin's grandchildren, 17-year-old Isaac Hawkins and his brother, 14-year-old Caleb Hawkins.
"Canada geese were flying in small flocks and they just kept coming," Pearce said. "In Kansas, the limit is six. We would knock down four or five at a time and my male Lab, Cade, and the boys would chase them down. Duckingham Palace has its own safety code. Caleb constantly checks guns, making sure they are on safe and pointed in a safe direction. It's an important job and he knows he's being trusted with it. Nobody is allowed in the water without someone outside the blind, watching.
'Dog out!' means 'Guns up!' with no exceptions. I had my limit and the boys had five each when a flock of 8 or 10 geese came in and landed, but it was two minutes past legal shooting time. The boys held their fire because they are ethical sportsmen."
The usual ducks—80 percent gadwalls followed by wigeons and a smattering of ringnecks along with the rare mallard—had been scarce compared to the prior season, when 101 ducks had been taken from a cattle panel blind at the same location where Duckingham Palace would be erected. The hunters had taken less than 20 ducks during the 2021-22 season before the Canada geese saved the season. The geese were proof that Duckingham Palace deserved its name and it now has a worthy reputation. The big Canadas had no idea hunters were hiding, protected from the elements, in what appeared to be a bush on the bank of a 6-acre family farm pond.
[ad d]
The Hunter
Pearce is a semi-retired outdoor writer from Lawrence, Kansas and the boys live in Baldwin, Kansas. He shoots a Benelli M2 stoked with Federal Steel 2s. They use G&H and GHG decoys, setting up to 3 dozen mallard floaters and 2 dozen Canada goose floaters, juicing the water spread with 3 dozen Canada goose field decoys along the shoreline.
"We were hunting deer for four years when Isaac and I began talking about waterfowl hunting," Pearce said. "It was a progression. The first year, we hunted from cold layout blinds in fields. Then we hunted natural vegetation at the pond a couple of times before things froze up. The next season, we used two cattle panels with natural vegetation and sat on buckets. The following season, we covered the cattle panels with artificial grass and found we could shoot better because we could see out, but the birds couldn't see us."
All the while, they talked about having a nice blind. Isaac took the lead, drawing plans and looking for potential materials. He wanted a permanent blind that would hold several hunters, who could cook breakfast inside. To keep costs low, it would have to be made from materials available on the nearby farms of family members. Once actual construction began, Isaac and Caleb did much of the work with guidance and assistance of their grandfather, Wendell Pohl, who had experience building hog sheds from similar materials. Pearce backed off during construction to allow the boys to gain experience building the blind.
Duck Blind Materials List
2 – 6″x6″x12′ treated wood skids – $150
3 sheets – 3/4″ treated plywood – $230
15 – 12′ corrugated tin, used – free
20 – 2″x6″x12′ wood, used – free
5 – 1″x6″x12′ wood, used – free
20- 2″x4″x12′ wood, used – free
Scrap wood, lattice, nails and screws, on hand – free
Nails and screws, new – $20
Total Cost: $400
Total build time: 30 days
The Blind
"I didn't really notice waterfowl hunting until 2018," Isaac said. "I had done some deer hunting, but tagged out the first day of rifle season and wanted to keep hunting. Michael took me to a friend's place to show me his blind. Ours is similar, but we built it on skids. The skids are 6″x6″ treated wood with lag bolts on the end so we can hook chains to them and drag the blind to safety when the pond floods."
Finished floor dimensions are 12 feet long by 8 feet wide and roof height is 7 feet in the back and 7 feet, 6 inches in the front. It has shelves for ammo and a propane grill, hooks for hanging Texas-rigged decoys and notched shotgun holders. It is heated with a portable propane heater and hunters sit on homemade wooden benches.
The base and floor were built in Pohl's garage. It has 2″x6″ joists on 2-foot centers. Once the base was complete, the hunters dragged it to the hunting location. Soil and gravel were added and graded to provide a level surface.
The walls are corrugated tin from an abandoned lean-to shed that was hauled to the site on a trailer. Each wall was constructed flat on the ground or floor then raised and screwed to the base. The wall framing is made of wooden 2″x6″s and 2″x4″s. A 2-foot-wide entry door swings open on hinges. The two front shooting ports are removeable, 4'x6′ corrugated tin panels held in place with elastic cords. A small shooting port window is covered with lattice so hunters can see out. The lattice drops down so hunters can shoot waterfowl flying into a small side cove. A dog port with a removable door allows Cade to enter, exit and keep an eye out for arriving waterfowl.
To dull the shine of the tin, the blind was painted camouflage colors. Woven wire fencing supported with nails driven into the frame was covered with Avery Real Grass and bundles of native grass secured with zip ties. Cedar boughs on the top and sides complete the camouflage.
A neighbor who saw the blind going up said it looked like a gazebo, so Isaac considered the name, "Gadwall Gazebo." However, he said all along that he wanted to build a palace. Painted dull browns and greens, the blind was "beautifully ugly." However, compared to previous blinds, it was, indeed, a palace. Hence came the name, "Duckingham Palace."