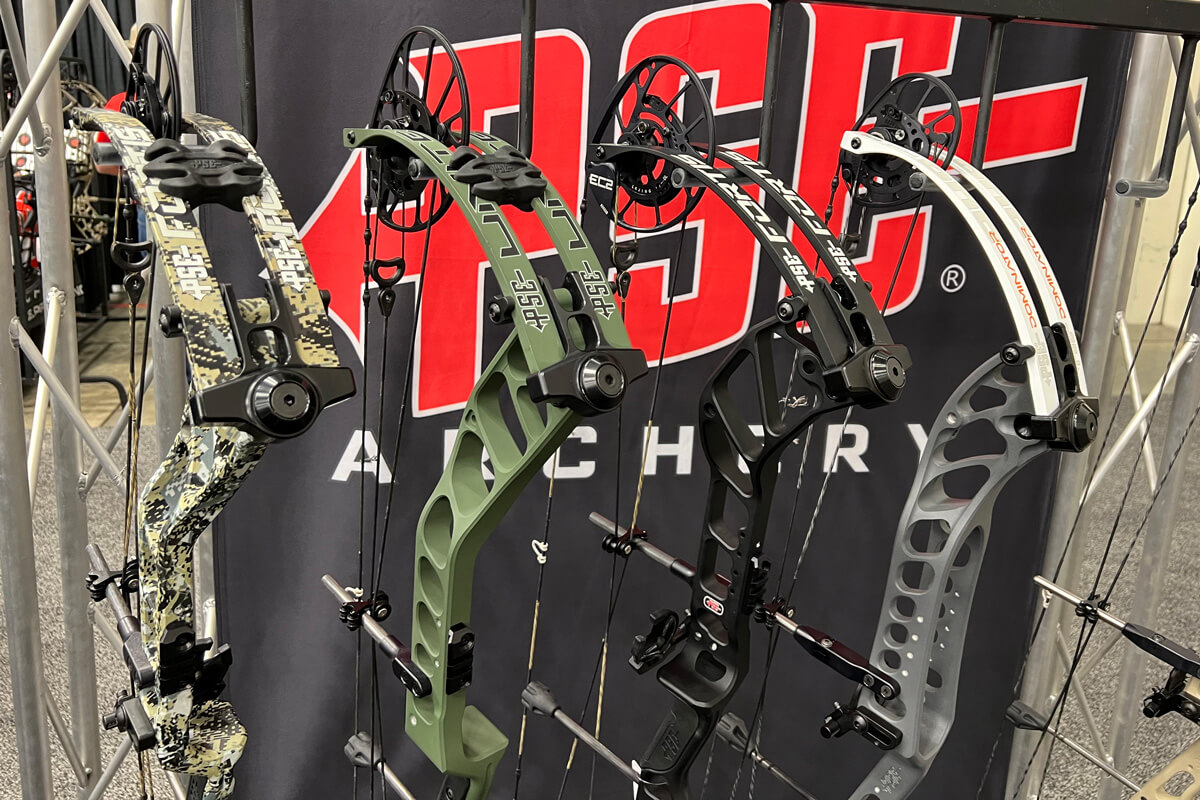 On Thursday, news broke in the bowhunting world that Heritage Outdoor Group — a newly formed holding company — had acquired PSE Archery. Terms of the acquisition were not disclosed in a news release concerning the sale.
PSE Archery, founded by Hall of Famer Pete Shepley more than a half-century ago, was originally headquartered in Mahomet, Illinois. For most of the company's history, however, Tucson, Ariz. has been the home of PSE Archery — which stands for Precision Shooting Equipment — and that's where Shepley turned it into one of the nation's leading makers of compound bows, a few traditional bows, and in recent years, crossbows.
Shepley is one of the giants in the bowhunting industry, with origins in the field dating back to his days of shooting a recurve bow in regional archery tournaments in the Midwest. In fact, according to Garry Mason's Legends of The Outdoors website, Shepley released the company's "…first magnesium-riser compound bows onto the market in 1973, introducing them at the Indiana State Indoor Championships."
With an engineering background, Shepley — whose son, Jonathan, once served as the president of PSE Archery and whose wife, Laura, is an accomplished bowhunter herself with a 383-inch bull elk to her credit — got his start in his life's work by making vanes for his tournament arrows, then a release, and eventually moving on to compound bows.
In fact, when the company was founded in 1970, its original aim was serving the target archery side of the market thanks to Shepley's efforts. As recently as 2020, the now 81-year old Shepley was still shooting in archery tournaments and the company continues to put part of its focus on that side of the sport.
Over the years, PSE's bow making skills have turned to the bowhunting world too, becoming a major player in the modern bowhunting industry. Today, the company is a familiar sight in all corners of the sport, from archery tournament podiums to the annual Archery Trade Show in the company's unique semi-trailer display booth and as the bows of choice for many of the world's top bowhunters and tournament shooters.
Shepley not only built a powerhouse company — which was family owned until this week's Heritage Outdoors acquisition — but he also became one of the biggest names in the industry himself, appearing regularly at trade shows, consumer shows, on television and video productions, in all kinds of print, and out in the field.
And out in the field was the outdoors laboratory where Shepley, inducted into both the Bowhunter's Hall of Fame and the Archery Hall of Fame, made some of his biggest marks in the sport.
That was because Shepley wasn't just a designer of bows and archery gear, he was also a highly skilled bowman himself, regularly taking numerous big game animals in North America. He took most of the 29 big game animals required in the Archery Super Slam, as well as plains game and dangerous game animals in Africa, too.
All of that started from humble beginnings on the family farm back in the mid-1940s as the winds of World War II were starting to wane around the globe.
In a 2007 story for Bowhunter Magazine, Shepley told Curt Wells, then the equipment editor and now the magazine's third editor in its long history, that he grew up near Joliet, Illinois, working each summer on his grandfather's farm.
"Grandpa Gale was an outdoorsman and good with kids," said Shepley. "He made sure we had time to fish and hunt, and he got me started building bows out of Osage orange. We didn't build our own arrows, but my pay was a 500 pack of .22 shells and six arrows a week, then $5 at summer's end."
After that Midwestern beginning, Shepley would go on to college where the trajectory of his life's work would eventually shift towards building one of the bowhunting industry's most important companies.
"I got my engineering degree at Southern Illinois University and was working for Magnavox as a project engineer on defense projects such as the Stinger Missile," said Shepley in his interview with Wells. "My boss tolerated my passion for archery. As long as my projects came in on budget, and on time, he didn't care what I did. With the help of the expertise at Magnavox, I was able to develop ideas I came up with while attending archery tournaments. I started making plastic vanes, cushion plungers, release aids, and bow slings. Before long, I was making two or three million vanes a month."
It wasn't long, however, before Shepley — who once upon a time reportedly talked regularly with Bear Archery founder and bowhunting's godfather, Fred Bear — found himself facing a dilemma, and a decision, which would propel him towards bowhunting fame.
"By 1972 I started missing too much work and asked my boss to lay me off," Shepley told Wells. "I knew I'd get $18,000 in severance pay and needed it for my archery business. One day he just walked into my office and told me I was done. It was a great favor to me."
Indeed it was, and as it turned out, a favor to the bowhunting and archery industry too. Soon, the first PSE facility was up and running and Shepley's legacy was beginning to take shape.
"(I) plugged the holes in an old hog house in my backyard and poured a floor," he told Wells. "That first year I did $1.2 million in sales making vanes, release aids, and such."
Before long, Shepley turned his attention to making bows, and the rest is history, and then some.
"I was shooting a Jennings compound bow and had some ideas for Jennings, but they weren't listening, so I made my own bow and took it to an archery tournament," said Shepley to Wells. "It created a lot of interest. Getting a compound was tough, because no one was geared up for production. The next week I had orders for 500 bows, and I'd made only three bows by that time. So, we just got busy making bows."
Now a half-century plus later, Shepley's company continues to do just that, making bows, including the Full Throttle in 2014 that checked in with a 370 fps arrow speed, one of the fastest to ever hit the market. Over the years, the Arizona-based company has seen some 20+ patents be awarded to PSE as the bow-making envelope was pushed to the edge.
More than a decade ago, Shepley left the business for a brief time, but then returned full throttle himself after a hunting trip to Africa where he was bucked off of a horse and broke his arm.
In 2007 when Wells wrote the Bowhunter piece entitled "Passionate Pursuits" as PSE Archery celebrated its 35th anniversary, Shepley indicated that PSE employed at the time "..some 300 good people who produce about 130,000 bows a year"…in a plant that covered 160,000-square feet. Those employee numbers have changed over time, but PSE's big facility has gone on to not only make some of the industry's fastest and most innovative bows, but also a place that regularly hosts archers at huge indoor and outdoor shooting ranges.
Thanks to Shepley's time at Magnavox, he believed in hiring the best people he could find, and then turning them loose to do their passionate work.
"We hire outstanding engineers, but if they don't play the game — in other words, shoot a bow — we don't hire them," said Shepley in his Q-and-A interview with Wells.
Now, at the age of 81 and with most, if not all, of his archery and bowhunting goals complete, Shepley has turned the company over to Heritage Outdoors, whose stated mission is to obtain leading brands in the outdoor space.
"I have full confidence in the Heritage Outdoor team to continue to build upon the foundation I have built here at PSE" said Shepley, in the news release about the sale.
Others share that confidence as well, including John Dudley, now known around the country for his Nock On Archery brand.
"PSE Archery has proved to be the most accurate bow in my career and I'm excited to now have the horsepower of the Heritage Outdoor Group behind our passion to inspire and educate the archery community while giving the PSE dealers leading innovations," said Dudley. "As we have gotten to know the Heritage team, we are thrilled for this next chapter of our partnership. We know that Heritage Outdoor Group is focused to carry on the PSE excellence we have come to rely on and bring all new dealer support and marketing."
Lonnie Workman, VP of Sales, Marketing and Product Development at PSE Archery, agreed.
"Joining forces with Heritage Outdoor Group is a major milestone for PSE Archery," said Workman. "With the support of Heritage, we will be able to bring our products and expertise to a larger audience and continue to grow and innovate in the archery market."
Zack Gleeson, president and CEO of Heritage Outdoor Group, said his company is grateful for the chance to add PSE to its family.
"We are thrilled to welcome PSE Archery to the Heritage Outdoor Group's family of brands," said Gleeson. "PSE Archery's commitment to innovation, quality and customer service has been respected for decades in the industry. We are grateful for the opportunity to further enhance and grow the brand that Pete Shepley built."
For PSE Archery fans worried about any potential changes that might come to the company after its sale, Heritage Outdoor Group indicates that it is committed to "…maintaining PSE's strong reputation in the market through unmatched customer service and products that elevate an archer's shooting experience."
The future at PSE Archery, built from the ground up by the legendary Pete Shepley himself, will continue to forge its way forward into the years to come — now under the umbrella of Heritage Outdoor Group.
And with PSE's long-standing reputation for innovation and pushing the bow's envelope as far as it can go, expect more of the same and plenty of bright days ahead in the company's future.
After all, that's the Pete Shepley way.