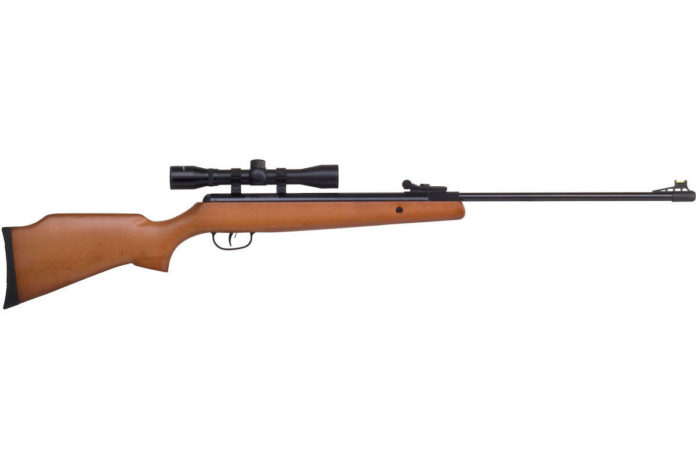 The Crosman Optimus .177 air rifle is presented publicly first time in 2011. Since its first introduction, it has quickly become the most popular and sought-after air gun in the market. It is not overstated to say that Crosman Optimus .177 has given its manufacturer (Crosman Corporation) more profit, bigger market share and more loyal customers. You will find all reasons behind it in the end of this Crosman Optimus .177 review.
Gun Type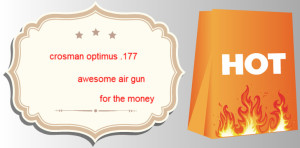 The Crosman Optimus .177 Caliber air rifle is a spring powered air gun. As the name suggests, there are a coiled spring and a piston inside the chamber. When you cock the gun, you make the spring compress until the small hook of the rear of the piston engages into the sear. When you pull the trigger, you release the hook, causing the spring to decompress. The decompressed spring makes the piston move forward and causes the air to compress inside. As a result, the bullet is propelled out of the barrel.
Spring air guns are known for their consistentcy in shot-to-shot basic, high power and for their impressive accuracy.
The barrel of this air gun is a rifled barrel (or spiral barrel) with grooves inside. This is designed to make the bullet spin before it leaves the barrel. Spin increases the bullet's stability, improves accuracy and enhances shooting range.
The Crosman Optimus .177 is a single-shot, break barrel air gun. It means that you can only shoot 1 bullet at a time. Besides, you have to break the barrel after each shot. In order to cock it, you have to hold the gun close to your body, firmly slap the muzzle, pivot it toward the end of the gun, insert the pellet (with the pellet's skirt toward you and the pellet's nose forward of the barrel), and swing it back into its original position. This may take some practice at first but when you get used to it, it will become second nature.
This air rifle has .177 caliber . It means that the internal diameter of the barrel is .177 inches. The .177 caliber is the most common caliber in the air gun world. The .177 caliber is truly popular and is a top choice of consumers for cost effective plinking/shooting since the ammo it uses (.177 pellet ) is very cheap.
Stock
The Crosman Optimus .177 features a brown hardwood stock- which gives the gun a well- balanced, sturdy feeling and a classic and handsome look. Moreover, the stock itself is ambidextrous – meaning that everyone could use this air gun, whether they are left-handed or right-handed shooters. Besides, the stock also has the rubber pad at the end of it. This pad helps absorb recoil and reduces kickback from this air rifle. Since this type of spring air gun usually comes with a  high level of recoil, having a recoil pad over your shoulder is an advantage if you want to practice shooting for long hours.
Crosman Optimus .177 Ammo
The Crosman Optimus .177 uses any kind of .177 pellets as its ammo. Depending on your need and intended use, you can choose your own type of pellet from various kinds on the market. If you want to have a great time shooting paper targets or plinking, the wad cutter (or flat head) and round nose are a great pellet to go with. If you want to hunt or take care of small varmints, you should use a pointed pellet or a hollow point pellet.  They are great for hunting and pest control where maximum penetration and maximum transfer of energy are required).
Velocity
The manufacturer claims that the Crosman Optimus .177 air rifle achieves a velocity of 1200 fps (feet per second) with an alloy pellet and 1000 fps with a traditional lead pellet. Wow, this is impressive for a $100 air gun! I cannot say that I was not excited after looking at the velocity and price when I researched this product. Another supersonic air gun for very cheap price, whoo hoo! But when I dug deeper into the information –  the customer reviews – I found a strange thing. Almost all the reviews say that this is a really quiet gun. Huh, what?  A supersonic air rifle that breaks the sound barrier is not loud at all? That makes no scientific sense at all. This issue leaves me with the question: Maybe the average velocity of this air gun is not high as it is advertised? And I kept searching about the velocity tests with different pellets for this air rifle. The result is astounding! With 8.3 grains RWS superdome , 10.2 grains JSB Exact dome pellet, 8.4 grains JSB exact dome , Crosman primier 7.9 grains, 10.5 grains Crosman Priemier ,this air gun has an average 930 fps, 807 fps, 877 fps, 923 fps, 759 fps, respectively. The highest velocity attained with this air rifle is 1138 fps with the RWS HyperMax pellet. Together with the FPS, this air rifle has about 13 – 16 FPE (kinetic energy of the pellet when it leaves the muzzle) with the pellets mentioned above. So this truth may disappoint supersonic-speed seekers a bit but remember that even though the velocity is not as high as Crosman states, the FPE this air gun produces is more than enough to take care of small varmints such as rabbit, squirrel, etc.
Accuracy
For this Crosman Optimus .177 air rifle, various accuracy tests have been conducted from different shooters with diversified shooting skills. They all have positive results. The common shooting group in the distance of 30 yards is 1 – 3 inches. So you can easily hit a nickel or a quarter at 30 yards or less. Moreover, many people can hit a tin can at a distance of 100 yards with an open sight (yes, they don't have a problem getting accurate shots EVEN without the scope). Some can take down a woodpecker at 50 yards. All of the numbers above shows that this air gun is extremely accurate for short, medium, and long range shooting.
This video below will gives you some ideas about accuracy of this gun, start watching from 3:10:
Trigger
The trigger safety is undoubtedly easy to use: pull it back and your gun is locked, pull it forward and you are ready to fire. The trigger itself is designed effectively so even kids with small palms could grasp the trigger with ease. If you don't like the plastic trigger (yes, it is made from plastic), you can purchase an aftermarket metal trigger for low price to replace it.
Sight
The Crosman Optimus .177 has an open sight with fiber optic front sight and adjustable rear sight. Fiber optic sight is the use of optical fiber for the dots. It gathers and channels ambient light to the rear sight in such a way that it's brighter than the dark surrounding. This is a great plus point compared to a conventional sight. With a traditional factory sight (when the front sight and rear sight are black), you may have a hard time making sight alignments to the target. But with a fiber optic sight, you can easily get a precise aim even in low-light conditions. Furthermore, the rear sight of this air gun has windage adjustment (allows you to adjust the sight right and left) and elevation adjustment (allows you to adjust the sight up and down). Having both of them gives you the ability to adjust your point of aim in a convenient manner.
Not only does this air rifle have an open sight but it also has a 4×32 centerpoint scope. Number 32 is the diameter of the front lens (or objective lens), measured in millimeters. Number 4 is the magnification ability of the scope. A 4 means that the picture you see when you look through the scope is 4 times bigger than the image you see without the scope. The 4×32 scope is designed to help you achieve high accuracy in long range shooting.
If you're not a fan of a 4×32 scope or if you have perfect eye vision, you don't even need the scope for short and medium range shooting (up to 60 yards), your scope is your eyes. But the scope comes in really handy if you want to shoot from 60 yards to 100 yards.
Noise
As I said earlier, most customer reviews of this air gun have a consensus that this air gun is maybe loud at the beginning but after a break-in period (about 100 shots, may vary from individual situation to another), this air gun is really quiet and doesn't get much attention from neighbors at all. So you don't have to buy hearing protection or set up a sound-proof place to shoot with this gun.
Shooting range and intended use
The Crosman Optimus .177 is great for target shooting, small hunting, small and large pest control.  With the open sight and 4×32 precision scope, it has a very flexible range. It is excellent for 30 yard shooting, great for distances of 30 -50 yards, and fairly accurate up to 100 yards.
Accessories
The Crosman Optimus .177 air rifle has only one rifle scope as an accessory. If you want to improve your marksmanship and your air gun, you can buy other accessories from Crosman such as: sticky target, target trap, cleaning oil, and so on.
Crosman Optimus .177 Specification
Action: Break barrel
Repeater : single –shot
Barrel: Rifled
Caliber: .177
Power plant: Spring piston.
Velocity : 1200 fps with alloy pellet, 1000 fps with lead pellet
Overall Length: 43"
Capacity: 1 round
Front Sight: Fiber Optic
Rear Sight: Adjustable for windage and elevation
Scopeable: 3/8" dovetail
Trigger safety: manual
Trigger: two- stage adjustable
Buttpad: Rubber
Cocking effort: 36 lbs
Scope: 4×32 center point
Stock: ambidextrous, hard wood stock
Weight: 6.5 lbs
Pros
High velocity
Extreme accuracy
High power
Classic design
Great gun for the money
Impressive fiber optic sight
Decent scope
Quiet
Cons
Hard to get supersonic velocity as advertised
Made in China (if it is made in US, it unquestionably will have a higher price)
Plastic trigger (can be replaced if you want the metal one)
Warranty
At the time this review is written, the Crosman Optimus .177 has a one year limited warranty from the date of purchase.
Crosman Optimus .177 Customer Rating
When researching products, I always look for trends in customer reviews to see if any issues could arise. Most customer reviews about this air gun are positive: they love its gorgeous look, classic design, straightforwardness, high accuracy and power, quietness, great open sight and decent scope. Some find it very accurate out of the box and some find it takes more than 100 rounds to stabilize the noise and achieve consistent shooting group. That's not a big deal, though. Nothing I found could be considered as a serious issue for this air gun. That's why the customer rating is very high: the 4 stars and 5 stars rating is over 85% of the overall rating on amazon.
Crosman Optimus .177 Price
The Crosman Optimus .177 is very cheap, about $100 at the time this review is written. Considering comparable prices for this high velocity and high power plant, its like you get the great 4×32 scope for free. This is definitely a great air rifle for the money.
There are a couple of different listings with different prices but the listing I found with the lowest price is even cheaper than the price on manufacturer's site or the prices on other e-commercial sites.
=> Click here for the lowest price
Conclusion
The Crosman Optimus .177 is an exciting air rifle : cheap price, high velocity, heavy duty power plant, extremely accurate, quiet, beautiful looking, classic design, decent scope. It's suitable for everyone who wanst to own a reliable and respectable air rifle for small hunting, target shooting, or small and large pest control.