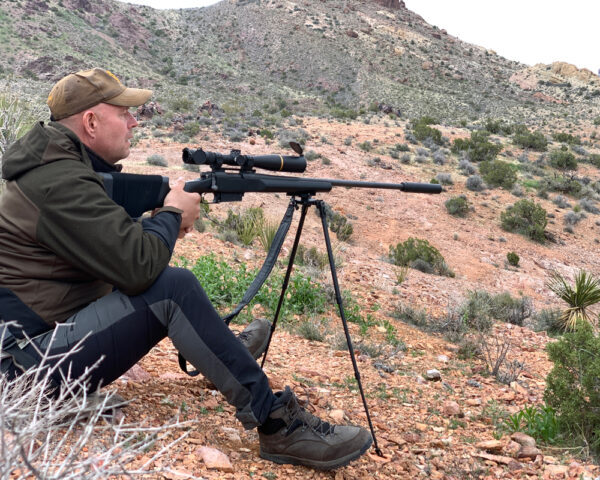 What to wear:
Colors or camo? Light tans, browns, greens or black are all good. Camo is not required but if it makes you feel better, wear it.
Despite what the predator hunting industry will tell you, you do NOT need to be dressed in full camo. The MOST important camoflauge is knowing where to sit, how to move & when to move.
Try not to wear or bring shiny objects to the stand/set-up. Dual, faded & matte gun finishes are what works best.
Facemask? If you want, but it's not required. We wear them more for warmth or sunprotection vs camoflauge.
HATS ARE A MUST! Shading your face & your view is a BIG deal!
Guided Predator Hunt Weather:
It can be below zero or 70 degrees during the hunting season. Typical weather is 20-40 degrees in the morning and 50-65 degrees in the afternoon. Dress in layers!
Predator guns:
First, know the rules of T.A.B. +1! Rifles should hold group of 1.5 or less MOA, other wise it's not accurate enough for predator hunting. Shotguns should be patterned with appropriate choke & load. Most of the animals will be shot from 20-300 yards from a seated position!
Rifle Calibers .220-.243 (6mm) are preferred for predator hunting. ARs are welcomed if they hold a 1.5 MOA or less group. It is hard to beat an accurate bolt rifle with a quality scope & ammo. Oh yeah, SUPPRESORS are welcomed!!!
We do suggest some one carry a shotgun, if there is more than one hunter
Shotguns 12 GA or larger shooting 3inch #4 buck shot or Tungsten shot.
Bring lots of ammo, just in case we have a good day. Some days you might get a shot, but other days you could shoot 8+ times in a day.
Predator Hunting Gear List:
Camo or Neutral Colored Layered Clothing (Temps typically: 30-60 degrees)
Light & Heavy Gloves
Hat, Neck Warmer & Beanie
Warm HIKING Boots
Butt Pad (possibly a stool)
Wind Check is super important because a predator's sense of smell is often what gives unknowing hunters away.
Rifle & Ammunition (40 rounds recommended)
Shotgun is SUPER HIGHLY SUGGESTED because of the terrain & animal behaviors.
Tripods, Shooting sticks or Bipods 32-42″ Heights (Most shots are from seated position. Steady shots are a must & we won't go hunting unless you have a proper rest system! PERIOD!!)
Chest Binoculars are optional but great for scanning at the end of a stand. Predator Hunting Binocular Harness makes use much easier!
Range finders are highly suggested & a bino harness w/ range finder pouch makes for a smooth transition.
Predator drag ropes are useful if you are wanting to keep your predator furs.
Discuss with guide if you want to keep your fur, mount your trophy, or donate to guide.
Valid Arizona Hunting License
Any personal items
You must have a valid Arizona hunting license to hunt coyotes, gray fox & bobcats in Arizona. Arizona offers a non-resident 365 day license for $160, or you can purchase your license by the day ($20 per day). To export a Bobcat out of the state of Arizona hunters must purchase a bobcat export tag ($3 per tag) from the Arizona Game & Fish Department after the animal has been successfully taken.
You can purchase your license online prior to your hunt dates at: Arizona Hunting License
US Fish & Wildlife Cities Permit: Bobcat Export Permit/Seal/Tag