Airgunmaniac air rifle reviews rock! Why? Simply because of their honest nature and attention to detail. We so far have almost a hundred airgun reviews done by Airgunmaniac experts. They go into the field and individually test the rifles and compile informative reviews you can rely on.
Our thorough criteria of assessing air rifles is summarized in the table below:
Type of air rifle
Criterion
Options
All types

Caliber

.177, .22, .25, .30, .357, .45, .50

Muzzle velocity

Measured in fps, varies widely

Loudness

Scale of 1 low – 5 high

Barrel length

Varies from about 5" to 30"

Overall length

Varies from about 10" to 50"

Muzzle Energy

Varies from 5 FPE to over 500 FPE

Barrel

Rifled or non-rifled

Trigger

Single or two stage

Adjustable or non-adjustable

Trigger pull

1-7 lbs

Safety

Manual or automatic

Weight

Varies from about 2 lbs to over 10 lbs

Action

Bolt action, side lever, underlever

Powerplant

Pre-charged pneumatic, spring piston, CO2, Gas piston, multi-pump pneumatic

Body type

Rifle, pistol, Bullpup

Recommended use

Fun plinking, target practice, hunting

Stock

Hardwood, synthetic, softwood, monte carlo

Colour

Brown, Black, Red, Blued

Grip

Right, Left, Ambidextrous

Buttplate

Rubber, plastic, wooden

Accuracy

1 inch groups

CO2 air rifles

Cylinder size

12g, 88g

PCP air rifles

Shot capacity

1 or repeater

Maximum shots per fill

3 to 200

Cylinder fill pressure

Varies widely, from about 2,000 up to 4,500 psi

Spring-powered air rifles

Cocking effort

Measured in lbs, 20 – 50 lbs

Multiple pump air rifles

Cocking effort

3-10 pumps

Included accessories

Sights, scopes

Front sight, rear sight, scope
Note that the above summary is but a general picture of our grading criteria. Let us now look at the newest best air rifles in the market.
New air rifles for 2020
Airgun technology is on a continuous upward trend in an aim to produce weapons that are both fast, accurate and powerful. 2020 started with new additions in the market, of which I'll introduce 4 of the best.
1. Beeman Competition PCP air rifle
While Beeman has for long been known for low end air rifles, mostly of the break barrel type. They recently shook the PCP world with their New Beeman Competition Air Rifle. It is only available in the .177 caliber, as is expected of course. 
The stock mesmerizes me, to be sincere. The machining quality is commendable. You can adjust the settings in about a hundred different ways.  Beeman made the pistol grip adjustable so that you can slide it forward and backward and even rotate it, until it fits your arms perfectly.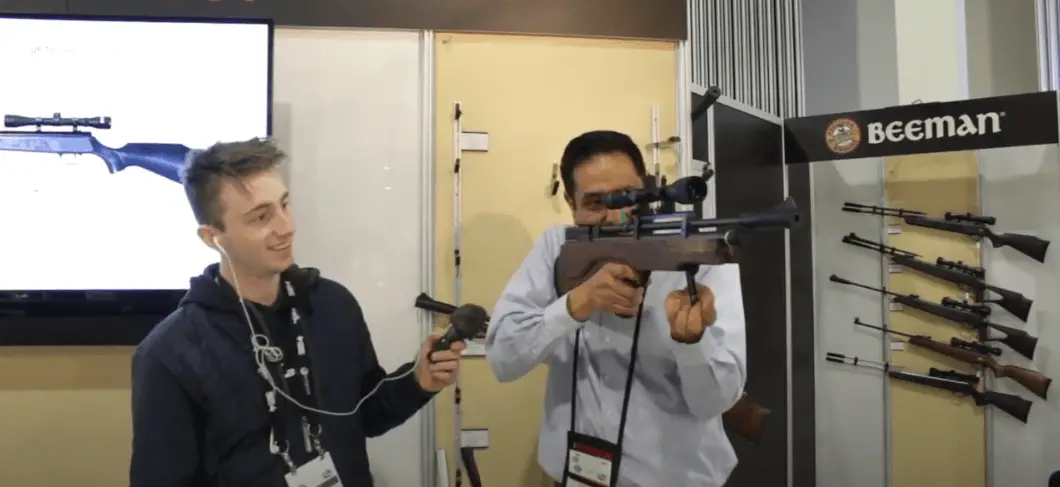 The butt is likewise able to be adjusted in multiple ways, as is the norm with high end rifles. The cocking lever is surprisingly placed on the front so as to enable the shooter to have a continued shooting experience without losing focus on the target. Having a fill pressure of 3,000 psi, you will get approximately 200 shots per fill with a constant velocity of around 550 fps.
2. Umarex AirSaber
You are used to pellets and BBs, but now it's time to think arrows. Yes, arrows! The AirSaber by Umarex is specifically designed to shoot 350 grain, 23" long carbon fiber arrows at the amazing speed of 450 fps. What game would dare stand over 150 FPE muzzle energy that the arrows produce? None, you got it. And that makes the AirSaber the latest popular hunting airgun.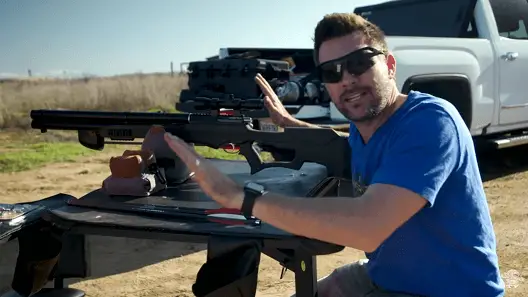 This latest hunting airgun features a hardy ambidextrous synthetic stock, black in colour. What more, a single fill of the 3625 psi tank guarantees you 25 powerful shots. With less than $400, you can have this wonderful weapon, together with a 4×32 scope with ballistic archery reticle.
3. Hatsan Piledriver
Hatsan has a long history of producing the most powerful air rifles in the market, and they just did it again in this new merciless weapon named the piledriver. Sounds murderous from the very name. Think of 700 FPE muzzle energy for its .45 caliber model, and over 800 FPE for its .50 caliber. I assure you that is enough power for the toughest hunting expedition you will ever attempt.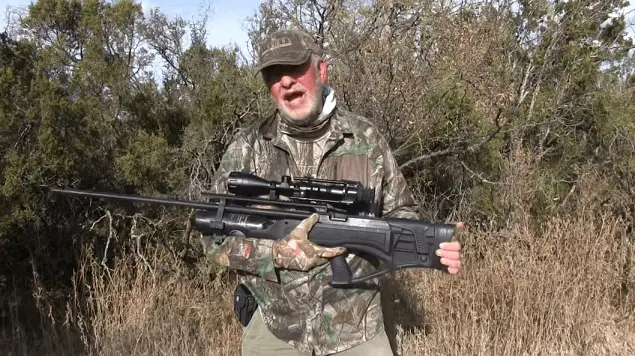 It is of the bullpup design and so the 10 lbs weight will not feel much of a burden to you. Its 400 cc cylinder can be filled to an unimaginable 4351 psi, and this gives you 5 killer shots.
4. Ultimate Sporter XS
This is the most costly PCP air rifle by Air Arms, at slightly below $2,000. High end air rifles like this present to us the real meaning of traditional craftsmanship. And so you wouldn't expect anything synthetic here. The gorgeous walnut stock will definitely single you out from the crowd.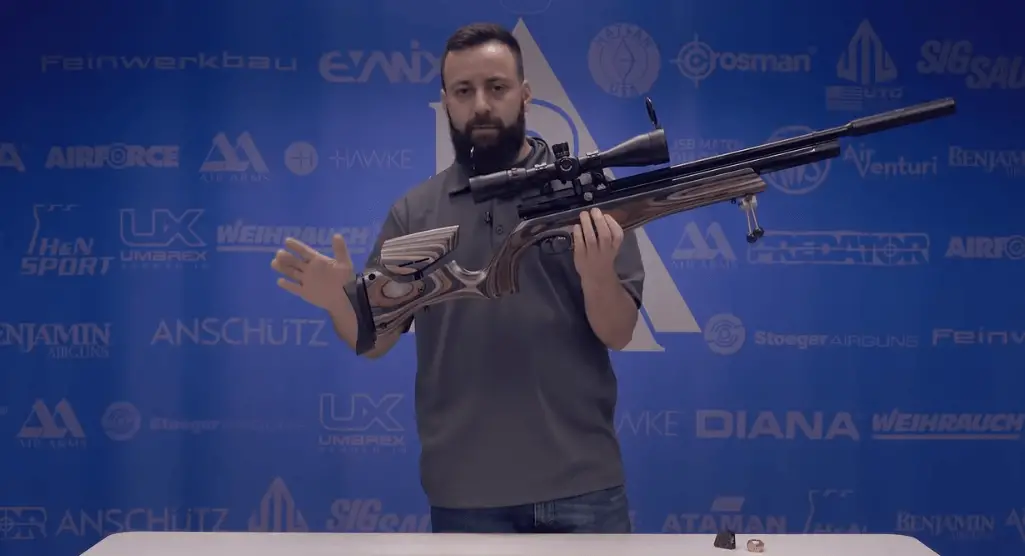 It is more of an advanced model of the already popular Air Arms S501. They added a regulator to make the shots more consistent. A single fill of its 288 cc cylinder rated 3626 psi gives you 60 consistent shots. That is for the .177 caliber. Also, expect muzzle velocities of up to 1035 fps.
The most powerful air guns
1. Umarex AirJavelin Air Archery CO2 rifle
The Hammerli 850 AirMagnum initially ruled the CO2 arena, but the company has since upped the ante and produced a more powerful CO2 air rifle. The Umarex AirJavelin is powered by the 88 g CO2 cartridge. This gives you a total of 27 forceful shots with speeds of up to 300 fps and muzzle energy of up to 34 FPE. This is approaching the power of medium quality PCPs.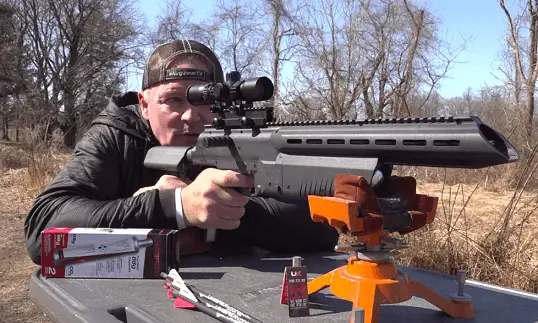 Its buttstock is fully adjustable to fit whatever stature of the person that handles it. You will also love the spacious picatinny rail that allows you to mount as many accessories as you wish. 
2. Airforce Texan SS Big bore
Power and quietness seldom go together, but Airforce was successful in this uncertain attempt. The Texan SS features a fully shrouded barrel with the coveted Sound-Loc technology. Its shots rated at 140 FPE and 1130 fps for the .30 caliber produce medium noise. This has been the desire of every hunter who knows the importance of stealth.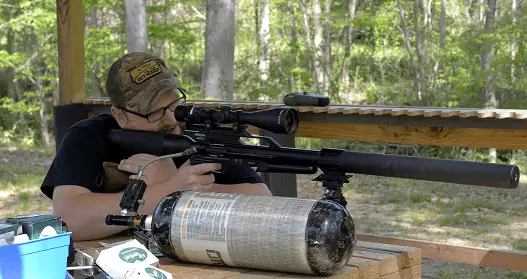 With a cylinder size of 490 cc, you will enjoy at least 10 shots before thinking of a refill. Just note that you will not enjoy the admired repeater shot function. All the same, single shot functionality suffices when it comes to hunting.
3. Gamo Coyote SE PCP air rifle
Gamo collaborated with BSA to bring this powerful PCP air rifle into the market. It comes in 3 models – the .177, .22, and .25, so you can choose any according to your shooting needs. Be it plinking for fun, target practice or game hunting, they've got you covered.  The exquisite beech stock appropriately fits all these applications. Also, it is ambidextrous and lightweight enough (7.65 lbs) to cater for teens, youths, and the elderly.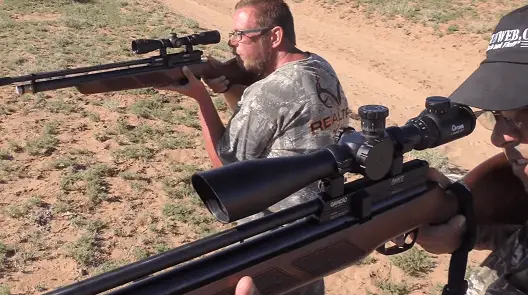 A speed of 1000 fps for the .22 caliber is fairly impressive. Their silencing technology ensures that these lightning shots fly out unnoticed.
4. Hatsan AT44-10 Long QE  
The "long" aspect of this rifle ensures you get up to 45 shots per fill of the 230 cc air reservoir rated 2,900 psi. With a loudness level of 2 (low), you can anonymously eradicate a colony of rabbits within no time. We are looking at muzzle energies of up to 45 FPE here.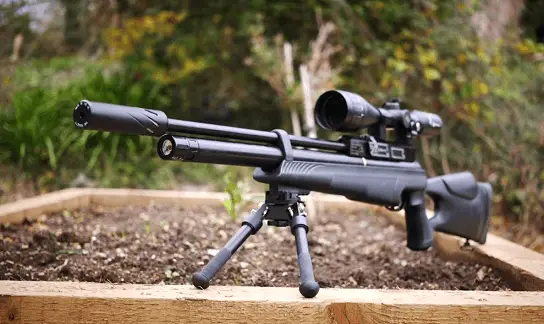 Even if your intended use is fun plinking and you adore powerful shots, the .177 caliber model will fit you. Higher calibers can be dedicated to hunting and pest control. 
I'm sure you will also find useful the textured grip, automatic safety, rubber recoil pad, and built-in manometer. All that and much more for less than $600.
Best break barrel air rifle
If you'd rather call them springers, that's all well and good – we are on the same page. While the term springer refers to the main power plant of the air rifle, the term break barrel refers to the mechanism by which you cock the air rifle – that is swinging the barrel on its hinge to compress the spring and back up to align it for the shot. The break barrel technology has come far and so far the following four are the best air rifles in this category.
1. Gamo Whisper Fusion
This robust airgun was specifically designed for hunting. Experienced hunters will tell you that visibility of the prey is the most defining aspect of hunting success. 
To ensure you see properly in the field, Gamo made sure to include a quality scope with the following optics features: 3 – 9 x magnification, 40 mm objective lens, 1" tube, 30/30 reticle with sharp crosshairs, 40 – 12 ft field of view, 3.5" eye relief, 21.6 oz, 13.5" long, fogproof, shockproof, and waterproof.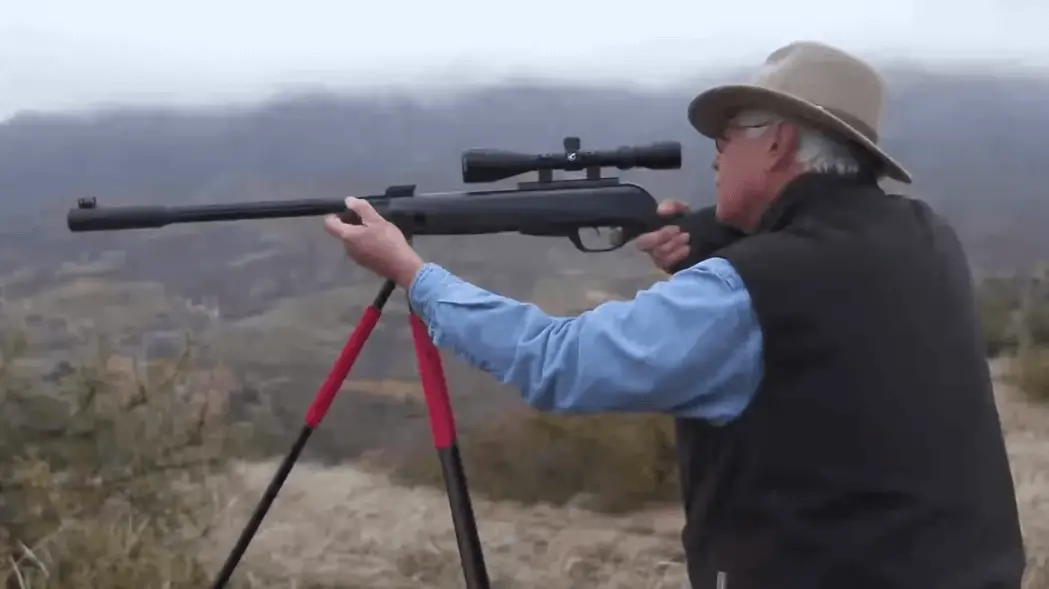 No more worries of staying late in the hunting field or bad weather turning on you while hunting. The 1420 fps muzzle velocity for the .177 caliber is a sure marvel.
2. Ruger Air Magnum Combo
Using .177 alloy pellets with this weapon gives you speeds of up to 1400 fps. No critter will survive such a hit. Especially given that the rifle comes fitted with fiber optic front and rear sights. 
The cocking effort of 42 lbs may seem a little bit tedious, more so when you consider the single shot functionality. Do it over and over again and it will feel like ABC after a few days.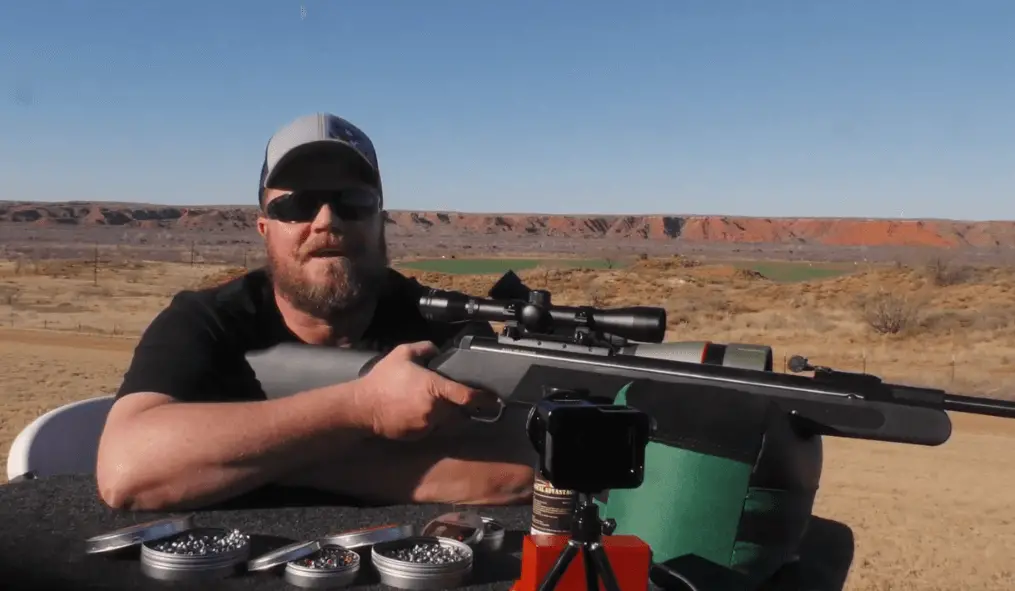 The black ambidextrous synthetic stock is pretty neutral. No complaints since it is a low budget rifle.
3. Benjamin Trail NP XL
The combination of 1500 fps muzzle velocity and 24 FPE muzzle energy for the .177 caliber sounds exaggerated, but you better believe me. The main spring for the air rifle is of such high quality that you can leave the gun cocked the whole day and not notice any signs of spring fatigue. 
Similarly, you can use the airgun in the hottest or coldest weather and your results will be the same. And to cap it all, it is 70% more silent compared to other break barrel air rifles.
4.  Diana 34 Breakbarrel rifle
The reputable German manufacturer Mayer & Grammelspacher GmbH never disappoints when it comes to quality versus value for money. With less than $300, you can win yourself this beautiful break barrel air rifle packed with all features of high end rifles. Talk of a rifled steel barrel, beechwood stock, two-stage adjustable trigger, fiber optic front sight, and automatic safety, among many others. I wouldn't bargain for more. 
Enjoy speeds up to 1000 fps for the .177 caliber. 
Best hunting air rifle
With the hundreds of Air rifles in the market designed for hunting, it sometimes turns out tricky to single out one and label it the best. As you are already aware, the most expensive is not always the best. Nor is the most powerful air rifle the best for hunting. 
What I'm driving at is the need to balance. The best hunting air rifle would be one that suits your budget and offers you the features you need. Maybe your locality only has rabbits. What would you want with an air rifle rated 730 FPE? To me, that is similar to owning a 60 seater bus to ferry you and only you to the workplace and back home.
So choose the air rifle according to your needs. Again do not go to the opposite extreme. Imagine chasing a Cape Buffalo with a CO2 air rifle rated 30 FPE. Sounds absurd.
Being a small game hunter, my best pick is the Gamo Whisper Silent Cat. It thrills my heart to imagine that less than $200 I can go on a hunting spree.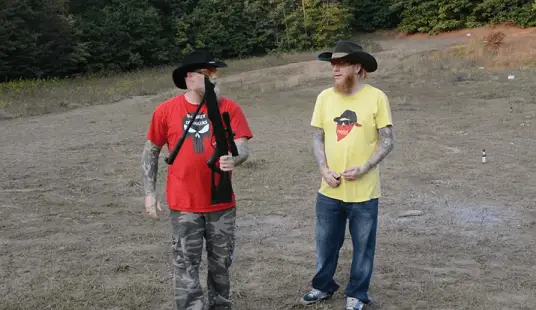 Take literally the meaning of silent in the name. The airgun features a noise dampener that reduces noise by 52%. Coupled with a top quality SAT trigger and 4×32 scope, I can always sneak on quail, woodcocks, rabbits, and the like and slaughter them in a matter of seconds. 
I do hope this honest introductory Airgunmaniac air rifle review has been both informative and eye opening. My pleasure is always to share my experience with you so you make informed decisions. 
Keep checking the Airgunmaniac blog for more detailed air rifle reviews.