David LaPell reviews the first John Browning design the Winchester Model 1885 Rifle.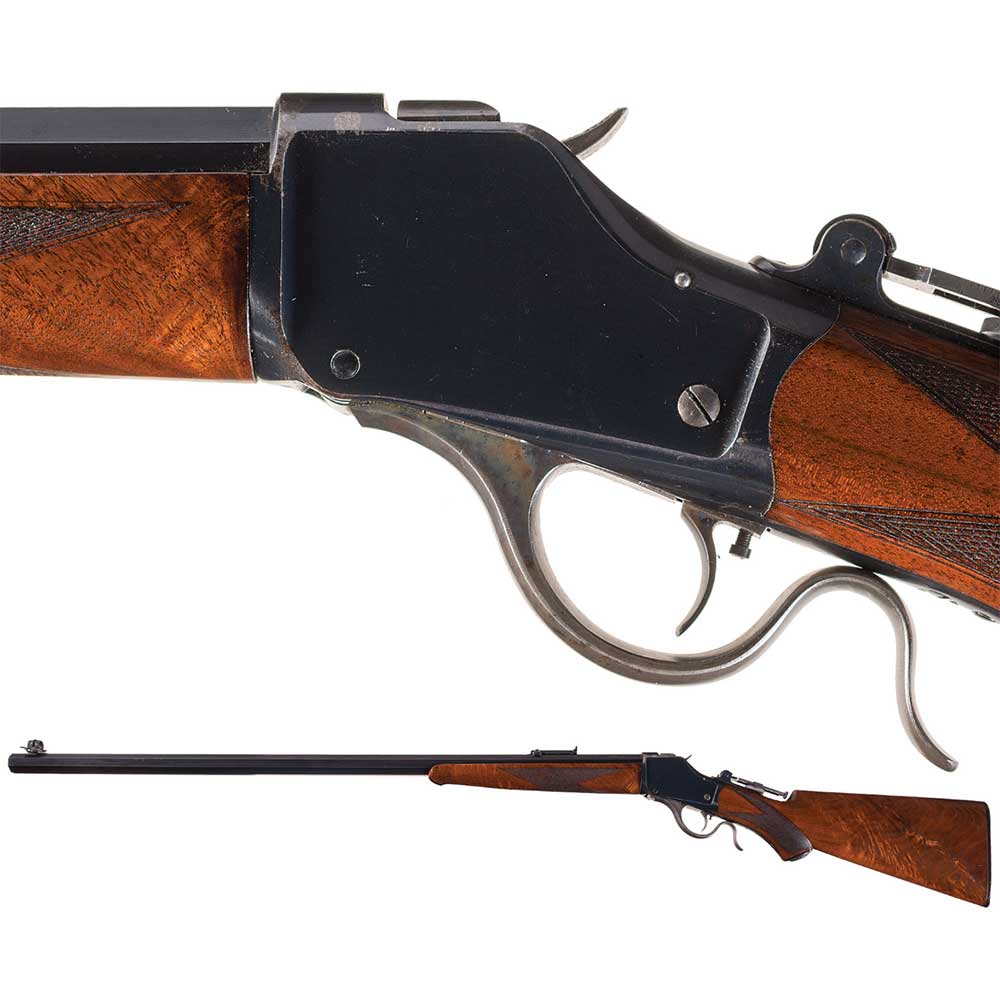 USA -(Ammoland.com)- You would have to be a poor scholar in the history of firearms to not know the name John Moses Browning. The firearms he designed are legendary and with companies like Winchester, Colt, Browning and Remington producing them they won the west, won wars and took game all over the world.
With so many great firearms that John Browning designed, like the Winchester 1892, 1894, the Colt 1911 and the Browning Auto-5, few seem to remember his first successful design, the Winchester Model 1885.
Winchester Model 1885 Rifle
John Browning had been tinkering and inventing in his father's shop as a kid, making his first gun when he was just thirteen years old. In 1878 he came up with a falling block, single shot rifle and filed for a patent for it a year later.
In 1883 Thomas Bennett, vice president and general manager of Winchester Repeating Arms Company took a trip to Ogden, Utah to look over the rifle. Bennett bought the rights to it and another design that would become the Winchester 1886 lever action.
This began a partnership that would produce some of the most well-known firearms in American history, and the purchase of Browning's single shot rifle gave Winchester a new gun to compete against the Remington Rolling Block and Sharps rifles.
Over the next couple of years, Winchester further tweaked Browning's design and eventually split it into two distinct and different guns, the 1885 Low Wall and the 1885 High Wall.
The Low Wall is easy to spot as the hammer and the breech are visible on the frame if you are looking at the gun from the side and the High Wall, the only thing visible from the side is the hammer spur.
Between both the Low Wall and the High Wall the 1885 Winchester was chambered in more than fifty different rimfire and centerfire rounds. The High Wall was offered in the more powerful offerings like the .45-70, .45-90 and the big .50-90 Sharps. The Low Wall was made in less powerful cartridges like the .22 Short and some of Winchester's already very popular lever action rounds like the .32 WCF, .38 WCF, and .44 WCF.
Like many of Winchester's other guns, the options were almost too numerous to fathom. There was no standard barrel length as the caliber the 1885 came in determined how long it would be, but any barrel was either round or octagonal.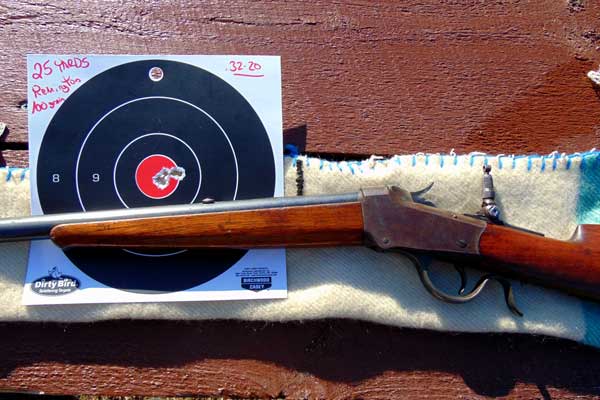 A musket version with a full-length stock was available in both Low and High Wall. There was a High Wall Schuetzen version that was for target shooting with a different cheek piece, double set triggers and an adjustable palm rest. Winchester also made Low Wall carbines with barrel lengths starting at twenty inches all the way down to fifteen and came with a saddle ring and a rounded butt plate.
Two of the more unique versions of the 1885 Winchester were the High Wall 20 gauge shotgun with a twenty-six-inch barrel and the Low Wall Winder musket, named after the distinguished shooter Colonel C.B. Winder. The Winder musket also had a twenty-six-inch barrel, full-length forearm and had a Lyman receiver sight and was chambered in .22 Short and .22 Long Rifle.
The 1885 Winchester stayed in production until 1920, a pretty impressive feat considering how many different lever action rifles were being made that found favor among sportsman during the latter part of the 1900's while single shot rifles never really advanced.
Despite all the advances in firearms technology the 1885 Winchester never really fell totally out of the limelight. Uberti has a very faithful High Wall reproduction in .45-70 as well as a Low Wall in several of the original Winchester calibers like .32-20.
Not to be outdone Winchester in 2005 reintroduced the 1885 with a bit of modern flair. The High Wall Traditional Hunter is in .38-55 and .45-70 and the Low Wall is chambered in .22 Hornet, .223, .22-250, .243 Winchester and 6.5 x 55mm to name just a few. The newest incarnation of the 1885 Winchester nearly rivals the original in the number of calibers one can choose from in both rimfire and centerfire.
My first Winchester Model 1885 rifle was actually one of the Uberti made High Wall replicas in .45-70. I owned that gun some twelve plus ago and it was shot often but I did not have access to a range where I could take advantage of the gun's accuracy at longer ranges. But the Uberti 1885 Winchester replicas are excellent in quality and well worth looking into.
Recently I found a true gem, an original 1885 Winchester Low Wall in one of my favorite calibers .32 WCF (.32-20). Made in 1889, the craftsmanship of the rifle is outstanding, considering that the gun was made before the Massacre at Wounded Knee, Butch Cassidy and the Sundance Kid had not yet fled to South America and Annie Oakley was on tour with Buffalo Bill Cody. One cannot help but wonder where this gun has been in its nearly one hundred and thirty years since the day it was made.
After looking around for awhile I found an original Marbles tang sight for the Low Wall and headed to the range. For those who have never shot a .32-20 before, it is one of the most pleasant rounds you will ever fire outside of a .22 LR. It makes a great small game round for varmints and furbearers out to 100 yards and many over the years have taken deer with it although with a 100-grain bullet and muzzle velocity around 1,200 fps it certainly is a bit light.
I brought my Winchester Model 1885 Rifle to the range with a box of Remington 100 grain lead SP's and after getting it sighted in I got a five shot group at 25 yards that is just under an inch. That would be excellent shooting for a gun made today with open sights, let alone a rifle made more than ten years before the Titanic had its unfortunate run-in with an overgrown ice cube. The Winchester Model 1885 Rifle is every bit ready today to go out in the woods as it was all those years ago.
John Browning was a true genius when it came to developing and designing firearms and while many other guns that sprang from his fertile mind have stolen the spotlight, it is only fair that his first successful design also be given its due, because who knows what might have happened had the 1885 Winchester never seen the light of day.
** Images: Rock Island Auction Company ( www.rockislandauction.com )
About David LaPell
David LaPell has been a Corrections Officer with the local Sheriff's Department for thirteen years. A collector of antique and vintage firearms for over twenty years and an avid hunter. David has been writing articles about firearms, hunting and western history for ten years. In addition to having a passion for vintage guns, he is also a fan of old trucks and has written articles on those as well.