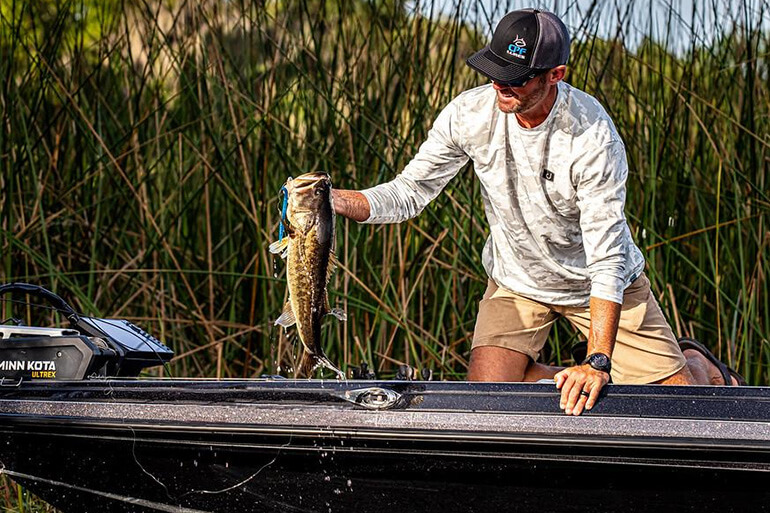 For a mountain climber, it's scaling Mount Everest. For a deer hunter, it's bagging a 12-point buck. And for a bass fisherman, the ultimate quest is catching a 10-pound largemouth.
Boating an elusive, double digit bass requires skill, dedication, and a certain amount of luck. That's because only a small percentage of bass live long enough, at least 10 years or more to attain that size, according to the Florida Wildlife Commission (FWC).
Even in Florida, where they grow faster and larger than their northern cousins, 10-pounders are few and far between, since the average bass has a life span of only 5 to 6 years.
TrophyCatch, however, has figured out which Florida lakes produce the greatest number of the wily "old timers."
TrophyCatch (TC) is the FWC program which rewards fishermen for catching, releasing, and registering bass over 8 pounds. On the basis of the data TC has collected from 86,600 anglers over the past 8 years, what follows is a list and description of the top 5 Florida lakes, in ascending order, for catching a 10-pound bass, along with advice from experts on the best ways to do it.
5. Lake Tohopekaliga
Since its inception, TrophyCatch anglers have accounted for 70 bass over 10 pounds in Lake Tohopekaliga or "Toho," making it the 5th best body of water for achieving the Holy Grail.
Toho guide Kyle Whitten of Florida Lunkers Guide Service (Floridalunkers.com/407-902-7604) explains why: "In my opinion, it's the vegetation," said Whitten. "Toho is full of different kinds of grass year-round, and I mean a lot of it. In the summer, it's not uncommon to see birds standing on hydrilla in the middle of the lake. Simply put, the vegetation attracts insects, insects attract bait fish, and bait fish attract big bass."
And how do anglers, in turn, attract 10-pounders?
"Wild golden shiners," said Whitten. "They just flat out catch more and bigger fish. When I became a guide several years ago and started using shiners on a daily basis, our catch of fish 5 pounds or more skyrocketed.
"But even using artificials, I pretty much only target big bass. Favorite choices are the Zoom Magnum UV speed worm in either junebug, blueberry, or some shade of green like watermelon candy; Gambler Big EZ on a swimbait hook; Zoom Horny Toad or a black buzzbait; or even a weightless fluke can get you a big bite if they're super finicky. I also love to punch mats and throw Rattle Traps."
Thirty miles south of Orlando, Lake Tohopekaliga, which derives from a Seminole word meaning "we shall gather here," part of the Kissimmee chain, boasts 22,700 acres. Given all that water, I asked Whitten how anglers know where to go.
"In general, go deeper in the hotter months and shallower in the colder months," said Whitten. "That is not 100% always the case, but it's a good rule to live by. Bass will hold on lily pads, Kissimmee grass, reeds; but I almost always target hydrilla.
"Look for 4-7 feet of water with submerged hydrilla, and you will get bit. Find that depth with clean hydrilla, not slimy or brown. February, March, and April are the best months.
"Wild shiners have the ability to draw fish out to open water. You're usually not around nearly as thick of cover as you'd be while using artificial lures, so I use 12- or 14-pound mono, with a 2/0 or 3/0 shiner hook (kahle hook), and a bobber about 2 1/2 feet up. I hook the shiner through the bottom lip and up through the nostril."
When the rare opportunity finally comes, how do you make sure to take advantage of it?
"You know the second you hook into a big one on Toho, because you set the hook, but half of your rod doesn't move and just kind of sits there. They are much stronger and tend to 'bull-dog' down into the grass. A big fish will even open up a stout hook once they get down in that submerged hydrilla. I always tell my customers that the most important thing is not an immediate hookset. It's okay to let 'em have it for a bit. What's more important is to turn their head up and pull them out of the grass as soon as possible; because once they get down in the salad, they have a very good chance of muscling off that hook."
ACCESS AND BAIT: Big Toho Marina on the lake's north end has live shiners, tackle, rentals, food, gas, and a boat ramp, at 69 Lakeview D., Kissimmee, FL 34741; (407) 846-2124. Anglers can also launch at the Granada Public Boat Ramp on the west end, at 2563 Ridgeway Dr, Kissimmee, FL 34746; (407) 742-0200.
4. Lake Istokpoga
Istokpoga also derives from the Seminole language, translating rough to "people who died there," following the legend that 19th century Seminoles disappeared into whirlpools while traversing the 27,000-acre lake.
Since 2012, TrophyCatch anglers reported catches of over 90 bass exceeding ten pounds on Istokpoga.
With an average depth of 4 feet, Istokpoga is a vast oval punctuated by two large islands in the southern portion. It is fed by Arbuckle Creek and Josephine Creek on the north and west end, and flows through a canal connected to the Kissimmee River and Lake Okeechobee to the southeast.
Don Hatcher, who has been guiding here for almost 40 years, is a familiar name to Florida bass fishermen (donhatcherfishing.com/863-655-0265).
"While a big fish can be caught any time of the year," said Hatcher, "odds are just better during the spawning season starting in late October, when cooler nights start to bring water temperatures down, through the end of March.
"I don't do anything different for a 10-pound fish. You prepare for that big bite every time you go out. Check your equipment and keep fresh line spooled on your reel. Don't let a bad spot on your line break your heart.
"There is no better bait for a big bass than a big, wild shiner. As for artificials, I like small profile lures like a Sweet Beaver 4" Crawdad, or a ½- to a 1 ½-ounce jig for punching through mats. In the heat of summer, look for thick pads and flip an 11-inch worm."
Istokpoga has undergone considerable change in the past several years because of hurricanes, herbicide spraying, and the disappearance of hydrilla.
"We no longer have any submerged vegetation in any water deep enough to hold fish, that I've found," said Hatcher. "Our cover consists of bulrushes and spatterdock, which are the pads that stick up out of the water, whereas lily pads lie flat on the surface. There are a few areas of cattails that are fishable. I like thick bulrushes in summer and thinner bulrush patches during spawning.
"In the spatterdock fields, slow that trolling motor down," said Hatcher. "You're in water 3 to 5 feet deep, so fish where the outside pads meet the open water. In August/September, with the water pulled down for hurricane season, you're hard pressed to find cover in 5 feet. So don't go in there with the trolling motor on high making noise and creating back wash. Big bass didn't get to be big by being stupid.
"Although the best time to catch a 10-pound bass is December through March, cold fronts will shut down the bite for a couple days before bass adjust and start to feed again."PH can be a factor [unfavorable when below 7.5 ] especially in the summer when water temps get up around 90 degrees. Stay out of stagnant, no-flow areas. Rain can create current, and current can be your friend.
"A few weeks ago, for example, a lot of current was coming out of Josephine Creek, and the bass had shad cornered between 2 sandbars and were going to town on them. If you can find some floating vegetation such as water hyacinth or water lettuce that get in the pad fields out in front of the mouth of the creek, then flip or pitch baits down through the cover and hold on.
"Finally, remember to try different things, since fish don't read Florida Sportsman and don't always know what they're supposed to do."
ACCESS AND BAIT: Istokpoga Park on the north end has an excellent, free boat ramp and plenty of parking at 720 Istokpoga Park Access Road in Sebring, FL 33876. Fishbone Tackle has live shiners: 1451 US-27 N, Lake Placid, FL 33852; (863) 531-3699.
3. Rodman Reservoir
"If you were going to draw up a blueprint for a bass lake, this would be it."
Captain Sean Rush's characterization of 9,600-acre Rodman Reservoir in northeast Florida, is supported by TrophyCatch's tally of 121 bass over 10 pounds registered there in the past 8 years, making it 3rd best in the state.
Owner and sole guide for Trophy Bass Expeditions of Central Florida (352-843-0939; trophybass@brighthouse.com), Rush likes Rodman's good water quality, timber, vegetation, variety of structure, and 8-foot average depth.
For the best chance at a 10-pounder, he recommends fishing live wild river shiners between November and February: "If you can find heavy floating mats of vegetation in 4-10 feet of water, but in an area where there is even deeper water nearby they can escape to, well, the big girls seem to like that.
"We typically use heavy bait casting gear. The smaller rods are 7-foot inshore saltwater rods and 200 series bait casting reels with 17-pound-test mono. The larger are 8-foot Extra Heavy Musky Rods with 300 series reels. I even carry a 4000 Shimano BaitRunner spinning reel on a 7-foot inshore saltwater rod with 20-pound-test Power Pro for my clients who like to use spinners.
"When you set the hook into a big bass, you have to be prepared for the initial shock that feels like you just set the hook into a log. A firm grip is required as I've seen a big fish fold a lot of people's arms up.
"Luckily at Rodman, with the live wild shiner fishing, you don't have to sacrifice numbers for big fish, or vice versa. You can do both!"
ACCESS AND BAIT: Bait and tackle available at Howard's Wild Shiners at NE CoRd315, Orange Springs, FL 32182, (352)546-1213. Launch at Orange Springs County Park Boat Ramp, with capacity for 100 vehicles: 14525 NE 245th Street, Fort McCoy, FL 32134, (352)671-8560.
2. Kingsley Lake
Forty-five miles southwest of Jacksonville, Kingsley Lake is unique for three reasons.
Originally formed by a giant sinkhole, the 2,000-acre lake is nearly perfectly round.
It is among Florida's deepest lakes, with depths from 40 to 80 feet.
TC anglers at Kingsley have registered 17 bass over 13 pounds, and a total of 147 over 10 pounds.
FWC Researcher Andrew Dutterer, who conducted a telemetry study on Kinglsey (electronic location tags), explains why this lovely "sinkhole" is 2nd best in the state for catching a bass over 10 pounds:
"We knew [from TC data] that some of the bass at Kingsley reach exceptionally old ages," Dutterer wrote in an email. "During much of the summer, the water column at Kingsley becomes stratified, also known as having a thermocline. This occurs because warm water floats on top of cooler water. After stratification has set in, there can be as much as a 30-degree difference between surface temperatures and those at the bottom.
"A bass's metabolism is at the mercy of the water temperature around it. For largemouth, warmer water is often better but only up to about 85 degrees. Temperatures beyond that point can begin to be stress-inducing.
"After tracking several giant bass through Kingsley for nearly two years, we did collect some evidence that water temperature likely plays a role in the abundance of trophy bass there.
In early summer we saw that our telemetered bass spent a lot time at depths between 10 and 25 feet, and this kept their temperature cooler than the warmest temperatures in the lake, which occurred at depths of 10 feet or less.
"So, it's quite possible that Kingsley Lake bass enjoy some metabolic advantages by having access to cooler water during summer, and these advantages, when compounded over a bass's lifetime, translate into better-than-average growth and extended lifespans."
Working at Kingsley with pro angler Porter Hall, Dutterer gathered additional information useful to anglers targeting 10-pounders on Kingsley:
"Based on TrophyCatch entries, March is the best month to catch trophy. Of about 300 catches documented in the program, nearly one-half of them happened in March.
"Because of its clear waters, Kingsley attracts quite a few sight fishermen who target bedding bass. Seventy three percent of Kingsley's TrophyCatch bass were caught with artificial lures, and it's very likely those catches occurred with an angler staring down the bass guarding a bed.
"Kingsley Lake's trophy bass primarily feed on large sunfish. We inspected diet contents from some of the bass collected at the beginning of the telemetry study. Most of what could be identified were remains from bluegill, redear sunfish, and black crappie. Many of them were large enough to be good catches on their own.
"Besides docks, a limited number of sunken brush piles, and a thin band of muskgrass that follows the 10-foot depth contour, Kingsley Lake doesn't offer an extensive amount of habitat for bass. Our telemetered bass appeared to live pelagic, nomadic lives, much like striped bass in reservoirs."
While additional helpful information from the Kingsley study is available on the FWC website, trophy hunters will be interested, if not excited, about this episode related by Dutterer:
"One of the most memorable events of the study occurred early in our tagging process. We boated a healthy 12-pound giant, placed it in the livewell, and raced across the lake to a dock where the surgery would take place. This fish was anesthetized, surgically implanted with an acoustic telemetry tag into its body cavity, and sutured closed. After a short recovery period, we returned it to the same part of the lake from which it was caught.
"We then monitored this fish with a hydrophone to hear its transmitter and to confirm it had returned to an appropriate depth. While listening, we resumed fishing, as more transmitters needed to be implanted, while also determining that the 12-pounder returned to depth.
"About an hour later and a quarter mile away, we hooked another sizable fish. After netting it, we saw that this fish already had a tag, so was already in the study. I read the tag number and realized it was the same fish we just released! This was definitely not the kind of post-op behavior we would have prescribed! Even after the ordeal of the surgery, she was still hungry and immediately back in predator mode."
ACCESS AND BAIT: Bait available at S.J. Tackle Co., 6828 Crystal Lake Rd., (352)473-9509. Kingsley has no public ramp. Lake homeowners, renters, and military personnel may launch at Camp Blanding.
1. Lake Kissimmee
Smack dab in the middle of Florida, 70 miles south of Orlando, Lake Kissimmee is No. 1, the undisputed champion for 10-pound bass, where 153 have been registered by TrophyCatch anglers, caught and released back into the depths of its 34,000 acres.
"Florida strain largemouth bass grow bigger than other strains. And Kissimmee's strain is larger than average," said Capt. Chuck Pippin (www.chucksguideservice.com, 407-580-8458) who guides bass fishermen in dozens of lakes in Central Florida.
Like other guides, Pippin agrees that January through March is considered prime time for using wild shiners. "But what a lot of anglers don't notice is that the majority of the heavier tournament winning weights come in May and June," said Pippin, testifying from his experience as a pro on the FLW circuit.
"If you're looking for trophy bass," said Pippin, "you'll want to target offshore hydrilla beds, manmade brush pile and fish attractors, and you'll want to flip/punch heavy cover. You'll find big fish around these areas all year. Bladed jigs, big Texas rigged worms, and slow-rolling Magnum Speed Worms are great presentations for offshore hydrilla. Nothing beats a big Texas rigged worm when fishing fish attractors and brush piles.
"However, big fish can and will be caught when water levels are high, and the fish move into the pencil reed lines along the shores. Lake Kissimmee, though it does have some good shell beds, is known for producing big fish in the thick nearshore grass beds along the lake's perimeter and around the various islands.
"A lot of Kissimmee anglers use tackle that's too heavy. Heavy rods aren't as sensitive, and heavy line is more easily seen by the fish and can change the action of some lures. The most common rod in my boat is a 7-foot, 1-inch MH baitcaster with 15- or 17-pound mono or 30-pound braid. You have to actually get the bites before you can worry about reeling them in.
"When flipping/punching in heavy cover, however, which includes matted hydrilla, floating mud tussocks, water hyacinths, reeds, and thick Kissimmee grass, I prefer an 8' XH rod with 65-pound braid and 1.5 oz of weight.
"But the best advice I could give to target big, trophy-sized bass is to slow down. Most of today's anglers seem to take the 'power fishing' approach to everything. I've caught the majority of my big fish on the Kissimmee Chain while fishing slow. Slow with a Texas rigged worm; slow on topwater approach; slow-roll a speed worm; slow-bounce a lipless crankbait off the bottom. SLOW DOWN!"
ACCESS AND BAIT:
Launch on lake's east side at Joe Overstreet Public Boat Landing: 4900 Joe Overstreet Rd., Kenansville, FL 34739; (407)436-1966. Alternative pay ramp at Lake Kissimmee State Park on west end: 14248 Camp Mack Rd., Lake Wales, FL 33898, (863) 696-1112. Bait and tackle available at Shiners Unlimited: 10624 State Road 60, East Lake Wales, FL 33898, (407) 436-1966.