Despite their small size, panfish like bluegill, black crappie, and redear sunfish can really pack a punch, heck that is what makes them so fun!
For that reason, it's important you have the correct spinning reel so that you can appreciate and maximize your time chasing these mighty fish.
In this article, I'm going to go over 5 of the best panfish spinning reels, and answer a lot of commonly asked questions.
If you love catching panfish like me…you've come to the right place!
What Makes A Good Panfish Spinning Reel?
When I am shopping for a new spinning reel specifically for panfish I am looking for the following attributes:
Size: We already know that a panfish reel should be smaller in size…but I think its actually possible to go too small. I am looking for reels in the 1000-2000 size range.
Weight: Fishing for panfish often involves a lot of casting, and detecting a subtle bite. Light reels that I can flick a 1/32 oz lure are what I am looking for.
Line Capacity: I dont think of panfish as big runners 'spooling' your line like a big catfish or carp…but line capacity is still important. I want a spool that can take anything from 1 lb test monofilament up to 8 lb test flourocarbon.
Drag: Drag may be the most important feature on a panfish spinning reel, because when panfishing I'm almost always nears stumps, docks, weeds and other structure. Not to mention I'm using very light line! Smooth adjustable drag is what im looking for.
Value: Catching panfish is the ultimate blue-collar fishing activity. You wont find $100+ reels in this list. I am looking for the best panfish spinning reel for the money!
Piscifun Carbon X
If I had to choose one panfish spinning reel as the 'best of the best' I would pick the Piscifun Carbon X.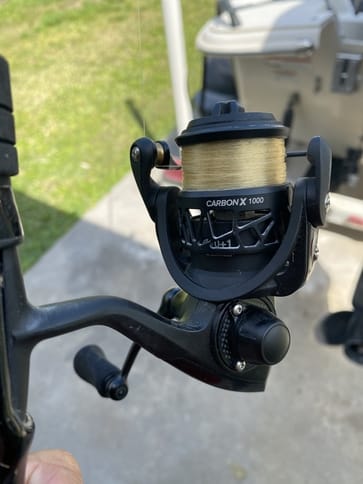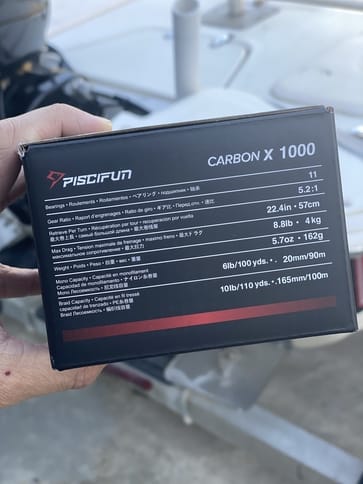 I have personally been using this reel for about a year now, and I have caught bluegill, shellcracker, black crappie, largemouth bass, catfish, even tilapia, and huge garfish.
The Carbon X checks all the boxes I am looking for. It's available in 1000 or 2000 sizes (I think the 500 size is just way too small).
The 1000 size Carbon X is significantly lighter at 5.7 ounces. It has a 5:2:1 gear ratio and no anti-reverse.
The 2000 size Carbon X is 7.8 ounces, and a faster 6:2:1 gear ratio, and does include the anti-reverse feature.
So which one should you get?
Well, if I am going to be doing more casting with lures like mini-crankbaits, or jigging in deep water for specks and perch…I want the 2000 size with that 6:2:1 gear ratio and anti-reverse.
On the flip side, if I am mainly fishing worms, crickets, and live bait in small tight creeks and ponds… then I'll go with 1000 for its lightweight size and portability.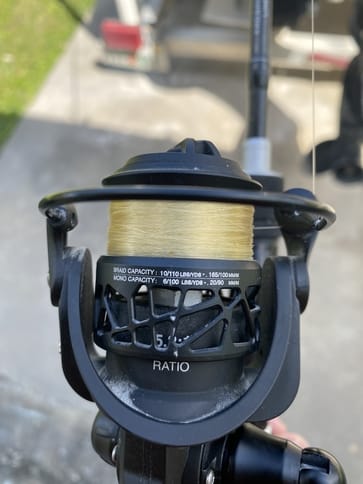 In any case- no matter which size you choose the Piscifun Carbon X is a fantastic spinning reel capable of catching the smallest panfish for your life list…all the way up to 4 lb slab crappie in deep water.
Heck, I even use mine to drop-shot for bass and throw-ned rigs!
You can order the Piscifun Carbon X from Amazon but I prefer to order directly from Piscifun.
They have excellent customer service, and it's usually cheaper (they run coupons and sales like crazy!)
You May Also Like: Are Piscifun Reels Any Good? My Personal Experience
Daiwa Crossfire
Next on my list of the best panfish spinning reels is the Daiwa Crossfire. Its actually amazing this reel is so inexpensive, because it performs better than reels twice its price.
What I like most about this reel is the drag system. Daiwa is well known in the spinning reel industry and one of their most successful features is the ATD, "Advanced Tournament Drag" system.
Its extremely smooth, and micro adjustable with just one click. No 'kinking' that often happens with cheap reels.
This reel in particular is very popular among the microfishing and life-lister community, and its components are versatile enough for freshwater or saltwater use.
Its also available in a 2500 size, which is nice if your looking for something with a bit deeper line capacity.
You can buy the Daiwa Crossfire from Amazon or Bass Pro shops.
If you are still not convinced, check out my full review on the Crossfire LT Spinning Reel.
KastKing Centron
The KastKing series of reels is a fairly new brand thats been making waves in the fishing industry for a few years now.
Available only online, the KastKing Centron is the most affordable reel on our list and it performs very well.
These reels are extremely durable. I keep one in my truck on a 5 ft Zebo Crappe Fighter Rod.
Anytime I pass a neighborhood pond or creek im ready!
I've caught boat loads of crappie and bluegill on this reel. Its just a great all around panfish reel for the price.
I dont do much ice fishing here in Florida, but from what I understand the Centron is also available in an Ice fishing version, which looks pretty sweet!
They dont offer a 1000 size reel, which is strange, so youll have to choose between a 500 or 2000. Dont worry, both sizes are more than capable of handling any panfish.
The KastKing Centron is just a great economical panfish reel, perfect to throw in the truck, RV, or camper.
Lews Mach 2
Lews is well known in the freshwater fishing industry for producing quality rods and reels for decades.
The Lews Mach 2 is a premium qulaity panfish spinning reel, with high quality componets and looks!
When it comes to sizes, Lews uses "100" denomination instead of "1000". Its available in 100, 200, 300 and 400 sizes.
The 100 reel size comes in at 6.9 ounces, and the 200 comes in at 8.9 ounces.
If your the kind of angler that really loves a smooth reel, from the retrieve, to the bail flip The Mach 2 is like butter!
9+1 Ball bearings on all models and a fast 6:2:1 retrieve. If I was doing a lot of casting and retrieving with jigs, worms, spoons, poppers etc, the Mach 2 would be my top pick.
It's available for purhcase from Amazon or Basspro.
Pflueger President
If you do a search online for any of the 'best panfish reels', there is a good change the Pflueger President will be on everyones list.
It's just been around for a long time, and its good old' fashioned and reliable.
If you are looking for a true ultralight…I mean TINY spinning reel for catching panfish, check out the PRESSP20X size.
It weighs only 6.2 ounces and can hold 100 yards of 4lb test!
Other sizes are available, including the 25, 30, 35 and 40. I personally think the 25 is just right, coming in at 7.5 ounces and ideal for 6 lb test line.
With a 5:2:1 retrieve speed, this reel isnt as fast as the Mach 2 or Carbon X, but its just a great all around spinning reel from a reliable brand.
You can order the Pflueger Present from Amazon or Basspro.
Frequently Asked Questions
What size reel is best for panfish?
1000-2000 series reels, with a weight of 6-10 ounces are ideal for panfish. Look for something with a line capacity capable of holding 2lb to 8lb test line with a smooth drag.
What size reel is best for crappie?
Crappie can reach up to 3-4 pounds and are often caught in deeper water than other panfish. For that reason, a 2000 series reel, or something in the 7-9 ounce range with a 6:2:1 gear ratio is ideal.
What line do you use for panfish?
Many anglers choose a basic monofilament line for panfish. I personally prefer to use fluorocarbon line because it has zero stretch. The most common sizes are 2lb-6lb test.
Who makes the best ultralight spinning reel?
In my opinion, the best ultralight spinning reel on the market today is the Piscifun Carbon X. It's extremely lightweight which is very important, and it has premium features at a very affordable price.
What are 1000 reels food for?
1000 series reels are ideal for panfish, small trout, and ice fishing. These lightweight reels are strong, and matched with the correct rod can easily catch fish up to 8 pounds.
How much line do I need for my reel?
Each reel will have a line capacity printed on the box, or in the reel itself. Its usually written as the lb test/quantity in yards. For example, a reel with a capacity of 8/120 means it will hold 120 yards of 8 lb test line.
You May Also Like: Panfish Rods, My Top 4 Best Bang For Your Buck
What Size Hooks for Smallmouth Bass? Quick Guide
Large and in Charge-Mouth: 10 of the Best Bass Lures of All Time (And Where to Buy Them)
The Seven Best Lures for Fall Bass Fishing
Which Fishing Line is Best for Bass Fishing With A Spinning Reel?
What Size Hooks for Panfish?
What Is The Best Fishing Line For Bluegill?