Despite its introduction back in the 1950s, .308 Winchester remains one of the most popular hunting cartridges — not just in the United States, but in the world.
It's great for hunting medium-to-large game at a wide variety of ranges. However, it also shows up occasionally in shooting competitions, though rounds with lower recoil and higher velocity have largely replaced it in the competitive sphere.
Need inspiration on which .308 rifle is prefect for you? Check out the 6 Best .308 Semi-Auto Rifles.
To get the most out of your .308, you need a solid optic. A good scope will help you get better accuracy at longer ranges.
This is great for more successful hunting and target shooting, but it's also ethically important for hunters.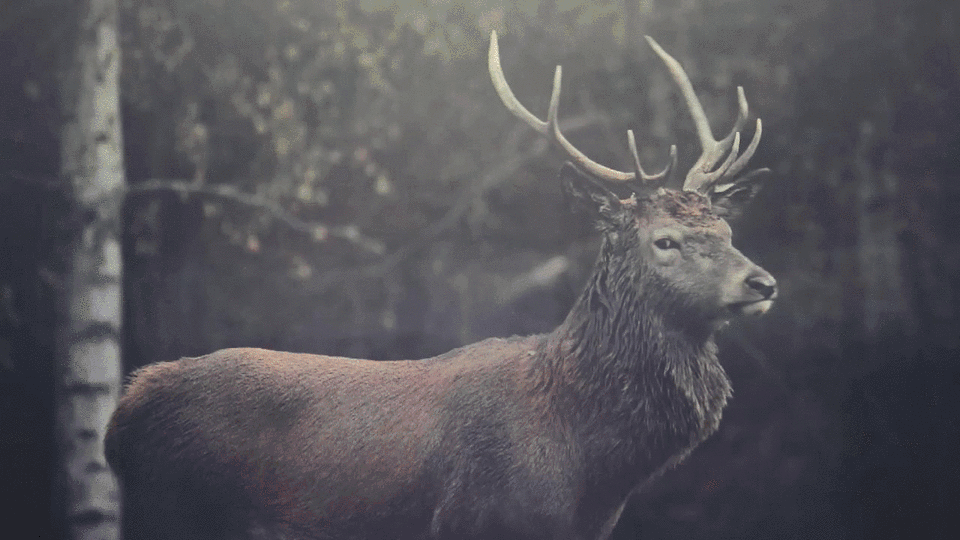 But with so many scopes on the market, it can be difficult to figure out what's good and what's not, especially if you're not sure what to look for.
To help you out, we've put together this list of the top scopes on the market that are perfect for shooting .308.
Best .308 Scopes
1. Primary Arms SLx 3-18x50mm FFP Rifle Scope
The Primary Arms SLx line provides budget-friendly optics that are a great bang-for-the-buck.
We LOVE their SLx 1-6x series (see review) and the higher magnification scopes bring the same performance.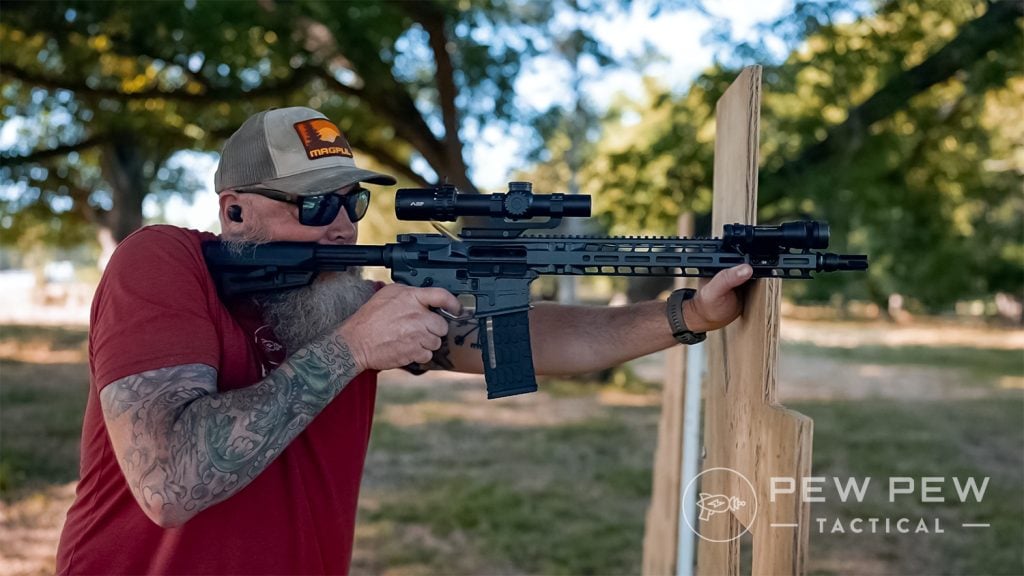 This scope is one more example of that.
Unlike most of the others on this list, this one has a first focal plane reticle. This means the reticle is on the same side of the magnified lens as the objective lens. So, as you change magnification, the reticle appears to grow and shrink proportionally to your target.
You can read more about it in our article on First Focal Plane vs. Second Focal Plane.
Why's that a big deal?
The hash marks or dots on ranging reticles always represent the same distance in the real world, no matter what magnification you use.
Typically, FFP reticles are only found on scopes more expensive than this one. So, it's a good deal if you really want a first focal plane scope but don't want to shell out a ton of money.
Plus the reticle is illuminated so even when it's dusk or dawn you'll be able to see your target.
And more about reticles…it features Primary Arms' ACSS Athena which gives you very usable hashmarks for easy holdovers.
Regardless of reticle pattern, the scope features adjustable parallax (from 15-yards to infinity) and is shockproof, waterproof, and fog-resistant.
For some even more savings, use our link above and you'll have the option for a free mount in the drop-down options at Primary Arms.
Looking for something a little higher magnification and better glass? Check out their GLx line for the 6-24x50mm FFP scope in the same reticle.
Tried the Primary Arms SLx for yourself? Give it your rating below!
2. Burris Scout Riflescope 2-7x32mm
If you're looking for a scout scope for your .308 rifle, the Burris Scout Riflescope is an excellent option.
With lower magnification and a minimalist BDC reticle, this scope is perfect for short to medium-range shooting.
It provides you with a large field of view, unencumbered by a complicated, distracting reticle.
It's also designed with long eye relief, 9.2 to 12 inches, for forward placement on your rifle.
This allows for both eyes open shooting and greater situational awareness. So, this scout scope is useful as both a working scope and a hunting scope.
And all the above features combine to make the Burris Scout Riflescope ideally suited for fast target acquisition and tracking moving targets — y'know, like deer or boars or elk… you get the idea.
Another advantage is the scope's compact size.
It measures 9.7-inches long and weighs just 13-ounces so it doesn't under a ton of bulk to throw off the balance of your rifle or weigh the rifle down in the field.
But despite the compact size and low weight, it's well constructed.
The scope is waterproof, fogproof, and shockproof.
It also has a double internal spring-tension system that helps the scope retain your zero setting, even through drops, recoil, and other vibrations.
3. Leupold VX-3i 3.5-10x40mm Riflescope
Our next pick is the Leupold VX-3i Riflescope with 3.5-10x magnification and a 40mm objective lens.
Simply put, it's another solid option for hunters, though a bit more high-end than the Burris.
This scope uses Leupold's Twilight Max Light Management System to give you a much brighter, clearer picture in low-light situations like dusk and dawn.
The duplex reticle also helps with low light visibility using thicker lines to make the reticle easier to see. These get thinner towards the center of the scope to help you line up your shot without obstructing your target.
Plus the scope opts for a special coating to reduce glare in bright settings as well.
The lenses feature military standard scratch resistance and the scope itself is waterproof, fogproof, and shockproof.
In other words, it should have no problems standing up to rough conditions on your next hunting trip.
It's also a touch lighter than the Burris Scout Riflescope, weighing 12.6-ounces. That said, it's not as compact measuring 12.7-inches in length.
4. EOTECH Vudu 3.5-18x50mm FFP Riflescope
If you're looking for a premium, high-end scope, this is the one for you.
The EOTECH Vudu is the most expensive scope on this list, but its quality is unparalleled.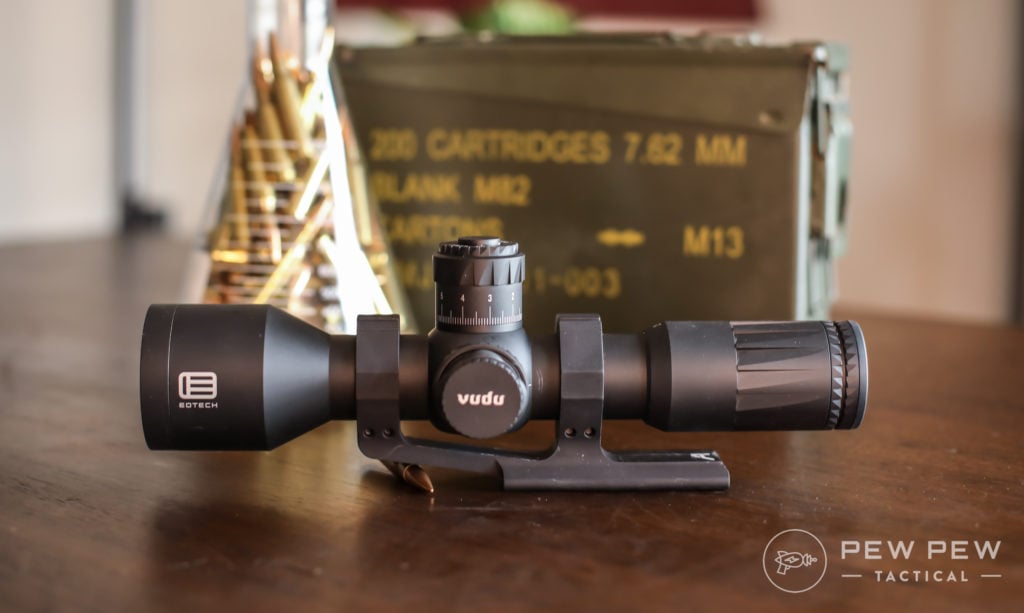 Like the Primary Arms, the Vudu features a first focal plane reticle. And it's available in four different reticle patterns — two with illumination and two without.
All four feature BDC and windage marks.
The lenses use an anti-reflective coating to prevent glare. They're also made from high-density glass bringing excellent clarity, even at long distances.
Not to mention, the 18x maximum magnification allows you to really take advantage of that.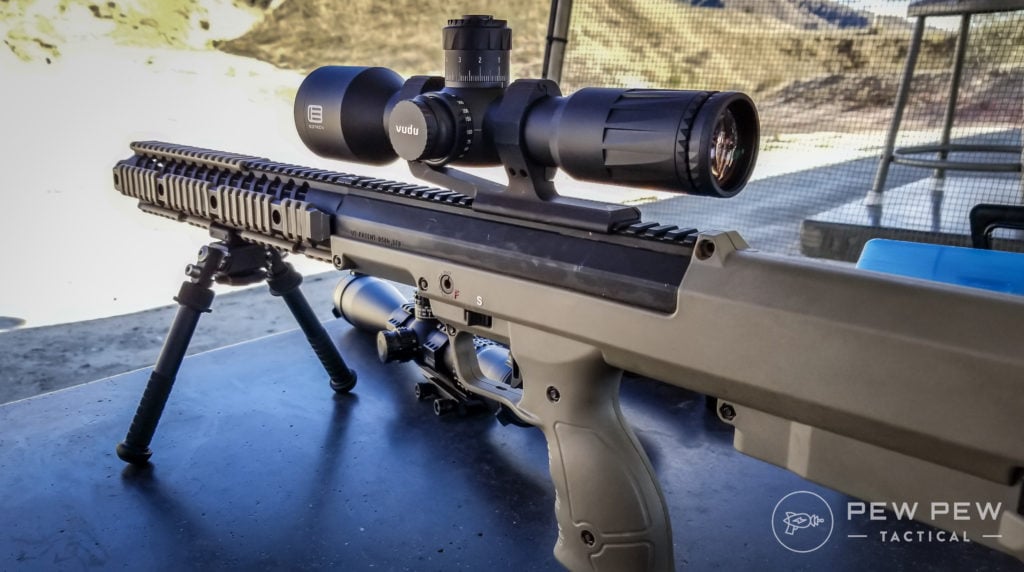 Meanwhile, the 3.5x minimum magnification means this scope isn't overkill for shorter ranges either.
Another high end feature is the oversized EZ Chek Zero Stop turrets. These mean you can return to zero after making adjustments without even looking at the turrets.
And speaking of adjustments, the Vudu also opts for a side knob for parallax adjustment.
All of this doesn't come cheap, though.
Depending on which reticle you go with, this scope sells for between about $1,500 and $2,000. That said, the quality of this scope makes it more than worth the price if you can afford it.
Aside from the cost, one other disadvantage of this scope is the weight.
Again depending on the reticle, this scope weighs about 33-ounces.
5. NightForce SHV 5-20x56mm Riflescope
The NightForce SHV is another high-end scope that presents a more affordable alternative to the Vudu.
Of course, "affordable" is relative here, since you're still looking at a roughly $1,200 scope.
It's also the first in a series of higher magnification scopes that we'll finish out this list with.
This higher magnification makes this scope (and the next couple) great for precision shooting, small targets, and long distances, or any combination of those three.
The NightForce SHV shares a lot of features in common with the EOTECH Vudu.
Both have side parallax adjustment, excellent quality optics, and zero-return turrets.
The SHV, however, like most of the scopes on this list, has a second focal plane reticle, meaning that the reticle always appears the same size regardless of magnification setting.
This can be an advantage, though, since it means that the reticle is clearly visible at any setting. (FFP reticles can be thin and hard to see at low magnification settings and overly thick at high magnifications, obstructing your target.)
Finally, the SHV is also a bit lighter than the Vudu — though at around 30-ounces it's not exactly lightweight either.
The SHV is available with two different reticle patterns, though it can be purchased with or without illumination.
The MOAR reticle is an MOA-based ranging reticle with marks for both windage and elevation, while the other is NightForce's variation of a duplex reticle.
6. Vortex Viper HST 6-24X50mm Riflescope
The Vortex Viper HST 6-24X50mm scope offers the highest magnification of any scope on this list, though the 4-16X44mm model is also great if you don't need magnification quite so high.
This option is another step down in price from the NightForce SHV, though the quality is certainly nothing to sneeze at.
It has high-density glass optics for a crisp, high-definition picture and the lenses are fully multicoated to reduce glare and enhance light transmission.
At 22.6-ounces, the Viper HST is a good deal lighter than our last two scopes.
It's also waterproof, fogproof, and shockproof, with a hard coat anodized finish and ArmorTek scratch-resistant coating on the lenses.
It also uses exposed, tactical-style zero stop turrets and a side focus parallax adjustment knob.
Fiber optic markers on the turrets and magnification ring help you keep track of your settings in low light.
This SFP scope is only available with Vortex's VMR-1 reticle pattern and there's no illuminated option, though you can choose between MOA and MRAD versions of this reticle.
7. ATN X-Sight 4K Pro 5-20X Smart Ultra HD Day & Night Vision Rifle Scope
This last scope stands apart from the others in that it's a digital scope.
Basically, that means this scope works more like a camera. You look at the display rather than just through a series of lenses.
This allows the ATN X-Sight 4K Pro to utilize all kinds of fancy capabilities that you can't get from a traditional scope.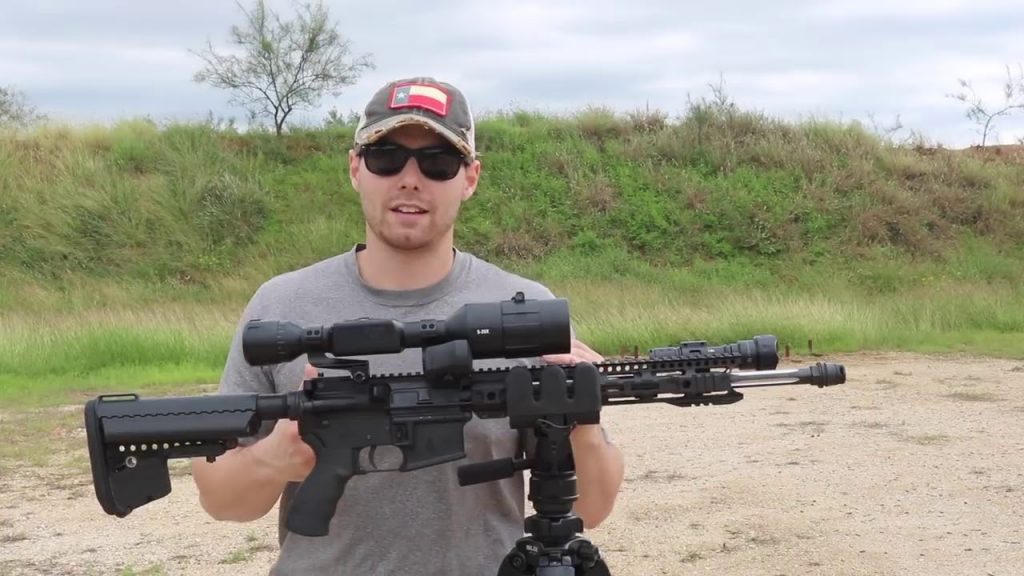 Those include things like a night vision mode and video recording with sound.
You can also stream video while you record, thanks to the scope's WiFi capability. WiFi and Bluetooth also allow the scope to communicate with other ATN smart devices, like laser rangefinders and binoculars.
You can choose between multiple reticle patterns and colors, including a smart mil-dot reticle, which allows you to custom set the distance between hash marks and adjusts with your magnification setting like an FFP reticle.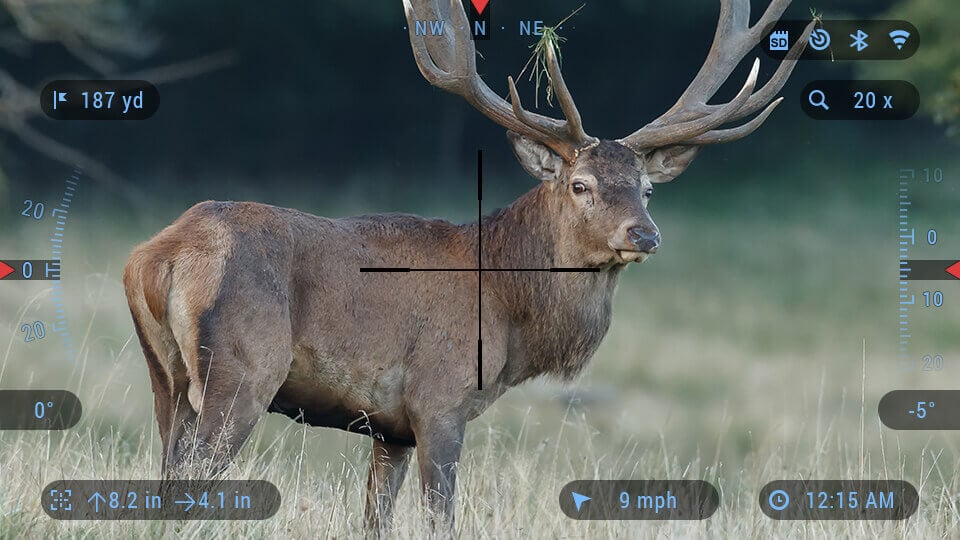 There's also a built-in ballistic calculator that automatically adjusts the center point of your reticle to account for range, angle to target, wind, temperature, humidity, round, and more.
The onboard gyroscope, barometer, thermometer, and accelerometer gather the environmental info for you.
You can even set up multiple profiles so that you don't have to put in new ballistic information each time you shoot.
It's seriously going to make you feel like Iron Man.
Conclusion
To choose the best .308 scope for you, consider your budget and what you'll be using your scope for, then choose the model that best fits your needs and price point.
In addition, most of these scopes are also available in other magnification strengths. So, if you like one of the scopes listed but the magnification isn't ideal for you, you're not completely out of luck.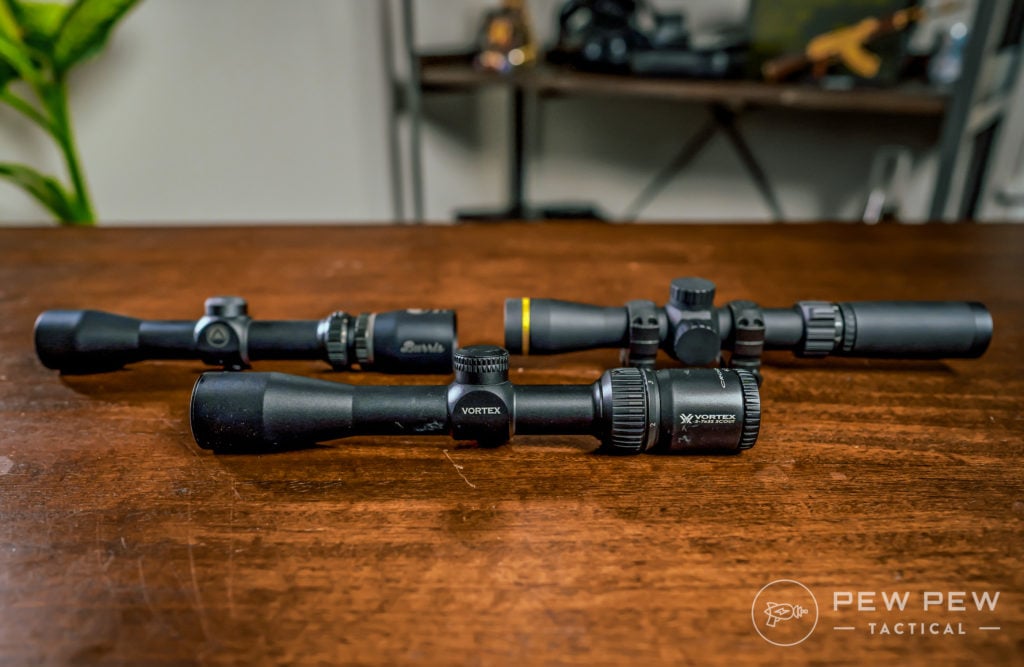 Do you have another great scope that I didn't mention here? Let me know in the comments! If you have a scope, you probably need a mount too. Check out our list of the Best Scope Mounts. And if you're not sure how to go about mounting your scope, we have a guide for that too.