With 1.2 million acres of public hunting land, along with vast amounts of private hunting land and ranches, and with game animals ranging from native critters to exotic species, there is plenty of sport hunting to be had in Texas. Whether you're after an everyday white tail deer or a monster javelina (also known as a peccary or skunk pig), hunting here won't disappoint!
Purchasing some hunting property in Texas is a great way to ensure you don't miss out on the best game this state has to offer. Owning a hunting ranch can be a lucrative investment or a fun hobby. Imagine how fabulous it would be if the animals came straight to you! With a Texas hunting ranch, that can be a reality.
For the more entrepreneurial hunter, a ranch can become a career and end up paying for itself. Use your property to its full potential and build a hunting empire. Become a guide, an outfitter or even a full-fledged hunting lodge and reap the rewards that come along with owning land in this beautiful state.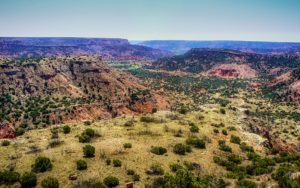 TOP TEXAS HUNTING REGIONS
he Lone Star state offers plenty of options for hunting areas, depending on the type of game you're after and your scenery/terrain preferences. The perfect hunting areas depend largely on the type of game you're stalking. Although deer are found all over the state, they're best in the brush of south Texas. East Texas is the place for waterfowl and alligators, while javelina are common in west Texas. North Texas is fantastic for pronghorn and rams. Here's a short list of some of the best areas to hunt in the state:
Hill Country: The deer may not be the biggest here, but you couldn't ask for an easier hunt. With plenty of rolling hills and spectacular views of the surrounding area, this is a great region for those looking for easy terrain and plentiful game. Hill Country, comprising of 25 counties located in Central and South Texas, boasts the biggest concentration of whitetail deer in the state.
The Panhandle: Situated along the Canadian River, this is the place where deer grow fat and happy in near-perfect seclusion. You might need some serious patience as you sit in a stand with your binoculars trained on a draw, but the scenery is great and the terrain isn't unmanageable.
The Trans-Pecos: Here, in the Far West Texas, in a place full of mountains and canyons, a hunter can fill most of his tags in the same day if he or she is up to the steep terrain and thick underbrush.
Brush Country: Most prize-winning white tails come from Brush Country in South Texas near the Mexican border. The terrain is thick, tangled and overgrown, but the mount will look fantastic over the fireplace of your Texas hunting ranch!
HUNTING SEASONS IN TEXAS
You have plenty of opportunity to bag some game in Texas just about any time of the year. Hunting seasons for various critters are as follows:
Alligator – September for core counties, early April through early June for non-core counties.

Chachalaca – Early November through mid-February in Cameron, Hidalgo, Starr and Willacy counties.

Dove – Early September through late October and late December through mid-January.

Javelina (Peccary) – October through late February in the Northern Zone; no closed season in the Southern Zone.

Mule deer – Bow season runs late September through the beginning of November; rifle season begins in late November and ends in early to mid-December according to the region.

Pronghorn – Late September through early October.

Turkey – Bow season begins in late September and runs through the beginning of November; fall rifle season runs from November until January. Spring turkey season begins in March or April, depending on your county, and ends in late April or early May.

Whitetail deer – Bow season is late September until early November. The general season runs early November through early to mid-January. Fifty-eight counties have a two-week muzzle loader season in January. There is also a late antler-less and spike season across 136 counties in early January in North Texas, and from late January through early February in South Texas.
In addition to the above game animals, Texas also has seasons for:
Duck

Goose

Pheasant

Quail

Rabbits

Squirrel

Many other game birds, including common snipe, woodcock and moorhens
TEXAS HUNTING GUIDELINES
Hunting is a great sport, but it has its rules like any other. You'll need a hunting license and a tag for anything you kill. Failure to have the proper documentation can lead to steep fines, weapon confiscation and loss of hunting rights. Certain areas are closed to hunting, and hunting on private lands is strictly prohibited without the landowner's permission.
The best hunting information, including all the rules, regulations and a full list of season dates, can be found on the Texas Parks and Wildlife Department website.
Everything is bigger in Texas, animals included. Come find your trophy today!