These are some of the long term survival shelters that I liked the most from Alone. The shelters from Alone are very interesting because they are not primitive shelters, or designed for just 72 hours; they are long term shelters built with tarps and used in real life conditions.
One thing to keep in mind is that all of these shelters where built on an empty stomach. Working less and being efficient are important survival strategies.
Long Term Survival Shelters: Rain Forest, Vancouver Island
Lucas Miller, Season 1 (39 days)
Circular shelters are easy to design, and the tepee roof is strong and great for shedding water. The high roof helps make the shelter feel bigger (morale boost), but it's not great for warmth. Since this shelter was made in a rainforest, warmth is not the main priority anyways. Lucas had quite a few tarps so he was able to make a windproof and waterproof shelter easily with minimum natural materials and effort. I think this type of shelter was an excellent choice for Vancouver Island.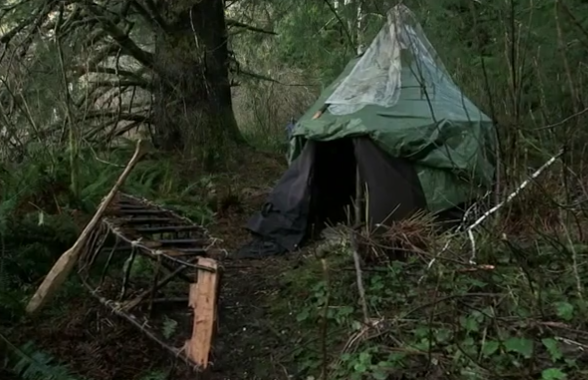 Mike Lowe, Season 2 (21 days)
Mike Lowe's long term survival shelter was super simple, pretty much just an A-frame tarp. For Vancouver Island, I think this is a good option in a naturally sheltered area. As long as you have a very warm sleeping bag, you're set. Obviously in a place with lots of mosquitoes this shelter would be terrible, unless you had some kind of bug netting. He also built elevated racks to dry his wood by the fire and keep it off the ground.
There is not much wind protection, so it wouldn't be comfortable during a storm. This shelter could be a good temporal shelter while a winter shelter is being built.
Brooke and Dave Whipple, Season 4 (49 days)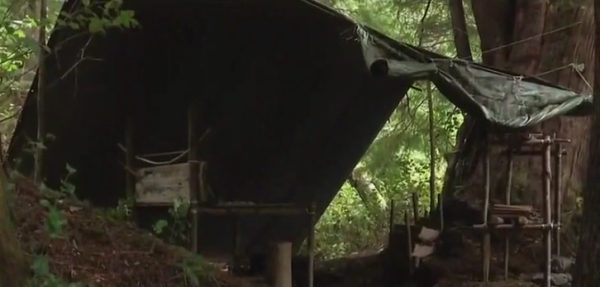 Having a white tarp that lets so much sunlight in can be a great boost in morale. They could also stand inside the shelter which is nice; the space also allowed them to hang clothes to dry out of the way. Since Vancouver doesn't get extremely cold, the height of the shelter wasn't a disadvantage.
They had to dig holes to hold the logs upright, so that took lots of effort. They also built a fireplace and chimney, which is an excellent idea. The chimney was built with wood, so it did start to burn at one point. The roof didn't have much of a slope, so it could accumulate rain or snow.
The raised beds kept them off the wet ground and served as seats. I wouldn't make a long term survival shelter without a raised bed/bench. What I really liked about the shelter was that it was totally enclosed, bright inside and that it had a fireplace.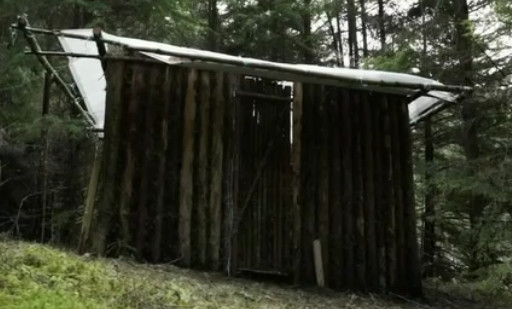 Long Term Survival Shelters: Magellanic Forest, Patagonia
Callie North, Season 3 (72 days)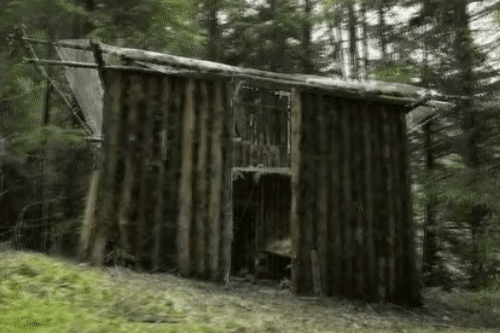 Callie's shelter was great in many ways. It was built of a simple but sturdy A-frame, the stone fireplace provided warmth (stones retain and reflect heat), and it offered wind protection. The shelter didn't take as much effort to build as a log shelter, so she didn't overexert herself too much. She could stand up inside the shelter, yet the shelter wasn't too big (cold). The door could have been made smaller for added warmth, but this was one of the best shelters from Patagonia.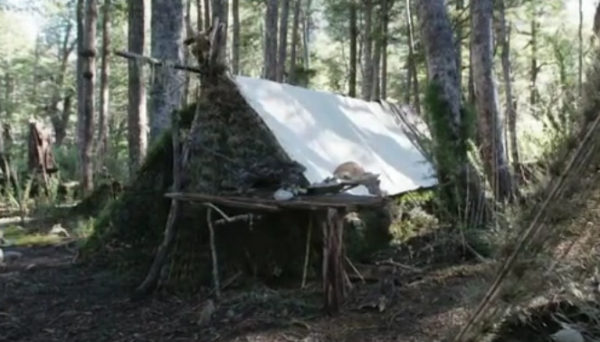 Zachary Fowler, Season 3 (87 days)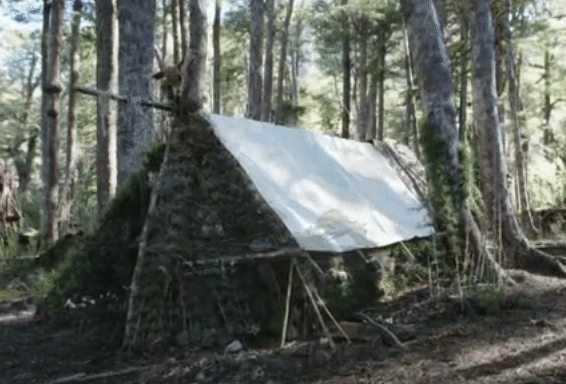 Zachary's shelter was great as well. He used a big boulder as one of his walls. Using what the land offers, going with the flow and working with, not against nature, are good principles to follow.
His shelter had outstanding insulation, the thatched wall construction allowed him to sandwich bamboo leaves. He also insulated the roof, which helps a lot. This must have taken him a lot of time and energy, but I'm sure it was worth it.
He didn't build a fireplace and chimney, which must have made the shelter very smoky. His shelter was built in a spot that didn't receive sunlight so that was a bummer. Location is key for your long term shelter.
Long Term Survival Shelters: Southern Taiga, Mongolia
Dave Nessia, Season 5 (36 days)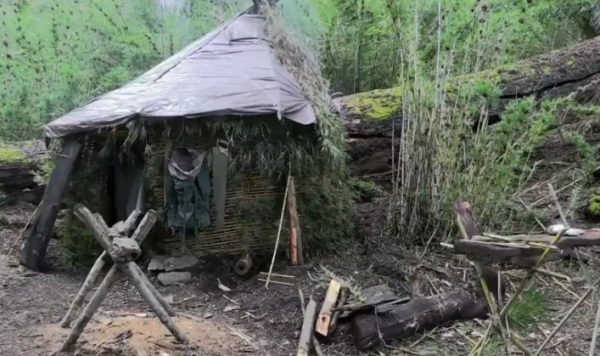 Dave didn't have a survival saw; I wouldn't have taken one either. His shelter balances being effective yet not too difficult to construct. He used two trees to hold the ridge pole of his A-frame, which makes the shelter very strong. The wind can move the trees, hence the entire roof, so that's something to watch for. I really liked the insulated door. The shelter lacks a fireplace and chimney, but it was probably not too smokey, since the contestants used fire primarily for cooking, not warmth.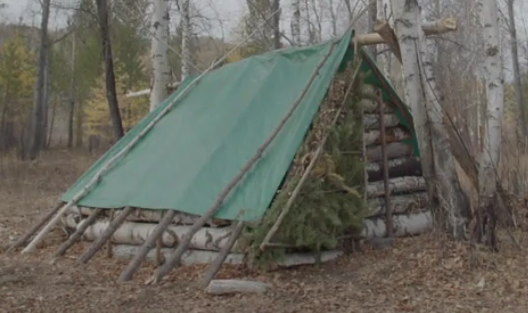 Larry Roberts, Season 5 (41 days)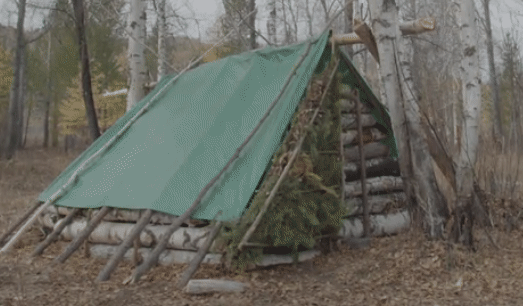 Larry's wickiup-debris hut didn't need many logs to be built. I don't think that's a coincidence since it looks like his area didn't have big trees around. It seems like the door might have been too big and close to his bed though Maybe that helped get the smoke out of his shelter. One of the things to watch with this kind of shelters is fire, since the whole shelter is basically a huge tinder bundle. I also noticed that he added bark to cover the parts of the shelter that the tarp didn't cover.
I think his shelter was a good example of improvising and adapting to what the location had to offer. Something that this shelter shows is that it is way easier to insulate sloped walls vs. vertical "white man" walls. A stronger shelter structure could hold the snow that accumulates on the shelter; this snow would then become a really good insulator.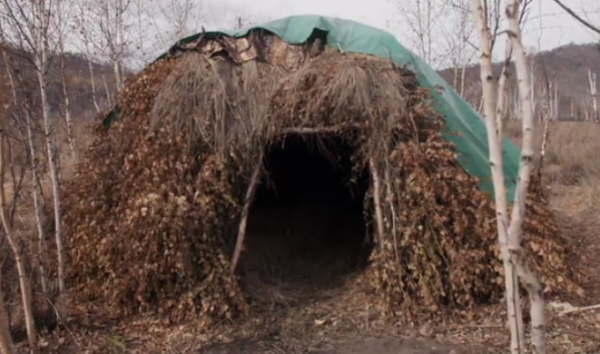 Britt Ahart, Season 5 (56 days)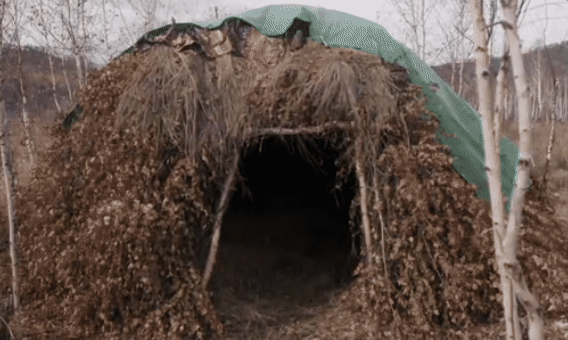 Britt put a lot of work into his shelter and made pretty much an overbuilt, more insulated version of Dave's shelter. He also used live trees to hold the ridgepole, and went through the effort of insulating the walls from the outside using pine boughs. I really like his shelter although he probably spent too much energy building it. It's a big shelter which is good for morale but bad for warmth. It has a nice insulated door as well.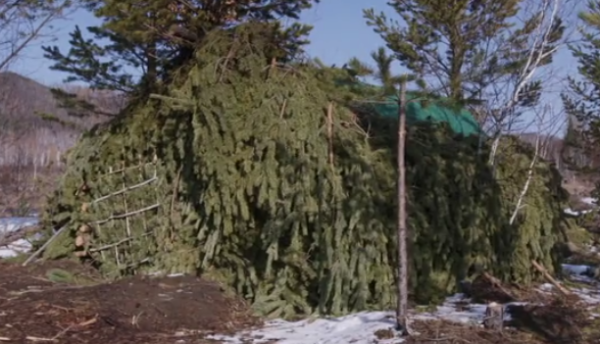 Sam Larson, Season 5 (60 days)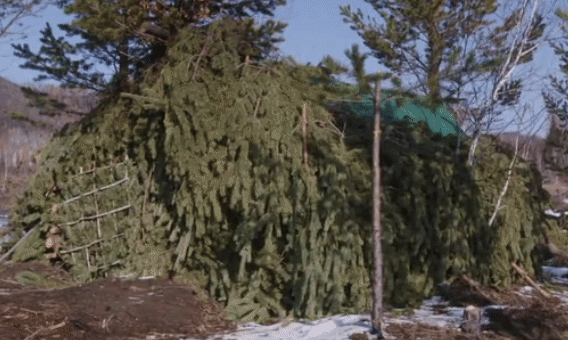 I think Sam tried to make a good shelter while spending the least amount of energy possible. His shelter offered snow and some wind protection but didn't have much in terms of insulation. The leaves of the side and back walls turned brown after a few weeks. It seems like he built his shelter in stages, and had started to replace the walls made of leaves with logs.
It doesn't look like the roof was slanted enough for snow to be easily removed and the roof wasn't insulated.All the contestants had good sleeping bags so having a very warm shelter wasn't as important. It also lacked a chimney; as long as you keep your cooking fire small and the balance of oxygen, fuel, and heat is good, then it is possible to minimize the smoke. Easier said than done.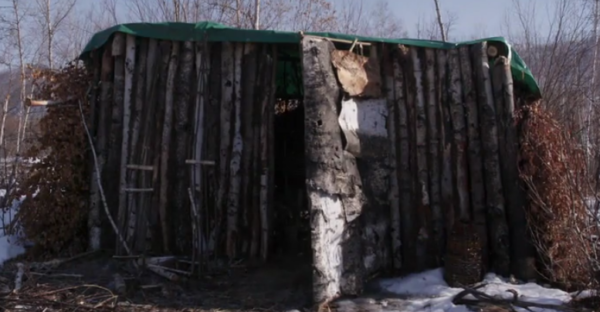 Alone Best Shelter Randy Champagne, Season 5 (35 days)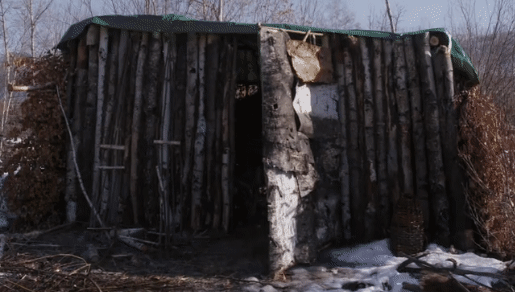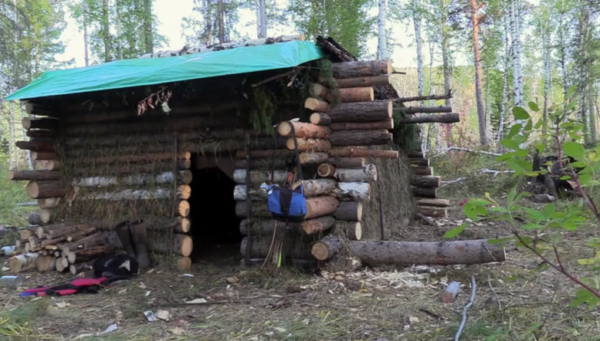 I'm sure lots of people were impressed with Randy's shelter. It's the best long term shelter I've seen in Alone. If I had to spend a few months in – 20 degrees, this would be the shelter I would pick. He insulated the roof with pine boughs and built an awesome fireplace and chimney. His shelter also had enough of a slant that the snow could fall with some encouragement, or accumulate for insulation.
Instead of having two slopes like an A-frame, it was simpler to build with only one slope. The entrance was short which is inconvenient, but retains heat better. He could stand inside the shelter which I think is important for morale.
For more long term survival shelter designs I highly recommend the book Shelters, Shacks, and Shanties: The Classic Guide to Building Wilderness Shelters. The designs below are from that book.