For upland bird hunters, few sounds are as invigorating as is the cackling of skyward-bound rooster. Similarly, there are seldom sights in the hunting world as soul crushing as watching a pheasant dodge your best shots and glide merrily away into the sunset—especially if the hunting is difficult and the birds are few in number. It's the latter that leaves us in disbelief; was it result of an outright miss, or was the shotshell insufficient for the task?
Too often, hunters select ammo—any load—based solely upon price, catchy advertising or flashy packaging, not necessarily what's best option for the given task. This is especially true of pheasant loads, many of which are not particularly well-suited for pursuing late-season birds in adverse conditions. Of the preparatory work that accompanies a hunt—especially an out-of-state event—purchasing several boxes of top-tier pheasant shells and patterning a few through your setup is among the easiest and least costly aspects, so there are no excuses.
Patterning is essential to ascertaining the maximum effective range of your shotgun and choke combination with a given shotshell. Typically conducted at 40 yards, the average of five to 10 patterns in a 30-inch circle surrounding the point of aim illustrates relative evenness of pellet distribution, holes and pattern width, among other things. I use remnants of wrapping paper to inexpensively complete this necessary but tedious task. Should you not heed this advice, you'll enter the field unaware of the distance that you ought to engage pheasants (or not), or even if your shotgun shoots to the point of aim. Don't assume it does because many don't. It may take several loads and chokes to find the ideal set up, and that might change as season progresses. Here's why.
Pheasants become more cunning, cautious and resilient (think thick, wintertime plumage) as the season progresses. For example, whereas early-season birds typically hold tight to cover for a picture-perfect flush, those that survive the initial (and subsequent) wave of hunters are likely to flush well ahead of the dogs or run like track stars, refusing to take flight; therefore, the demands placed upon shotshells changes as season advances. Shells that are ideal for early fall pheasant hunts can be expected to become insufficient in late fall or winter, while heavy, far-reaching payloads that have the potential to devastate early on come in their own as winter sets in and the birds toughen.
When selecting a pheasant load, there are a few characteristics that I demand—and economy isn't one of them. First, if lead shot is permitted, I opt for copper- or nickel-plated lead pellets. A benefit of plating is that the process helps harden the pellets, so they're less likely to deform and migrate away from pattern's core. Additionally, the smoothness of the shot enables it to penetrate deeper, as it resists wadding up in the feathers. Of the two types of plating, nickel is superior to copper, as the lead pellets with this coating will penetrate the deepest.
If you must go leadless—or desire to do so on your own accord—and are relegated to factory ammunition, I suggest using bismuth. With a density greater than steel (9.6 grams/cc for bismuth versus 7.8 for steel), bismuth carries more energy to the target, which is critical on pheasants, and it extends the effective range, too. Bismuth loads are available from Kent (mentioned below), HEVI-Shot and Rio, among others. Alternatively, one of the many loads with ultra-dense, tungsten-based pellets can also be utilized to good effect—especially during the late season.
For wild pheasants, I prefer 12-gauge, 2¾-inch shotshells with mid-weight to heavyweight payloads propelled to high velocities—1300 to 1500 fps. Those containing 1¼ to 1⅝ ozs. of No. 4, 5, 6 or 7½ shot are solid choices, with the perfect payload and shot size combination being contingent on the birds' wariness and when hunted. With the smaller shot, you get more pellets per ounce (and thus on target), but the tradeoff is that they carry less energy at distance, though this is diminished somewhat through high initial velocities. Number 6 and 7½ shot are good picks early on, but I opt for No. 5s or even 4s late into the season, or if the birds have been dogged extensively.
To lessen the burden of selecting a pheasant load of the highest quality, I selected five of the many on the market and detailed their qualities below. Several of them I've personally used afield or have evaluated. Are these the only options? No, and these might not pattern optimally in your setup, so use them as a starting point. On the other hand, you might find one that'll help you bring home a brace of pheasants this fall.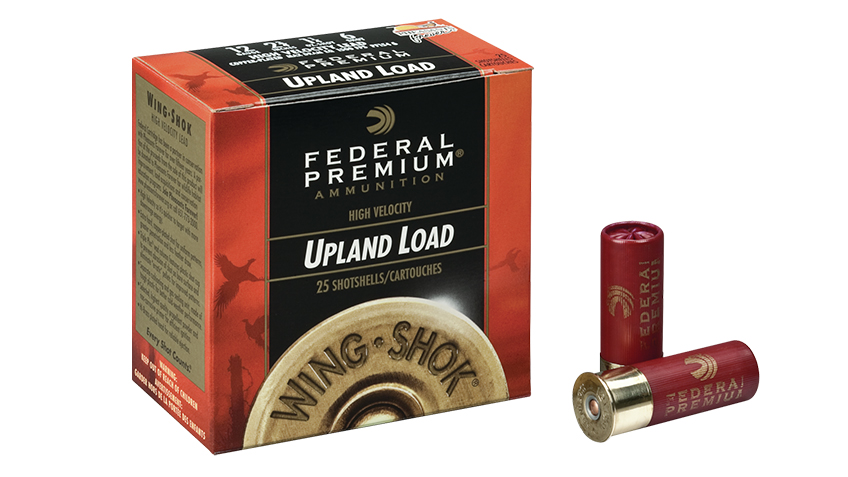 1. Federal Wing-Shok Pheasants Forever High Velocity Often viewed as a pellet size best suited for small upland species and smashing clay targets, the full capability of the humble No. 7½ pellet is on full display with Federal Premium's Wing-Shok Pheasants Forever High Velocity load. Perfect for early- to mid-season or a first shot throughout, the 12-gauge, 2¾-inch load propels 1¼ ozs. of copper-plated shot to a scorching 1500 fps for tremendous reach and per-pellet energy—and there are more than 400 No. 7 ½ pellets in a 1¼ oz. load! Number 4, 5, and 6 shot sizes are also offered.
When hunting at Flint Oak in Fall River, Kan., two years ago, several friends and I used the No. 7½ iteration of this load to good effect on European-style shoots and free-roaming birds. And effective it was; in fact, very few pheasants within the range of our Benelli M2s survived the encounters, and those that were hit tumbled hard. Although I was hesitant at first about the effectiveness of the smallish shot on late-season birds, all doubts were quickly and permanently eliminated. This is now a staple pheasant load of mine, and best of all, a portion of the proceeds from every box sold are given to Pheasants Forever to support habitat preservation and enhance pheasant hunting. MSRP: $25.95 per 25-rnd. box; federalpremium.com.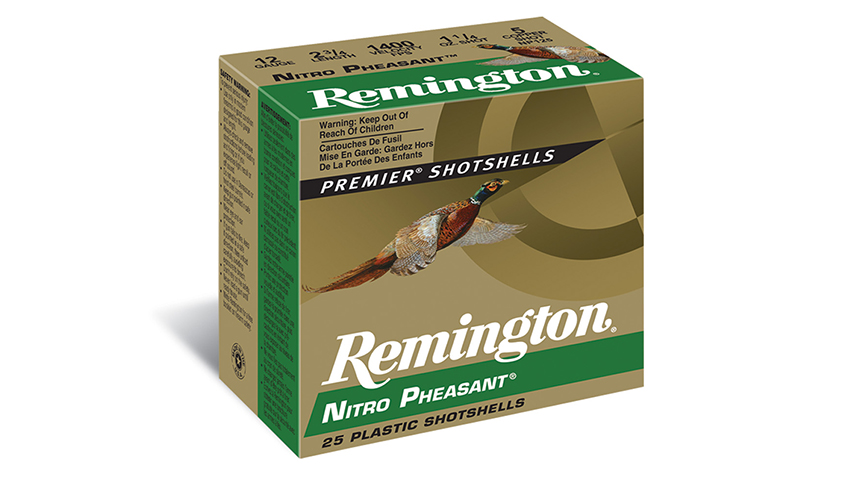 2. Remington Nitro PheasantRemington's vaunted Nitro Pheasant 12-gauge, 2¾-inch loads are offered in two configurations; there's a 1¼ oz. option at 1400 fps, as well as heavier 1⅜ oz. payload at 1300 fps—it's essentially more speed or shot, your choice. Both feature a cargo of No. 4, 5, or 6 Copper-Lokt copper-plated, high-antimony lead shot. The latter is important, as increased antimony content helps harden the lead shot; therefore, pellets stay rounder for denser patterns and deeper penetration at distance. For pheasant pursuers looking for an even heavier payload, Remington does offer two, 3-inch variants with 1⅝ ozs. of No. 4 or 5 shot at 1350 fps.
My first encounter with Remington's Nitro Pheasant came while hunting at Warne Ranches in South Dakota. I quickly took a liking to it, as its effectiveness at stopping wild, far-flushing pheasants was superior. Given the plethora of pheasants on the properties—no exaggeration here—and the efficiency at which the 2¾-inch Remington Nitro Pheasant loads dropped them; reaching one's limit took minimal time. If you're seeking a one-shell solution for all-season pheasant hunting, this one is tough to top. MSRP: $20.97-$22.21 per 25-rnd. box; remington.com.
3. Winchester Rooster XRDeveloped utilizing technology first employed in its Long Beard XR turkey loads, Winchester's Rooster XR contains copper-plated lead shot that's surrounded by a resin that fractures during the firing process and serves to preserve the shot's roundness as it traverses the bore and choke. The result is dense patterns and increased penetration depths at long range—exactly the recipe needed for cagey pheasants that flush well ahead of the dog. The company currently offers Rooster XR in 12-gauge, 2¾-inch loads with 1¼ ozs. of No. 4, 5, or 6 shot at 1300 fps, or 3-inch shells with 1½ ozs. of the same shot sizes at an identical velocity. For those hunters craving more speed, there's also 3-inch Rooster XR High Velocity, which propels 1¼ ozs. of No. 5 or 6 shot to 1450 fps.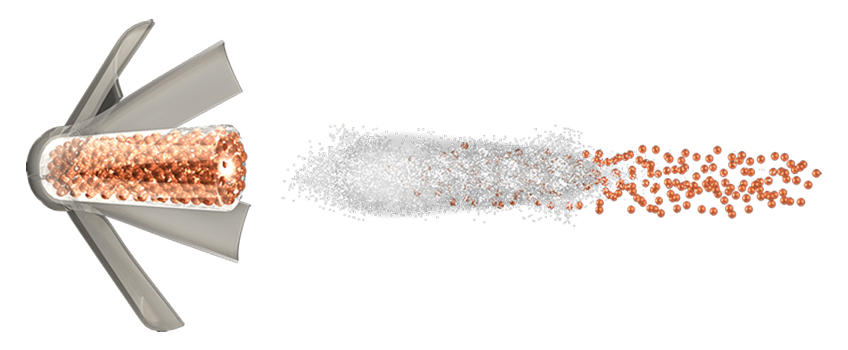 I've yet to hunt pheasants with Elite Rooster XR, though through testing that I've conducted, I can divulge that it produces unrivaled patterns at great ranges; in fact, the shells pattern so tightly (even at 40 yards) that my children have utilized the 2¾-inch, 1300 fps No. 5 load for spring gobbler hunting. To me, this is the "ace in the hole" pheasant load for the last shot early in season, or all-around when the birds become especially evasive. MSRP: $22.99-$24.99 per 15-rnd. box; winchester.com.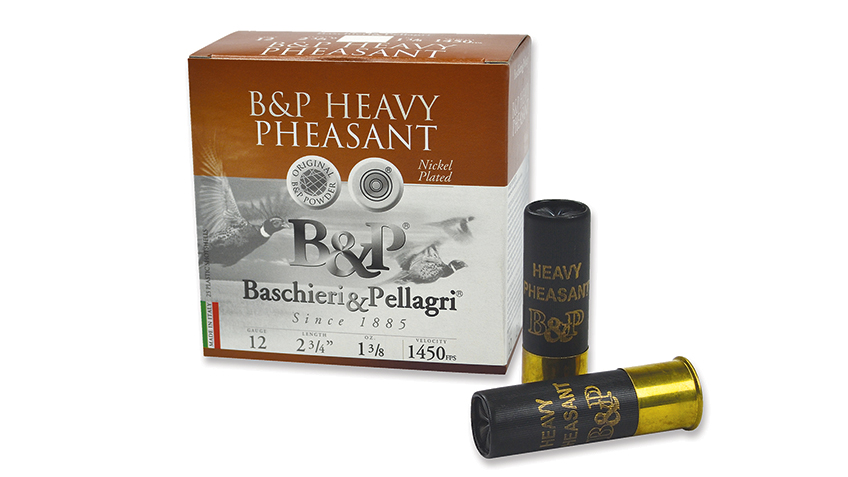 4. Baschieri & Pellagri (B&P) Heavy PheasantOff the radar of most Americans—outside of competitive clays shooters—B&P has been steadily making inroads into the hunting market, too. Manufactured in Italy, B&P shells feature the innovative Gordon System, which reduces perceived recoil through the use of a shock-absorbing base wad. That's a good thing, as the company's Heavy Pheasant loads are especially stout. Consider this: the 12-gauge, 2¾-inch load features 1⅜ ozs. of nickel-plated shot—preferable over copper-plated—at a scorching 1450 fps. There's also 1¼ oz. loads at 1500 fps, as well as 3-inch, 1⅝ oz. options at 1400 fps. The equivalent of a turkey load, there's also 3-inch Heavy Pheasant shells loaded with 1⅞ oz. shot at 1300 fps, though I surmise damage to edible meat and cumulative recoil would make this a poor choice. Number 4, 5, and 6 shot sizes are available in all of the abovementioned loads. MSRP: $174.25 to $223.75 per 250-rnd. case; baschieri-pellagriusa.com.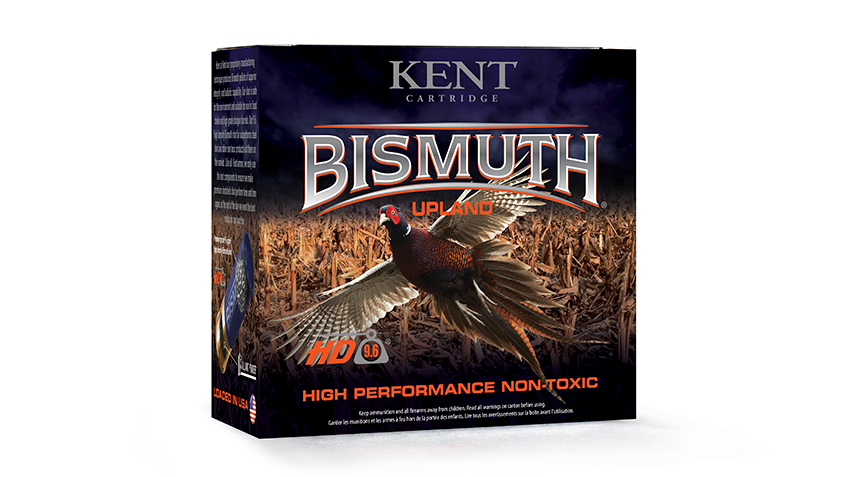 5. Kent Bismuth UplandThere are plenty of capable shells for hunting pheasants where the law prohibits lead; however, most utilize low-density steel pellets, which negatively affect both the external and terminal ballistics—especially at long range. A better option is found in bismuth shot, which, at 9.6 grams/cc, carries lethal energy farther and is less affected by crosswinds—a staple on the prairie—than steel (7.8 grams/cc). What's more, bismuth is a softer metal, thereby allowing its use in older arms (but still deemed safe) that weren't made with steel shot in mind, and it transfers its energy to the target better than harder shot types. Among the few manufacturers offering bismuth ammunition is Kent Cartridge of Kearneysville, W.Va., and its Bismuth Upland series has options that'll fulfill the needs of all pheasant hunters. In 2¾-inch loads, the company loads 1 1/16 or 1¼ ozs. of No. 5 or 6 shot at 1325 fps and 1,350 fps, respectively, while in 3-inch loads, 1½ ozs. of No. 5 shot is propelled to 1350 fps.
As an ardent user of Kent Bismuth Waterfowl on ducks, geese and brant on Virginia's Eastern Shore, I can speak to the effectiveness of bismuth shot. Numerous times my son and I's limit was filled due to the effectiveness of this lead-like, yet non-toxic material. Although pricier than steel, the tradeoffs are well worth it. MSRP: $35.99-45.99 per 25-rnd. box; kentcartridge.com.
There are numerous great pheasant loads on the market, but these five are standouts. If you try one, you're sure to be spending more time cleaning pheasants than chasing them.