Sorry folks, I can't come up with one single "best ice fishing jig ever". But how about a jig that has stood the test of time for more than 40 years, having caught millions of fish during this time! This is one of THE best ice fishing jigs ever for walleye, crappie, perch, rainbow trout and bluegill!
The Demon is one of the most effective, versatile ice fishing jigs ever created. It has a unique design, a dash and dart motion on the lift and a flutter-flash on the fall. The Demon is available in five sizes from 1/100 oz. to 1/14 oz. which covers all species of fish. The Demon is available in 22 color combinations including natural colors, bright colors and even glow colors.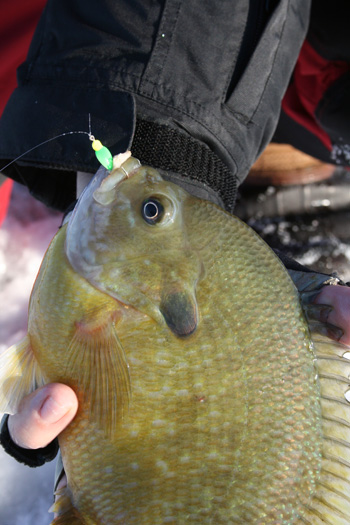 Ever Wonder How a Demon is Made?
The Demon is an old school ice spoon. Most lure companies don't make them this way anymore because they are too labor intensive and expensive to make. Our original Demon starts with a brass spoon stamped from our proprietary die 1,000's at a time. The spoons get nickel plated at a metal finishing house and then shipped back to us. In the manufacturing process, spoons and Mustad hooks get loaded into special molds and then are hand soldered with a lead/flux mix.
These Demon blanks are cleaned and ready for painting or additional plating. Our original Demons are painted by hand with a brush. There is a white coat, color coat, another color coat and a clear coat. The glow Demons then have to be flipped over and the painting process completed on the other side. This ensures a non-chip finish and we make sure that the eyes are paint free!
The Demon Jigging Spoon Phenomenon
That same Demon body is also used in our Demon Jigging Spoon. The Demon Jigging Spoon has more erratic action than the original Demon and it's a little heavier so it fishes fast. The Demon Jigging Spoon is available in three sizes and 15 color combinations and is a great option for vertical jigging.

The Best Ice Fishing Jig for Walleye
If you are looking for the best ice fishing jig for walleye, then look no further than the Demon and the Demon Jigging Spoon. Whether you are after eaters or that trophy of a lifetime, the Demon produces all across the ice belt!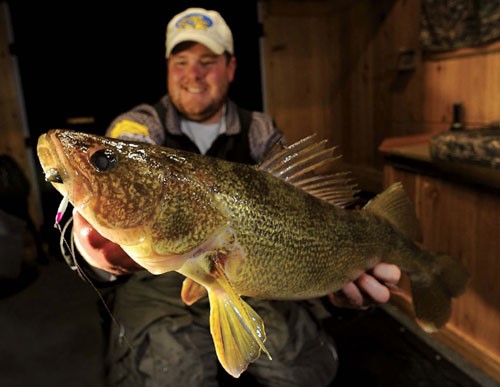 Walleye will feed whenever they are hungry, but prime time is dawn, dusk and at night. Glow ice jigs and spoons are very effective during these prime feeding periods. The Mega Glow Demon comes in five sizes and six Mega Glow finishes. All of these sizes are effective for attracting fish depending on their aggressiveness, competition and size of fish.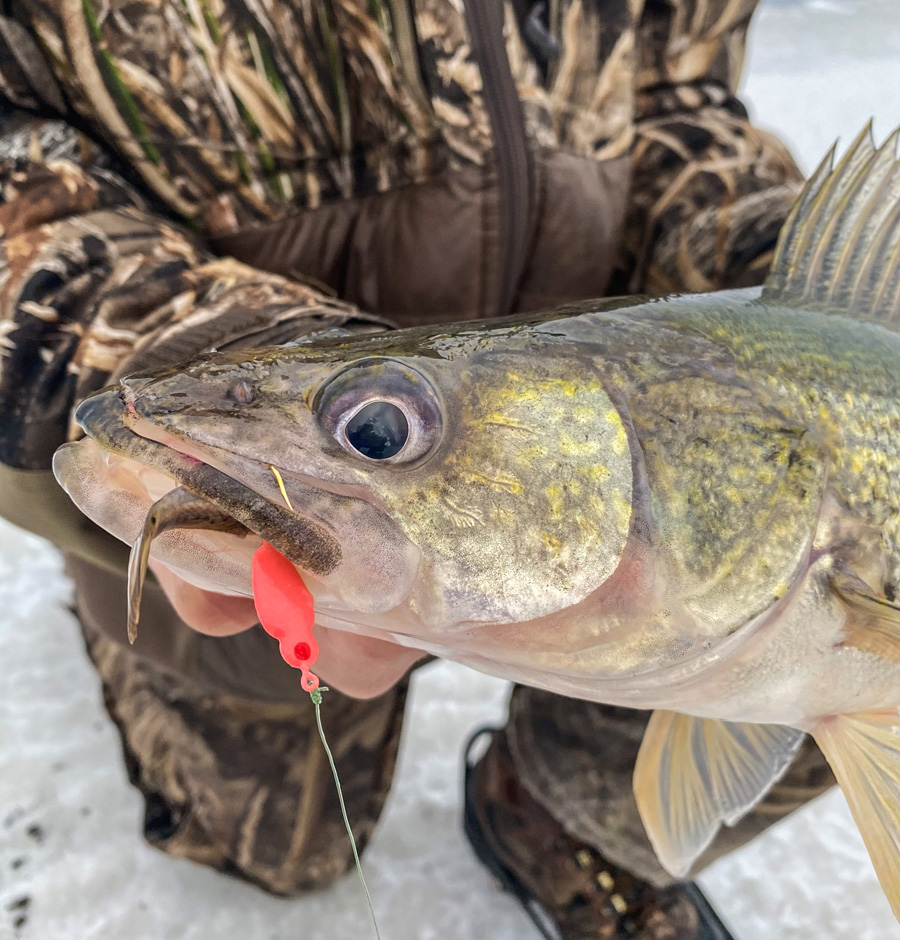 Proven Ice Fishing Jigging Technique
With any ice fishing jig the best jigging motion is always the slow jiggle. With a Demon – a sweep of the rod tip will get it moving, flipping and dancing and follow it with slack so it descends into a flutter-fall…then jiggle, jiggle, jiggle. Sure aggressive fish will slam it as soon as they see it, but when they stare…it's time to jiggle!
What about crappie?
What's the best ice fishing crappie jig? Why the Demon of course! Crappie are suspenders…because of their frying pan shaped body, their eyes are set on top of their head and they look up to feed. Bouncing a jig on bottom is not the way to fish for crappie. A good rule of thumb is to fish a foot of bottom and go higher from there.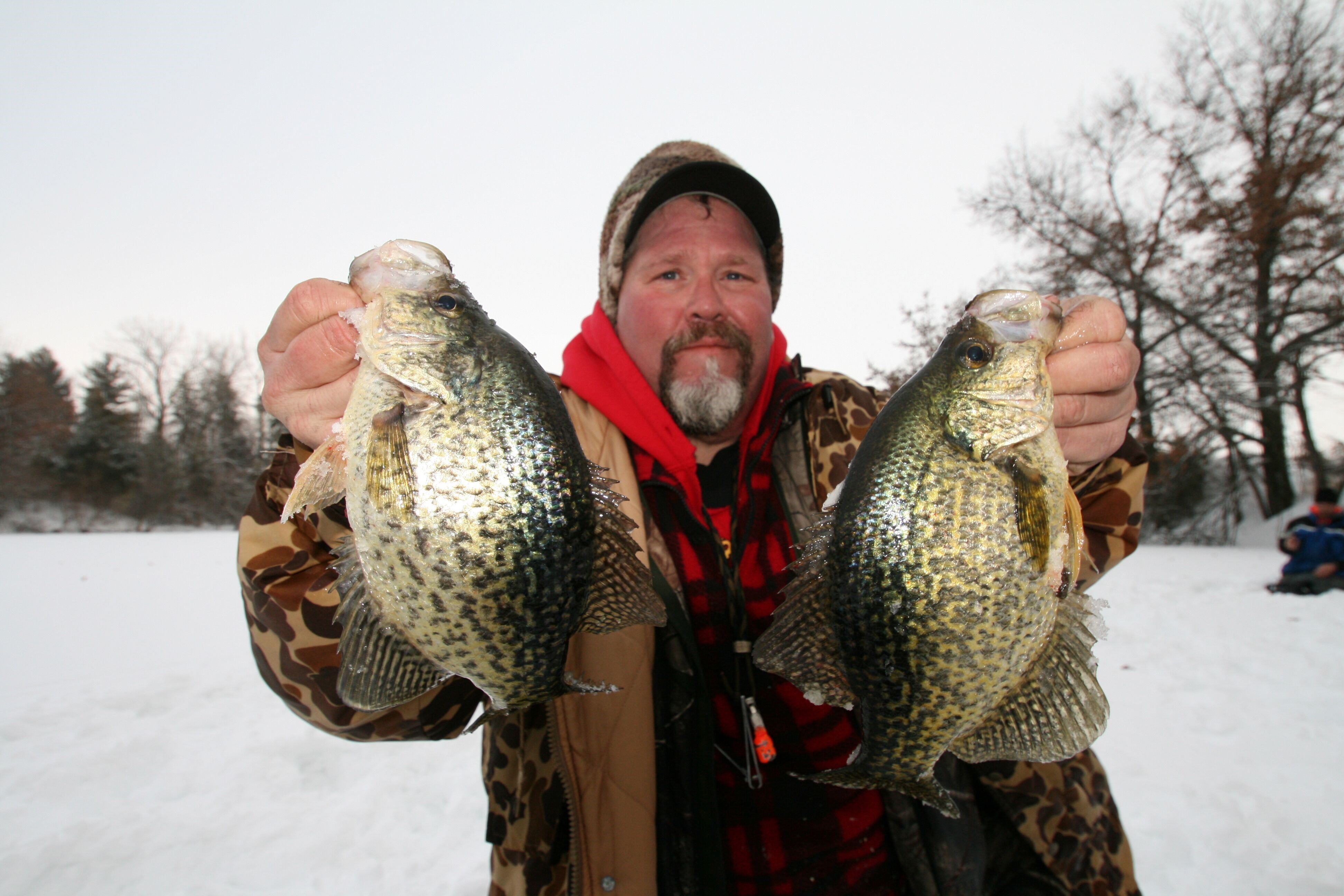 How to Jig for Crappie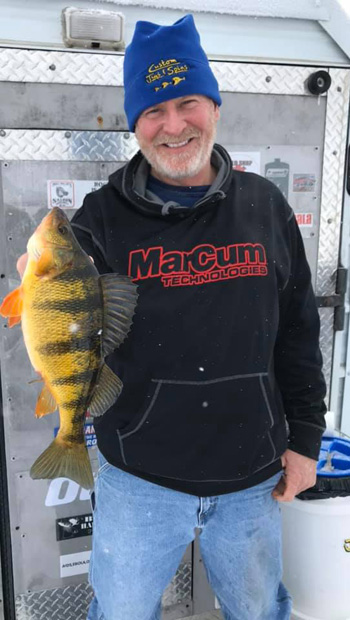 When it comes to crappie, the drop is the key. While a high speed drop is great for perch, bluegill and white bass, crappie can see from a long way off and will watch your jig flutter down right into their awaiting mouths. A slower falling bait like the Demon is ideal. The fluttering motion is too much to resist. The key to fishing these crappie ice fishing lures is flutter, jiggle, flutter!
The other key is electronics. A flasher style is best because crappies are suspenders, they can be literally anywhere up or down the water column. A flasher allows you to pinpoint the depth zone they move in and out of and then lets you see your lure as it reaches the strike zone, then it's GAME ON! If you are a crappie fisherman, a flasher will up your success by at least 50%!
When you are crappie fishing, you always want to fish above the crappie. Pounding bottom is best for perch and walleye…the finesse approach, above the fish is best for crappie!
What About the Best Ice Fishing Perch Jig?
Speaking of perch, they like noise, action and a little bottom action from their prey. Once again the Demon and Demon Jigging Spoons are fantastic for perch also.
When perch are shallow, the Demon's light weight is a preferred choice for river backwater anglers. Here, you don't need a heavy weight, since the water is usually six feet or less. It's all about being quiet and stealthy above the ice, while having a light, flashy presentation down below.
When fishing deeper for perch, ice anglers swear by the Demon Jigging Spoon. This heavier jigging spoon will fall fast, yet still offer a fluttering fall and erratic action on the jigging motion.
The Best Jig for Trout
Trout are ideal fish to catch under the ice. They love cold water, they fight extremely hard and they are excellent to eat. Whether you are fishing a stocked trout lake, a Great Lakes harbor or clear deep lake trout water, you should add some trout fishing to your ice fishing agenda.
If I'm fishing a harbor for Great Lakes salmon or trout, I'll set up dead sticks with a Demon 4 and a spawn sack. If I can't get spawn, then I'll add a lively tail hooked minnow. Dead stick rods are initially set halfway up the water column until I figure out the depth zone the trout are cruising around in.
For these larger fish, on my jigging rod, I'll have a Demon Jigging Spoon size 2, the largest size. I'll add some spikes or a minnow head to give scent and attraction. Because harbor water is usually pretty clear, I like to search for trout with and underwater camera. When it's time to fish I will set up the camera to watch my deadstick rods and I'll use a flasher actively to watch the lure I'm jigging.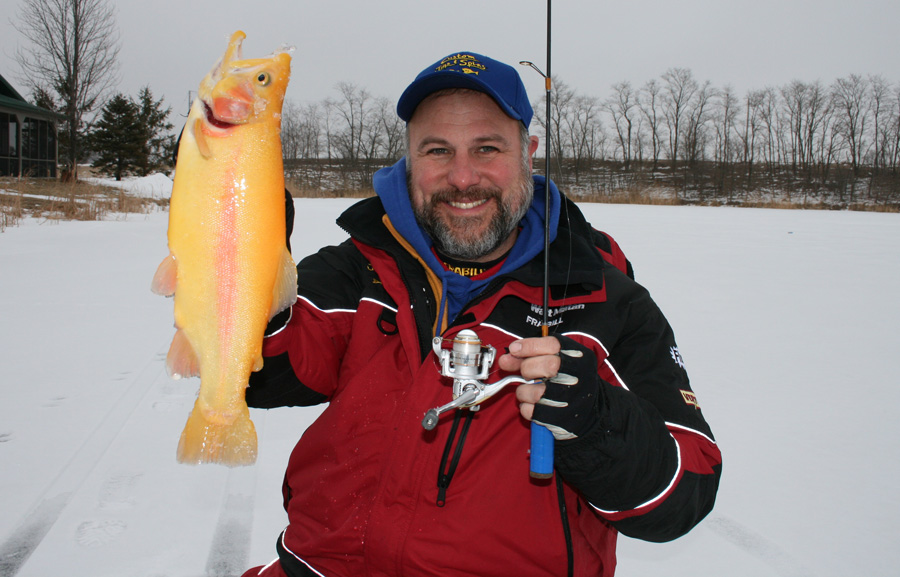 Stocked Trout
All states have some sort of trout stocking program. Usually rainbow trout on a put and take basis. These smaller trout are very active under the ice, but they don't grow as big as their Great Lakes cousins. I'll stick with Demons and Demon Jigging Spoons since I feel that they are still great choices for stocked trout also. But I will downsize my presentation and use spikes or a waxworm as live bait.
Finally, What is the Best Ice Fishing Jig Box
Just like there are 1,000's of ice jigs out there, there are also 1,000's of ice fishing jig boxes available, too! But what is the best ice fishing jig box to protect your precious jigs? The best we have found is waterproof and made for us by the Rose Creek Company. It has unique clips that hold your precious cargo in place and will fit in your jacket pocket!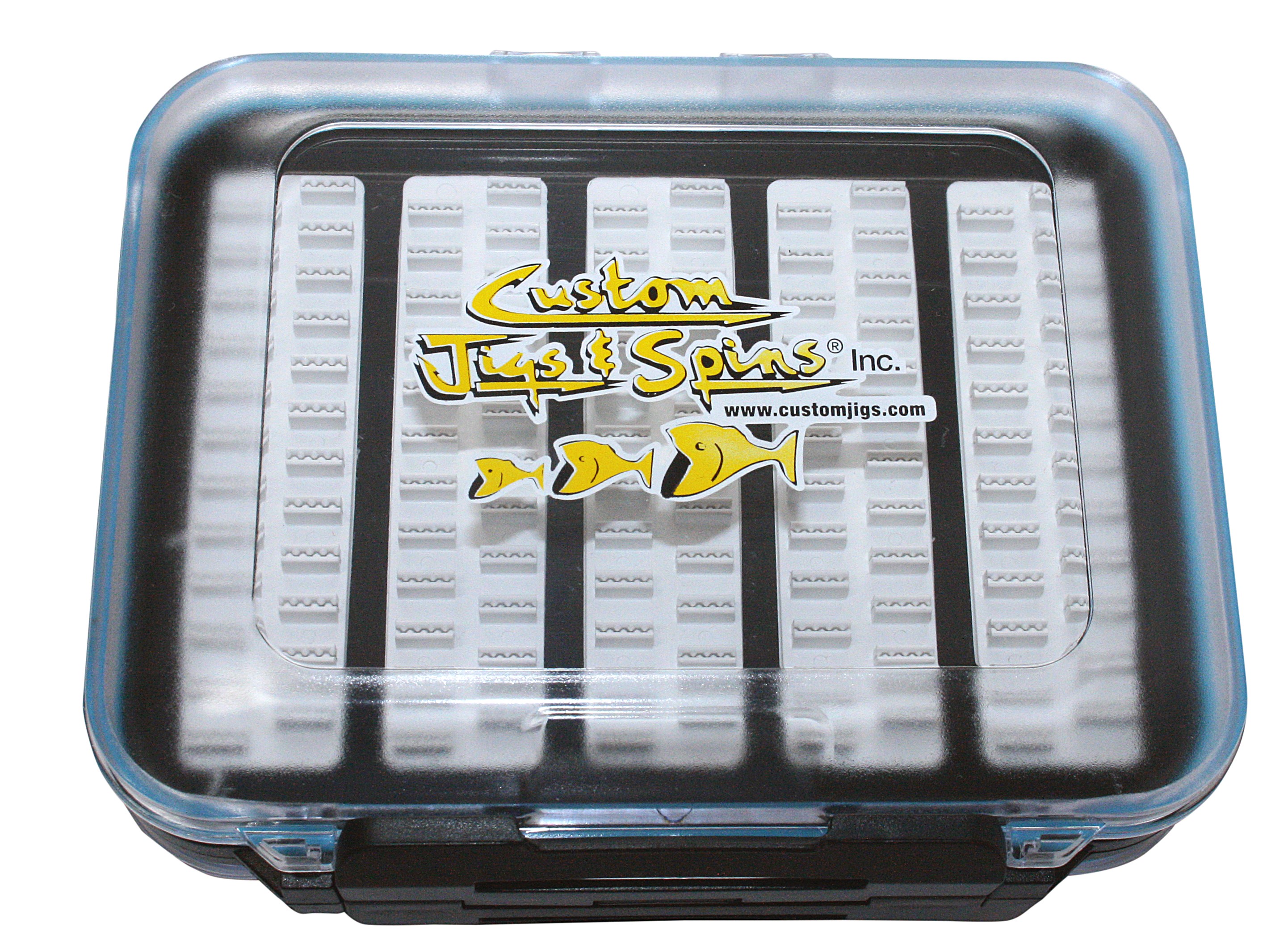 If you liked this article, you'll also like:
Tungsten Jigs: New Age Ice Fishing vs. Old School
Use Tungsten Jigs Thru the Ice and all Year Long!
Panfish are king! Choosing the Right Panfish Lures