Deer season is finally here, so we're naturally starting to gear up for the most anticipated months of the year. No piece of hunting gear is as vital to your success as a reliable firearm. It won't be long before deer hunters are headed afield, rifles in hand in pursuit of whitetails and mule deer. Now is the time to pick up a new gun for the upcoming seasons if you haven't already. Whether you've been hunting your whole life and are looking for an upgrade to your hunting gear, or you're a brand-new hunter looking for your first big-game hunting rifle, the guns on this list will fit a variety of budgets and skill levels.
These are our picks for eight of the best deer hunting rifles on the market today.
Remington Model 700

We'll start this list off with a classic American bolt-action rifle. The Model 700 is available in a variety of chamberings perfect for deer, including .270 Winchester, 6.5 Creedmoor, .30-06 Springfield, .308 Winchester and more. They also build these rifles to fit a variety of budgets. Check out the ADL line for a series of affordable rifle/scope combos. Remington offers some models with threaded carbon steel barrels ready for suppressors. Remington also offers a variety of different aesthetics, as you can go for more of an old-school, classic look by choosing a wood or laminate stock, or you can choose a more modern, synthetic that can stand up to the elements. Featuring a silky smooth action and long-distance capabilities with proven dependability, the Remington 700 remains one of the most popular hunting rifles of all time.
Ruger American Rifle

Ruger has knocked it out of the park recently when it comes to offering options for hunters operating within a tight budget by bolstering their American Rifle line. Already offering all of the favorite deer calibers, they've added focus to new, emerging straight-wall cartridges such as .350 Legend and .450 Bushmaster to serve hunters in states with restrictions on centerfire rifles like Michigan or Indiana. Standard models feature 22-inch barrels, while their popular "Ranch" line employs a more compact 16-inch package. All of them, however, use a three-lug bolt with a 70-degree throw, detachable box magazines, and top-notch ergonomics. Ruger also scaled down to the weight to 6 pounds or less on some models, which makes it an ideal backcountry setup at an affordable price. And, if you want to save money on optics, you can look into their combo offerings that include a Vortex Crossfire II already mounted and bore-sighted.
Weatherby Vanguard
The Weatherby name has always been associated with quality big game hunting rifles and the Vanguard line is no exception. These guns are all about accuracy, to the point that Weatherby guarantees sub-MOA groups at 100 yards straight out of the box with factory ammo. That's a heck of a guarantee! These rifles feature cold hammer forged barrels, a match grade adjustable trigger, and a fluted bolt body. These rifles have generous recoil pads to soak up the kick from larger rounds and a three-position safety makes this rifles extremely safe. Weatherby builds many of these rifles to stand up to the elements with Cerakote finishes and polymer and synthetic stocks. These rifles offer some variants like their Meateater editions with longer 24- and 26-inch barrels with higher twist rates for even more accuracy at a distance. Perfect for marksmen and women who want to bag a big buck at a distance.
Thompson Center Compass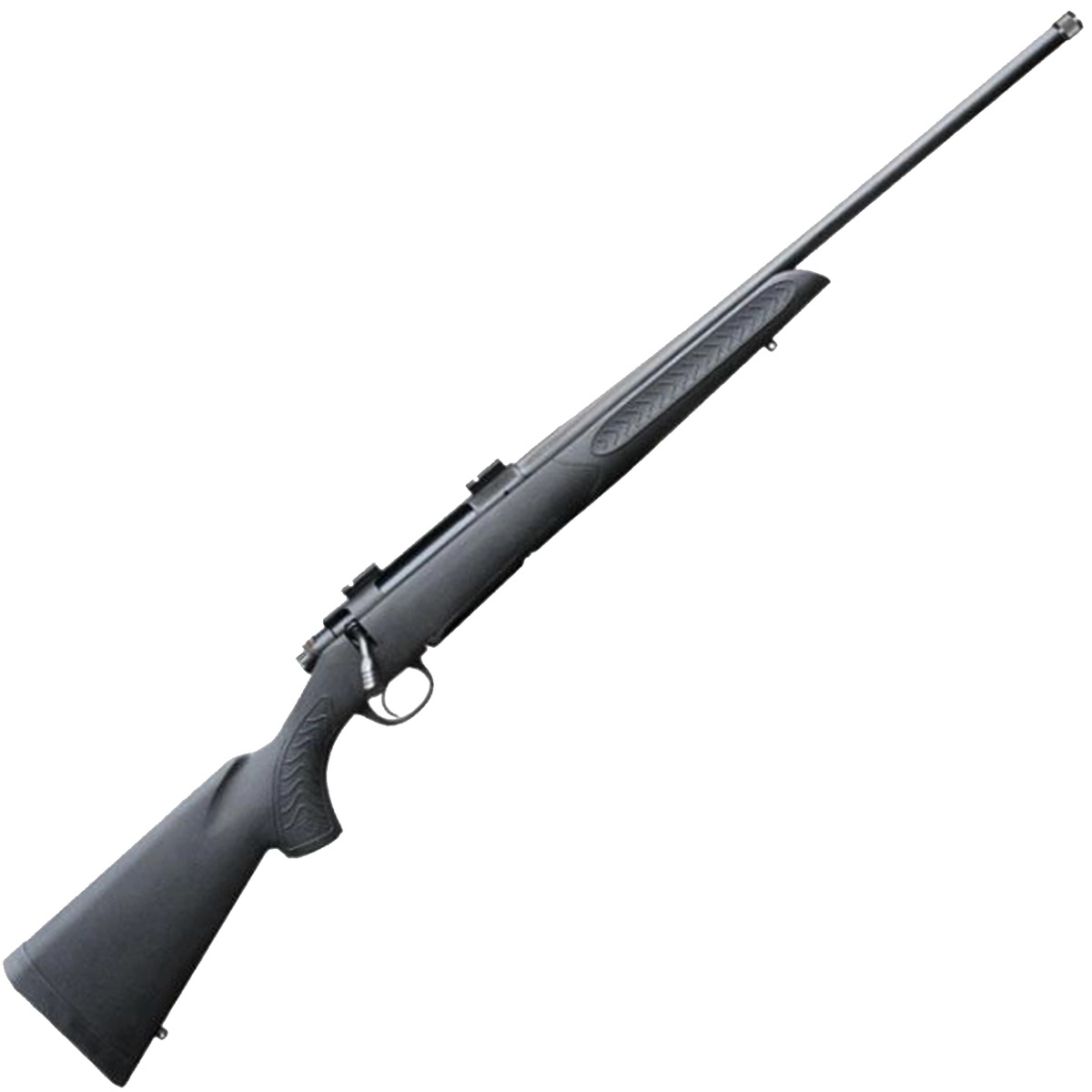 Despite building its name on single-shot rifles and muzzleloaders, Thompson/Center has successfully carved out its place in the bolt-action rifle market in recent years, thanks largely to the Compass. Proven to be a fantastic option for whitetail deer hunting, this rifle is great for both seasoned hunters and newcomers, as it offers excellent performance for a rifle that typically costs less than $400. Additionally, to match specific hunting styles, T/C presents customers with a variety of different configurations, including the Compass Utility, Compass II, and Compass II Compact. Each rifle has a number of popular chamberings to pick from, including .300 Winchester Magnum, 6.5 Creedmoor, 7mm Remington Magnum, and more. Muzzles are threaded for suppressors, too. You can also save on optics with a combo that includes a Crimson Trace scope that's already mounted, or you can choose to stick with an un-scoped version that will come drilled and tapped for whatever you decide to mount.
Marlin Model 336

There's perhaps no lever-action rifle with a legacy as storied in deer hunting heritage as the Marlin 336. Most commonly chambered in .30-30 Winchester or .35 Remington, this rifle has as much history as it does proven performance, but its variety of different finishes over the years make it appealing to hunters both young and old. Nowadays, hunters can choose from classic hardwood, maple with laminate, or a matte black package with Marlin's "Dark" series. Each still uses a tubular magazine, but the Dark model also incorporates a threaded muzzle to welcome the modern era of hunting to the traditions of such a legendary rifle. The combination of a dependable action, the ability to make fast follow-up shots, and rugged durability make the 336 one the perfect brush gun. Many hunters leave the 336 without a scope precisely for this application, as it comes with a brass bear and folding rear sights. However, Marlin also sells a combo with a 3-9×32 scope that's mounted and bore-sighted if iron sights aren't for you.
Browning BAR Mark III

One of the higher-end semi-automatic offerings on the market, the Browning BAR is chambered for many popular whitetail calibers like .300 Win Mag, .243 Winchester, 7mm Rem Mag, .270 WSM and more. These semi-autos are gas operated and cycle quickly so you can make that extra shot if you need it. These guns have hammer-forged barrels. Variety is the name of the game here. From a matte black composite to a Turkish walnut to a Cerakote to help protect from the elements, there are plenty of options to suit every hunter's tastes. An Inflex recoil pad helps make fast shooting even more manageable. These rifles are on the more expensive side, but the Browning name is one you can rely on for years to come.
Mossberg Patriot

Another great option for hunters who want a solid hunting rifle without breaking the bank. The Patriot line offers a bevy of caliber options including straight wall options like 350 Legend and .450 Bushmaster. Mossberg sells these rifles with walnut and synthetic stocks. Some of the synthetic options come in under the seven pound mark. The Patriots feature fluted barrels either 22 or 24 inches in length for excellent long-range accuracy. Many are also threaded to accept suppressors. Mossberg also builds these rifles into a variety of different camo patterns. The amazing thing is how affordable these guns are. Even the scoped youth combos can be found for under $400, making this a solid starter rifle for a brand-new hunter.
Savage Model 110
It's hard to go wrong with a classic. The Savage Arms Model 110 has downed thousands of deer over the years and will likely continue to do so for a very long time. In recent years, Savage began fitting most of the Model 110s with their signature AccuFit System. This allows you to adjust the length of pull, comb height, and trigger pull without visits to expensive gunsmiths. These rifles are available in almost every popular deer hunting caliber one could want. There is a variant for almost every hunting style too. Find yourself in dense, brushy areas often? Consider the Scout with a shorter 16-inch barrel. Like to hunt in harsh elements deep in the backcountry? Consider the lightweight Storm that comes in under six pounds and has a stainless steel barrel that will stand up to rain and snow.
For more outdoor content from Travis Smola, be sure to follow him on Twitter and Instagram For original videos, check out his Geocaching and Outdoors with Travis YouTube channels.
READ MORE: THE 5 BEST HOME DEFENSE SHOTGUNS