Everyone loves Glock.
Glock dominates the pistol market and has done so for decades. These pistols have long established themselves as one of the premier pistol companies on the market.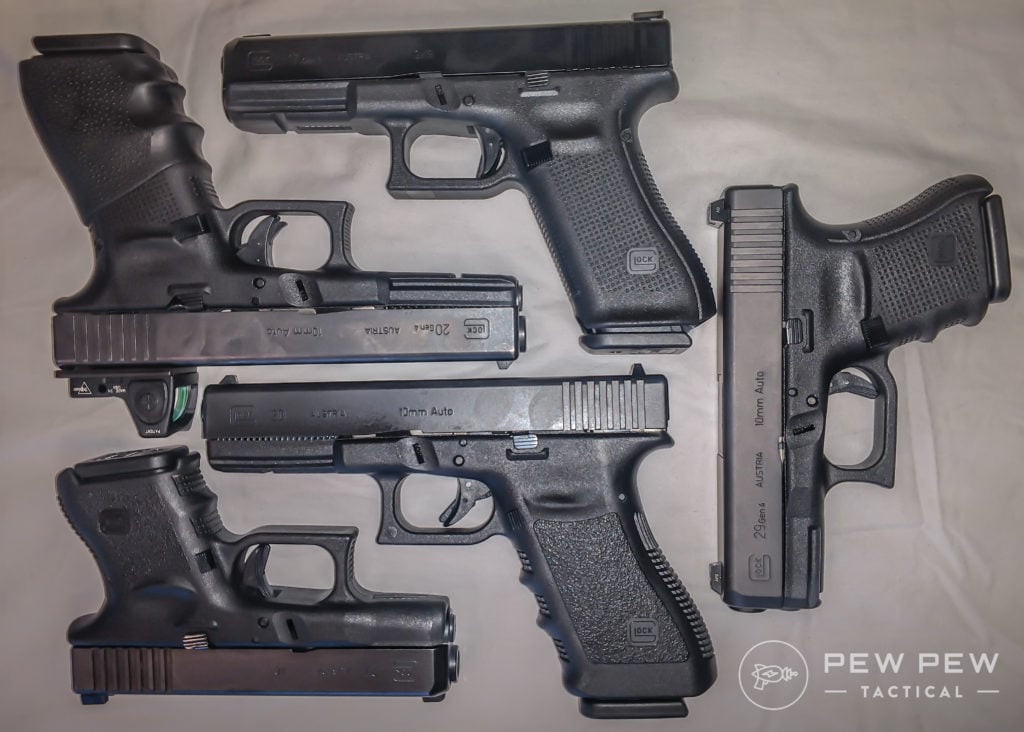 Glocks are in the hands of everyone from beat cops to special operations personnel.
They also occupy the holsters of shooters around the world in the competition, home defense, and concealed carry roles.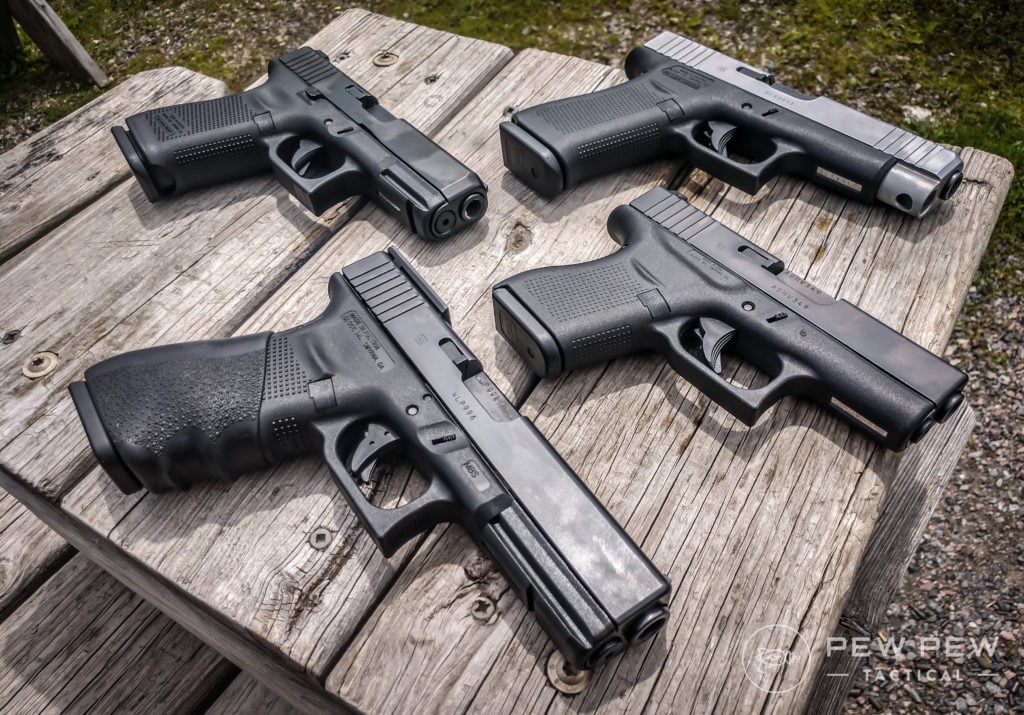 Today we are talking about the latter and listing the best Glocks for concealed carry.
THE QUICK LIST
Why a Glock For Concealed Carry
Why would you trust your life to a Glock? If I could only give one reason, I'd say reliability.
Glocks are so reliable they are almost boring. When the trigger's pulled, they go bang.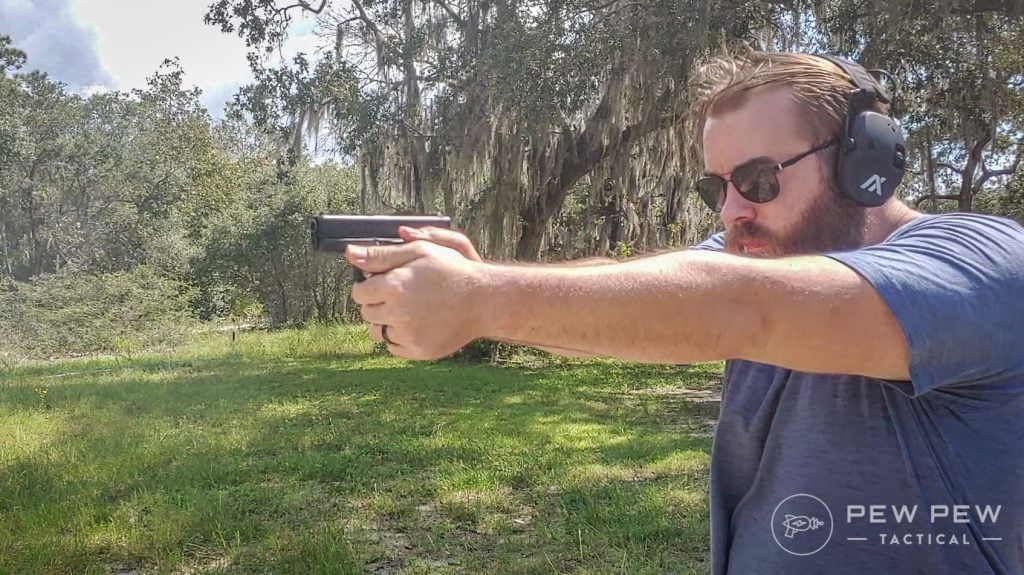 Heck, the owner of Adco firearms put 200,000 rounds through a Glock 21, buried it for two years, and dropped it out a plane — the stupid thing still works. Its simple design makes it insanely reliable.
Beyond reliability, Glock pistols offer more than acceptable accuracy, a decent trigger, and ergonomics that work.
Sure they might not have all the bells and whistles of other guns, but they work.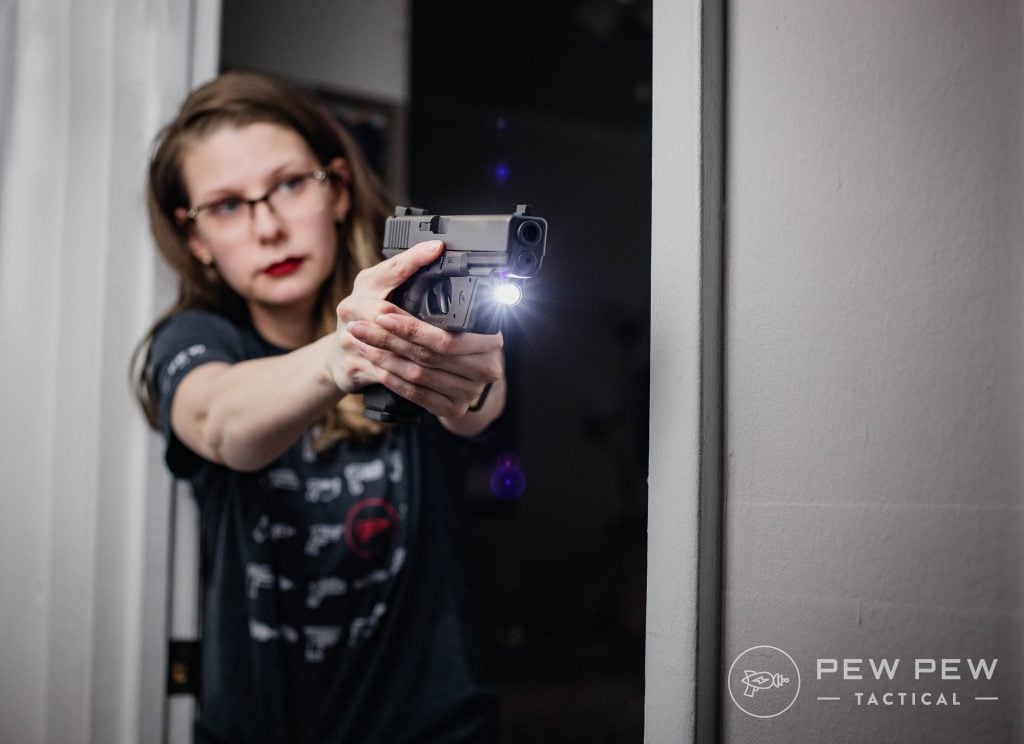 The popularity of Glock pistols ensures you'll never have an issue finding a holster.
Seriously, every Glock on the market has an army of holsters behind it. I'm talking shoulder holsters, ankle holsters, IWB, OWB, pocket holsters, appendix rigs, and so many more!
Glocks present a simple plug-and-play option for concealed carriers.
If you are not a "gun" person and just need a simple defensive firearm, then the Glock is a great path to go. There are tons of Glock handguns on the market, though.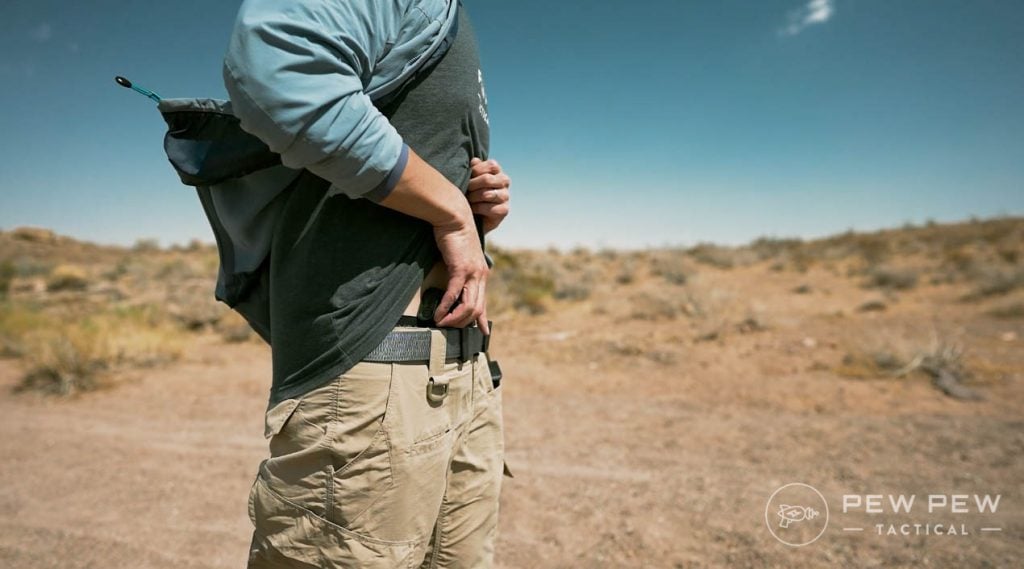 Which ones work best? Well, I got you covered below.
Best Glocks For Concealed Carry
1. Glock G19
Specifications
Barrel Length: 4.02″
Overall Length: 7.28″
Height: 5.04″
Width: 1.34″
Weight: 23.81 oz
Caliber: 9mm
Capacity: 15 rounds
If you are new to concealed carry, the Glock G19 might seem like a large option, especially when you see some of the other guns on this list. However, the G19 is the closest handgun Glock has to a flagship pistol.
This compact, double-stack handgun does a great job of being a do-it-all gun.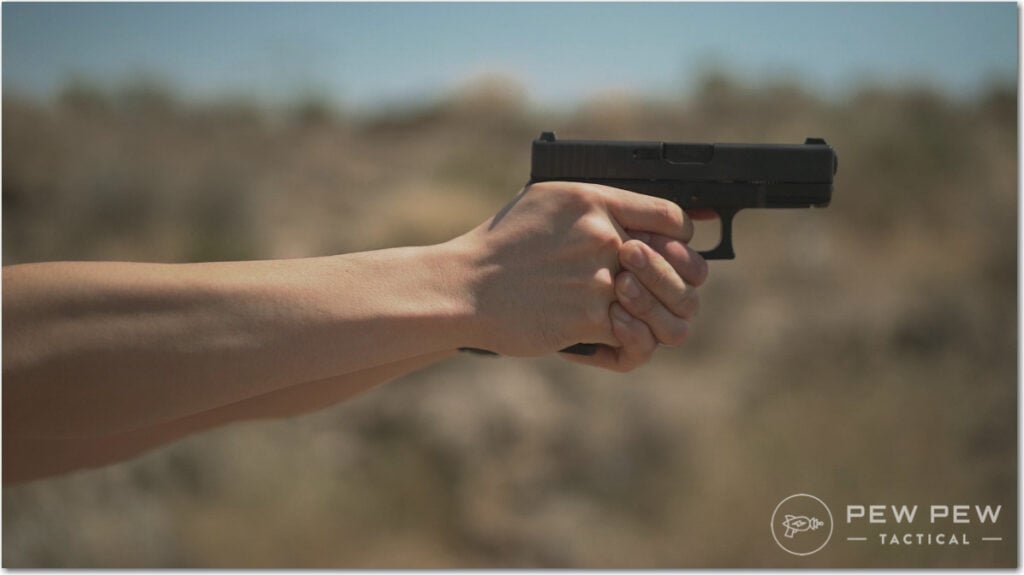 With the right holster and belt combination, it's plenty easy to carry, but at the same time, it can be a very effective and capable home defense firearm.
For example, for concealed carry, you can pack a 15-round magazine and run the gun "bare." If you need a home defense weapon, toss on a weapon light and a 33-round magazine, and you got quite the firearm.
The Glock G19 also handles very well. Controlling and shooting the weapon accurately and quickly isn't difficult compared to some of the smaller guns on the market.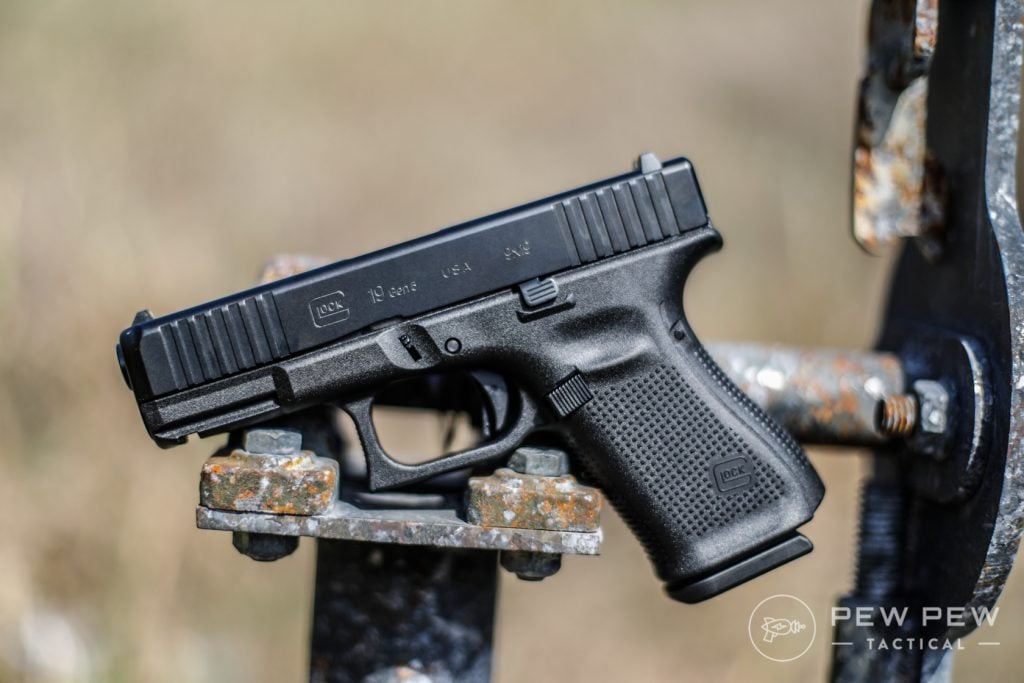 Glock offers the G19 as part of the MOS line. MOS guns allow you to mount an optic with ease, and when combined with a light, you have a very modern and capable firearm.
A Glock equipped with a Trijicon RMR and a Surefire X300U gives a gun ready for any situation.
Check out our review of the Glock G19 here!
2. Glock G48 MOS
Specifications
Barrel Length: 4.17″
Overall Length: 7.28″
Height: 5.04″
Width: 1.10″
Weight: 20.6 oz
Caliber: 9mm
Capacity: 10
The Glock G48 MOS model might be my favorite Glock for concealed carry. Shooters get an outstanding combination of both control and easy concealability. With the G48, we get what's essentially a single stack Glock 19.
A nice long grip fills the hand to maximize control and accuracy, but the overall width is a mere 1-inch wide.
This makes it easy to conceal IWB, and IWB carry helps eliminate any issues with the length and height of the gun.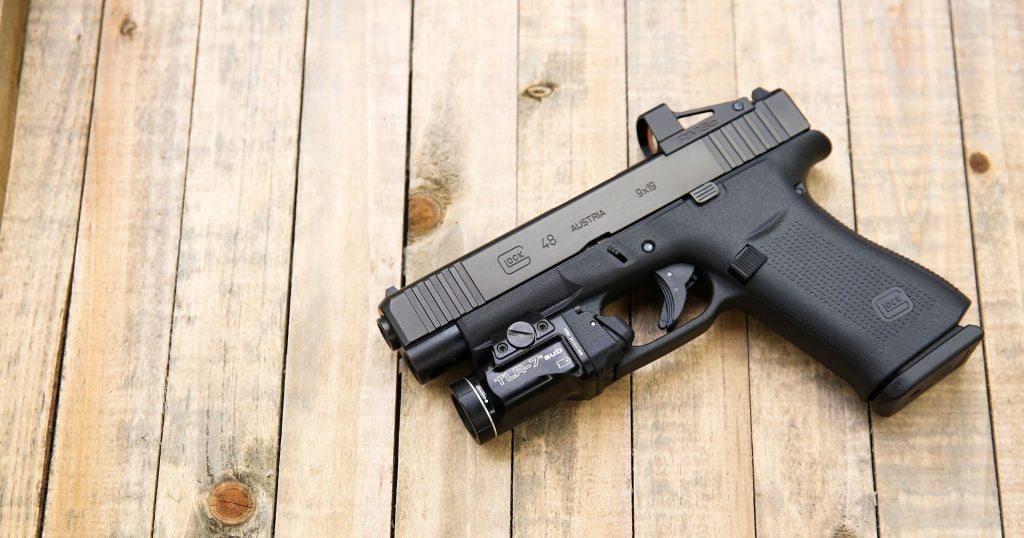 The MOS variant allows you to utilize a subcompact optic as well as a small weapon light.
You can turn the Glock G48 MOS into a very modern and capable concealed carry pistol with the addition of a Holosun 407K and a TLR 7 SUB.
Capacity wise you can rock and roll with a 10-round Glock OEM magazine or even toss in the Shield magazine, which offers you 15 rounds of 9mm in a flush-fitting magazine.
This thin little single stack delivers a fair bit of firepower in a very thin package. It's no pocket pistol by any means, and some won't appreciate the size of the weapon.
However, if you want the best compromise between modularity, size, and firepower, then the Glock G48 MOS is for you.
Read our full review of the G48 here!
3. Glock 43X
Specifications
Barrel Length: 3.41″
Overall Length: 6.5″
Height: 5.04″
Width: 1.1″
Weight: 18.7 oz
Caliber: 9mm
Capacity: 10
The Glock G43X comes in both standard and MOS variants, and either choice is solid.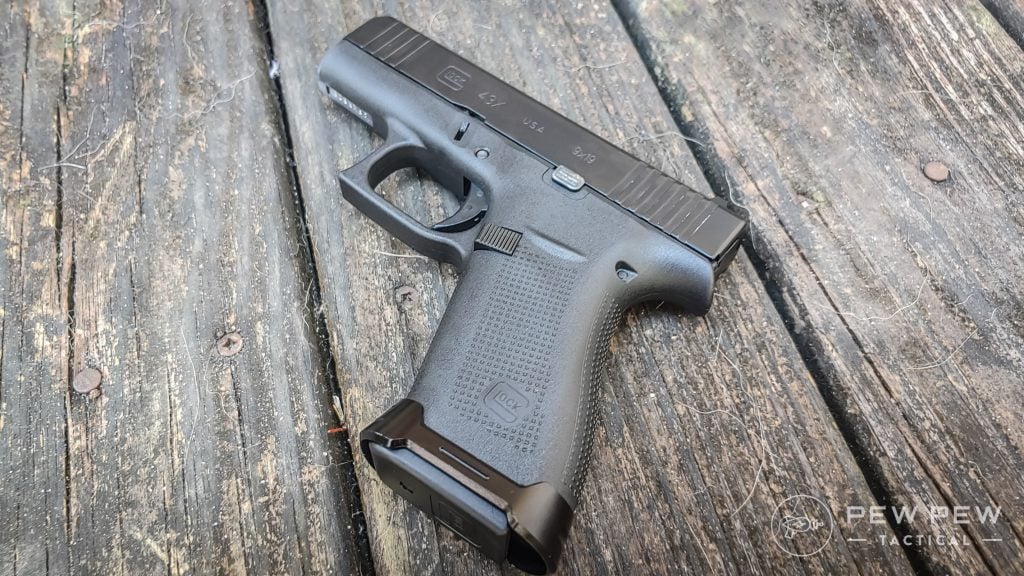 I see this as a gun that excels in comfort and makes an excellent concealed carry firearm for new shooters and concealed carriers.
The Glock G43X mixes the slide and barrel length of the Glock G43 with the longer grip of the Glock G48. A shorter slide and barrel make it easier to conceal OWB and it pokes a little less when carrying IWB or appendix.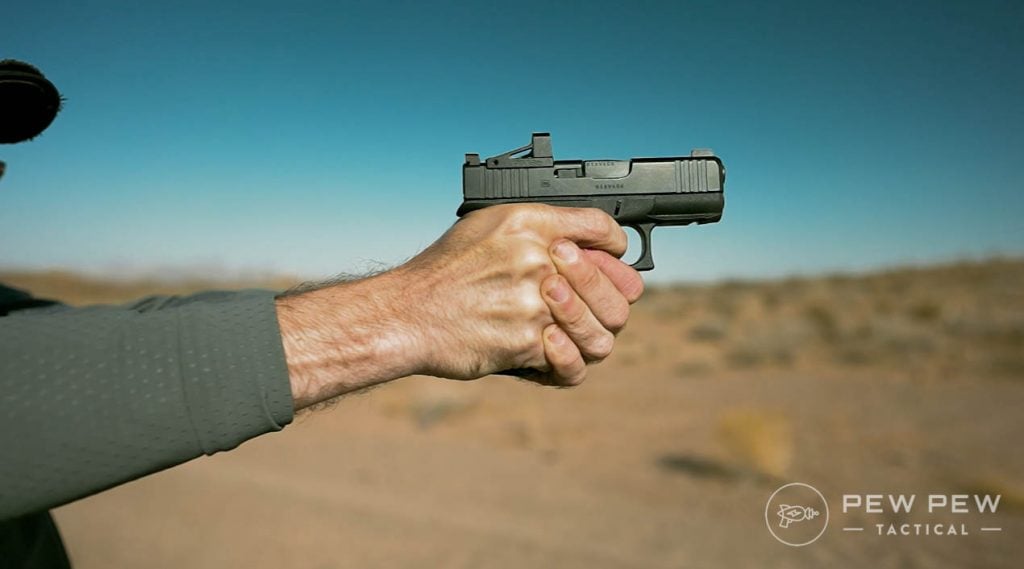 A nice long grip fills the hand, ensuring you can control the recoil with ease and keep on target. More grip equals more control, and you get control in spades with the Glock G43X.
It's one of the comfiest guns all around.
You still get the 10 rounds of 9mm or 15 with Shield magazine compatibility, and if you want the MOS variant, that's an option too. I see the G48 being the better MOS variant since the G43X appeals to shooters looking for something smaller, shorter, and lighter.
We reviewed the G43X MOS, so head to the review or watch the video below for more deets!
4. Glock G42
Specifications
Barrel Length: 3.25″
Overall Length: 5.94″
Height: 4.13″
Width: .98″
Weight: 13.76 oz
Caliber: .380 ACP
Capacity: 6
Man, I remember when the Glock G42 dropped. Most of us were hoping for a single-stack 9mm at the time, but Glock surprised and bemused some of us with a pocket-sized .380 ACP.
It would go on to become a favorite for those needing a reliable, micro-sized .380 ACP.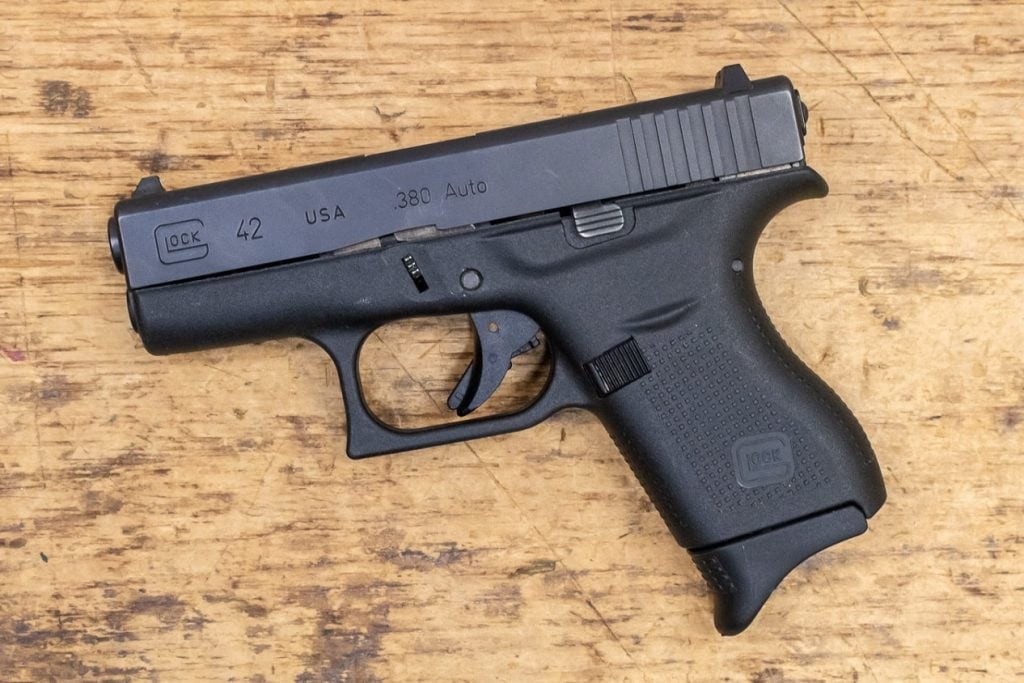 Pocket pistols aren't my favorite concealed carry firearms, but I understand why the need exists. It's a need the Glock G42 fills very well.
Unlike a number of other pocket-sized .380 ACPs, the Glock featured competent sights, a decent striker-fired trigger, and the brand reliability we all know and love.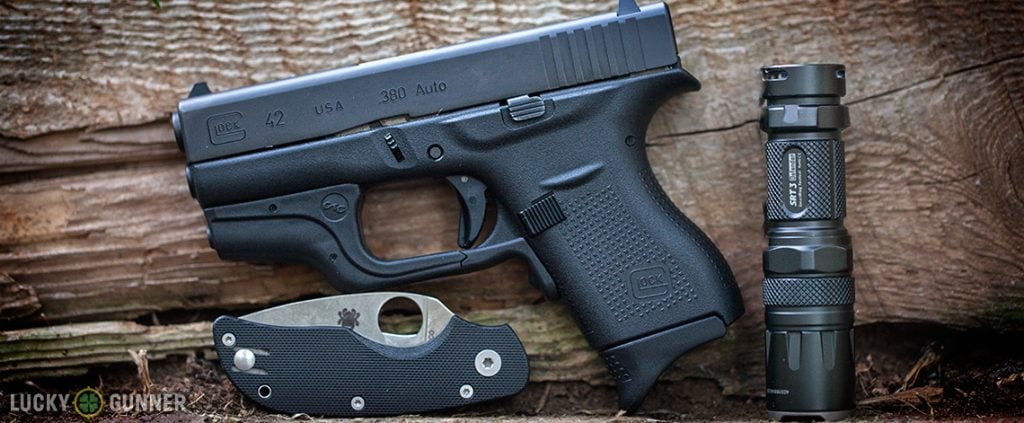 In that realm, it became an instant hit.
Like most pocket .380s, the G42 has some snap, some kick, and some general unpleasantness, but it's not special in that regard.
The larger sights make it fairly easy to shoot, and the standard striker-fired trigger allows you to group your round fairly close for such a small gun.
Shooters also got features that were often missing from other pocket guns including a large magazine release and an external slide lock/release.
The short-recoil design helps with recoil, but this is a pistol that needs lots of practice to master.
5. Glock G36
Specifications
Barrel Length: 3.78″
Overall Length: 6.97″
Height: 4.72″
Width: 1.18″
Weight: 22.4 oz
Caliber: .45 ACP
Capacity: 6 rounds
In a field of normally boring guns, the Glock G36 stands out. It's not a Glock we hear mentioned much.
A lot of people like to point at the Glock G42 as the first single-stack Glock, but they'd be wrong. While the gun went widely ignored, the Glock G36 came out in 2000 — well before the single-stack nine craze exploded.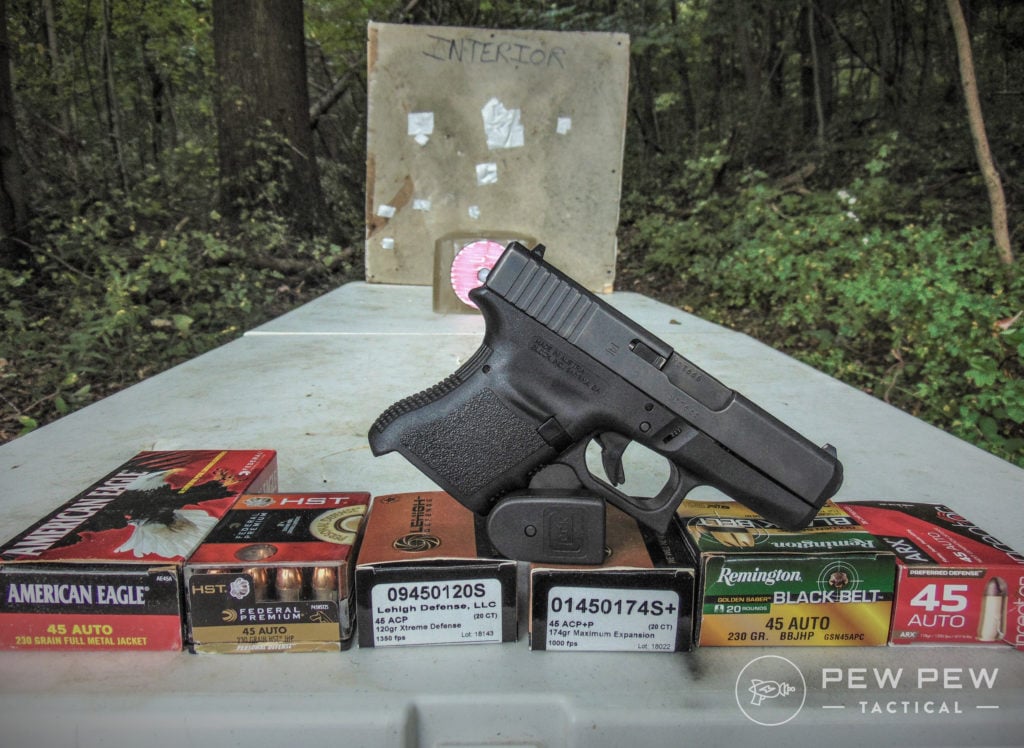 The G36 wasn't a 9mm, though. Nope, it was a single stack .45 ACP pistol.
The Glock G30 existed, but the double-stack magazine made the small gun bulky, so the G36 trimmed things up.
For .45 ACP fans, the Glock G36 provides a surprisingly small pistol for concealed carry. Very few .45 ACP guns existed at this size point.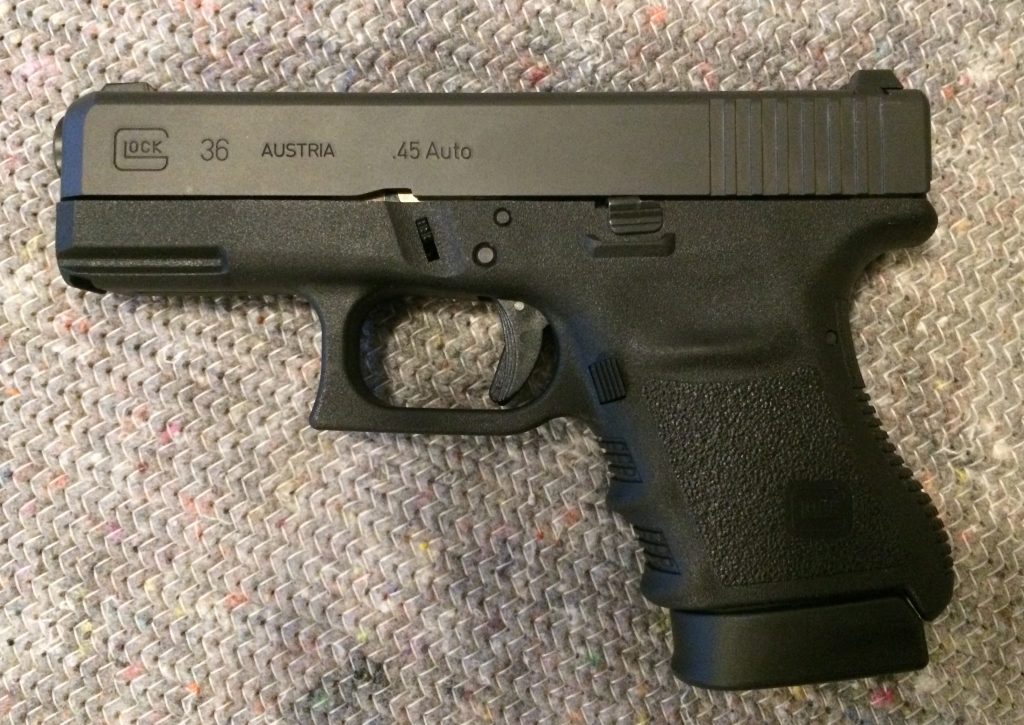 Make sure you know what you're getting into when you go with the G36.
The little gun recoils with some real tenacity to it. It's snappy and mean — especially with the ultra-small grip.
That said, if you want to pack a very small .45 ACP, the Glock G36 provides an outstanding option with a modern twist.
A full-sized 1911 might fit seven or eight .45 ACP rounds, but this mini Glock G36 trims a ton of size and weight while only reducing you to a 6+1 setup.
For more .45 ACP Glocks, head to our full guide.
6. Glock G29
Specifications
Barrel Length: 3.78″
Overall Length: 6.97″
Height: 4.53″
Width: 1.38″
Weight: 26.81 oz
Caliber: 10mm
Capacity: 10
You want to talk about pistols that aren't for everyone? Well, the Glock G29 is not for everyone. If you're recoil sensitive and want something affordable to shoot, this ain't it.
The Glock G29 mixes the 10mm round with a subcompact platform.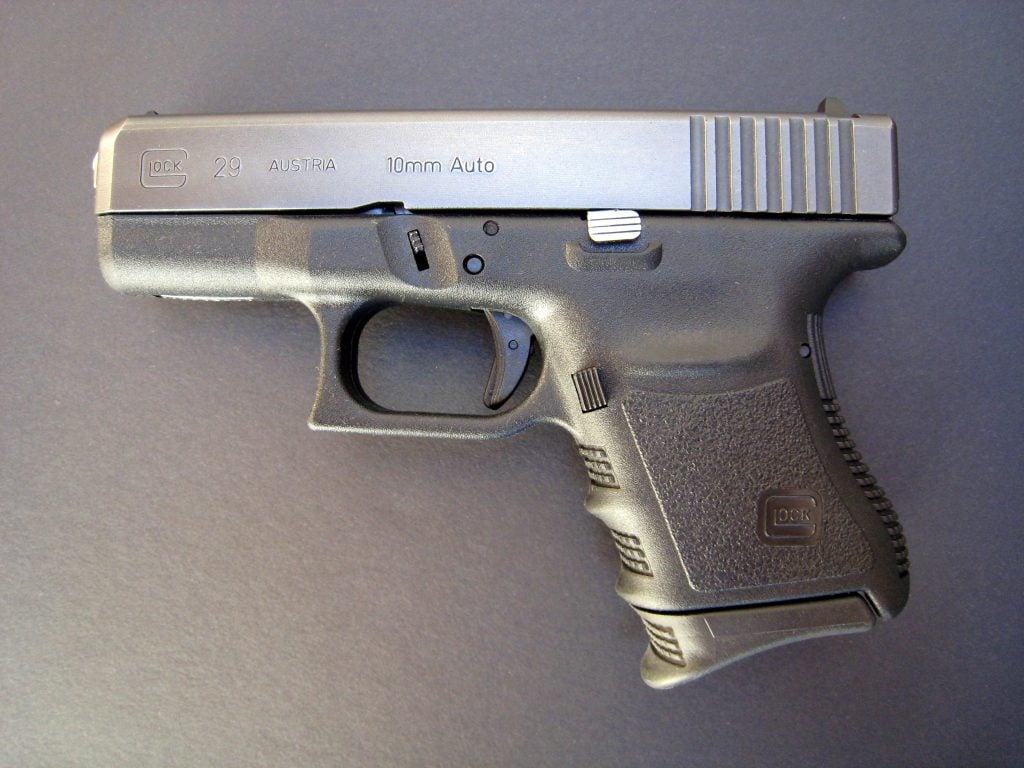 It's a thick gun with a stubby grip and chambers a famously hard-hitting and powerful caliber. The mix proves problematic for some, but if you need 10mm power, it's tough to find something small enough to conceal.
The 10mm round works well for self-defense against vicious two-legged critters but also offers the power to take aggressive large animals.
It's commonly used for bear defense, but it can be used to stop more than bears. It's not so powerful to be uncontrollable against human threats, hogs, wild dogs, and more.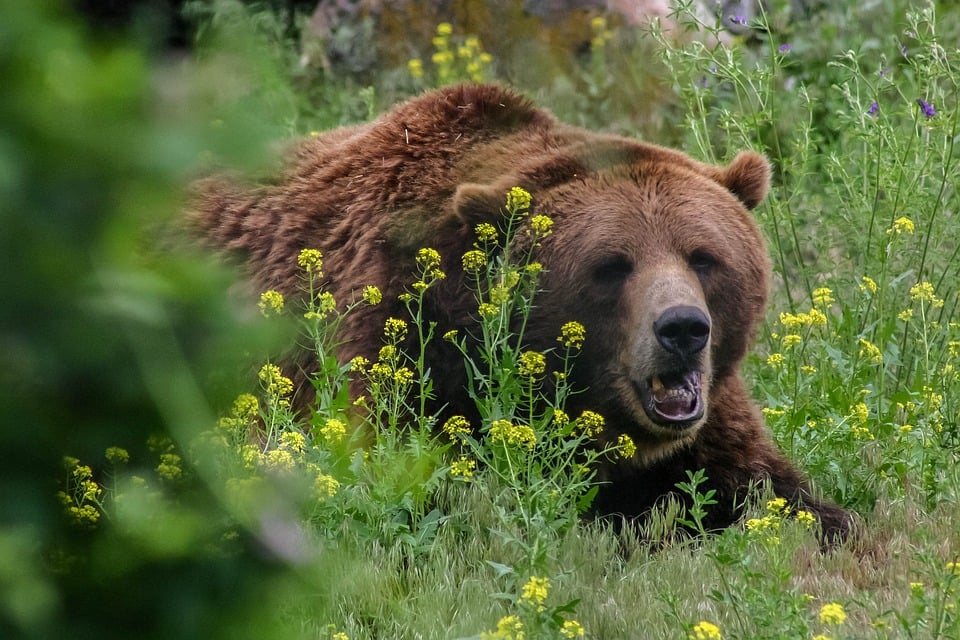 The 10mm is a very versatile round, and rarely are 10mms designed to be compact and concealable.
But Glock took the 10mm by the reigns and shoved it into a very small and concealable platform. If you like 10mms, then the Glock G29 is for you.
7. Glock G43
Specifications
Barrel Length: 3.41″
Overall Length: 6.26″
Height: 4.25″
Width: 1.06″
Weight: 17.99 oz
Caliber: 9mm
Capacity: 6
No one can ever say Glock moves fast. By the time they released a single-stack 9mm, the world already had a ton of them.
Yet, the Glock G43 became a hit — becoming one of the top-selling carry guns.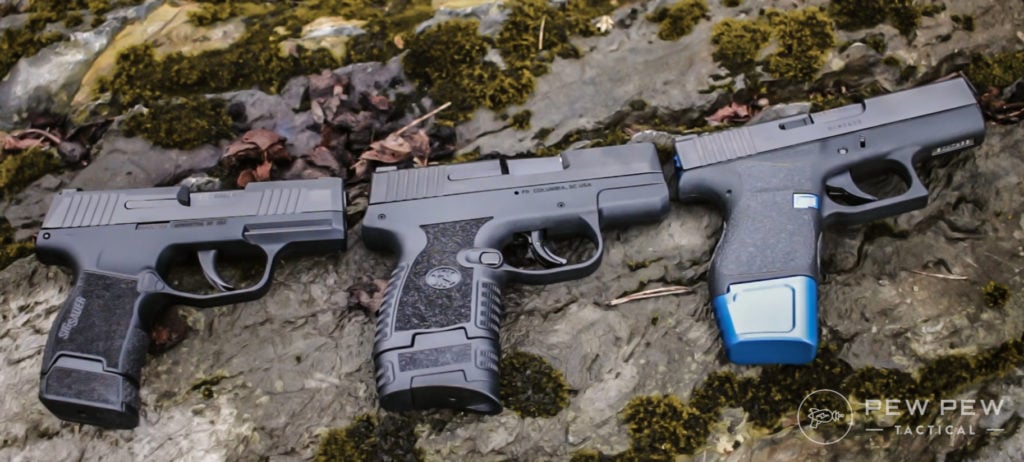 This mini 9mm utilizes a simple single-stack magazine with a small frame that is very easy to carry a firearm.
The Glock G43 hides with ease inside or outside the waistband, at the ankle, and possibly in the pocket. Although it's not a real pocket pistol, it might work depending on the size of your pocket.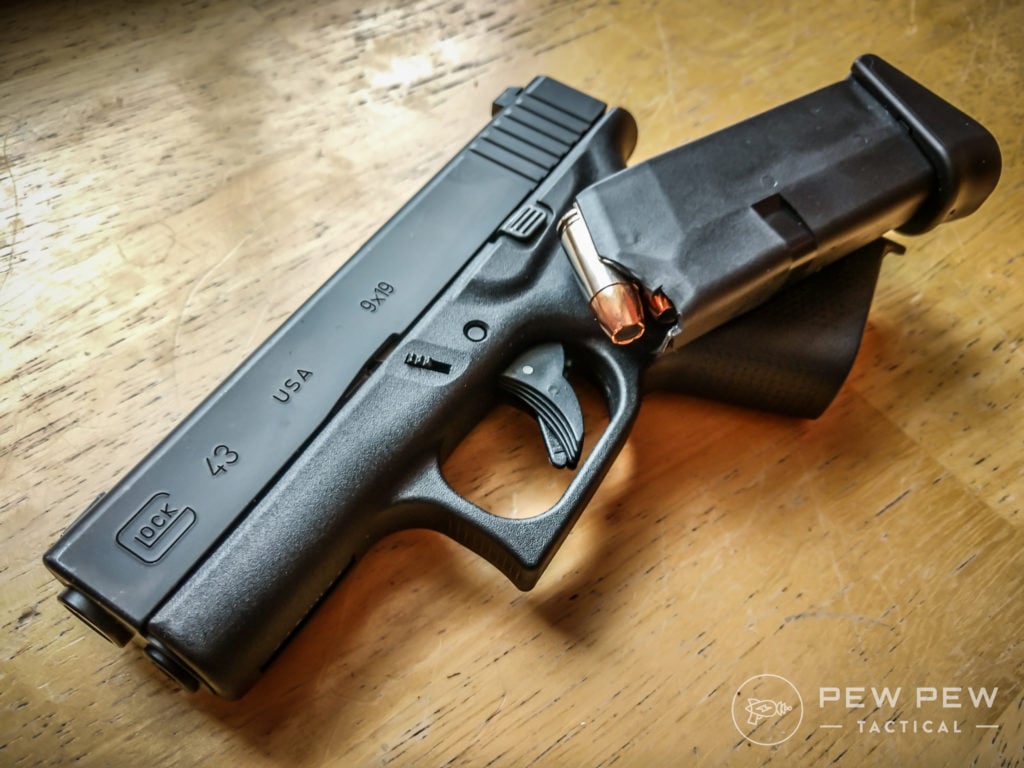 It might feel dated by today's standards but the G43 still presents an affordably solid pistol for concealed carry. It's the smallest 9mm in Glock's stable and works well for deep concealment and everyday carry.
Fitting the Glock G43 to any dress outside of a speedo is pretty dang simple. You can carry in confidence with this little gun.
What do you think of the G43? Make sure to rate it below!
Final Thoughts
I know this list doesn't seem complete if you are looking for a complete rundown of Glock concealed carry pistols — but, guys, we can't list them all.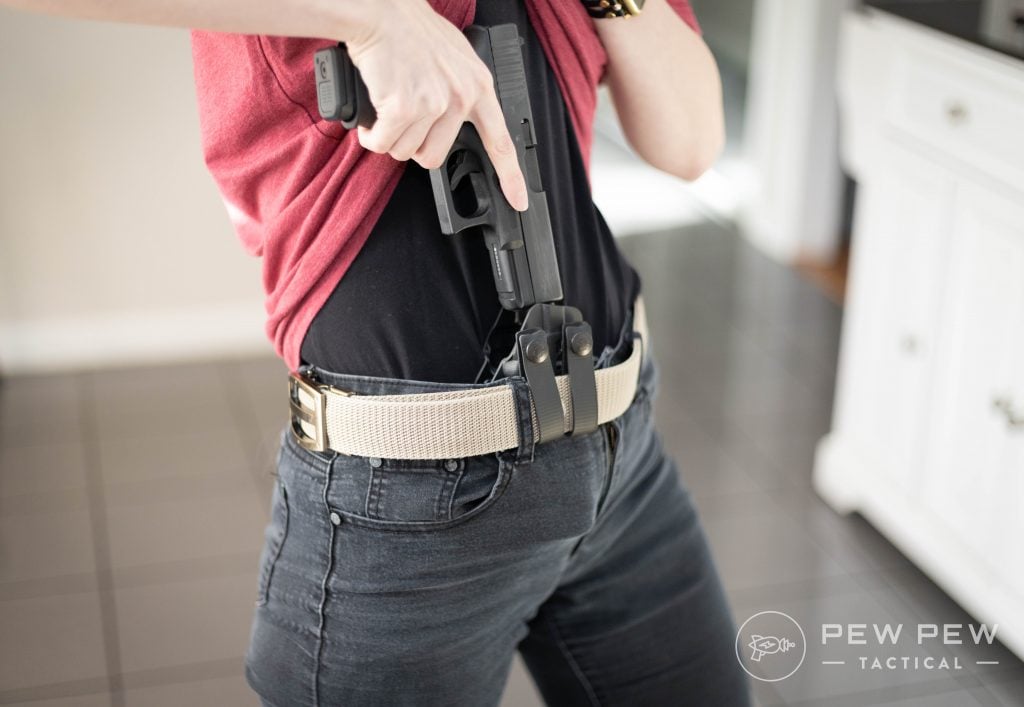 Out of the Glock arsenal, these models present the most viable options for concealed carry.
Since I've left a few off, hit me up in the comments and let me know what you think the best Glock for concealed carry truly is. For more Glock goodness, check out our History of Glock and the Best Glocks.